The Ionocore Knee Support is a fully adjustable knee brace that helps movement of the knee, whilst providing stability and support.
So, whether you're recovering from knee surgery, sprained your knee whilst running or playing sports, or if you're like me and knock your knobbly knees often into doorframes, then you'll appreciate a good, supportive and comfortable brace.
But is this knee support any good? Is it comfortable? Time to test it out!
Packaging.
The Ionocore Knee Support comes packaged in a re-sealable zip pouch.  The pouch measures 25.5cm x 17.5cm x 4.0cm and weighs 150G.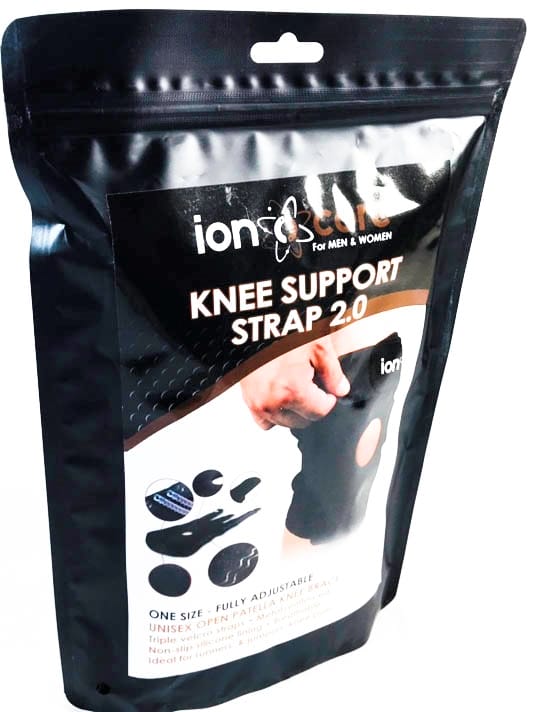 Contents.
Upon opening the Ionocore Knee Support pouch you'll find the following items. 1x Knee Brace, 1x Company Contact Leaflet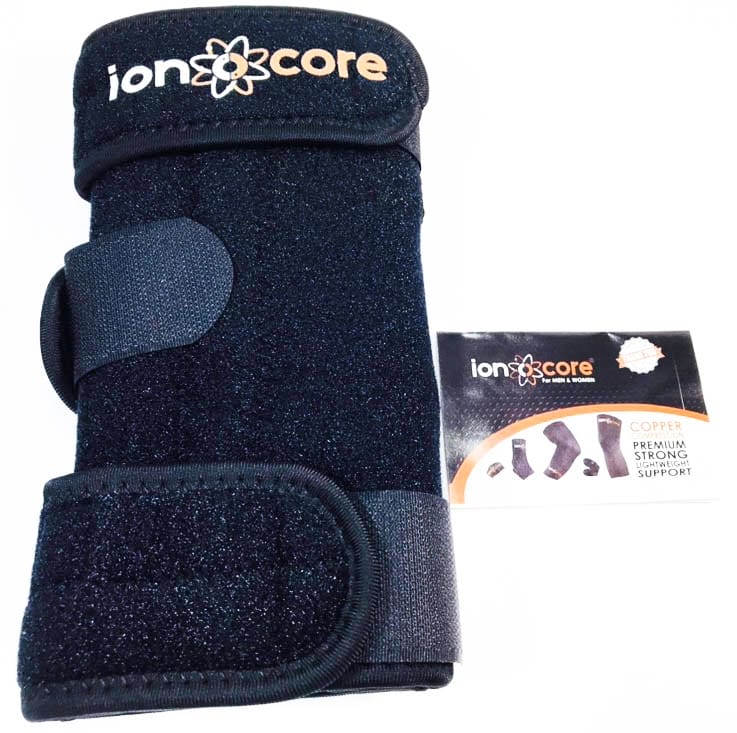 Ionocore Knee Support.
The Ionocore Knee Support is Black in colour with only the Ionocore logo displayed on the knee support itself.  The support is made from multiple layers of Neoprene with a soft material on the outer part.  You also get a soft gel like material around an open patella which completely supports the knee cap.

Three Velcro straps support the Ionocore Knee Support in place, and you also get some Silicone beading on the inside which helps to prevent this support from sliding about.

A metal spring (which is made from steel) is built-in to provide both medial and lateral ligament support.  This spring doesn't hinder your movement.
This knee brace has been designed to be a universal fit and can fit a thigh circumference upto 45.0cm.
Fitment of the Support.
To fit, you'll need to line up the circular hole of the support over your knee cap.  Now tighten both the upper and lower Velcro straps, and finally tighten the middle Velcro strap.  That's it!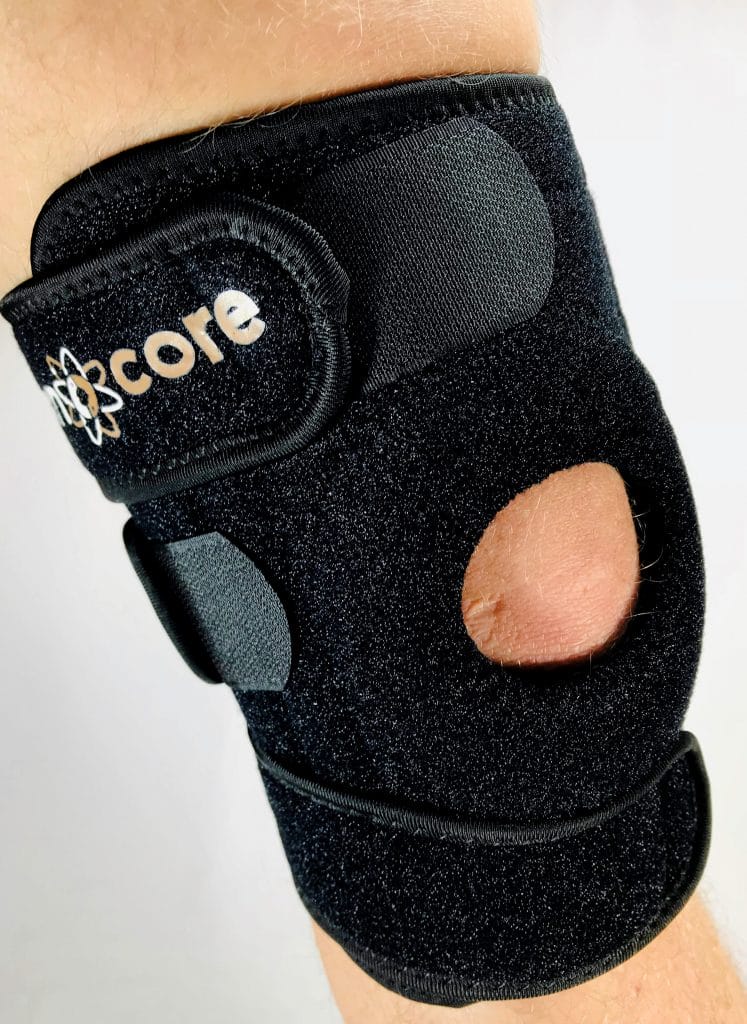 I found I was still able to roll down my trouser leg and cover the support without any issues.  I also loved the gel centre hole, this make more extra comfort and ensured my knee would remain cushion protected if I were to knock it again whilst wearing the support.
After wearing for several hours, I can confirm that the support didn't make my knee or leg sweaty or hot!
I noticed the support came with many 'air holes' (Yes, that's my technical term for it) and I think these holes allow air circulation and prevent sweating.
I found the support very comfortable and quickly forgot I was wearing it.  Another plus point is the ability to still be able to move about.  I've had other knee supports before now that literally keep your knee joint straightened, but the Ionocore Knee Support still allows to move and flex your knee joint.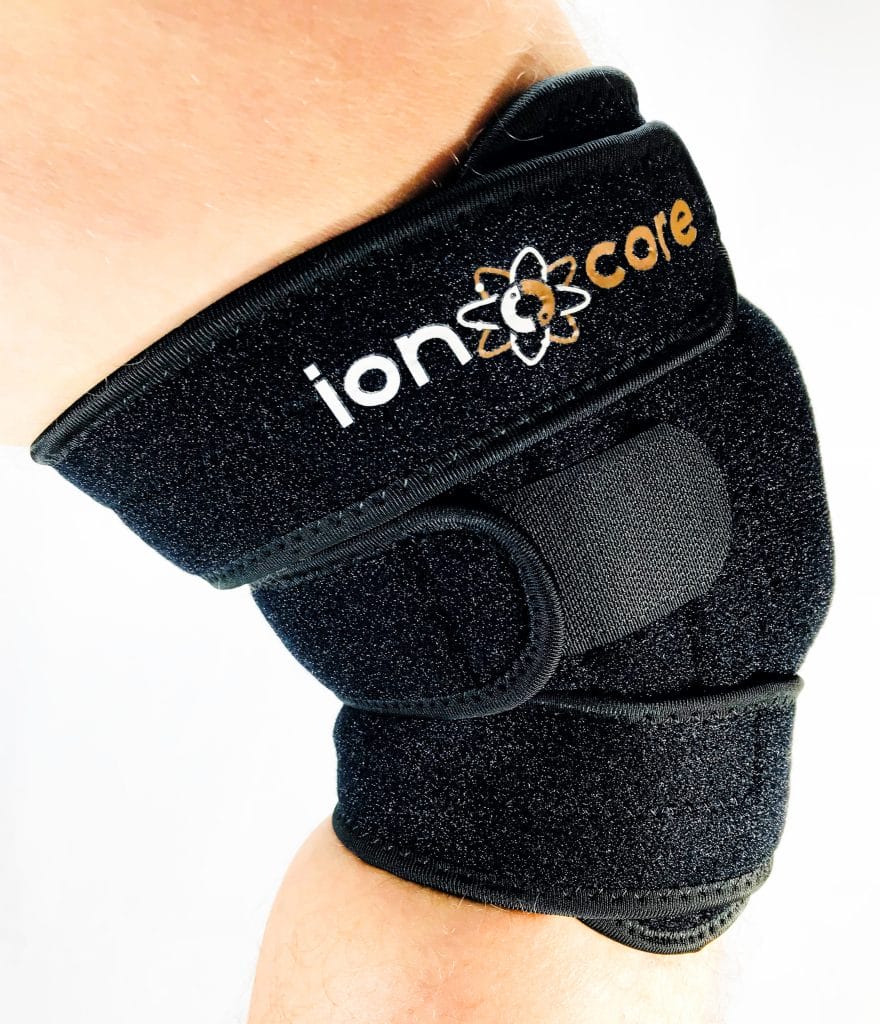 The only downside to the Ionocore Knee Support that I can see is the fact that you can only handwash it after use.  But other than that little groan, I love this product!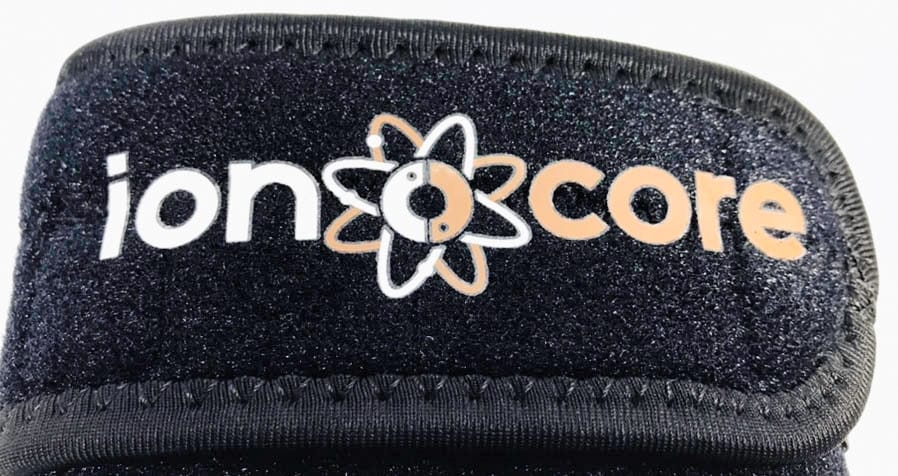 Technical Specifications.
Brand: Ionocore
Model: Knee Support
EAN: 5060468580495
ASIN: B07J23YMDH
Materials: Neoprene
Care Instruction: Handwash Only
Compliance: CE
Conclusion.
I love the Ionocore Knee Support.  It's very comfortable, lightweight and doesn't make my knee or leg sweaty.  It's quite common for me to knock my knee caps and be limping around for several days afterwards, but now I have this knee support I'm sure the recovery time will be reduced.  In general, the Ionocore Knee Support feels high quality and should last a very long time.
I have no problems at all recommending it, and for a limited time Ionocore have this support available to purchase for only £6.95 (correct as of 06/11/2018) as a special launch price, be quick though as time is limited.  I've had a quick check up on the Ionocore store on Amazon and they've got a very good reputation as an Amazon seller, with 100% feedback based upon 746 ratings. (correct as of 06/11/2018)
If you want the Ionocore Knee Support for yourself, it's available for purchase only on Amazon. The RRP for this product is £24.95.
Product sample provided by Ionocore in exchange for a detailed, unbiased review.
---
Thank you for taking the time to read my post. If you'd like to add a comment or thought on this post, please use the section below. I can also be contacted via the online contact form. Please subscribe for the latest reviews, news, and discounts. Please follow My Helpful Hints on Twitter, Instagram & Facebook too!