Today I'm going to reviewing the DESTEK V5 VR Headset. This headset is compatible with all smartphones that are gyroscope enabled. It'll also support a device with a screen size of up to 6.8 inches.
The DESTEK V5 also comes with a control button (located on top) and a Bluetooth remote control too.
You're also able to use this headset whilst using your glasses. That's because this VR headset has been designed to allow some space for your eyewear.
The field of view (FOV) is 110°, which is an increase from the previous model from DESTEK which offered only 103°. So, in theory you should experience more immersive viewing.
But is this VR headset any good? Time to test it out!
Packaging and Contents.
The DESTEK V5 VR Headset comes in a white cardboard box which features product images and printed specifications. The outer box measures 20.0cm x 14.5cm x 11.0cm and weighs 515G.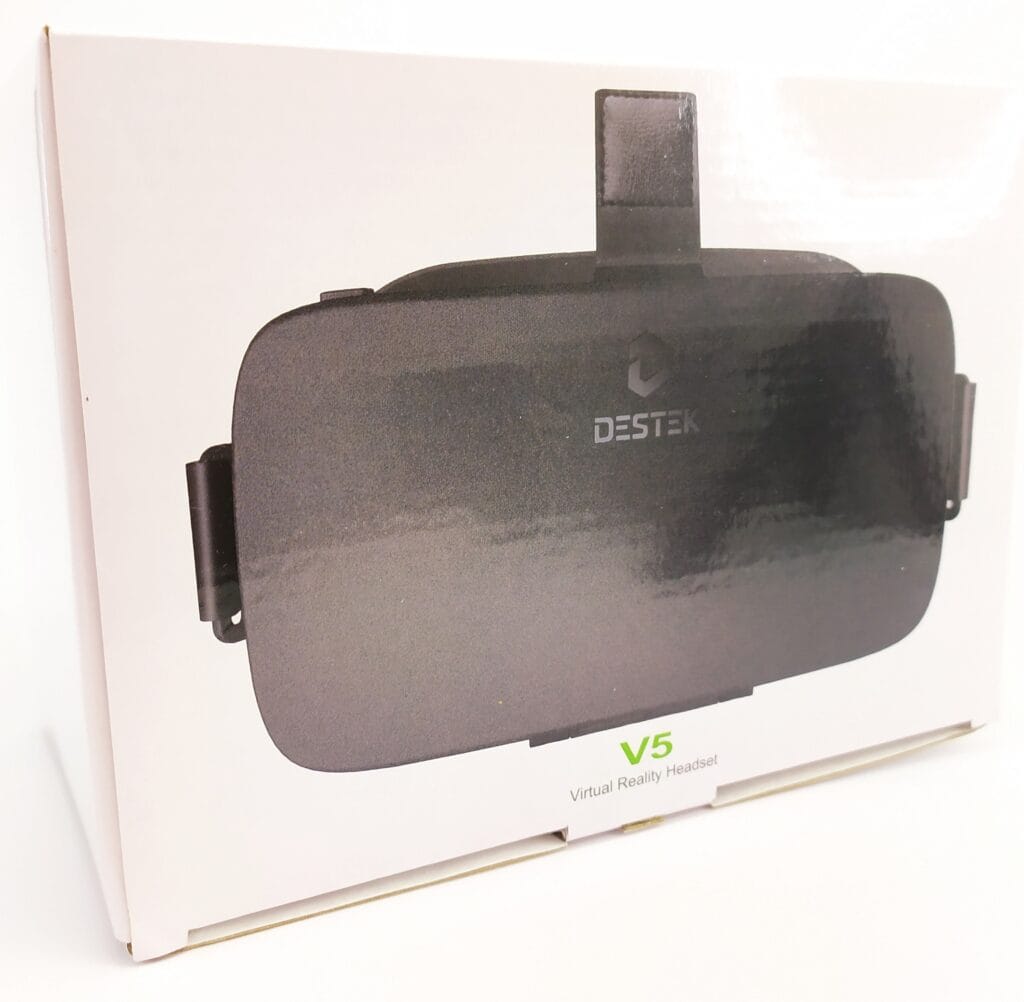 Inside the box you'll find the following: 1x VR Headset, 1x Remote Control, 1x English/German User Guide, 1x English/German Remote-Control User Guide, 1x Company Contact Card.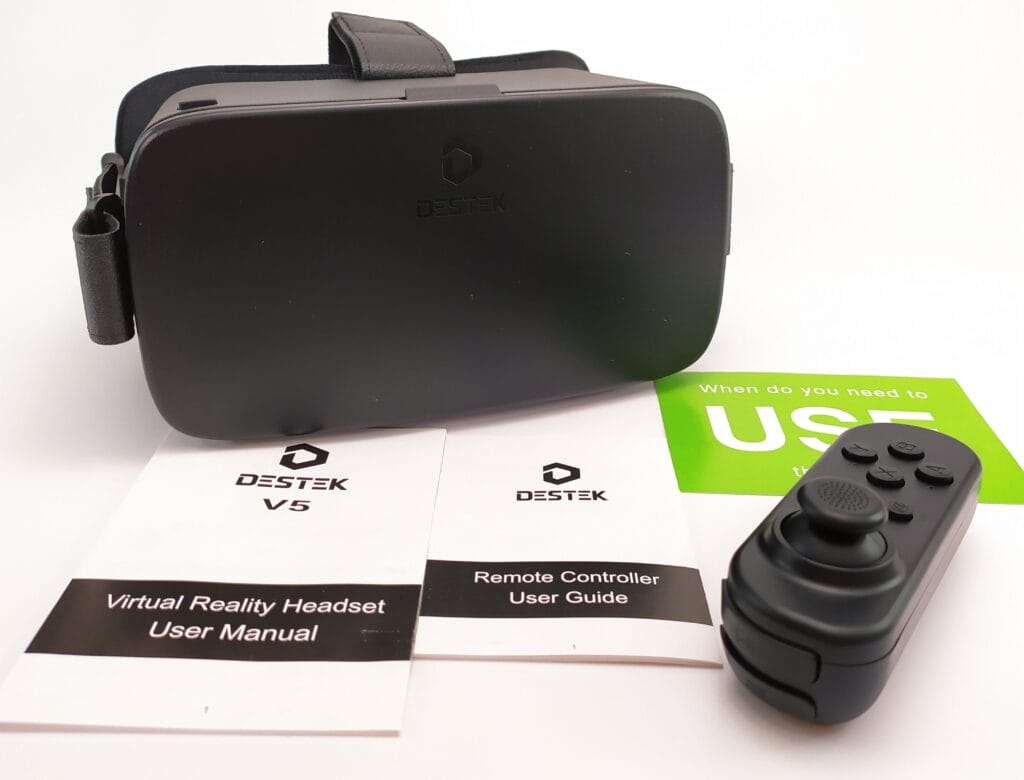 DESTEK V5 VR Headset.
The DESTEK V5 VR Headset is black in colour, it measures 18.0cm in width x 10.0cm in height x 13.0cm in depth and weighs 330G.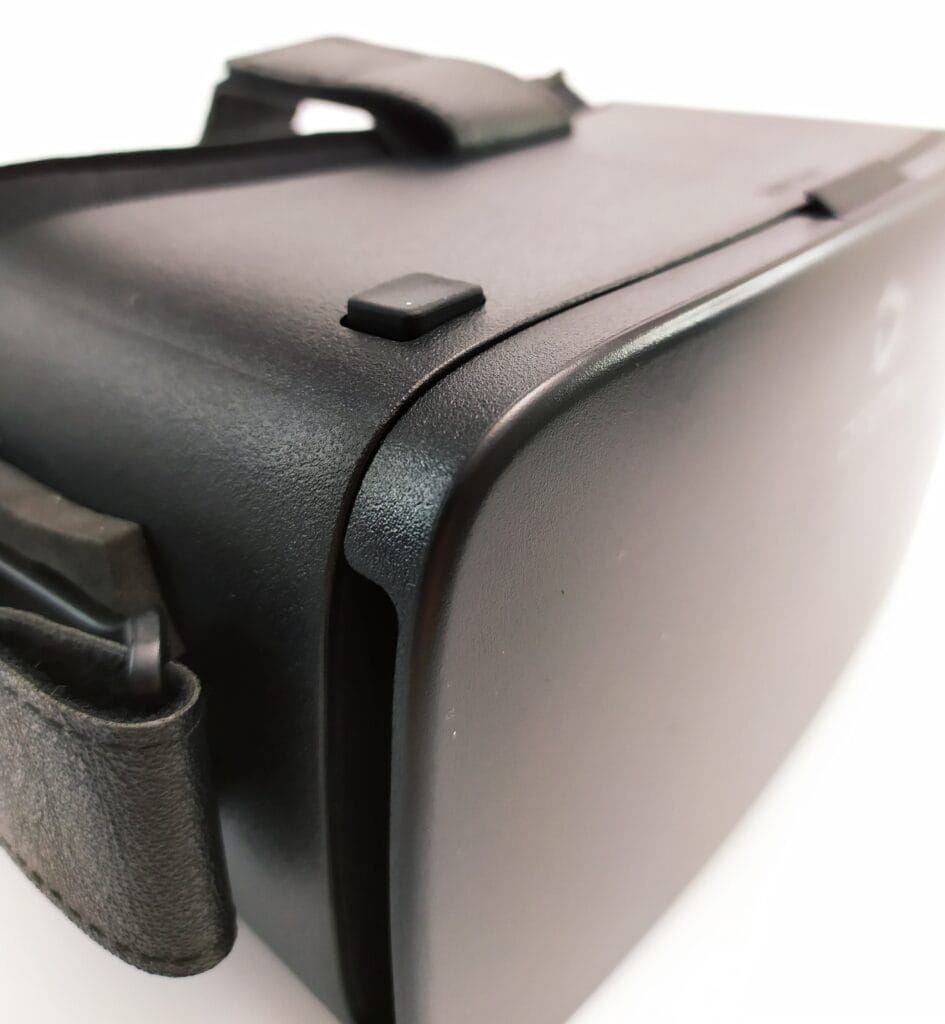 On the top-right area you'll see the touch button. This button starts/stops media without having to physically remove your device. On the front area, the flap pulls down and you insert your device into this area.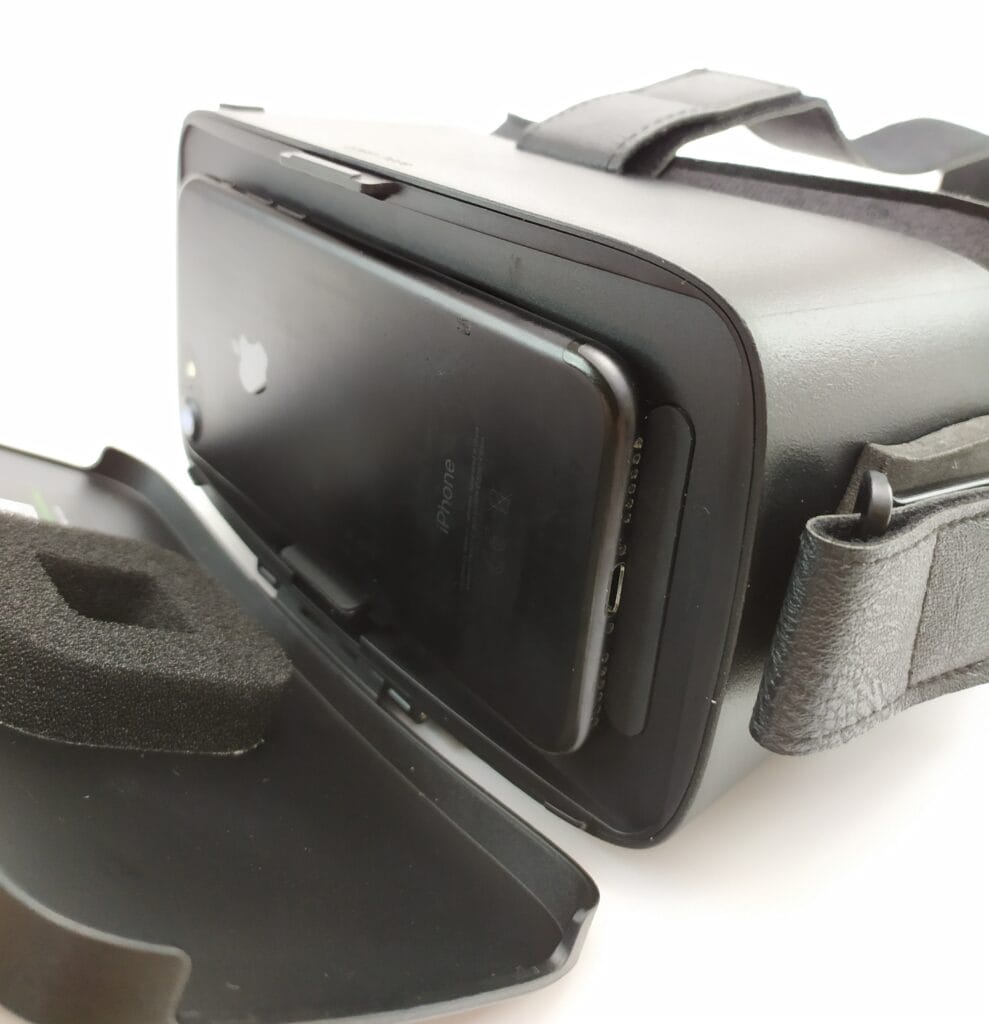 Your device sits on the bottom ledge (Which is also adjustable) and grips your device against the top holder. All sections are made from non-slip rubber. This provides not only grip, but also protects your device too. Compression from the sponge on the back of the flap holds your device firmly into position.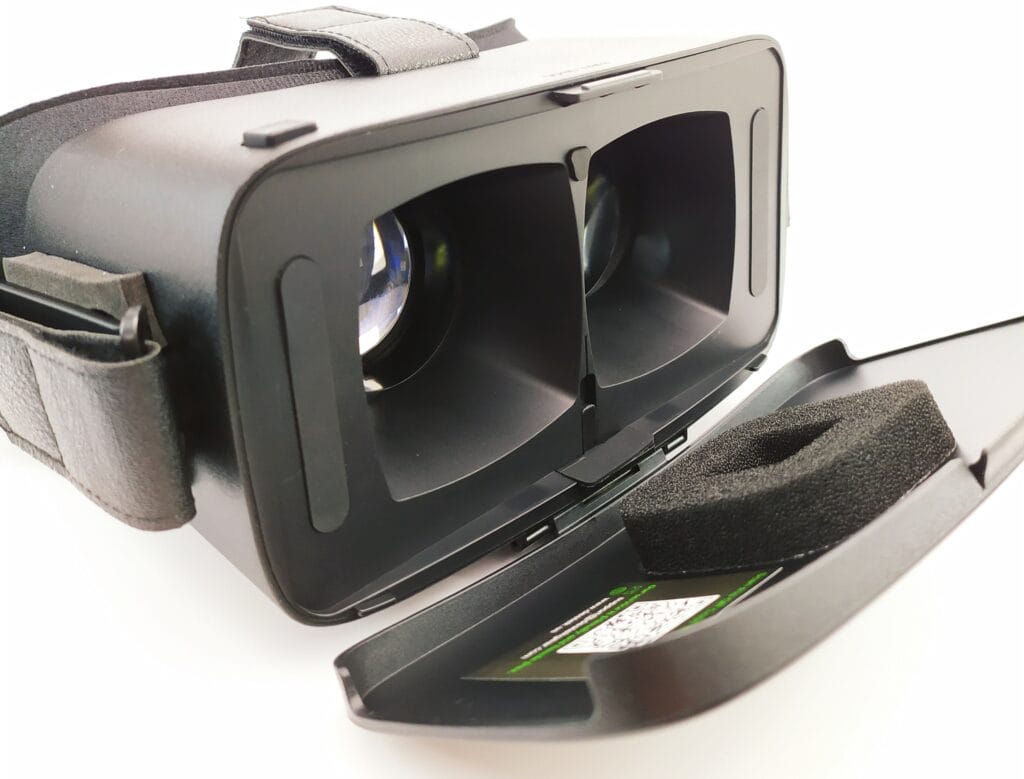 Wearing the Headset.
Firstly, you need to comfortably adjust the straps to suit your needs, the headset needs to be secured to your head. But not too tight as to cause discomfort. You can adjust the tightness using the Velcro side straps. There's also an additional Velcro strap to adjust the height too.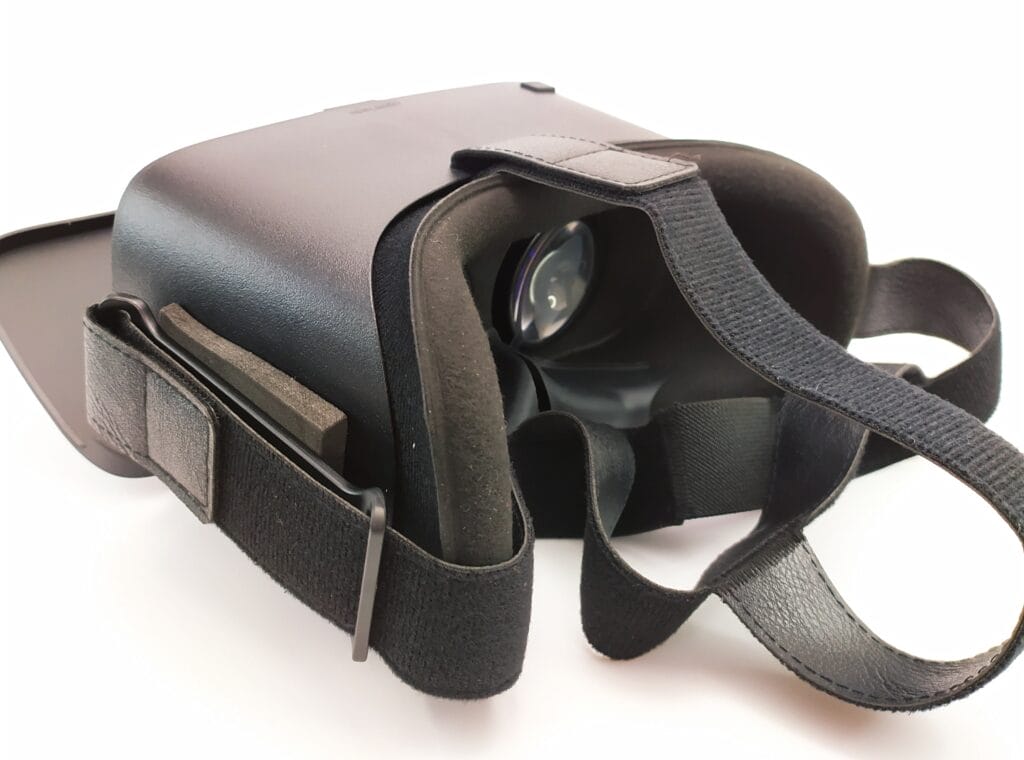 You'll see the DESTEK V5 VR Headset is heavily padded around the top and sides. But the nose area features a flimsy, flappy rubber part. It's supposed to provide comfort and block out unwanted background light. But it's a pain in the arse to use the headset with this part. I removed it straight away, but then the headset started to hurt the bridge of my nose.
DESTEK seriously need to investigate this matter for a possible V6 model, this part needs to be foam, with a possible removable light blocking rubber. If that's your preference.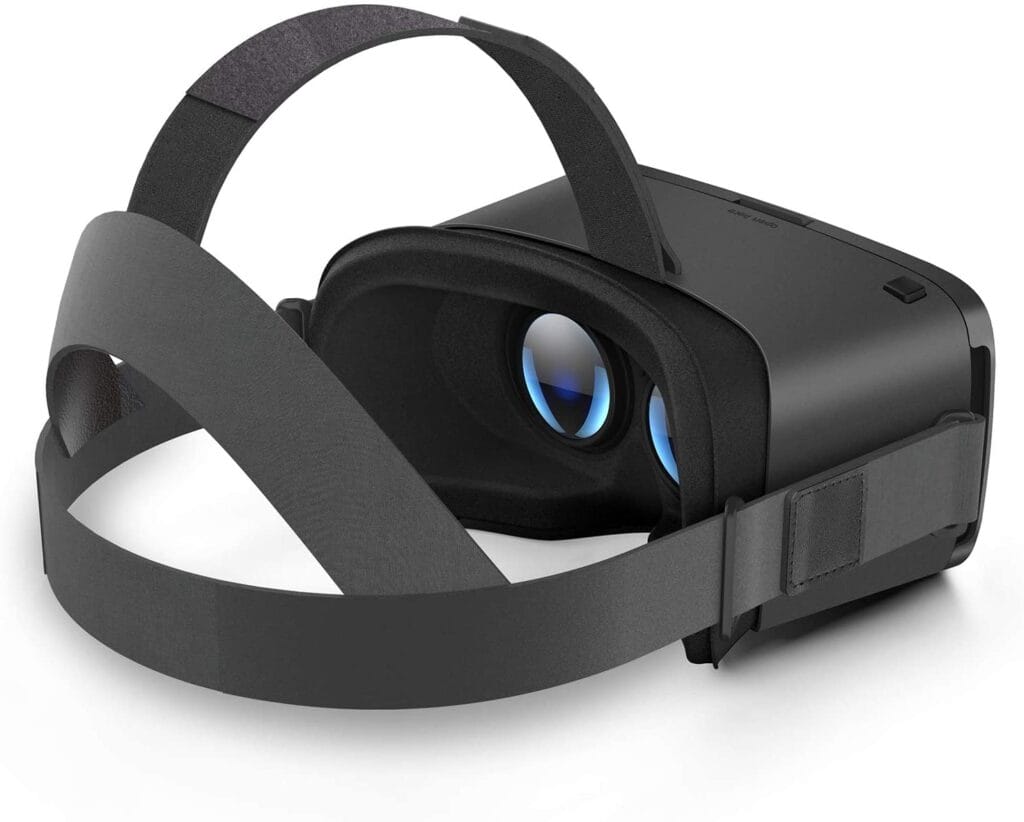 On the underside is where the distance adjustable sliders are located, these adjust your focus.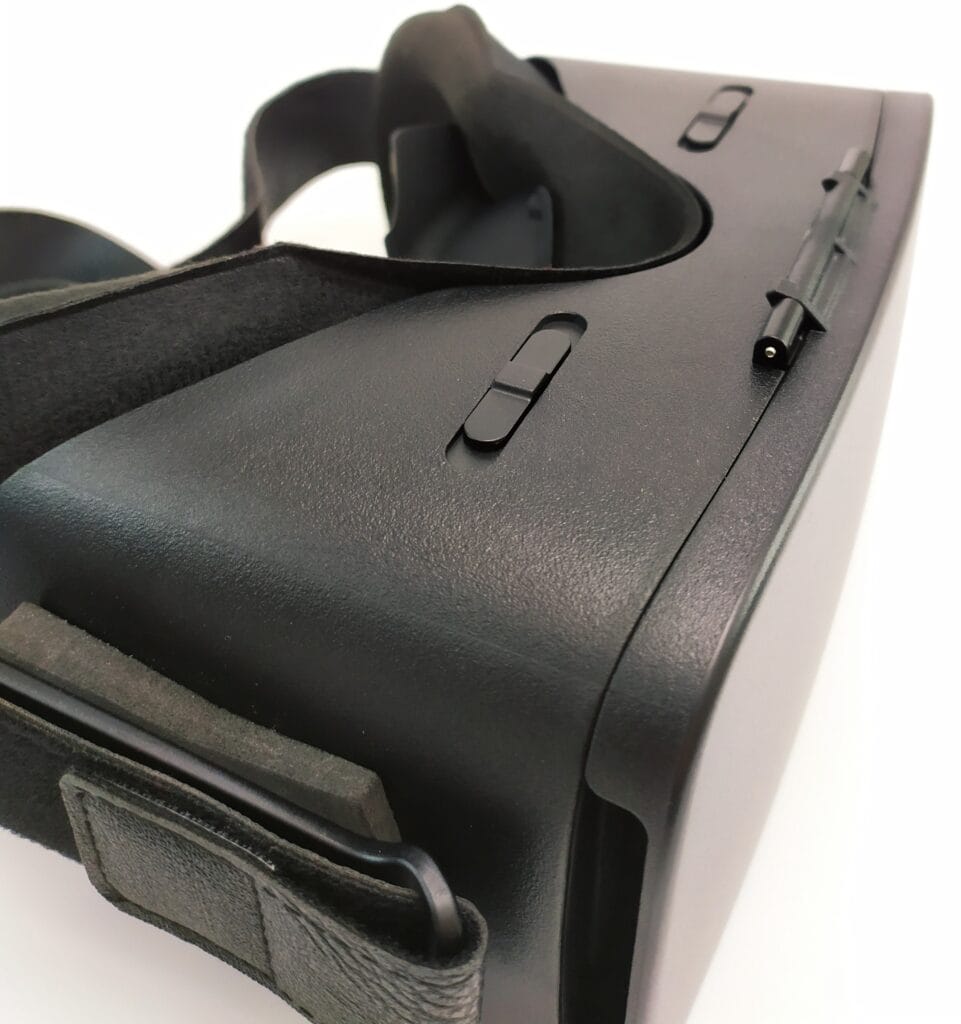 Testing out the Headset.
DESTEK give you a QR code that you can scan, this takes you to a Chinese website, if you translate this page it'll give you some excellent VR sources. But, going to YouTube will give you enough resources to test out Virtual Reality.
Once you remove the horrid rubber flappy section that seems to want to enter your eyes, nose and mouth area, you can start your VR journey. Honestly, It's a terrible design!
The touch button works best for most applications, the DESTEK V5 works to the same specifications as Google Cardboard.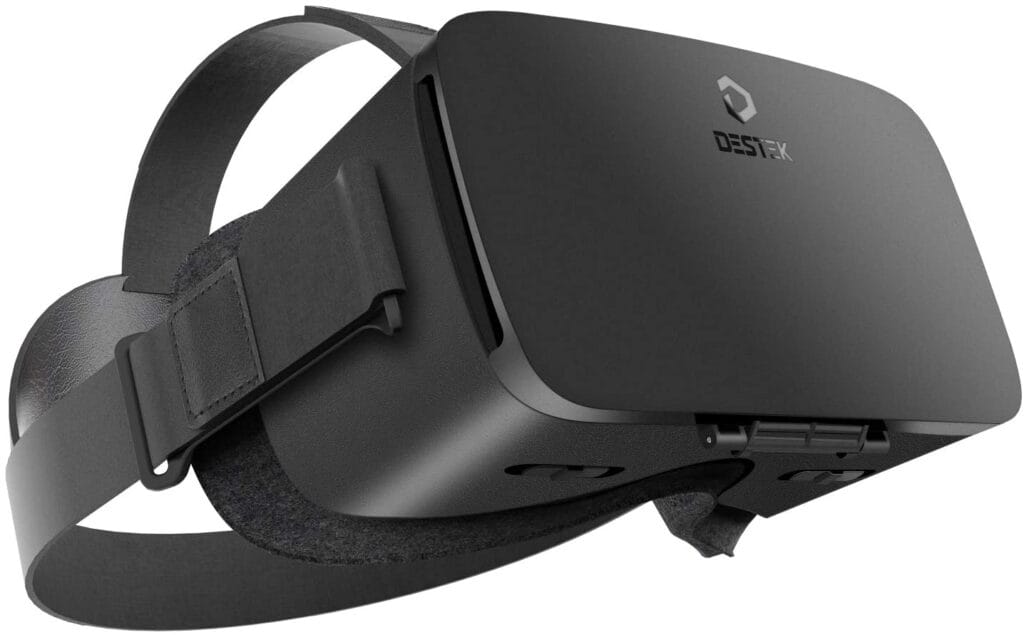 The VR experience is exceptionally good. The focal adjustments that you can make ensure every application can be easily seen. Some videos will require this adjustment every time, depending on the video quality etc. So, having this feature is a massive bonus.
But without adequate nose protection, I'm afraid after 5 minutes the bridge of my nose became so sore, I had to stop.
The DESTEK V5 Headset also comes with a Bluetooth remote control.
Remote Control.
The remote control features a Bluetooth connection. You'll need to insert 2x AAA batteries and power it on by pressing and holding the power button. Perform a Bluetooth search on your device and connect to 'VR Remote Control' in your search.
The remote is mostly designed for Android users, iOS users will find this remote useless. But even Android users will find the remote very limiting. I had a presumption that I'd be able to use the remote without ever removing my device from the headset. But, unfortunately that's not the case. The only thing that seemed to work was volume control.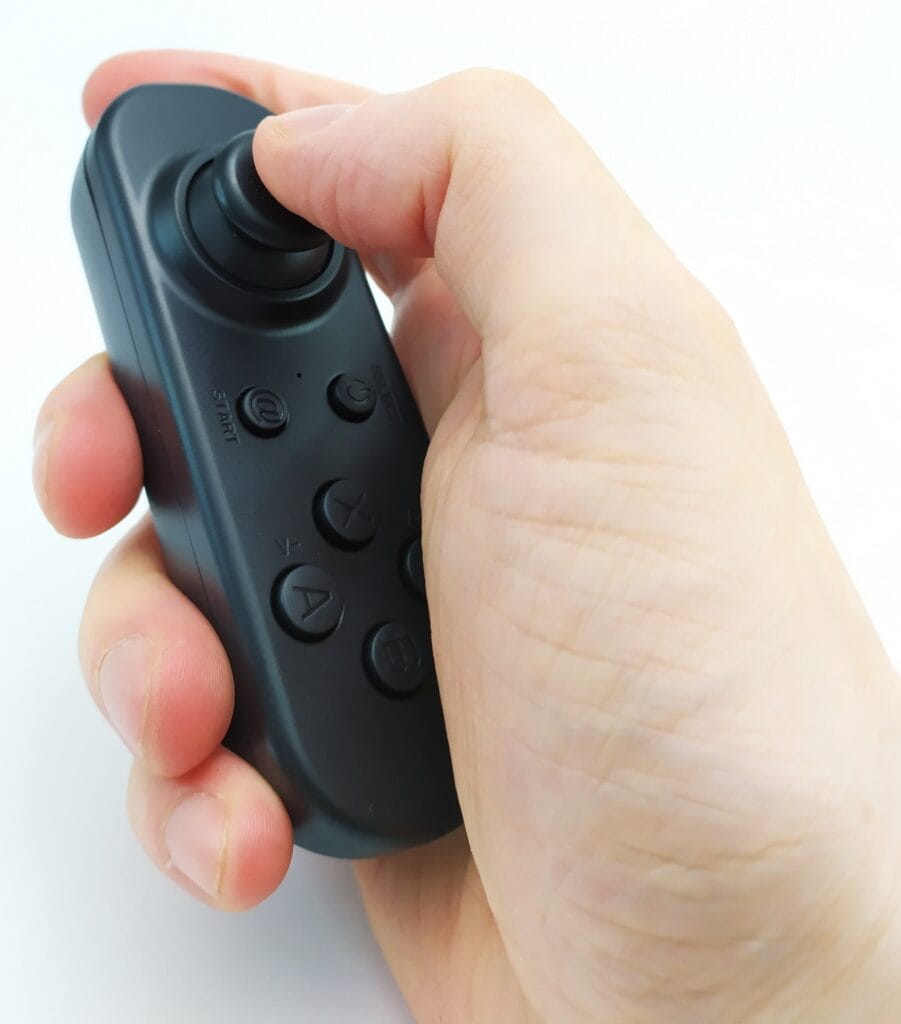 If you're left-handed you're going to be seriously pissed off with using this remote control. The shoulder buttons are designed for right-handers only.
I'm right-handed so this wouldn't be an issue for me, but not everyone is right-handed. I tried to use it in my left hand and it's extremely uncomfortable as you have to stretch your fingers to reach both shoulder buttons.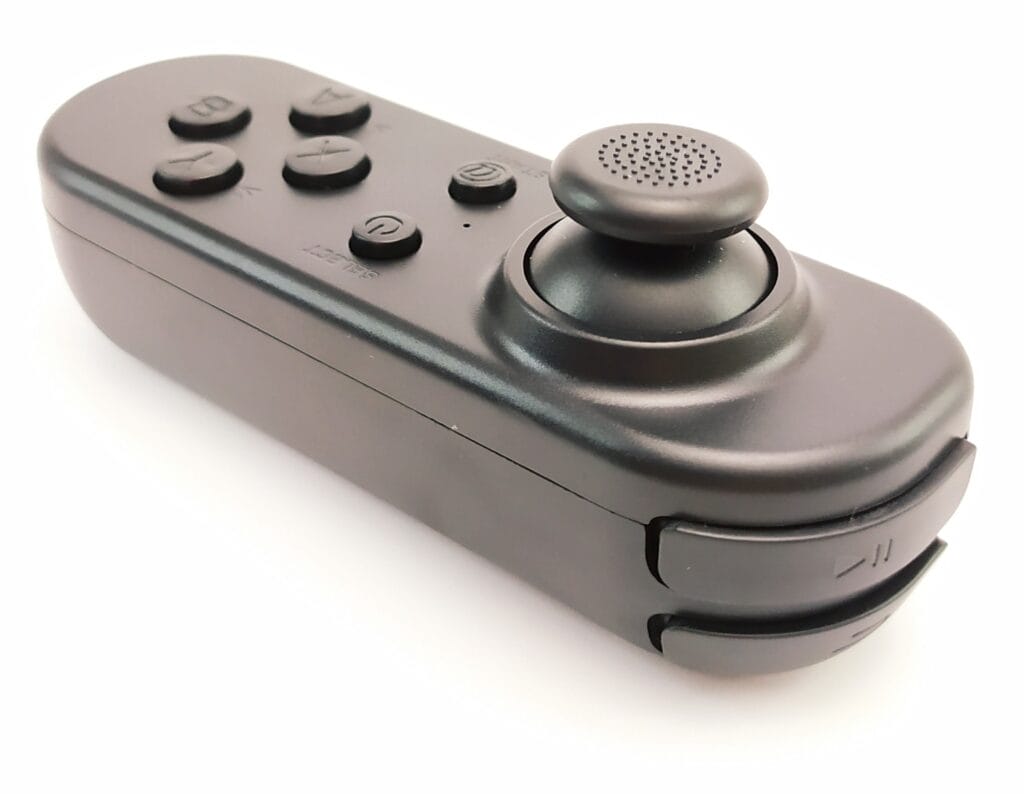 Technical Specifications.
Brand: DESTEK
Model: V5 VR Headset
Manufacturer Code: V5 Combo
Manufacturer Reference: N/A
EAN: N/A
ASIN: B07WMMXH9G
FOV: 110 Degrees
Compatible Phone Screen Sizes: 5.5 – 6.8 Inch (139.7 – 172.7mm)
Pupillary Distance: 2.2 – 2.8 Inch (56 – 72mm)
Lens Light Transmittance: 94%
Lens and Coating: Anti-reflective coating, Anti-blue light coating
Specifications: 1.65 Inch (42mm) Aspheric & Anti-distortion surface
Focal Length: Support Wearing Glasses
Compliance: CE, FCC, RoHS
Conclusion.
The DESTEK V5 VR Headset is OK for virtual reality use. But, there's so many issues that make it a poor usable product. The rubber flappy section (I know I keep mentioning this) is a terrible design idea, the remote control, although a great idea, is crud.
If these issues could be resolved, then DESTEK would have a very good product. It's not even that hard to resolve.
Firstly, increase the sponge foam all the way around the headset instead of stopping near the nose.
Secondly, ensue the remote control can be used by all persons. With regards to compatibility with iOS and Android devices, unfortunately that's out of DESTEK's control. That's an issue with these operating systems not allowing an after-market device to utilise their operating system.
If you want the DESTEK V5 VR Headset for yourself, it's available for purchase only on Amazon. The RRP for this product is £59.99.
Product sample provided by DESTEK in exchange for a detailed, unbiased review.
---
Thank you for taking the time to read my post. If you'd like to add a comment or thought on this post, please use the section below. I can also be contacted via the online contact form. Please subscribe for the latest reviews, news, and discounts. Please follow My Helpful Hints on Twitter, Instagram & Facebook too!