Today I'll be writing about the MACTREM 10″ Ring Light. This ring light comes with an adjustable tripod that can extend up to 147.0cm and can also double up as a selfie sick too.
MACTREM are a decent, affordable brand that I've been lucky enough to review for a few times now, never had any issues with their products or service tot.
Ring lights are everywhere since the boom of online streaming and mobile phone video broadcasts, and for good reason too. The ring light perfectly works in tandem with the camera on your mobile phone, you can produce decent image quality, without the big budget of a professional setup.
The MACTREM 10″ Ring Light comes with a universal 5V DC USB plug, 3 light colour outputs, and 10 brightness levels on top. So, you can get the perfect light level and light warmth to suit your needs.
So, is this ring light any good? Time to test it out!
Packaging and Contents.
The MACTREM 10″ Ring Light comes packaged in a plain looking cardboard box. The box measures 38.0cm x 21.5cm x 6.0cm and weighs 1030G.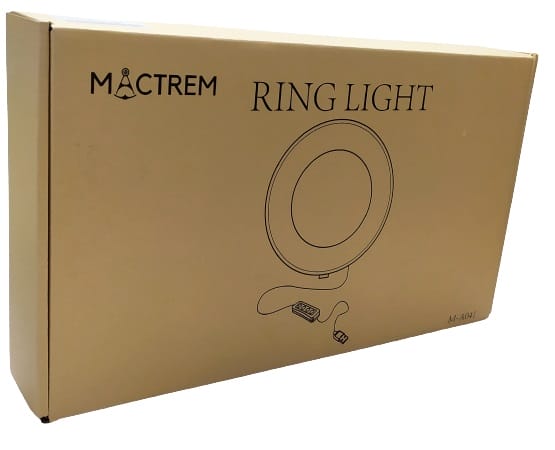 Inside the box you'll find the following: 1x Ring light, 1x Tripod, 1x Clamp, 1x Mini Ball Head, 1x Phone Holder, and 1x English User Guide.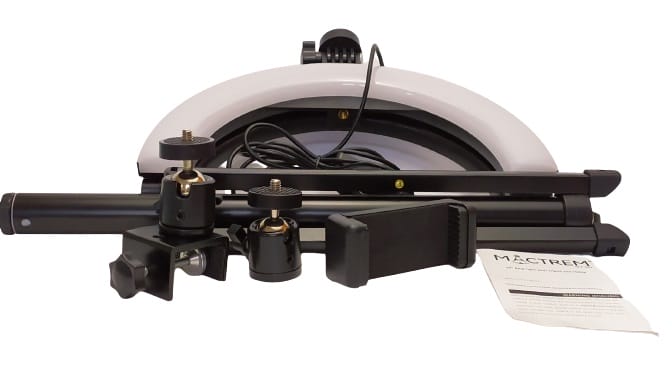 MACTREM 10″ Ring Light.
The MACTREM 10″ Ring Light is made from plastic, with a steel tripod. This height of the ring light on the tripod measures 33.0cm to 147.0cm. You can adjust this manually to suit your height needs. Simply twist clockwise to move the tripod up and down, and twist anti-clockwise to lock it into position.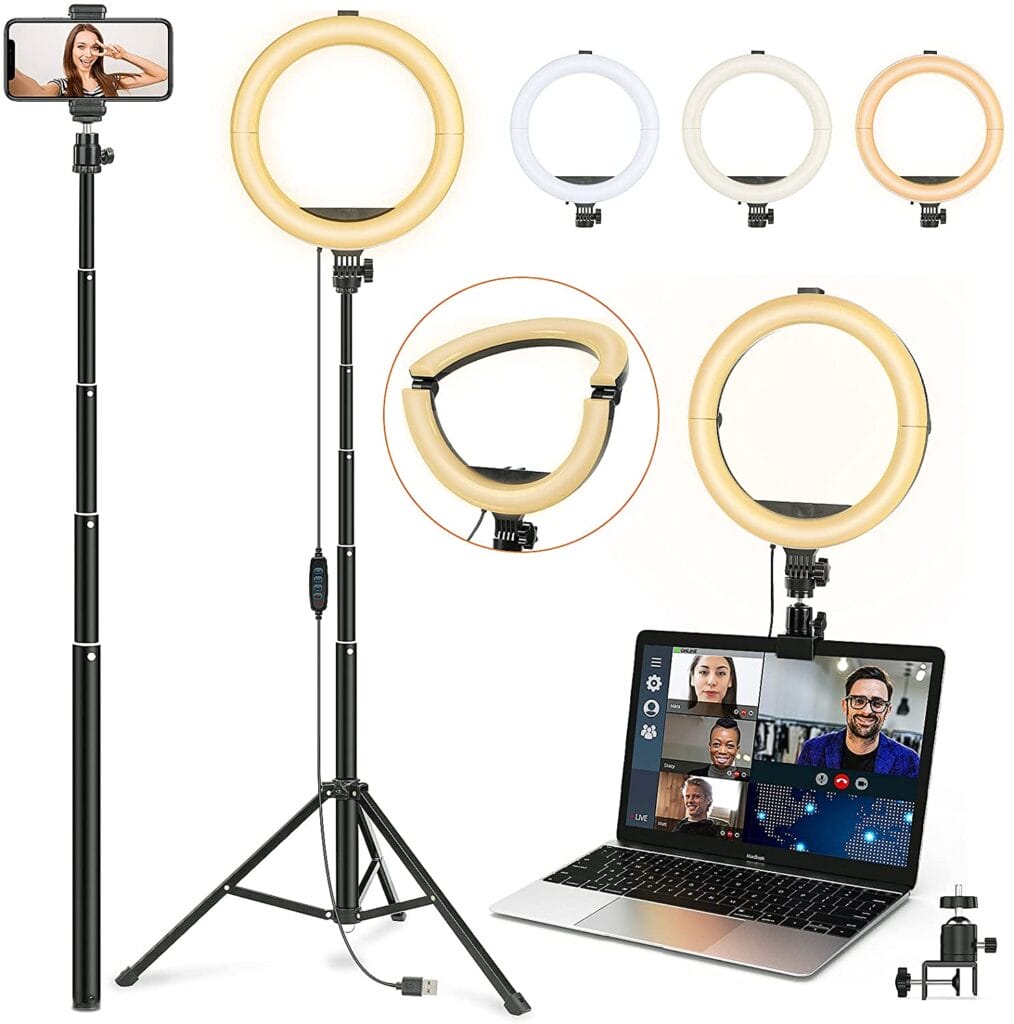 You get in-line user control on the 190.0cm cable. You'll need to supply a 5V DC power source, you can easily do this via your USB outlet on your laptop, you can even use a powerbank. I recorded a power supply demand of 4.6V/0.9A on full power, and 5.0V/0.1A on low light level selection. So, any USB outlet can cope with this demand.

The red button turns on/off the light, the mode cycle button allows you to choose from white, warm white, and cool white light output. The minus and plus buttons allow you to control the light output.
Other Features.
The MACTREM 10″ Ring Light also fold in half, yes, you heard that correctly. You can fold the ring light 180° to suit your light angle. And that's not all, the supplied 1/4″ screw fully adjusts in any direction thanks to the ball joint.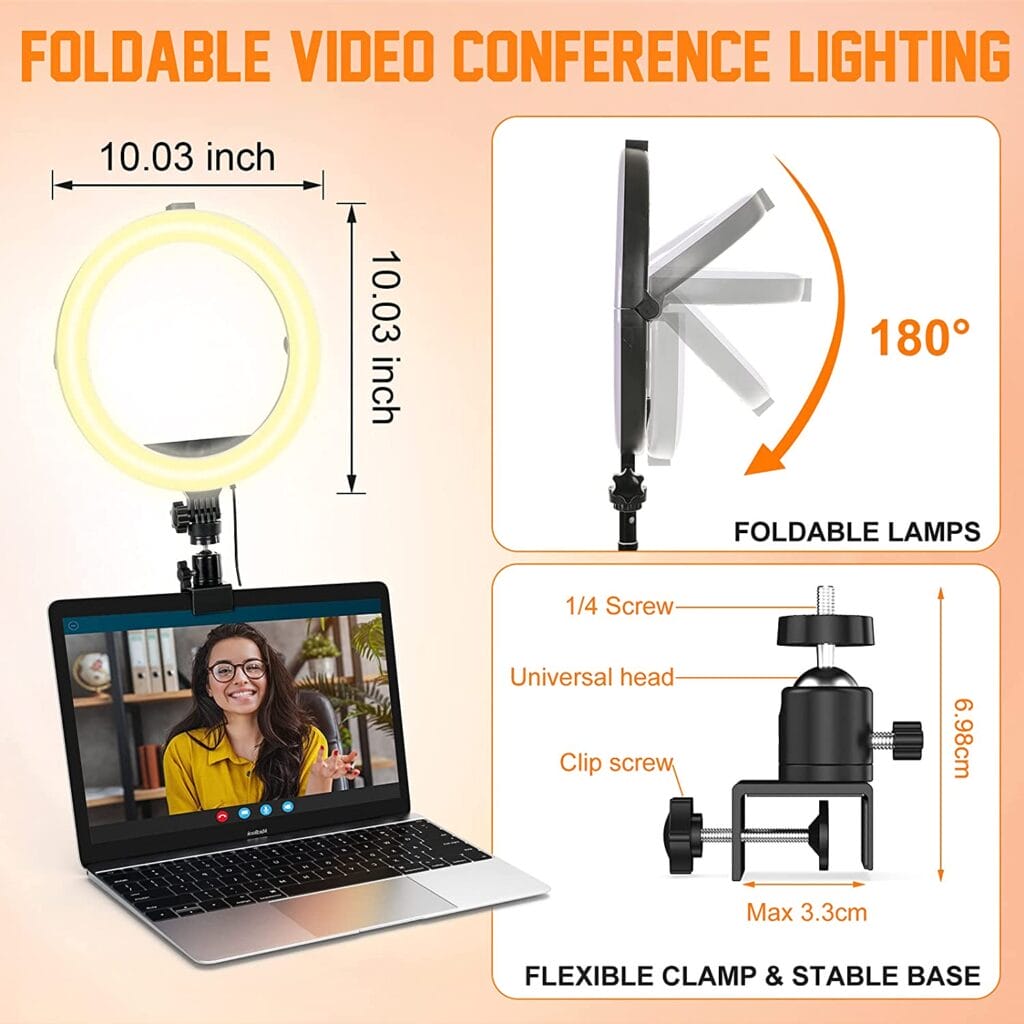 The clamp allows you to clamp the ring light onto a laptop, this system lets you use the mobile phone holder and tripod to make a complete video streaming setup, a brilliant idea from MACTREM.
And, the user guide actually makes sense, MACTREM have provided a very good, translated English user guide on top.
Technical Specifications.
Brand: MACTREM
Model: 10″ Ring Light
Manufacturer Code: SY-80
Manufacturer Reference: N/A
EAN: N/A
ASIN: B08YY81H5Q
Voltage Input: 5V DC
Maximum Current: 1.3A
Power: 6.5W
Colour Temperature: 3200-6500K
Brightness Levels: 10
Compliance: CE, FCC, RoHS
Conclusion.
I like the MACTREM 10″ Ring Light. It's lightweight, portable and the light outputs are ideal for a whole host of uses. The ring light even can be used as a room light, I love it. I've been keeping it easily accessible for a quick photo for my socials, it's a great time saver, better than me dragging out my full setup for an image or two.
I like the 3 colour light outputs too, perfect for choosing the best light for different parts of the day, my house gets some weird shadows caused by trees, so I can adjust the light colour and brightness to counteract this problem.
Highly recommended.
If you'd like to purchase this item, please check out the purchasing options below. The RRP for this product is £27.99.
Product sample provided by MACTREM in exchange for a detailed, unbiased review.
---
Thank you for taking the time to read my post. If you'd like to add a comment or thought on this post, please use the comments section below. I can also be contacted via the online contact form. Keep up to date with the latest news on social media.