Today I'll be reviewing these KBEAR Neon Earphones. It's no secret I love audio products, and over the last year I've been a super KBEAR fan. I've built up a great relationship with Keephifi, an agent acting on behalf of KBEAR too. Which for an audio lover is a dream. I've been so impressed with the KBEAR brand and love that Keephifi choose me to test out the latest released models. It's a dream come true.
Today's offering is KBEAR's latest offering, the Neon with ED-29689 Balanced Armature Drivers. They're cool, quirky, and manufactured with a 4N QDC Silver-Plated Copper Cable (99.99% Copper Purity) for clear vocals and sound transfer.
The KBEAR Neon Earphones come with a universal 2-Pin 0.78mm plug and a universal 3.5mm gold-pated jack plug.
So, are the Neon earphones any good? Time to test them out!
Packaging and Contents.
The KBEAR Neon Earphones come packaged in a black card sleeve boxed, which features product images and specifications. The box measures 14.5cm x 13.0cm x 3.5cm and weighs 170G.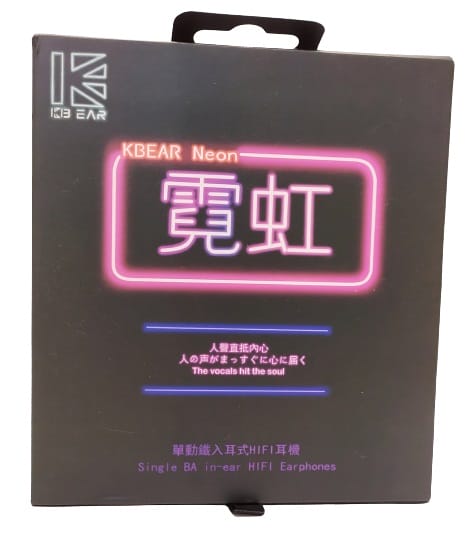 Remove the sleeve and you'll see a magnetic box, and inside behold the Neon earphones. The one thing I've come to expect with KBEAR is beautiful packaging and storage of their audio products.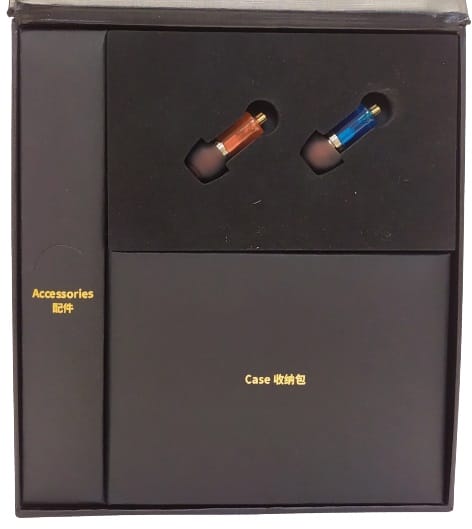 Inside the box you'll find the following: 1x Pair of Neon's, 1x Cable, 1x Storage Case, 2x Additional Silicone Tips, 1x Memory Foam Tips, 1x Chinese/English User Guide.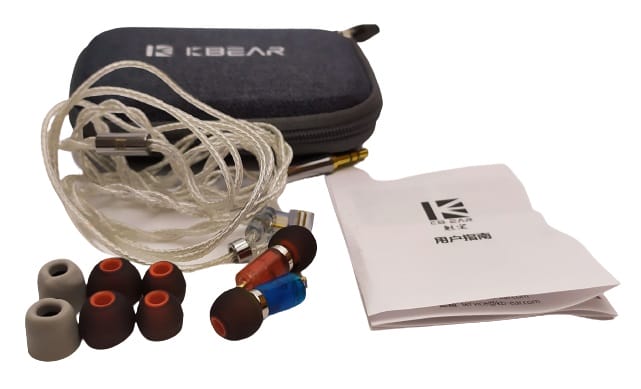 KBEAR Neon Earphones.
The KBEAR Neon Earphones measure 2.7cm (with tip attached) and weigh 2.3G (with tip attached) each. You get some choice regarding colour. I chose red and blue as it looked different and I liked the look of two odd colours, you can choose black, or purple, and they'll both be those colours. Only the red and blue feature a mixed colour option.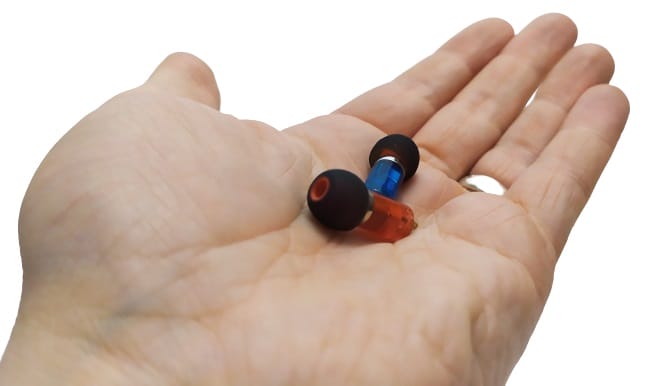 The small hole indicates correct polarity. I've switched them around and it makes no difference, also each earphone can be either left or right too. Left and Right audio is indicated by the L/R symbol on the top of the cable. The cable measures 120.0cm in length, it has a TPE (Thermoplastic Elastomers) outer coating for both durability and tangle-free use.

You'll see from the above image that there's a sliding ring, this tightens p the cable to help with slippage. The cable does not feature an in-line microphone, and this isn't available as an option just yet. The 3.5m gold-plated plug is your standard Tip Ring Sleeve (TRS) jack plug.
Comfort.
The KBEAR Neon Earphones look like they'd visibly protrude from your ears, and this is exactly what they do. But, not as much as I first thought, but they still protrude rendering beanie hat wearing out of the question. They're slightly angled too; this helps them glide deep into your inner ear canals. Once in position they're remarkably comfortable, despite looking like you've got a pair of straws sticking out of your ears.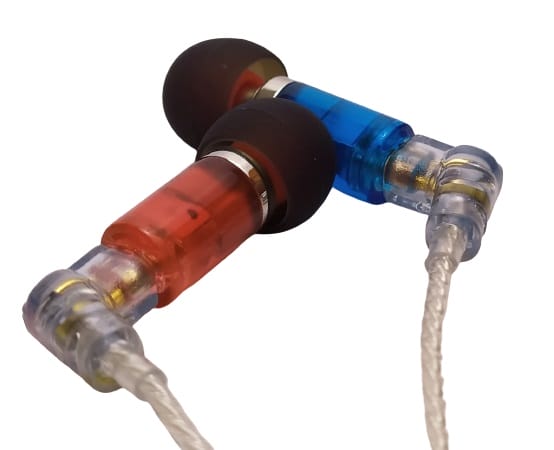 Replacing a tip is a simple job. Simply pop off the old tip and push on a new one. It's imperative to find the best tip for your ears, not only for comfort, but also for pure enjoyment of audio.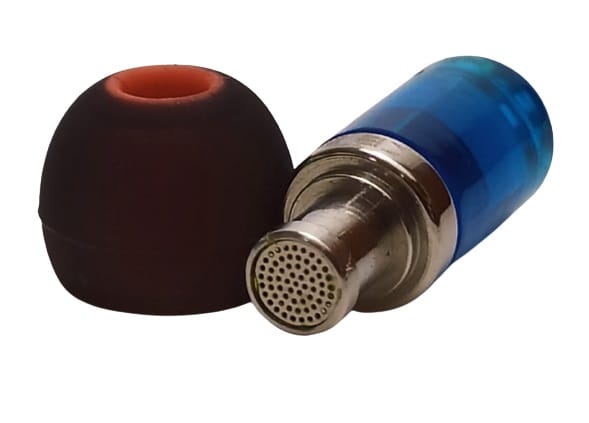 The KBEAR Neon Earphones remain comfortable after several hours of use. This surprised me, I presumed they'd hurt due to the length, but I this isn't the case.
Sound Quality.
The KBEAR Neon Earphones sound exceptionally good. Bass and vocals are balanced, crisp, and clear. You'll be pleased to know the KBEAR Neon Earphones are equipped with an ED-29689 Balanced Armature Driver, which produces a dynamic audio range.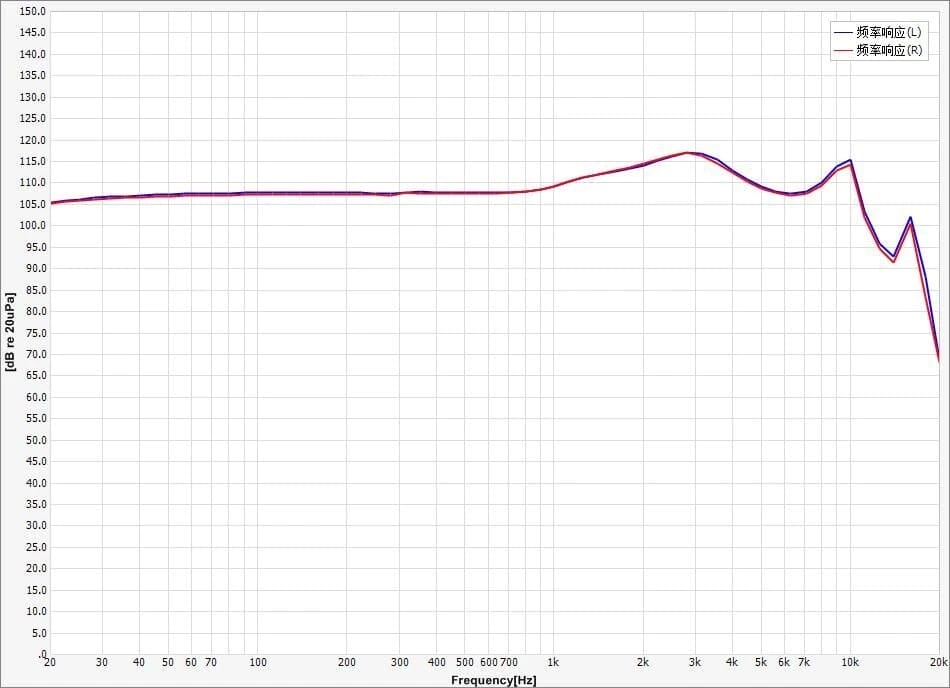 Most impressively for me aside from the sound is both the noise isolation and cancellation capabilities. Cancellation is exceptionally good, even better than most Active Noise Cancellation (ANC) models on the market today, you literally can become totally immersed in your music. Noise isolation is also notably good, your music remains your music, no club banger freeloaders with the KBEAR Neon Earphones.
Technical Specifications.
Brand: KBEAR
Model: Neon Earphones
Manufacturer Code: N/A
Manufacturer Reference: N/A
EAN: 0768563213113
ASIN: N/A
Interface: 0.78mm Pin QDC
Frequency Range: 20-20kHZ
Sensitivity: 105±3dB
Impedance: 14Ω
Colour: Blue/Red
Plug: 3.5mm gold plated connector
Cable Material: 4 Core Copper Cable
Driver Unit: ED-29689 Balanced Armature Driver
Compliance: CE, FCC, RoHS
Conclusion.
I love the KBEAR Neon Earphones. I wanted to not love them due to how they protrude from the ear, but I couldn't help loving them. The biggest strengths for me are both the noise isolation and cancellation, these are exceptional.
If you'd like to purchase this item, please check out the purchasing options below. The RRP for this product is £53.02
Product sample provided by Keephifi in exchange for a detailed, unbiased review.
---
Thank you for taking the time to read my post. If you'd like to add a comment or thought on this post, please use the comments section below. I can also be contacted via the online contact form. Keep up to date with the latest news on social media.