The Klarstein ShoeButler Shoe Polisher is an automatic shoe cleaner and buffer.  You can operate it whilst wearing your shoes as a sensor automatically cuts in and starts to operate.
This shoe polisher comes with 3 different polishing wheels and a liquid dispenser too.The Klarstein ShoeButler is safe and features an integrated overload protection circuit.
A rubber mat also captures dirt and other shoe debris without leaving behind mess on your floors.
Packaging.
The Klarstein ShoeButler Shoe Polisher comes packaged in a Light Grey and Red cardboard box.  The box measures 52.5cm x 31.0cm x 34.cm and weighs 6.3KG.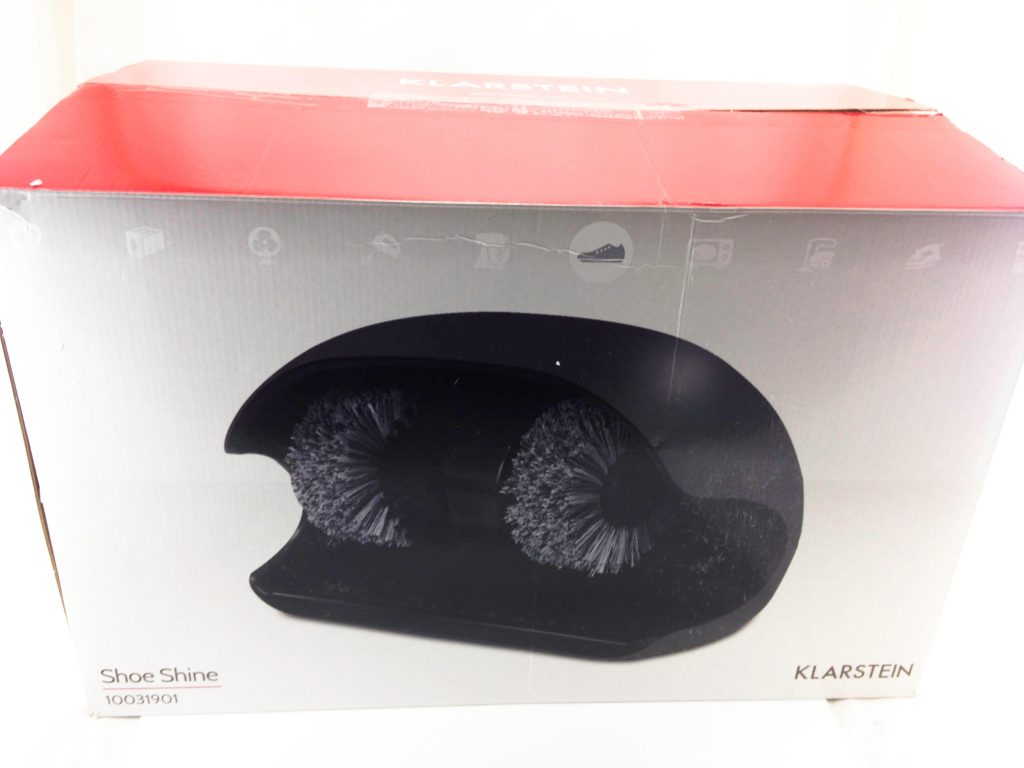 Contents.
Upon opening the Klarstein ShoeButler Shoe Polisher box you will find the following items. 1x Shoe Polisher, 1x Liquid Dispenser, 1x Multi-Lingual User Manual.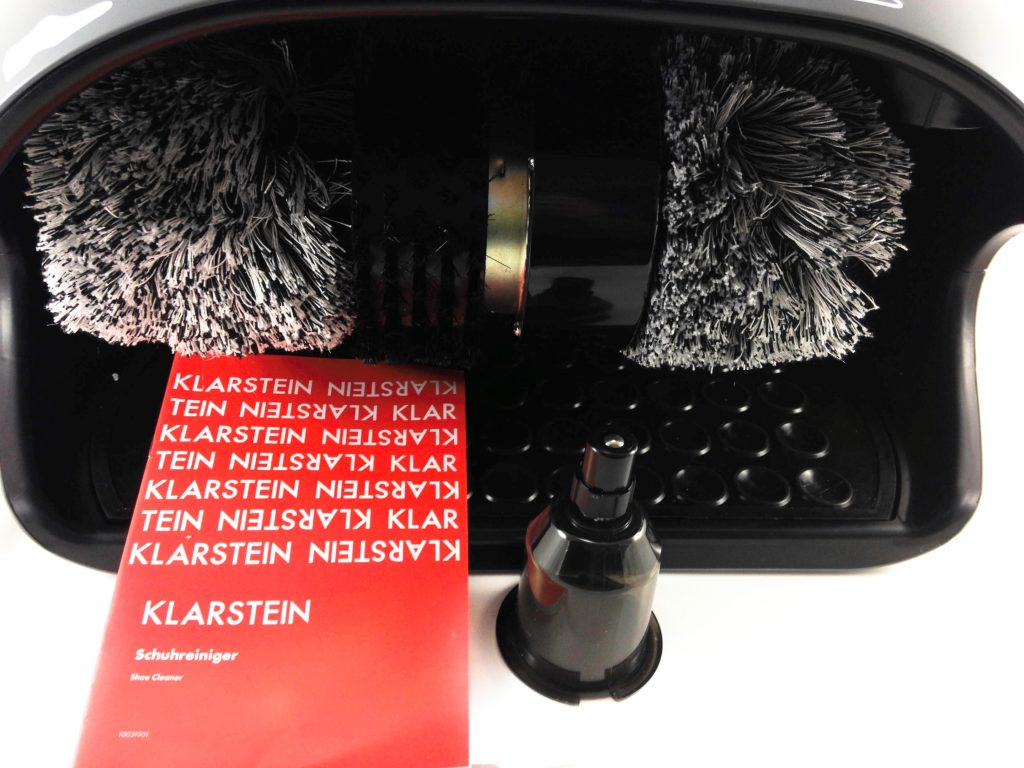 Klarstein ShoeButler Shoe Polisher.
The Klarstein ShoeButler Shoe Polisher is Grey and Black in colour.  It's made from mixed materials including plastic.  The shoe polisher measures 47.0cm x 28.0cm x 27.0cm and weighs 5KG.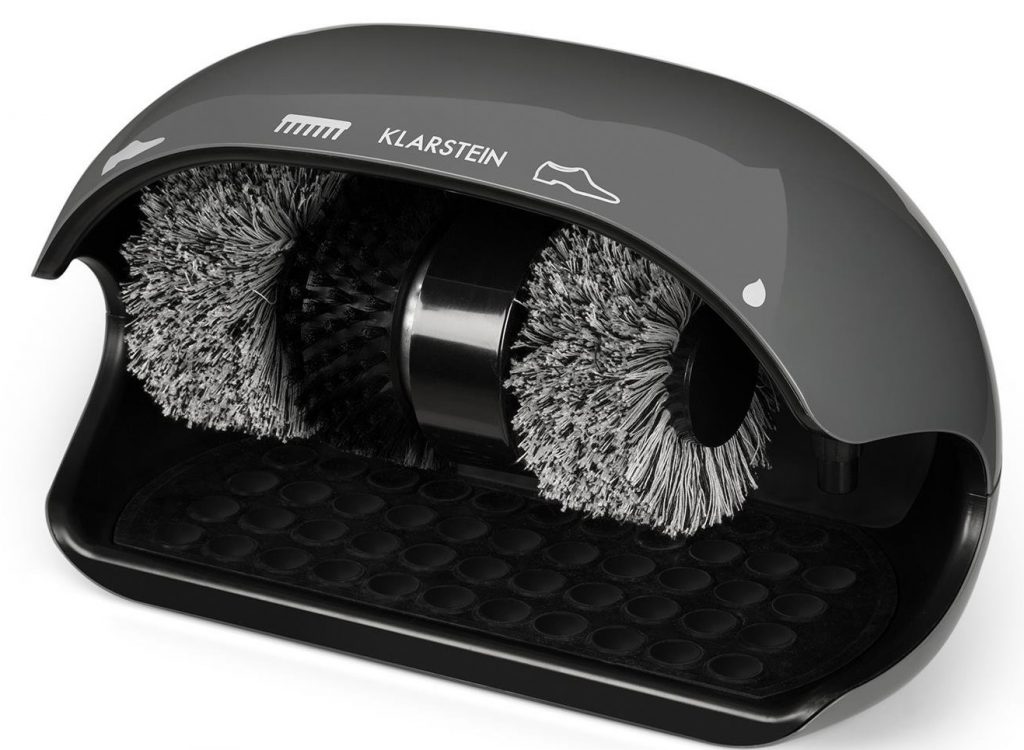 To use the shoe polisher simply plug in the machine to mains power, the power lead has a length of around 120cm.  The shoe polisher will start to work automatically when the sensor has recognised a shoe has entered the machine.  The machine will continue to run for as long as a shoe is being detected but will shut off if no shoes have been detected for around 15 seconds.
You get 3 different brush rolls to clean and buff your shoes and the refillable dispenser allows you to fill it up with your desired shoe cleaner/protector.
The shoe polisher also features a removable rubber mat, this provides grip when placing shoes into the machine and help capture shoe debris and mess getting onto your floors.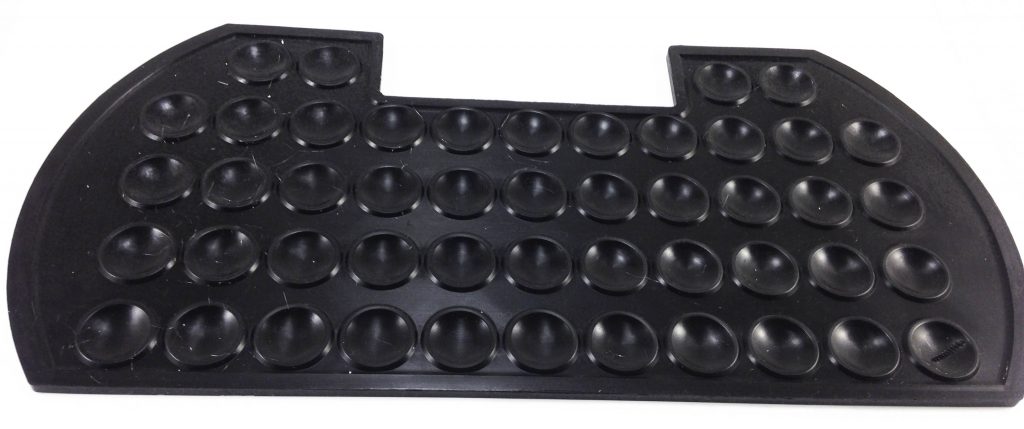 The Klarstein ShoeButler Shoe Polisher features a powerful 120W motor that will bring the life back into any pair of shoes.  The course brush is also fantastic at removing mud and dirt without damaging your footwear.
Technical Specifications.
Brand: Klarstein
Model: ShoeButler Shoe Polisher
Model Code: SPO-ShoeButler-GR
Item Number: 10031901
EAN: 4260509684880
ASIN: B076DLZ9NV
Input: 220-240V AC 50/60Hz
Power Consumption: 120W
Compliance: CE
Conclusion.
I was surprised how good this shoe polisher was.  I really like the fact that you can use it whilst still wearing your shoes, it saves your back from leaning over to clean your shoes.  The automatic cut-off is a fantastic safety features also.  Overall I recommend you purchasing this shoe polisher.
If you want the Klarstein ShoeButler Shoe Polisher for yourself, it's available for purchase only on Amazon. The RRP for this product is £94.99
Product sample provided by Klarstein in exchange for a detailed, unbiased review.
---
Thank you for taking the time to read my post. If you'd like to add a comment or thought on this post, please use the section below. I can also be contacted via the online contact form. Please subscribe for the latest reviews, news, and discounts. Please follow My Helpful Hints on Twitter, Instagram & Facebook too!
Klarstein ShoeButler Shoe Polisher