Today I'll be writing about the FOXSUR Car Battery Charger. A 3-stage automatic battery charger, which also features a pulse battery repair function.
In early March, my Vauxhall Zafira's hazard lights suddenly came on whilst being parked on my drive since the beginning of January (due to lockdown). I presumed an alarm had been set off and proceeded to investigate. I managed to start the car after turning off the hazard lights. I'd lost all my dashboard lights, including RPM gauge stopped working. My first presumption was it's an electrical fault causing it. I then turned off the ignition and then the car wouldn't start again. I could hear the familiar and dreaded sound of clicking. It was then obvious it was a battery issue. Out came my multi-meter and I recorded a 12.3V reading. I then regretted immediately cutting off the ignition. If I had let it run for a little while the alternator would've recharged the battery. But then I wouldn't be writing this review, so I guess it's fate.
Anyway, after a few minutes scrolling through the many various car battery chargers on Amazon, I came across the FOXSUR FBC122408D, there's a few companies selling this model, each with their own brand stamped across it. They're all the same. I needed a car battery charger, and I needed one quick, so Amazon Prime to the rescue.
So, is this car battery any good? Is it worth the money Time to test it out!
Packaging and Contents.
The FOXSUR Car Battery Charger comes packaged in a black cardboard box which features product images and print on the front and specifications printed on the reverse. The box measures 22.5cm x 13.0cm x 6.5cm and weighs 702G.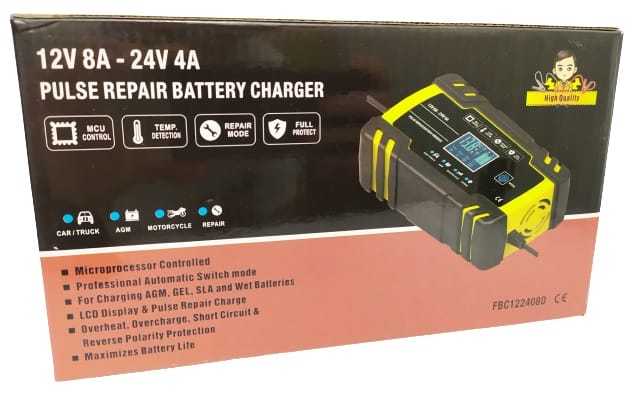 Inside the box you'll find the following contents: 1x Car Battery Charger (With UK Plug), and 1x Multi-Lingual User Guide.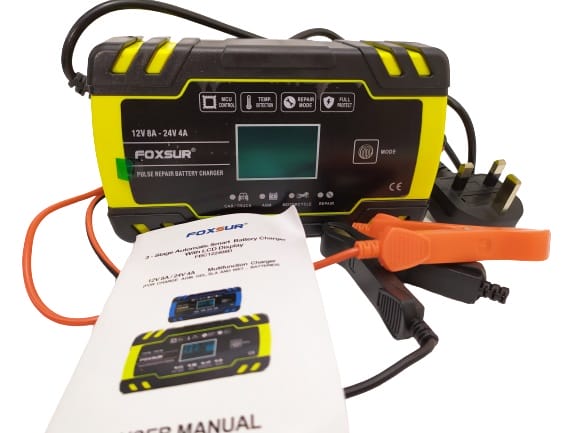 FOXSUR Car Battery Charger.
The FOXSUR Car Battery Charger is made from plastic, it feels seriously light and flimsy. It's so cheap feeling, you don't exactly feel confident in its advertised abilities. It measures 17.0cm x 9.8cm and weighs 622G, the UK mains lead measures 85.0cm x and the battery terminal clamp leads measure 60.0cm in length.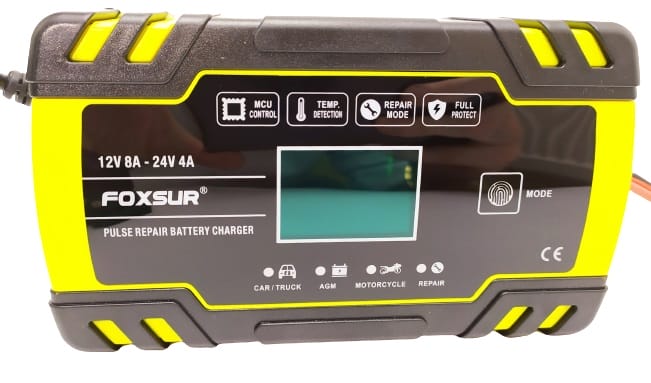 And, as usual, nothing is as easy as you'd imagine. The bracket that holds my battery into positioned was done up so tight by some noob that I managed to twist my socket. There's no need to do it that tight, it's only there to stop the battery from moving about. Anyway, after using brute force and a piece of steel tube, I managed to free the bracket and then disconnected the battery terminals and removed the battery to charge it inside. You can apparently charge the battery in position without removing the battery, but that would mean running a 230V power source externally via an extension lead, and with the early morning mists of March, there was no way I was going to do that.
Using the Battery Charger.
When I got my battery inside, I plugged in the FOXSUR Car Battery Charger and what's nice is the battery charge has an automatic battery recognition system, it will charge any AGM, GEL, SLA, and WET batteries without no user intervention. It will also automatically charge both 12V(8A) and 24V(4A) batteries too. I hooked up the positive and negative clamps to the correct battery terminals. Although there's some shrouding to the clamps, I'd still recommend some caution to prevent accidental short circuit contacts between the clamps.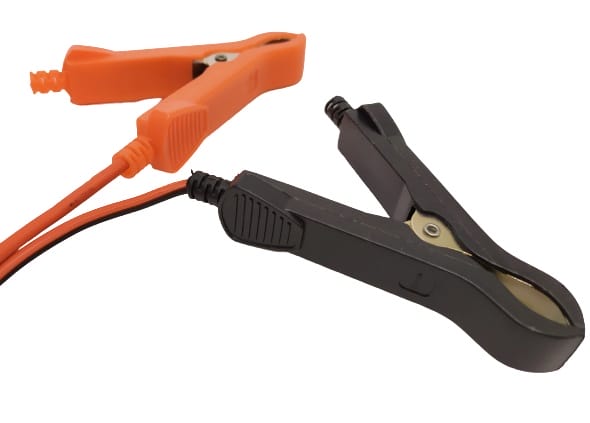 The first thing you'll notice upon connecting the battery clamps to the battery and powering on the charge is the fan noise, it's incredibly quiet and assists the power unit from overheat during a charging cycle. The front area features an LCD display, I used the automatic feature (Basically connected the battery and plugged it in), there's an option to repair a battery if you've experience complete battery depletion, i.e., 11.0V reading or under.
But I had a battery that was only just deleted, so went with the automatic feature, also my battery is only around 12-months-old and was fitted by Bluto, who likes to tighten thigs to the extreme.
Display.
I was very impressed with the LCD display, on the right-hand side you'll see a battery image, it pulses upwards to indicate the current battery charging level, towards the left-hand side is an indication of the voltage and current levels, along with temperature details.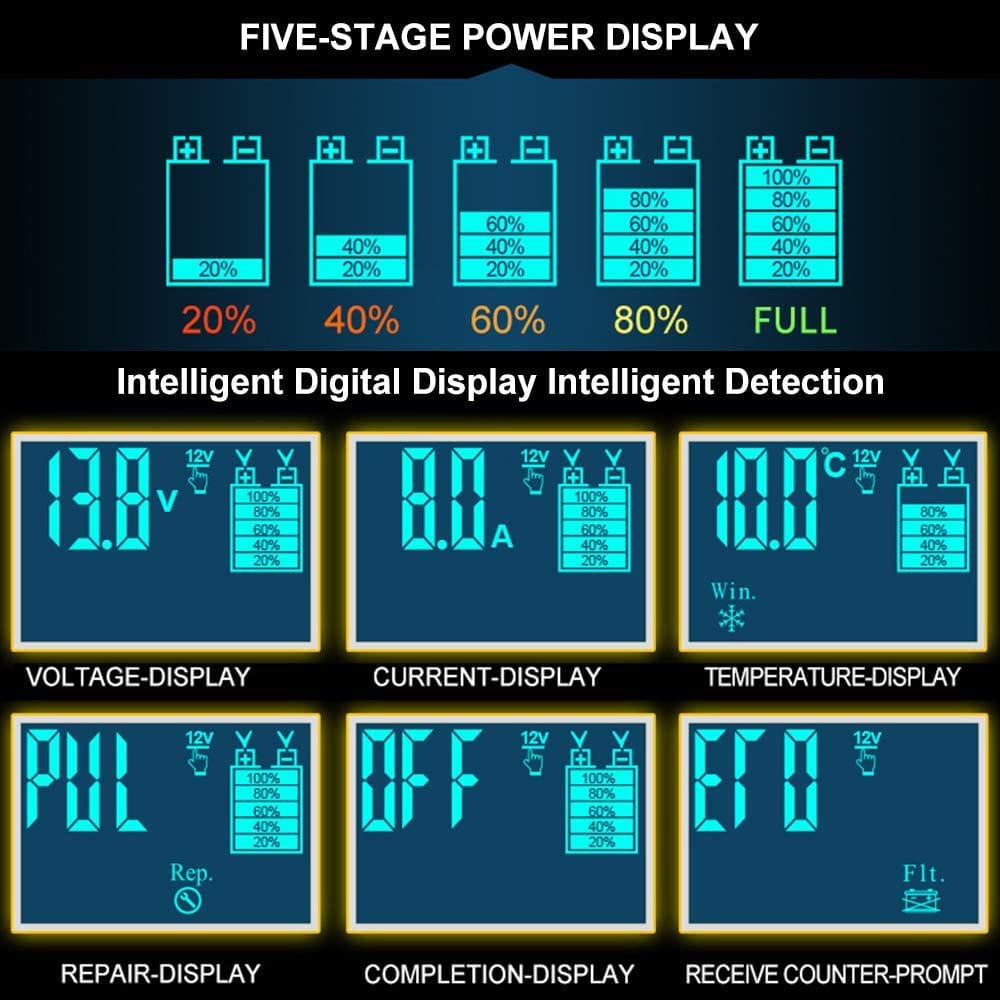 It took around 6 hours to fully charge my battery, when complete the FOXSUR Car Battery Charger turns itself off.
The FOXSUR Car Battery Charger features numerous safety features such as Short Circuit/ OV/ OC/ Overload/ Polarity Reverse and features both a summer/winter charging option.
It may look cheap and crappy, but it does work. I reattached my battery to my car and it started first time.
The only downside is the use guide, there's no actual user instruction, it's full of technical specifications, which for me is great, but for the DIY user it might cause confusion. There really ought to be some visual user guide on how to correctly charge a battery.
Technical Specifications.
Brand: FOXSUR
Model: Car Battery Charger
Model Code: FBC122408D
EAN: 6226128700613
ASIN: B082PRTTZW
Switch Mode technology: Yes
Polarity Protection: Yes
Output Short Protection: Yes
Non Battery Link Protection: Yes
Over Voltage Protection: Yes
Over Temperature Protection: Yes
Cooling: Fan
Input Voltage: 100-240V AC, 50-60Hz
Rated Output: 12V 8A, 24V 4A
Minimum Start Voltage: 2.0V
Battery Range: 6-150Ah
Thermal Protect: 65°C+/-5°C
Efficiency: App. 85%.
Compliance: CB, CE, IEC60335, EN61000, EN55014
Conclusion.
I quite like the FOXSUR Car Battery Charger. I worked and charged my car battery without any issues, it's small enough to keep handy without taking up too much room too.
It's certainly ideal for the occasional use, I'm not sure of the durability of everyday use, but for what I need, it's perfect. I like the simplicity of the product, but as per usual, the user guide of such a product needs some improvement.
I fully recommend this car battery charger for peace of mind motoring, it's certainly a bargain and costs effective in terms of calling out a mechanic to a flat battery.
If you want the FOXSUR Car Battery Charger for yourself, it's available for purchase only on Amazon. The RRP for this product is £28.99.
I purchased this product myself and decided to write a review, FOXSUR didn't send me the product or know about this review until published.
---
Thank you for taking the time to read my post. If you'd like to add a comment or thought on this post, please use the section below. I can also be contacted via the online contact form. Please subscribe for the latest reviews, news, and discounts. Please follow My Helpful Hints on Twitter, Instagram & Facebook too!
FOXSUR Car Battery Charger