I'll be reviewing today the EasyAcc Phone Car Holder. The universal mobile holder which attaches to your car's air vent.
It's designed to be used for smartphones with a screen size of between 4 and 6.5 inches. So, it's suitable for the iPhone XS XS Max XR X 8 8 Plus 7 7 Plus SE 6s 6 Plus 6 5s 4; Samsung Galaxy S10 S9 S8 S7 S6 S5 S4; and phones from LG, Nexus, Sony, Nokia, and other brands.
The EasyAcc Phone Car Holder has an adjustable mount, so you can view your device easily. Perfect for use whilst using Apple/Google Maps etc.
But is this car holder any good? Good quality? Time to test it out!
Packaging and Contents.
The EasyAcc Phone Car Holder comes packaged in a black and yellow cardboard box which features product images and specifications printed on it. The box measures 11.0cm x 9.5cm x 4.0cm and weighs 76G.
Inside the box you'll find only the car holder itself, there's nothing else included.
EasyAcc Phone Car Holder.
The EasyAcc Phone Car Holder is made from mixed materials which includes plastics and metal. The car holder measures (when in the closed position) 10.4cm in width x 3.5cm in height x 3.0cm in depth, it also weighs 50G.
I have the Graphite grey/black colour combination. You can get other colour variations with black including Obsidian black, Melbourne red, and Brightly gold.
There's a strong push spring-loaded grip system that enables you to attach it to any horizontal or vertical air vent.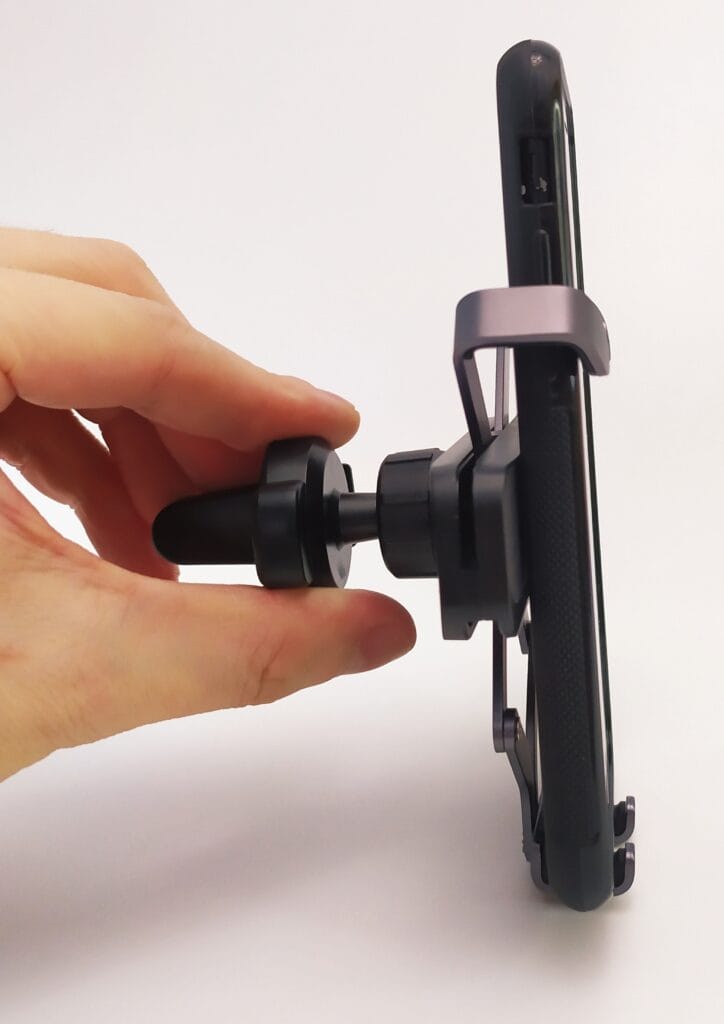 In Use.
The EasyAcc Phone Car Holder uses a cantilever system to hold your device whilst attached to your car's air vent. Upon device removal the spring-loaded cantilever holder goes back into the original position. There're two side holders and one bottom holder. Both have been designed to support your device, but also protect it too.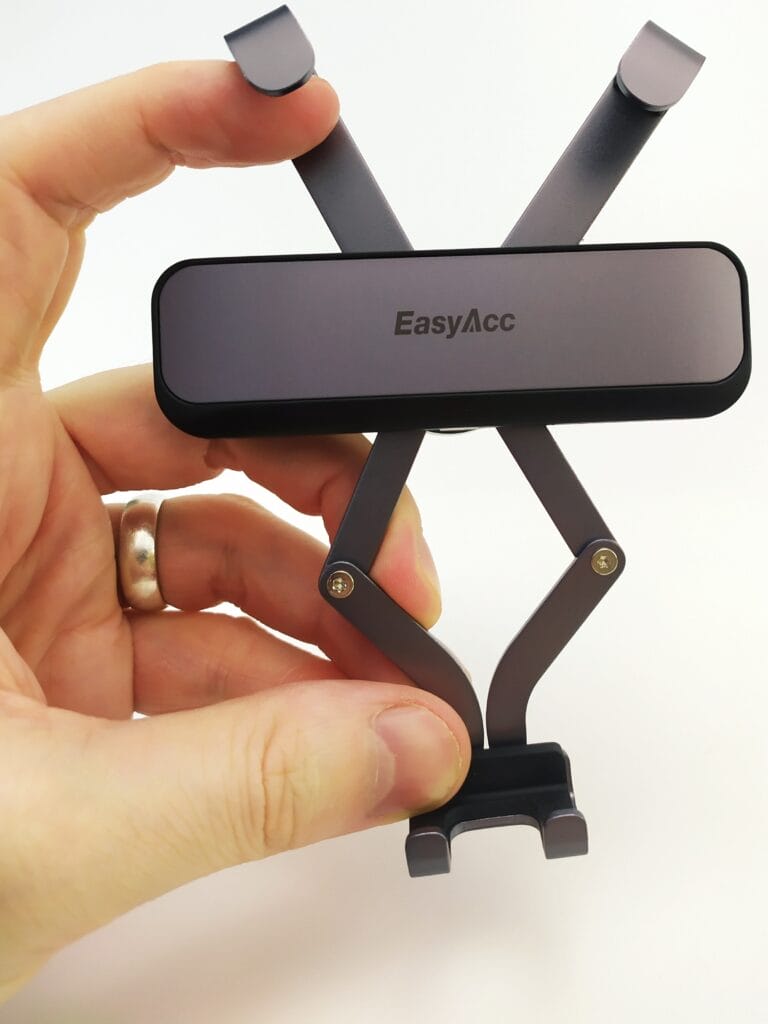 I've been using the car holder for a couple of weeks now and I'm very impressed. Not once has it fallen of the air vent. My device fits perfectly (iPhone 7) and easily slides into the holder with ease.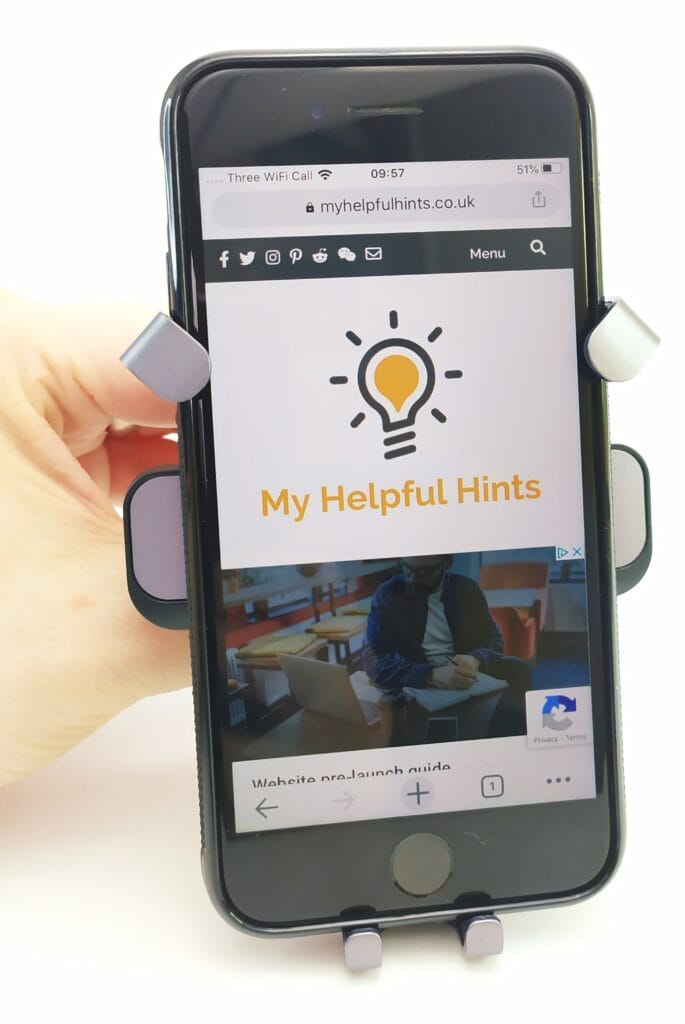 One thing you can't do, and it's not mentioned on Amazon is the phone position. You can't use the EasyAcc Phone Car Holder with a device in the landscape position. It only works with a device in a portrait orientation.
I use a simple phone case, I'm certain that if you use a folding folio case, you'll not be able to use this car holder without removing your device from the case. But in my case, it works simply fine.
Technical Specifications.
Brand: EasyAcc
Model: Phone Car Holder
Model Code: N/A
EAN: N/A
ASIN: B08B1NTPKJ
Compliance: RoHS, CE
Conclusion.
I like the EasyAcc Phone Car Holder. It works perfectly well for me and I have had no issues using it whatsoever. But if you're using a different type of phone case you might run into some issues. Also, I'd like to see an improved later model which enable landscape mode. That would be useful.
Overall though I can't complain too much. I think its exceptionally good quality too!
If you want the EasyAcc Phone Car Holder for yourself, it's available for purchase only on Amazon. The RRP for this product is £9.99.
Product sample provided by EasyAcc in exchange for a detailed, unbiased review.
---
Thank you for taking the time to read my post. If you'd like to add a comment or thought on this post, please use the section below. I can also be contacted via the online contact form. Please subscribe for the latest reviews, news, and discounts. Please follow My Helpful Hints on Twitter, Instagram & Facebook too!