Today I'll be writing a review for the Hernido Portable Boombox. A Radio/CD/Tape player with an impressive built-in battery, twin speakers with bass boost capabilities and much more.
It's not my first review for the brand Hernido, I previously reviewed a portable CD player, they seem to produce audio equipment like what you used to use back in the day. The Hernido Portable Boombox features a tape cassette deck, so ideal for you to dig in your loft and retrieve your old tape cassettes. Audio tape cassettes are making something of a comeback in recent years, I believe it's down to nostalgia.
The Hernido Portable Boombox can also play CD/CD-R/CD-RW/MP3 CD, has a built-in FM radio, A USB port for playing MP3/WMA music files, including audiobooks.
So, is this portable boombox any good? Time to test it out!
Packaging and Contents.
The Hernido Portable Boombox comes packaged in a printed box which shows product images and specifications printed on it. The box measures 25.0cm x 29.0cm x 17.0cm and weighs 1.8KG.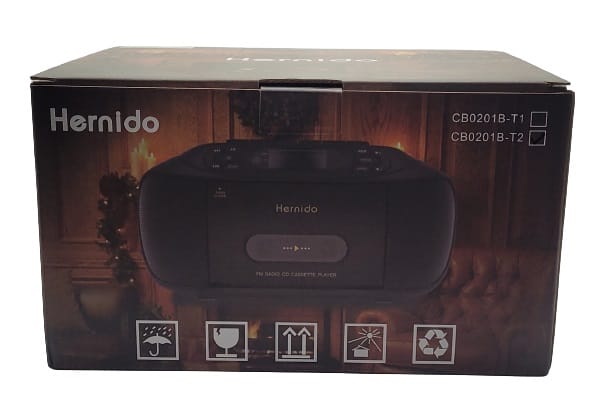 Inside the box you'll find the following: 1x Boombox, 1x UK Power Cable, 1x AUX/AUX Cable, 1x English User Guide.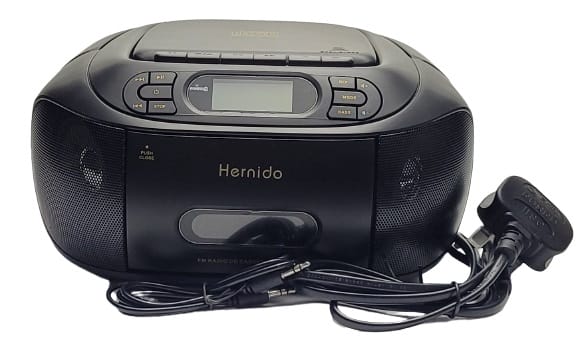 Hernido Portable Boombox.
The Hernido Portable Boombox measures 23.7cm x 21.9cm x 11.8cm and weighs 1.3KG. You get a LCD screen which lights up to help you see programs and information. You'll see user buttons for both the CD player and tape cassette function on the front section.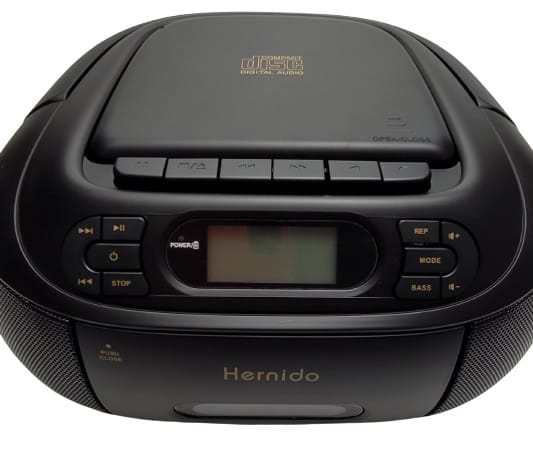 On the side of the boombox there's a headphone jack, a USB port, and an AUX port, these ports enable you to play variety audio options, these include the ability to play music via a MP3 player, smartphones and more.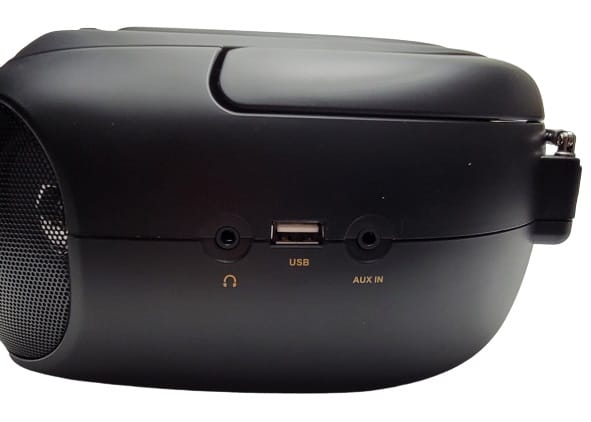 Charging and Using.
The Hernido Portable Boombox features an impressive 2000mAh Lithium-Ion rechargeable battery, simply use the detachable UK standard plug (which has a length of 2M), the charge time is around 4 hours, a full charge will give you around 5 hours of music play time. You're able to both charge and play at the same time too. A Red LED light indicates a charge cycle, the LED will turn Blue to indicate a full charge.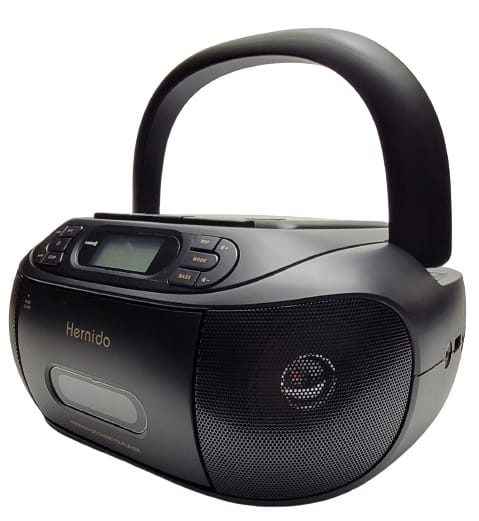 To power on you need to press and hold the power button for 3 seconds, repeat again to turn off the boombox. To switch between modes, you need to press the mode button. You can switch between CD, Cassette, FM radio, USB, and AUX mode, and these are shown on the LCD screen.
Sound Quality.
The Hernido Portable Boombox has an impressive sound output, bass is nice and punchy, and vocals are crisp and clear. I noticed no interference and the boombox performed well across all the advertised functions. You can even plug in further speakers via the AUX port and enhance your music listening experience.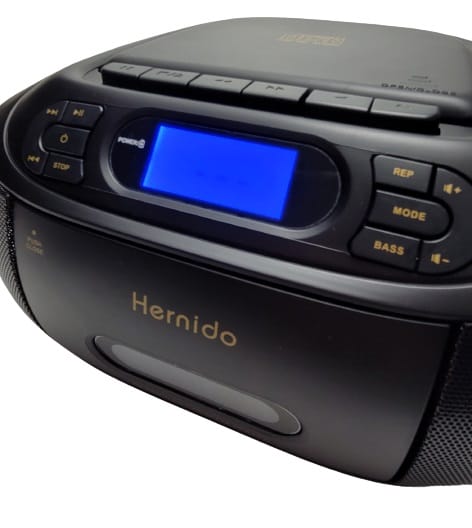 The bass boost function adds a bit more punch to your audio. The only thing missing for me is the ability to connect wirelessly via Bluetooth, I believe this would make this the ideal home speaker for all your audio needs. Maybe Hernido will release a V2.0 with Bluetooth? Let's hope so!
Technical Specifications.
Brand: Hernido
Model: Portable Boombox
Manufacturer Code: PC12
Manufacturer Reference: QF12
EAN: N/A
ASIN: B09NMB9HV4
Tuning Range: FM: 87.5-108.0 MHz
Sampling Frequency: 44.1KHz
Operating Voltage: 7.4V
Power Consumption: 11W
Compliance: CE, FCC, RoHS
Conclusion.
I'm impressed with the Hernido Portable Boombox. When Hernido approached me to review a boombox I was thinking who'd want one of them these days. But after using the boombox I can see the attraction, it's, an old school boombox with a modern twist made possible with the USB port. I believe Hernido to further enhance the product with the addition of Bluetooth, this would elevate it to a whole new level. You can use the AUX port to connect modern devices, but it's via a wired method only, Bluetooth would be so handy.
Overall though I'm very happy with the boombox and if you've loads of CD's and tape cassettes knocking about and want a decent boombox to play them then I would recommend the Hernido Portable Boombox, especially as you can make use of the portable, rechargeable battery to take your boombox outside into the garden for summer.
If you'd like to purchase this item, please check out the purchasing options below. The RRP for this product is £49.95.
Product sample provided by Hernido in exchange for a detailed, unbiased review.
---
Thank you for taking the time to read my post. If you'd like to add a comment or thought on this post, please use the comments section below. I can also be contacted via the online contact form. Keep up to date with the latest news on social media.