The HUYOZOY Rechargeable Waterproof Lamp is a multi-purpose LED tactical torch which boasts many different lighting options and a powerbank.
You get 6 different lighting modes, perfect for all scenarios and emergencies.
Another great feature is the built-in 5200mAH powerbank, this is perfect for your smartphone and will ensure you can keep your battery fully charged, no matter how remote you are.
The HUYOZOY Rechargeable Waterproof Lamp is also IP68 waterproof rated too.
But is the lamp any good? Will it impress me? Time to test it out!
Packaging.
The HUYOZOY Rechargeable Waterproof Lamp comes packaged very neatly in an Orange and Black cardboard box.  The box measures 26.5cm x 6.0cm x 4.5cm and weighs 300G.
Contents.
Upon opening the box you'll find the following items. 1x LED Lamp, 1x Micro USB Cable, 1x Lanyard, 1x Chinese/English User Guide.
HUYOZOY Rechargeable Waterproof Lamp.
The HUYOZOY Rechargeable Waterproof Lamp is made from a mixture of materials, these include plastic, rubber, and metals.  This lamp measures 23.5cm in length and has a diameter of 4.0cm and weighs 255G.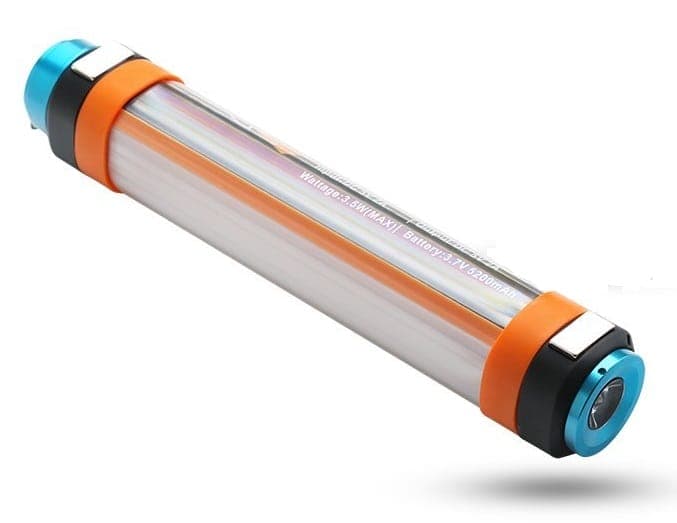 The lamp features two Neodymium magnets at either end of the lamp, which are supposed to support the weight of the lamp, but they don't.  The lamp slips and slides and the magnets only act to slow down the inevitable process of gravity!
But you do get a rather colourful looking fabric lanyard which has a length of 20.0cm, simply attach to the lamp using the clamp.
Before you get into Bear Grylls mode and start heading to the woods you'll need to charge up your lamp using the supplied Micro USB (Which has a length of 33.0cm) and charging will take around a couple of hours.  To access the charging port, you'll need to unscrew the Aluminium cap in an anti-clockwise direction.
Charging.
When you put the lamp on charge a Red LED light will show up, when fully charged this lamp will go out.  Once charged this lamp will last for upto 30 hours of use, different modes will change this, and I will go onto this further down and explain what each mode is.
You'll also notice by now the USB port located above the Micro USB charger port, this USB will allow you to charge any device and will charge a device upto 5V/2A.  This is more than enough for any smartphone.  Now, no matter where you are you'll be Instagram ready and still able to post those shameless selfies!🤳
Lighting Modes.
The HUYOZOY Rechargeable Waterproof Lamp has 6 different lighting modes, these are all controlled by the one button.  You'll need to press the button each time to cycle through your preferred mode.
1st Mode – Produces a bright light from one end of the lamp for upto 20 hours.
2nd Mode – Soft light from the middle section for upto 30 hours.
3rd Mode – Medium light from the middle section for upto 20 hours.
4th Mode – High light from the middle section for upto 8 hours.
5th Mode – Orange/Mosquito light from the middle section for upto 20 hours.
6th Mode – Red/Blue emergency light from the middle section for upto 30 hours.
The last mode produces a flashing Red/Blue emergency light similar to what a Police car produces, so I would be cautious using this mode for any other purpose other than in an emergency situation or you'll find yourself being arrested for impersonating a police officer and could be imprisoned for upto 6 months!
Waterproof.
You do see a lot of different items being described as waterproof on Amazon and other shopping sites when in fact these items are more splash proof, but this lamp is waterproof and rated to IP68 standards.  I still tested it out though, you never know the manufacturer could be lying.  I filled my bathroom sink up with water, turned on the lamp and chucked it into my sink.  The lamp floats! This was never mentioned on the Amazon listing and I think that's a great feature, as there's no point in having a waterproof lamp that sinks to the bottom of the lake!
But I still decided to force it down and no air bubbles was visible, so I guess this lamp truly is waterproof.  Fantastic!
Just make sure the end cap is screwed on though, or you'll allow water in ingress into the USB ports.
Technical Specifications.
Brand: HUYOZOY
Model: Rechargeable Waterproof Lamp
Model Code: T-25
EAN: N/A
ASIN: B07BGQ7L9T
Rated Power: 4W
Luminous Flux: 280lm
Battery Capacity: 5200mAH
Input/Output: 5V/2A
Compliance: CE, FCC, RoHS
Conclusion.
I must admit one thing here, I presumed before I used this lamp that it would be complete trash but it's generally not.  Yes, the magnets are poop and the user guide is next to useless unless you're a fluent speaker of the Chinese language.  But, the lamp itself is great and to be honest is easy to work out and use without the need of the manual.  I'd like to see a longer charger cable supplied though as the supplied has a length of 33.0cm which is a token gesture cable, but you can use just about other Micro USB you have laying about if you need to.
If you want the HUYOZOY Rechargeable Waterproof Lamp for yourself, it's available for purchase only on Amazon. The RRP for this product is £20.00.
Product sample provided by HUYOZOY in exchange for a detailed, unbiased review.
---
Thank you for taking the time to read my post. If you'd like to add a comment or thought on this post, please use the section below. I can also be contacted via the online contact form. Please subscribe for the latest reviews, news, and discounts. Please follow My Helpful Hints on Twitter, Instagram & Facebook too!
HUYOZOY Rechargeable Waterproof Lamp