Today I'll be writing about the Hernido Portable CD Player. Yes, that's right, a portable CD player! No, you've not been time warped to the 90's.
Is there a place in the modern age of digital music for the humble CD player? Yes, if that CD player has modern features such as a built-in rechargeable battery, FM car transmission, AUX transmission and is compatible with CD, MP3 CD, CD-RW and CD-R formats too.
Could CD's make a comeback for nostalgia purposes? there's been a surge of Vinyl and Cassette Tape sales in recent years, so I guess anything is possible.
Time to dig out my old Sean Paul Dutty Rock album CD for today's review. Time to test it out!
Packaging and Contents.
The Hernido Portable CD Player comes packaged in a plain brown box. The box measures 21.0cm x 17.0cm x 4.5cm and weighs 420G.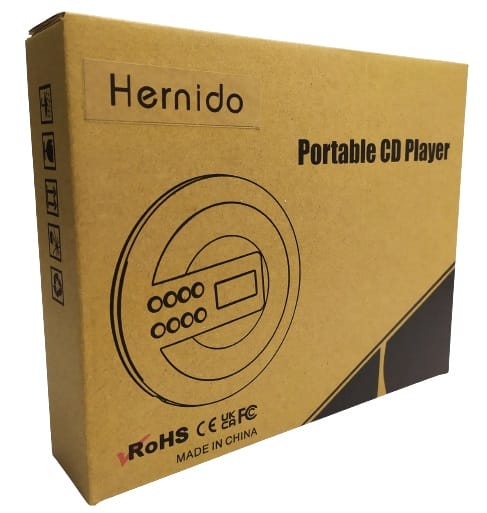 Inside the box you'll find the following: 1x CD Player, 1x USB Charging Cable, 1x AUX/AUX Cable, 1x Earphones, 1x English User Guide.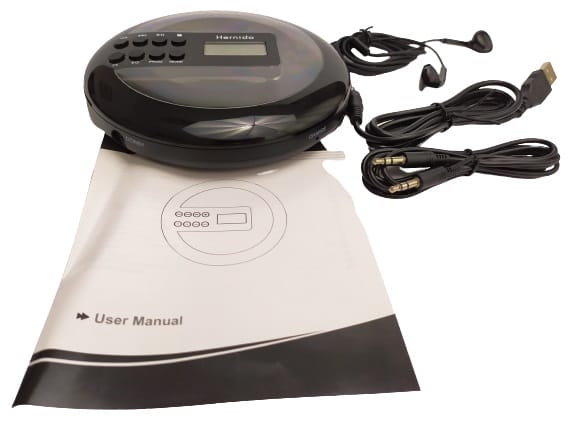 Hernido Portable CD Player.
The Hernido Portable CD Player is black in colour and features a digital display. The CD player measures 14.0cm x 2.5cm and weighs 250G.
The top user control area features buttons that control track selection, and user modes/preferences. On the side you'll see the DC charging port, charging indicator LED, open slide switch, earphone port, volume control, and the power on/off/hold button.

The supplied 3.5mm wired earphones measure 125.0cm in length and feature a Tip Ring Sleeve (TRS) jack plug, they're OK, very standard in supplied earphones. The look remarkably similar in shape to the Apple's earphones, but black in colour. I'm sure they won't last long, but you're able to use any 3.5mm cabled earphones. That's what I did, and it made for a better experience.
It's worth noting the supplied user guide, although written in English is considerably basic in terms of instructing anything useful. You can use this CD player to wirelessly transmit music to your car, but the user guide doesn't tell you how to do this, luckily, I managed to figure this out, more on this later.
Setting up the CD Player.
First of you need to dig out your old CD's, you'll probably find one in that kitchen drawer that no one uses. Next, you'll need to give the Hernido Portable CD Player a charge via a 5V DC USB powered connection. The charging cable measures 120.0cm. Charging takes around 4 hours to fully charge, a red LED charging light will illuminate to indicate charging, this light will turn blue upon a successful charging cycle.
The in-built 2000mAh lithium-ion battery will last up to 20 hours, this is of course dependant on music volume and user preferences such as bass boost etc. There's a battery symbol on the LCD panel to show current battery status too.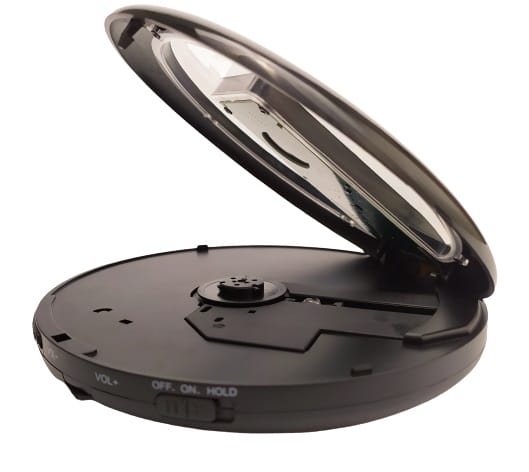 I used to work in a shop when I was a sweet 16-year-old lad ? and used to use a blue Panasonic CD player to use on my 20-minute walk to and from work. I had to replace the AA batteries everyday just to be able to use 40 minutes' worth of music, I was on £2.50 per hour, and so forking out for batteries hit my KFC lunch budget massively. Also, it used to skip like a bitch too, any slight movement and skip, plus it was big, bulky and difficult to transport in my coat pocket. Thinking of it, it was a complete nightmare, why did I do this? Never mind!
Using the CD Player.
I found the Hernido Portable CD Player to be very user friendly, also it doesn't skip. I literally resorted to throwing the bloody thing on the floor to make it skip, but it didn't, so I was disappointed, I wanted to make it skip, for nostalgia purposes ?.
The front area has 8 user control buttons, these are (from left to right, top to bottom):
Previous Track Select.
Skip Track.
Pause/Play.
Stop.
TX Button (more on this later).
EQ Sound Effect.
PROG Button.
MODE Button.
The EQ Sound Effect button allows you to change the sound to either Bass Boost System (BBS), pop, jazz, rock and classic. Obviously, I chose BBS and you do notice an increase in bass.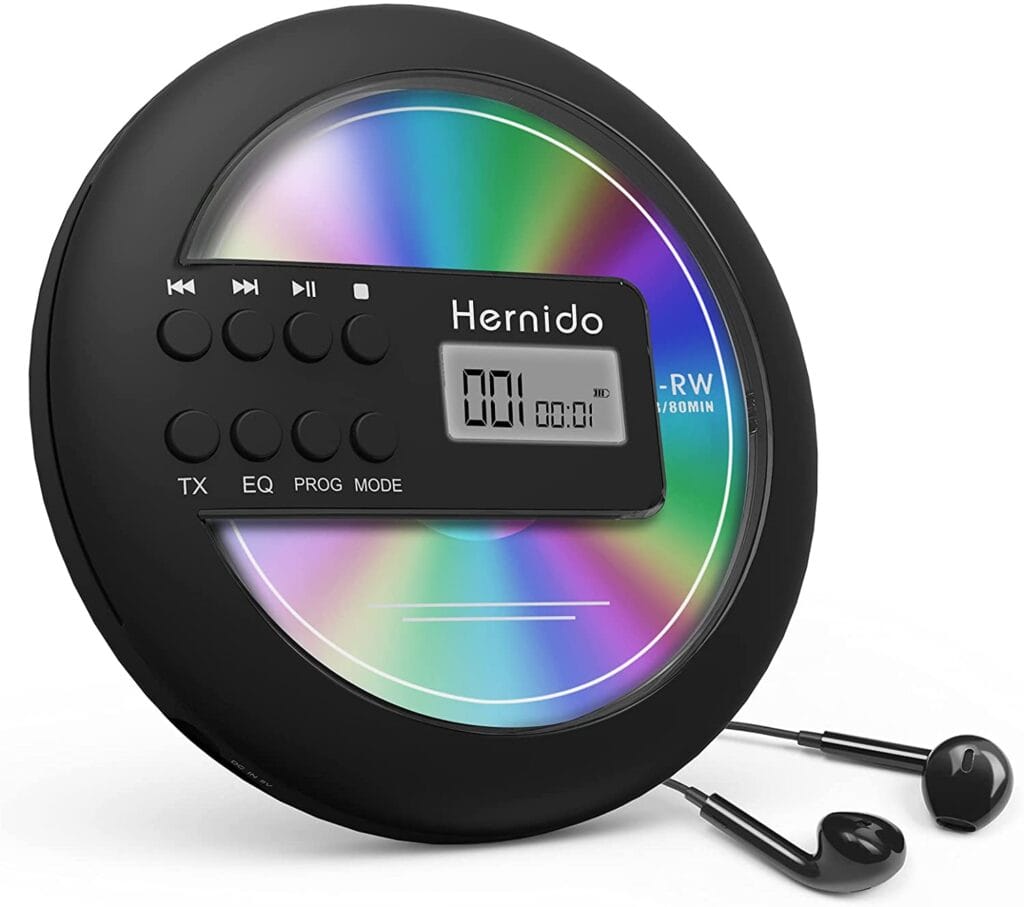 The programme button lets you programme a running playing order, seems like hard work, I've never seen why you'd want this feature when you can simply skip a track anyway.
Mode button lets you repeat a track, into play (will play 10 seconds of each track), and shuffle play. But there's no mention of any of this in the supplied user guide.
The hold switch on the side will keypad lock all buttons, so you won't press anything by accident.
If you power off the CD player will remember where you left off and will continue playing from that point.
Car Transmission.
This is an interesting feature, the Hernido Portable CD Player can transmit using Frequency Modulation (FM Radio Waves). There's no helpful mention in the user guide on how to do this, looks like it's down to me then!
You need to press the TX button on the CD player to turn this feature on, you'll see 4 FM channels if you cycle through, press it again to turn off this feature.
CH1 is 88.1 FM, CH2 is 88.5 FM, CH3 is 90.1 FM and CH4 is 99.5 FM. This is worth noting, as this is the manual search, you'll now need to perform on your car radio, connect to your chosen channel choice and your CD audio should start playing through your car's speaker.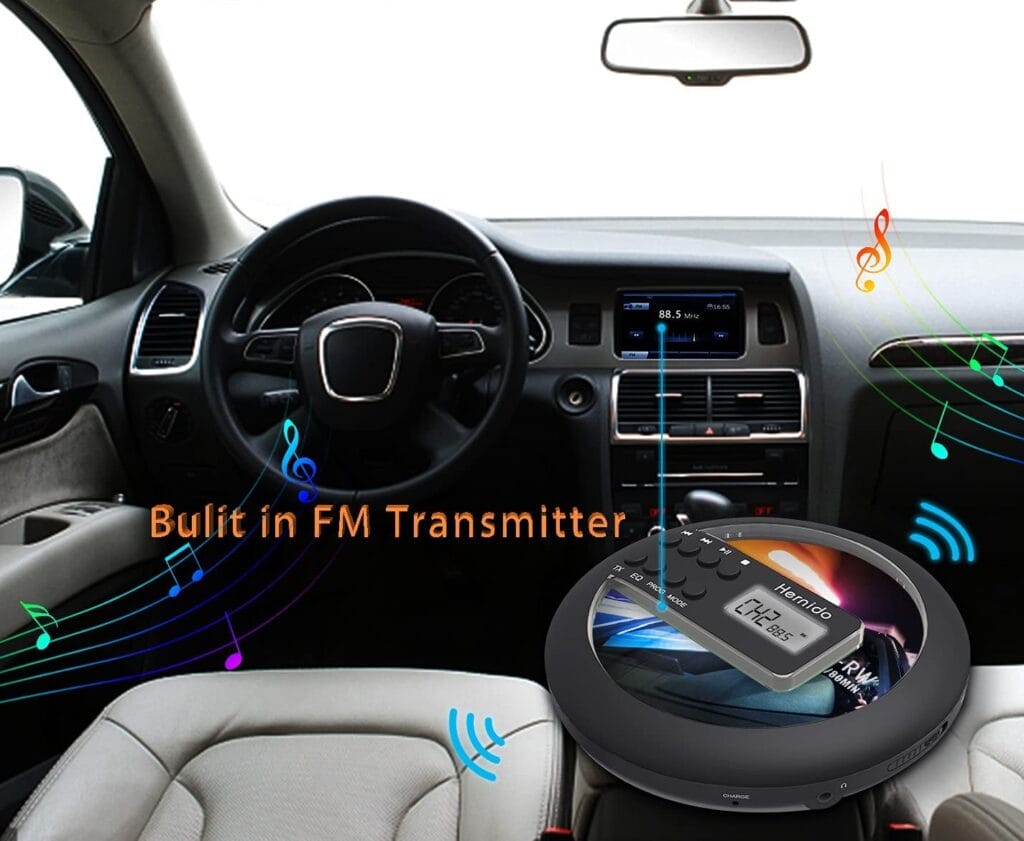 I found this feature works, but the signal is proper crap, like when you drive through different FM radio signal and your radio keeps dropping in between two stations. I tried all the channels, but although it's a nice feature, it's one that needs improvement.
Luckily you get supplied with an AUX/AUX cable, if your vehicle support AUX input, use this, you'll get uninterrupted play every time.
Also, if you're intrigued, you can charge and use at the same time too, this is particularly useful when driving, supply a power source via the USB cable and you're sorted.
Technical Specifications.
Brand: Hernido
Model: Portable CD Player
Manufacturer Code: TP01
Manufacturer Reference: N/A
EAN: N/A
ASIN: B091YP389H
Power Source: DC 5V/1A
Operating Voltage: 3.7V
Power Consumption: 1.5W
Battery: Lithium-Ion Polymer 3.7V/2000mAh
D/C Conversion: 16 Bit
Sampling Frequency: 44.1Khz
Frequency Response: 20-20Khz
Supported Formats: CD, CDR, HDCD, MP3
Compliance: CE, FCC, RoHS
Conclusion.
I like the Hernido Portable CD Player. It was nice to take a trip down nostalgia lane with my Dutty Rock CD. It's a cool product, but there's room for improvement to give the user a perfect listening experience. Firstly, the user guide, it needs an overhaul, all features should be mentioned, including the pairing to your car via the FM transmission. Secondly, actual FM transmission although a great idea, needs some work, you're barely able to use it without feeling some sort of rage. Luckily, the AUX cable option is a thing.
Overall, though, it's still a positive review, most modern cars don't come with a CD player, so if you've got a collection of discs, you can enjoy them again, just use the AUX cable.
If you want the Hernido Portable CD Player for yourself, it's available for purchase only on Amazon. The RRP for this product is £39.98.
Product sample provided by Hernido in exchange for a detailed, unbiased review.
---
Thank you for taking the time to read my post. If you'd like to add a comment or thought on this post, please use the section below. I can also be contacted via the online contact form. Please subscribe for the latest reviews, news, and discounts. Please follow My Helpful Hints on Twitter, Instagram & Facebook too!
Hernido Portable CD Player