Today I'll be writing about the Rusty Barrel Mayfair Cocktail Straws. Plastic free alternative straws are the way to go, and the market is saturated with alternatives everywhere. So, Rusty Barrel have a lot of work to do to stand out.
Luckily one advantage for them is branding and loyal customer base. Rusty Barrel products are high quality, durable and from what I can see, well liked among consumers.
These straws are from the Mayfair collection, a product range of high-class drinking accessories from Rusty Barrel. You get 8 food-grade 304 stainless steel straws in a presentation giftbox.
But are they any good? Time to test them out!
Packaging and Contents.
The Rusty Barrel Mayfair Cocktail Straws comes packaged in an outer brown cardboard box. The box measures 27.5cm x 6.0cm x 5.5cm and weighs 260G. Inside this box you'll come across a black, stylish tube-shaped gift box.
Inside the tube shaped box, you'll find the following items: 8x Straws, 8x Silicone Tips, 2x Cleaning Brushes, 1x Wooden Travel case, 1x Drawstring Bag.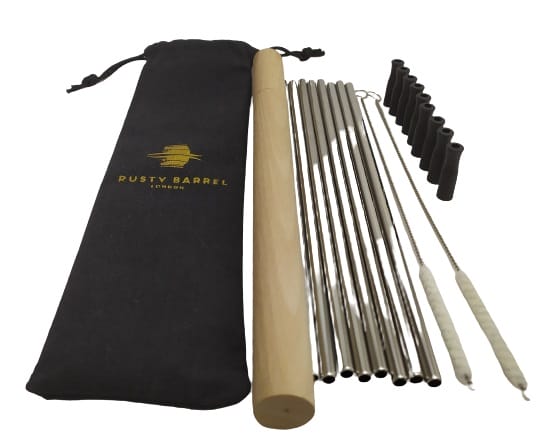 Rusty Barrel Mayfair Cocktail Straws.
Each straw measures 21.5cm in length with a diameter of around 0.4cm and weighs 10G. You can choose to use the supplied silicone tips, or straight up use the straws as they are. The supplied cleaning brushes are cotton tipped too and fits tightly into each straw but doesn't go to the end of the straw. So, you must remove the cleaning brush and go in at the other end.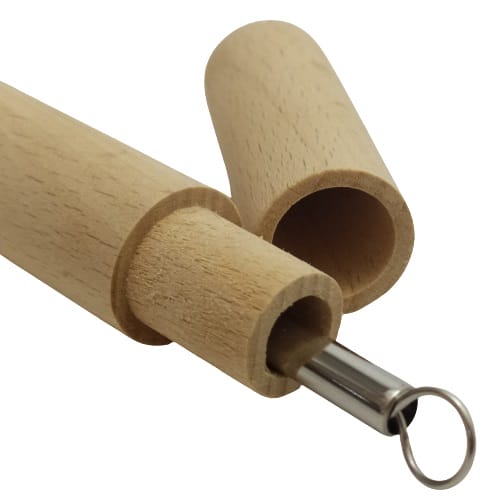 You might be interested to learn the brush could be longer to reach the end of each straw. There's still space in the wooden travel case to accommodate the required length. This wooden travel case is a nice touch though in fairness, you're able to take with you your straw and cleaning brush when out.
The Rusty Barrel Mayfair Cocktail Straws are dishwasher safe and rustproof too. There's not much to say about a straw, they suck up liquid, and work.
Very straw like!
Technical Specifications.
Brand: Rusty Barrel
Model: Mayfair Cocktail Straws
Model Code: N/A
EAN: N/A
ASIN: B08FHB2G9S
Compliance: N/A
Conclusion.
The Rusty Barrel Mayfair Cocktail Straws are OK. They work, look nice, work, nice looking and work some more. The supplied cleaning brush coming up short is a little annoying, especially when it's able to fit in the wooden travel case too.
And that would be the only negative thing to mention, except I saw an Amazon ASIN code on the outer packaging and decided to look. What I saw was a little weird, Rusty Barrel are selling them on Amazon for £7.95 and on the Rusty Barrel website they are charging £12.95, that's £5.00 more.
Also, on Amazon these straws benefit from free Amazon Prime next day shipping, but on the Rusty Barrel website there's a £2.95 UK postage charge, so in total that's £15.90 exactly, exactly twice the amount of the Amazon listing. You can literally get two for the price of one if you purchase through Amazon. No brand should have drastically different prices between shopping channels.
Even worse, between now (correct as of 16th June 2021) and the 26th of June 2021 there's an additional 25% money off coupon on Amazon too.
And no, before anyone says it, it's not a third-party seller, it's the official Rusty Barrel store selling them.
If you want the Rusty Barrel Mayfair Cocktail Straws for yourself, it's available for purchase only on the Rusty Barrel website and Amazon. The RRP for this product is £12.95.
Product sample provided by Rusty Barrel in exchange for a detailed, unbiased review.
---
Thank you for taking the time to read my post. If you'd like to add a comment or thought on this post, please use the section below. I can also be contacted via the online contact form. Please subscribe for the latest reviews, news, and discounts. Please follow My Helpful Hints on Twitter, Instagram & Facebook too!
Rusty Barrel Mayfair Cocktail Straws