Today I'll be writing about the APEMAN H45 Wildlife Camera. I've had this in my review collection for some time, a pandemic, poor weather and poor memory are all to blame. But, finally it's here, my review for the APEMAN H45 Wildlife Camera. It's probably been superseded by 3 models since, but hey, I'm still writing about the H45.
These cameras have multiple uses, they can be used for home security, hunting (for men with a small nob) and for my usage of recording and enjoying the nature surrounding me.
You get automatic motion detection recording, night vision, photo/video recording options, and plenty of accessories to ensure you can place the camera in just about any location.
But is this camera any good? Time to test it out!
Packaging and Contents.
The APEMAN H45 Wildlife Camera comes packaged in a small grey box. The box measures 20.0cm x 12.0cm x 8.5cm and weighs 560G.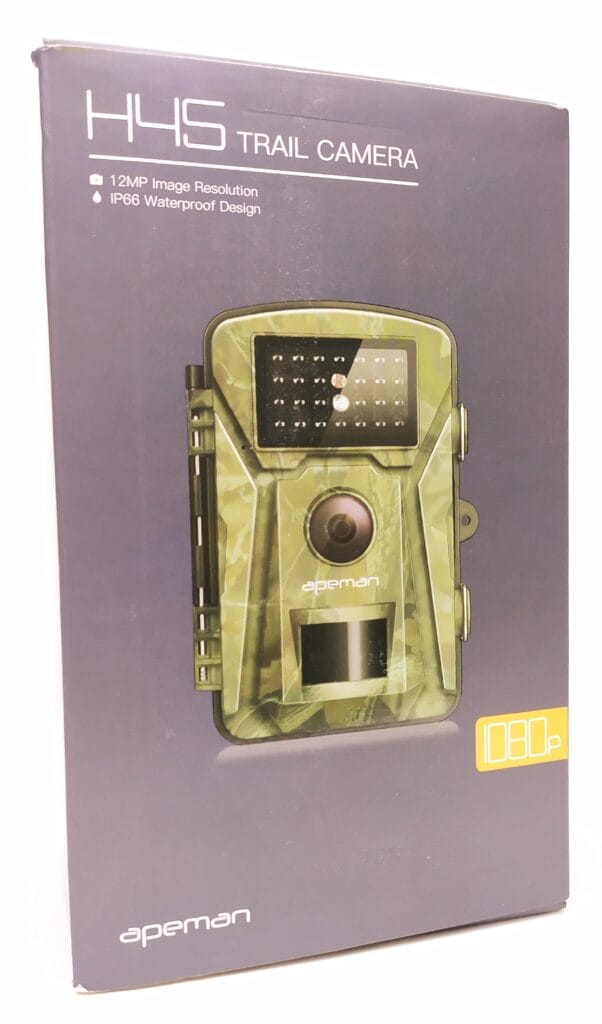 Inside the box you'll find the following: 1x Camera, 1x Strap, 1x Wall Mount (with screws), 1x USB Cable, and 1x Multi-Lingual User Guide.
APEMAN H45 Wildlife Camera.
The APEMAN H45 Wildlife Camera is finished in a camouflage green colour/finish. The camera measures 13.5cm x 9.0cm x 6.5cm and weighs 450G. You also get a colourful 6.0cm x 4.5cm screen.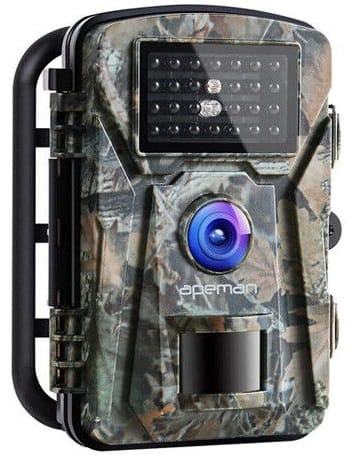 The camera features 26 Infrared LED's which help with the 1080P recording. You'll be pleased to know the APEMAN H45 has a super-quick 0.5 second trigger speed too.
If photos are your thing, then you'll be pleased to know the H45 capture these upto 12MP with an option to set up photo bursts too.
Quite impressive for a budget nature camera. The APEMAN H45 Wildlife Camera is also IP66 waterproof rated too.
Setting up the Camera.
The APEMAN H45 Wildlife Camera can be powered with two methods. You can supply your own 6V DC power source, there's an input on the bottom. The easiest method is with the whole world's supply of AA batteries (it's actually 8) and these have standby lasting time of around 6 months. They will run down the more the camera springs into life.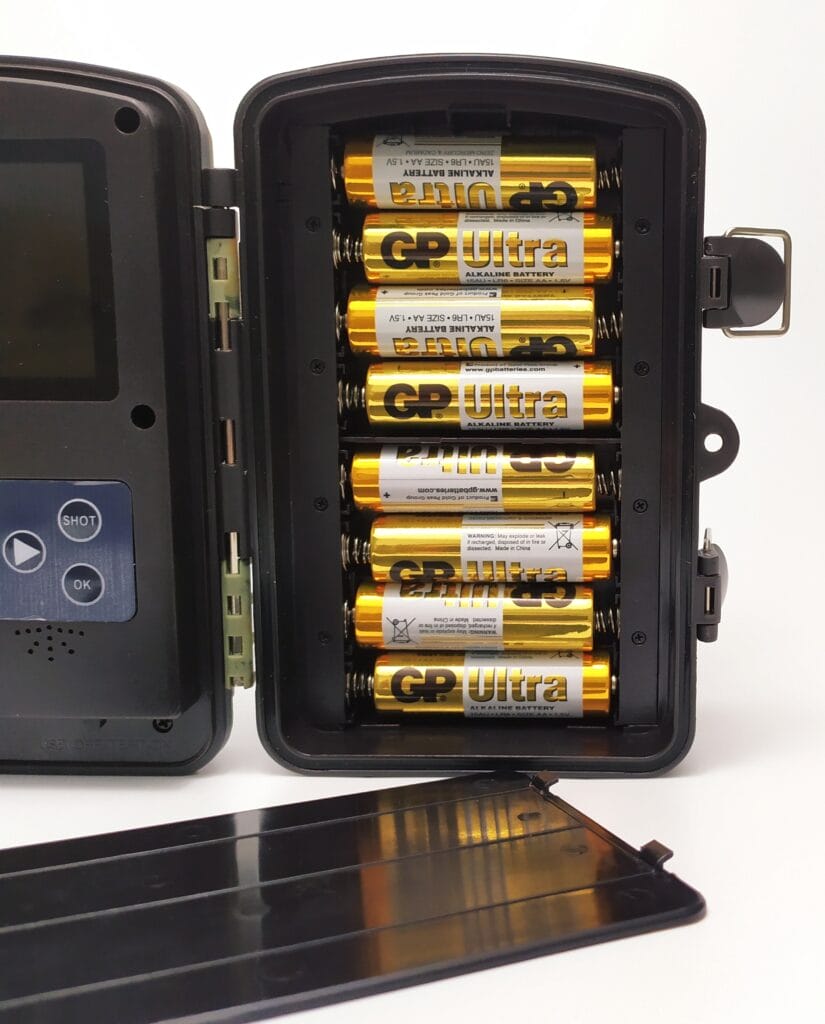 On the underside of the user control area there's a power switch. On/Off/and Test, it's here where you can power on the camera and switch to view recording too. Talking of which, you'll need to supply a standard sized SD card too, like this one. The APEMAN H45 Wildlife Camera can accommodate a 32GB card.
Slide the power switch to the test option (it's in the middle) and from here you can press the menu button. This menu allows you to make some custom changes, such as: time setting, camera settings, video settings and more. The menu options are a little clumsy and take some getting used to, but it works, so I guess I can't moan secretly moans under my breath.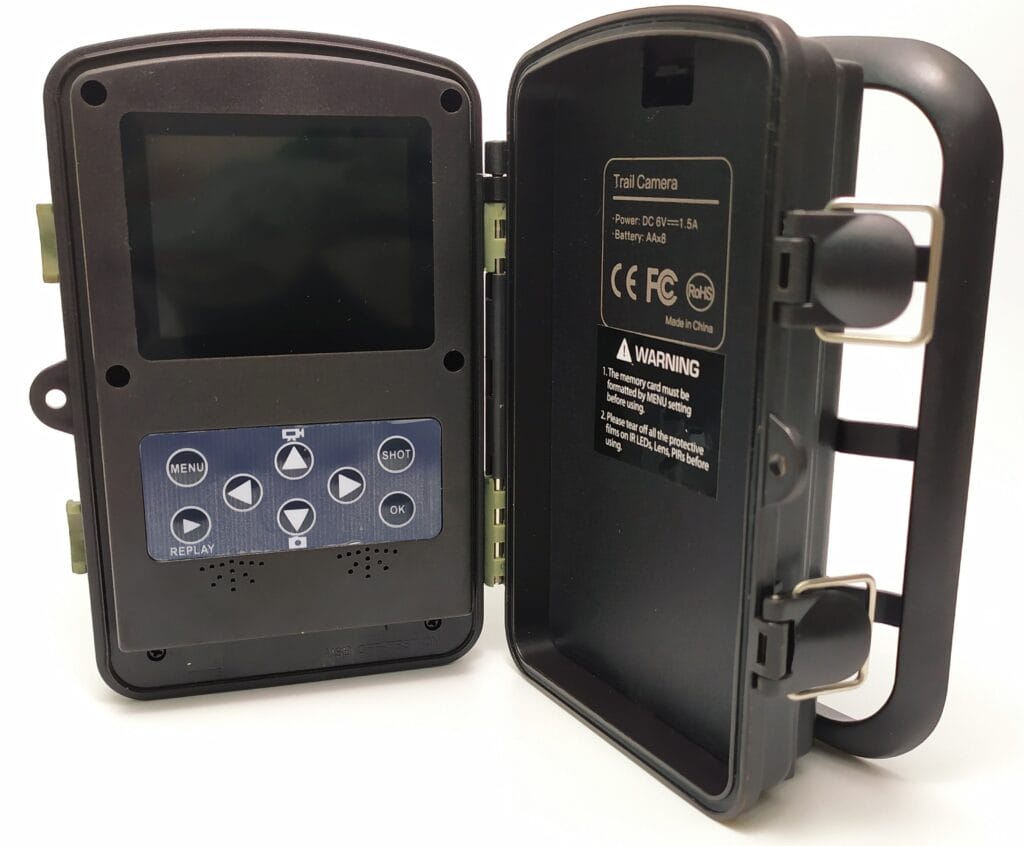 The replay button allows you to, well, replay things, simple right? Well, no, I managed to press the right keypad button more times than I can frustratingly remember, as it resembled a play button. You press the OK button to view recordings, that's when things get easy, learning how to use the thing.
Using the Camera.
So, I changed location, but the long grass kept triggering the video recording, I did capture a crow who'd taken a shine to the camera. Basically, I had captured everything I could capture from my own garden.
I also didn't get any night recording either, I tested this out in my house and caught my cat skulking about, so it does work.
I then placed it outside in my garden in the rain to test the waterproof aspect. The APEMAN H45 Wildlife Camera is IP66 waterproof rated, this rating means it can cope with heavy jets of water, basically pissing it down weather.
This IP66 statement is true, the internals were dry. But condensation is an issue on the exterior, it affects recording on early morning recordings.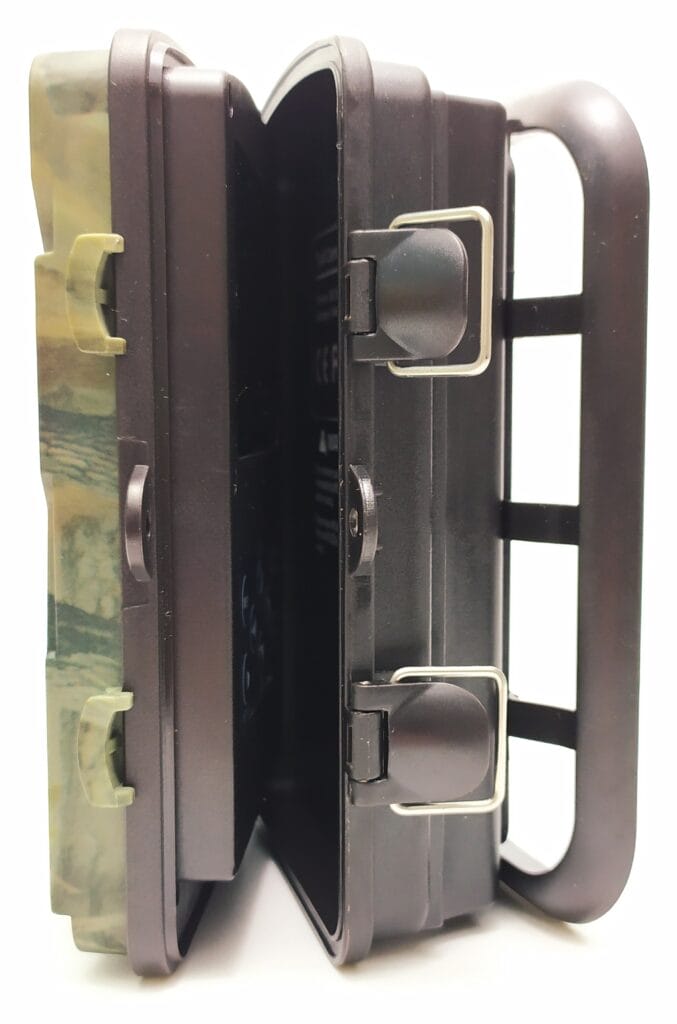 Images can be uploaded to you PC via the Mini USB cable, or by simply removing the SD card. Easy, peasy, uploady squeezy.
Technical Specifications.
Brand: APEMAN
Model: H45 Wildlife Camera
Manufacturer Code: N/A
Manufacturer Reference: N/A
EAN: N/A
ASIN: N/A
Image Sensor: 5.0 Mega Pixels 1/4″ CMOS Sensor
Photo Resolution: 12MP, 8MP, 5MP, 3MP, 2MP, 1MP
Screen: 2.4 inch, 240 (RGB) *320 DOT; 262K Colour
Supports: SD/SDHC Memory Cards up to 32GB
Video Resolution: 1920 x 1080 (30 fps), 1280 x 720 (30 fps), 848 x 480 (30 fps), 640 x 480 (30 fps)
Lens: f=3.1mm, F/NO=2.6; FOV=73°; Auto IR Filter
Effectiveness: Daytime: 1M – infinitive, Nighttime: 3M – 15M
Trigger Distance: up to 15M
Trigger Time: 0.5 Seconds (approx.)
IR Flash: 26pcs 850nm IR LEDs (940nm for option) for night shot (range 15M)
Detection Angle of Sensor: 60°
Waterproof Rating: IP66
Storage Formats: Photo: JPEG, Video: AVI Motion, JPEG
Connections: Mini USB 2.0
Power Supply: 8 x AA (LR66) Batteries, External 6V DC outlet.
Standby Time: 6 Months
Compliance: CE, FCC, RoHS
Conclusion.
The APEMAN H45 Wildlife Camera is alright. It's a little frustrating to use, the controls drive me crazy, but it does work. Recordings are OK too, not bad, you can make out clear images and sounds too. If you want to capture lots of different animals, then It's quite good. I managed to capture a field mouse. The camera is also password protected too, so no nosey Ned's can peek without the secret password.
Overall, it's a good product, needs some improvement. The H45 has been superseded by APEMAN, so hopefully things are easier in later editions.
If you want the APEMAN H45 Wildlife Camera for yourself, it's available for purchase only on the APEMAN website. The RRP for this product is £54.99.
Product sample provided by APEMAN in exchange for a detailed, unbiased review.
---
Thank you for taking the time to read my post. If you'd like to add a comment or thought on this post, please use the section below. I can also be contacted via the online contact form. Please subscribe for the latest reviews, news, and discounts. Please follow My Helpful Hints on Twitter, Instagram & Facebook too!
APEMAN H45 Wildlife Camera