Today I'm going to be reviewing the GTWIN Magnetic USB Cable. Magnetic cables have been around for a while, but now come with a 360° swivel movement. This is a fantastic improvement, previously the previous type of cables did dis-connect and re-connect whilst you were using your device.
GTWIN is a AliExpress brand, they stock all sorts of mobile phone gadgetry and accessories. And for incredible prices too, todays piece cost just £1.62, and with free UK delivery too.
You get multiple colour choices, cable lengths, and your required magnetic device plug, you get a choice of Lightning, Micro USB and USB-C, and this cable will charge multiple devices around your home too.
The outer core features a tough Nylon material, internally the tinned copper cables feature fire-proof insulated materials too.
But is it any good? Does it work well? Time to test it out!
Packaging and Contents.
The GTWIN Magnetic USB Cable comes packaged in a plain looking zip bag. Inside the bag you'll find your chosen cable and plug. I ordered a purple 1M cable with an Apple compatible Lightning plug.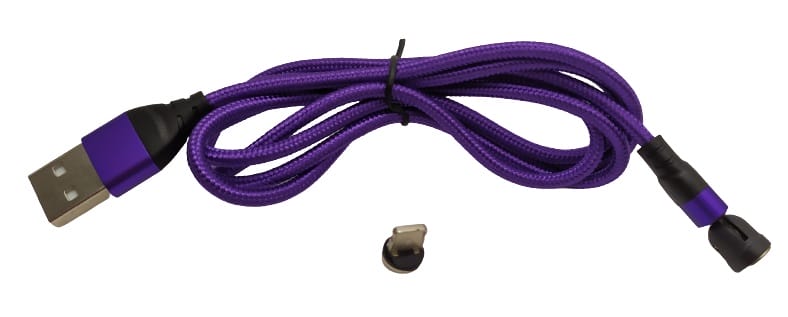 And that's exactly what I received.
GTWIN Magnetic USB Cable.
The GTWIN Magnetic USB Cable is made from a high-quality Nylon outer core, this Nylon material adds strength to the cable and prevents the cable from breaking up internally. The magnet is strong on the cable too, in fact you can use it to locate and retrieve your device, great for those that find it hard to bend down. I tried this and swung my phone about (gently though) and it didn't fall off.
You need to order the correct plug for your device, you can order all the plug and use the same cable if you wish. I ordered the Lightning plug for my iOS device. Additional plugs are available for round 50p each.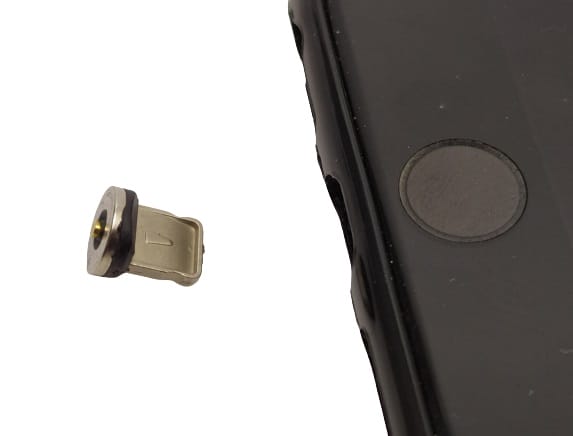 As is common with ordering Lightning plugs, if you don't insert into your phone correctly it won't work. There's an arrow on the plug, insert it facing upward (like image above) and that's it, the other way won't work. But, once in position it also acts as a dust cover for your Lightning port too. I managed to use it through a bump case too.
Testing.
For mobile phone cable comparison, I always test against an original Apple cable, it provides the best benchmark. I used setup via a powerbank (so won't be as good as mains power) and used the same setup for both cables, so it's a fair test.
First up, the Apple original which recorded 4.7V/0.97A via a power bank.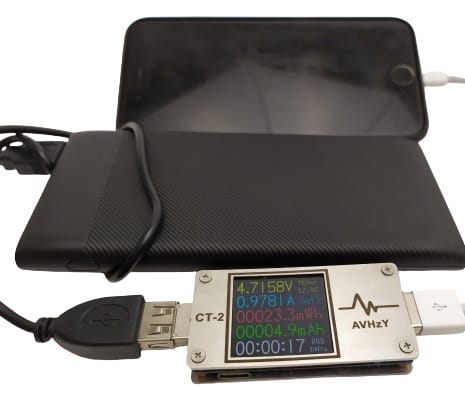 The GTWIN Magnetic USB Cable recorded 4.7V/0.83A again via the same setup, basically not much difference, the slight drop might have something to do with the two blue LED lights on the end of the cable. This enables you to see the cable at night, it's a subtle light and certainly won't keep you awake.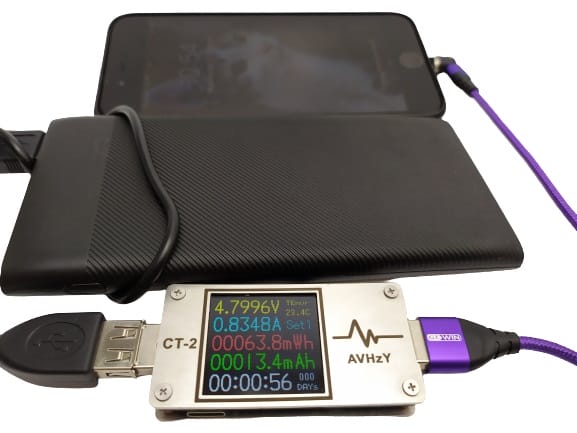 The difference is minimal, and certainly not noticeable whilst using the cable. I've been using the GTWIN Magnetic USB Cable for a few weeks now too, and with no issues whatsoever. I've used it both through a powerbank, and via a mains power AC power source.
The end section swivels 360° in an orbital movement, and also moves 180º in a bending movement. Basically, it's great for charge and using at the same time, without fear of bending the cable.
Technical Specifications.
Brand: GTWIN
Model: Magnetic USB Cable
Manufacturer Code: N/A
Manufacturer Reference: N/A
EAN: N/A
ASIN: N/A

Maximum Current: 

2.4A

Interface Options: Micro USB, Lightning, USB-C
Compliance: CE, FCC, RoHS
Conclusion.
I really like the GTWIN Magnetic USB Cable. It's much easier to use than previous magnetic type cables. I was pleasantly surprised on the comparison against an original cable too.
Only negative thing is the plug for iOS devices, you need to ensure correct insertion, but aside from that, it's a great, affordable cable. It's also safe too, which is a huge bonus.
Additional plug types can be bought separately if needed too, this is a great touch. I managed to order my cable, with my colour choice and plug type and get it delivered to my address here in the UK for just £1.62. Absolute bargain!
Do I recommend the GTWIN Magnetic USB Cable? Of course, its brilliant.
If you want the GTWIN Magnetic USB Cable for yourself, it's available for purchase only on AliExpress. The RRP for this product is £2.25.
Product sample provided by GTWIN in exchange for a detailed, unbiased review.
---
Thank you for taking the time to read my post. If you'd like to add a comment or thought on this post, please use the section below. I can also be contacted via the online contact form. Please subscribe for the latest reviews, news, and discounts. Please follow My Helpful Hints on Twitter, Instagram & Facebook too!