Today I'll be writing about the CLEVER BRIGHT Bluetooth Speaker. It's been a while since the last time I reviewed a wireless speaker.
The CLEVER BRIGHT speaker features a twin 4Ω/5W-Φ52mm dynamic Bluetooth speaker with a DSP chipset. The triangular design allows for 360° sound, and you can place the speaker in either a horizontal or vertical position.
The built-in high capacity 2000mAh lithium-ion battery can provide between 8-12 hours of use on a single charge (dependant on use and volume).
You get also get a LED light show with this speaker too, with a simple press of the button, you can change the light pattern. There're 7 different patterns to choose from, or if you're the glum type, you can choose to not display a light show.
But is this speaker type any good? Time to test it out!
Packaging and Contents.
The CLEVER BRIGHT Bluetooth Speaker comes packaged in a black coloured retail cardboard box which features product images and specifications printed on it. The box measures 19.0cm x 10.5cm x 10.5cm and weighs 485G.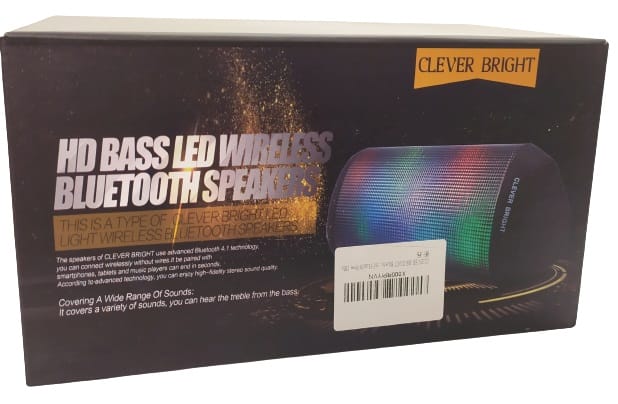 Inside the box you'll find the following: 1x Speaker, 1x Micro USB Cable, 1x AUX Cable, 1x Chinese/English User Guide.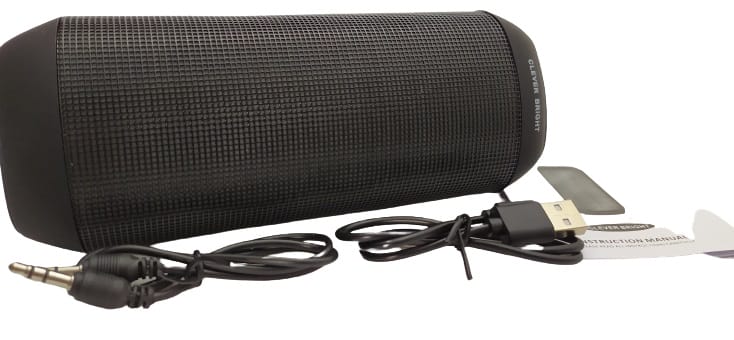 The supplied Micro USB has a length of 50.0cm and the supplied AUX/AUX cable also measures 50.0cm in length.
CLEVER BRIGHT Bluetooth Speaker.
The CLEVER BRIGHT Bluetooth Speaker is black in colour and has a matte finish to it. The two ends have a rubbery material, this provides some friction on a smooth surface, but it also attracts dust like a (insert your own word here).
The speaker measures 18.9cm in length x 8.0cm x 8.0cm and weighs 375G.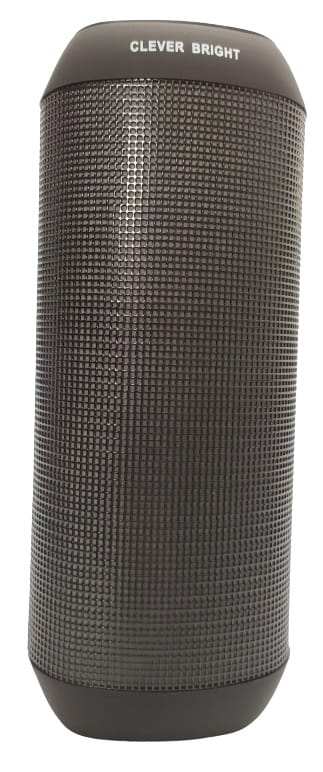 As previously mentioned, you can use the speaker in both an upward and a laid down position. If you choose the horizontal position, there's two rubber strips for surface protection and grip.
On the top triangular area is the built-in user controls, you can control functions such as:
Power On/Off
Pause/Play
Volume Control
Track Selection
Select Light Mode
On the side there's an AUX input port and the Micro USB interface charging port. You need to use either the supplied Micro USB Cable, or use your own, it doesn't matter, you then need to plug it into any USB port to charge the speaker up. A red LED light indicates a charging battery, the extinguishes when the battery has been fully charged.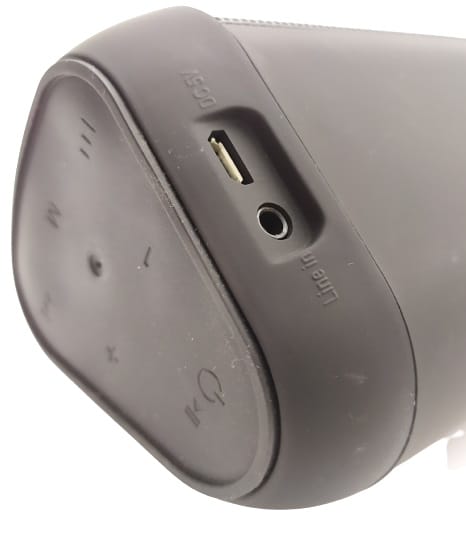 Using the Speaker.
The best way to enjoy the CLEVER BRIGHT Bluetooth Speaker is via Bluetooth. The advertised range is 10M, but I managed to get to a range exceeding 20M, which is very impressive, and that even included a decent signal strength through walls too.
That's the good part out of the way, now for the not so good parts now.
The speaker is supposed to have 7 different LED pattern lights, but the speaker I was sent has 4 before powering this function off. There's no way to turn the LED pattern back on via the multi-function LED button, you must turn the speaker off and then back on again, and this leads to the next issue. The pairing of the speaker and your device is supposed to be saved and automatically connect upon powering on, but you must go through to your Bluetooth menu on your device and manually pair each use.
And that's not all. The volume selection is a pain, it will only work to the level set on your device. So, for example, you have the volume set halfway on your phone, the speaker will decrease and increase to that level only. To fully enjoy the speaker, you'll need to set the volume on your device quite high and use the speaker to suit your preferred audio volume.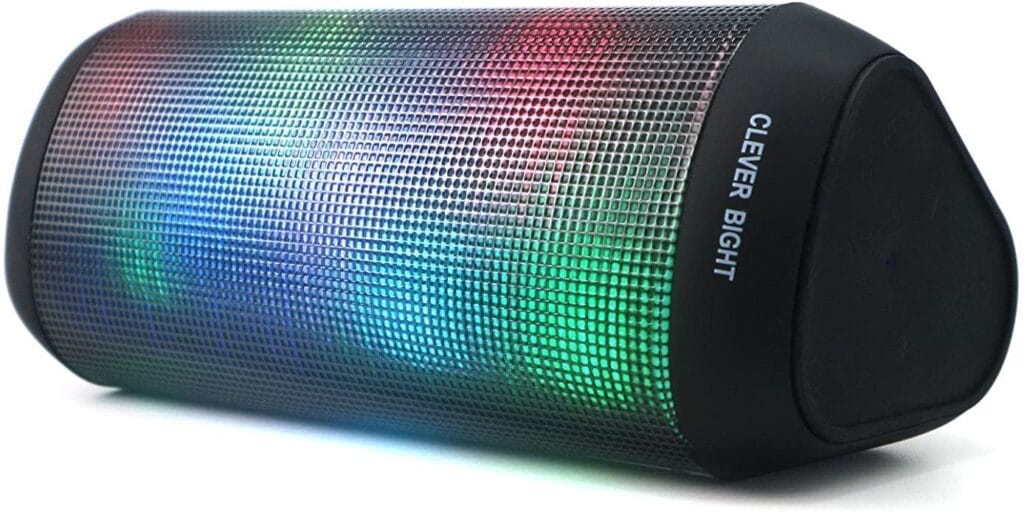 Track selection works via the speaker though, so I guess that's something. The 4 LED light patterns that I have available are at least decent ones, I like the light show, but it'll drain the battery quicker. You can charge and play at the same time though, which is good.
Sound Quality.
The sound is OK, CLEVER BRIGHT obviously advertise the speaker as being the dog nuts, but it's mediocre at best. A little punchy bass, but meh!
The biggest selling point is the Bluetooth signal strength, but this is being under-advertised and CLEVER BRIGHT are focussing their marketing on the wrong areas, and false areas too.
Apparently if you buy two of these speakers you can pair them together and they'll produce a True Wireless Sound (TWS) experience, including left/right audio features.
Distortion is noticeable upon increasing the volume towards 2/3 of sound capabilities. Also, a noticeable imbalance between the two in-built speakers can be heard at this volume too.
I tried the AUX function, it doesn't work. All that happened was some interference.
The speaker is advertised as being IPX4 waterproof, IPX4 basically means the speaker is resistant from splashing water ingress from all directions, i.e., rain.
And guess what, it's a load of crap. The Micro USB port is open to the elements, I splashed water on the speaker to test how long it'll take for it to malfunction. I didn't have to wait long in fact, 30 seconds into Dude by Lethal Bizzle and Stormzy, the speaker started to take in water. I didn't get to the Stormzy part before the speaker stopped working altogether.
RIP speaker!
Technical Specifications.
Brand: CLEVER BRIGHT
Model: Bluetooth Speaker
Model Code: N/A
EAN: N/A
ASIN: B088PN9LGP
Bluetooth: Version 4.1
Frequency: 150Hz – 20Khz
Output: 3.7V/200mAh
Wattage: 10W (2x 5W Speakers)
Compliance: CE Marked, RoHS
Conclusion.
The CLEVER BRIGHT Bluetooth Speaker is certainly a low-end budget speaker. It's pretending to be something it's not, decent!
At best it's a mediocre sounding, half LED patterned, sponge of a speaker.
I had high hopes, it looks the part, but unfortunately, it's a disappointment.
I also found out a while later it has a built-in microphone too, for taking in handsfree phone calls, but I'd already blown it up by that point!
If you want the CLEVER BRIGHT Bluetooth Speaker for yourself, it's available for purchase only on Amazon. The RRP for this product is £25.99.
Product sample provided by CLEVER BRIGHT in exchange for a detailed, unbiased review.
---
Thank you for taking the time to read my post. If you'd like to add a comment or thought on this post, please use the section below. I can also be contacted via the online contact form. Please subscribe for the latest reviews, news, and discounts. Please follow My Helpful Hints on Twitter, Instagram & Facebook too!
CLEVER BRIGHT Bluetooth Speaker