Today I'm going to reviewing the Amgaze Digital Anemometer. This little LCD screened device can record wind speed, whilst also display ambient air temperature.
An anemometer is a device used to measure windspeed and derives from the Greek word anemos, which means wind.
The Amgaze Digital Anemometer can measure wind speed in either m/s, Km/h, ft/min, Knots, or even MPH. It's advertised as being accurate within a 5% allowable margin.
But is it any good? Time to test it out!
Packaging and Contents.
The Amgaze Digital Anemometer comes packaged in plastic packaging and has information printed on the reverse. The packaging measures 18.0cm x 15.0cm x 5.0cm and weighs 110G.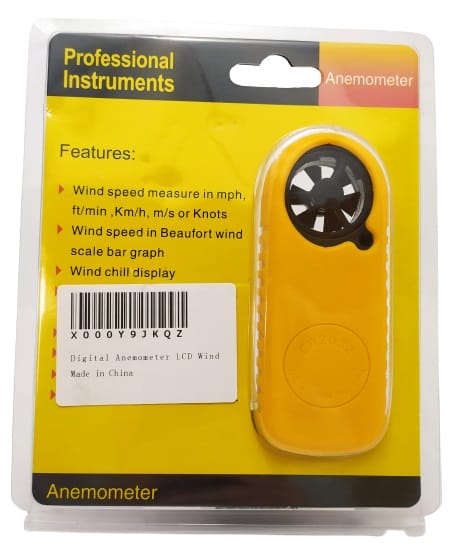 Inside the packaging you'll see the following items: 1x Anemometer, 1x Lanyard, 1x English User Guide.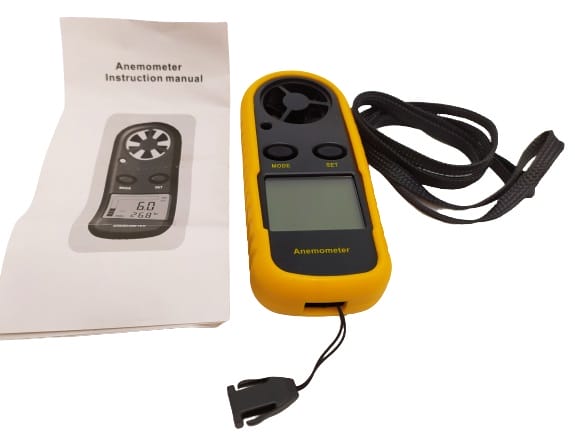 Amgaze Digital Anemometer.
The Amgaze Digital Anemometer measures 4.0cm x 1.8cm x 10.5cm and weighs 65G. The LCD screen measures 3.0cm x 2.5cm. There's an outer sheath cover, this made from a soft synthetic rubber material, this provides some bump protection and provides some protection from rain. The supplied lanyard measures 50.0cm in length.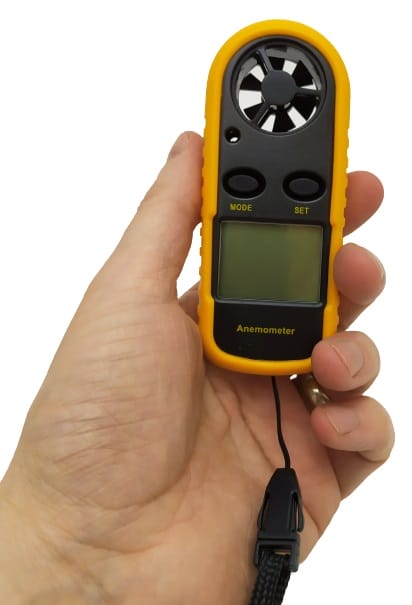 To access the battery compartment, you need to slide of the yellow casing, and you'll see the battery compartment area underneath. Using a coin turn very slightly and the battery door will come away. Be careful not to drop the rubber O-ring, this is needed to provide a watertight seal. The Amgaze Digital Anemometer uses a single 3V CR2032 button cell battery.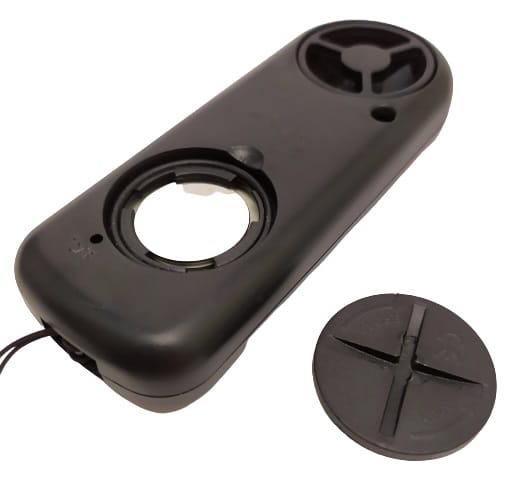 Using the Anemometer.
To power on you need to press the mode button for 2 seconds, the LCD display will light up. This backlit LCD will turn itself off after 12 seconds to preserve battery life. You can change the wind display measurement by pressing and holding the mode button for 3 seconds, you then press the set button to scroll through the different measurement settings, press mode to confirm.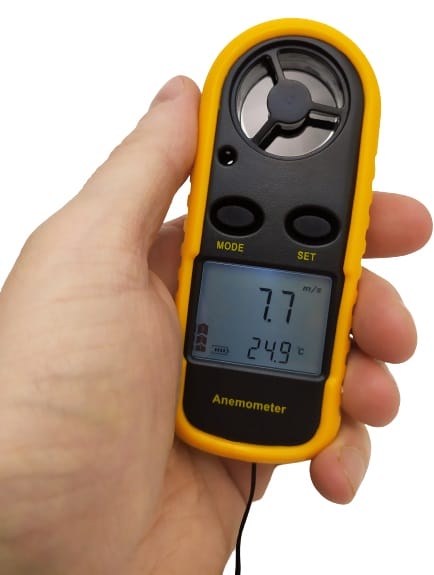 The LCD screen also displays a wind chill gauge too on the left-hand side. Accuracy seems to be something to measure against, but it did record a consistent reading whenever I used the same fan, So, I guess its accurate, obviously it's probably not going to be as accurate as an all singing and dancing expensive piece of equipment. It's OK for the hobbyist to determine wind speed levels for drones, or kite flying etc, not for meteorology recording.
To turn off you can wait for the 14 minutes timeout to occur, or you can press both buttons at the same time to manually turn off.
The Amgaze Digital Anemometer has the following ranges:
Wind Speed Range: 0-30m/s.
Speed Unit: m/s, Km/h, ft/min, Knots, mph
Wind Temperature Range: -10 – 45℃ (14-113℉).
Storage Temperature: -40~60℃ ( -40~140℉)
Air Velocity: Range: 0 – 30m/s, 0 – 90km/h, 0 – 5860ft/min, 0 – 65mph, 0 – 55Knots.
Technical Specifications.
Brand: Amgaze
Model: Digital Anemometer
Model Code: GM816
EAN: N/A
ASIN: B01LZXM0LP
Compliance: CE Marked, FCC, RoHS
Conclusion.
The Amgaze Digital Anemometer is OK. It seems to work alright I guess; I couldn't find any issues with the product itself. My only gripe is the complicated user guide, it would be more helpful to have the battery replacement process on there too. I have read many comments about how people struggle with this process.
If you want the Amgaze Digital Anemometer for yourself, it's available for purchase only on Amazon. The RRP for this product is £13.59.
Product sample provided by Amgaze in exchange for a detailed, unbiased review.
---
Thank you for taking the time to read my post. If you'd like to add a comment or thought on this post, please use the section below. I can also be contacted via the online contact form. Please subscribe for the latest reviews, news, and discounts. Please follow My Helpful Hints on Twitter, Instagram & Facebook too!
Amgaze Digital Anemometer