Today I'm going to be reviewing the GIM RGB Gaming Mouse Pad. This mouse mat features a multi-light LED display which looks cool at night. It's great for avid gamers and works great as a mouse mat.
GIM have designed the mat to be waterproof, comfortable, and provide you with a lighting display, all from a mouse mat.
Running on just 5V DC GIM also have provided a USB power outlet so you can power additional accessories from the mat, this power outlet is great if you wish to use a USB mouse.
But is the mat any good? Is it comfortable to use? Time to test it out!
Packaging and Contents.
The GIM RGB Gaming Mouse Pad comes packaged in a Black cardboard box which features product images and specifications. The box measures 32.0cm x 9.5cm x 9.5cm and weighs 745G.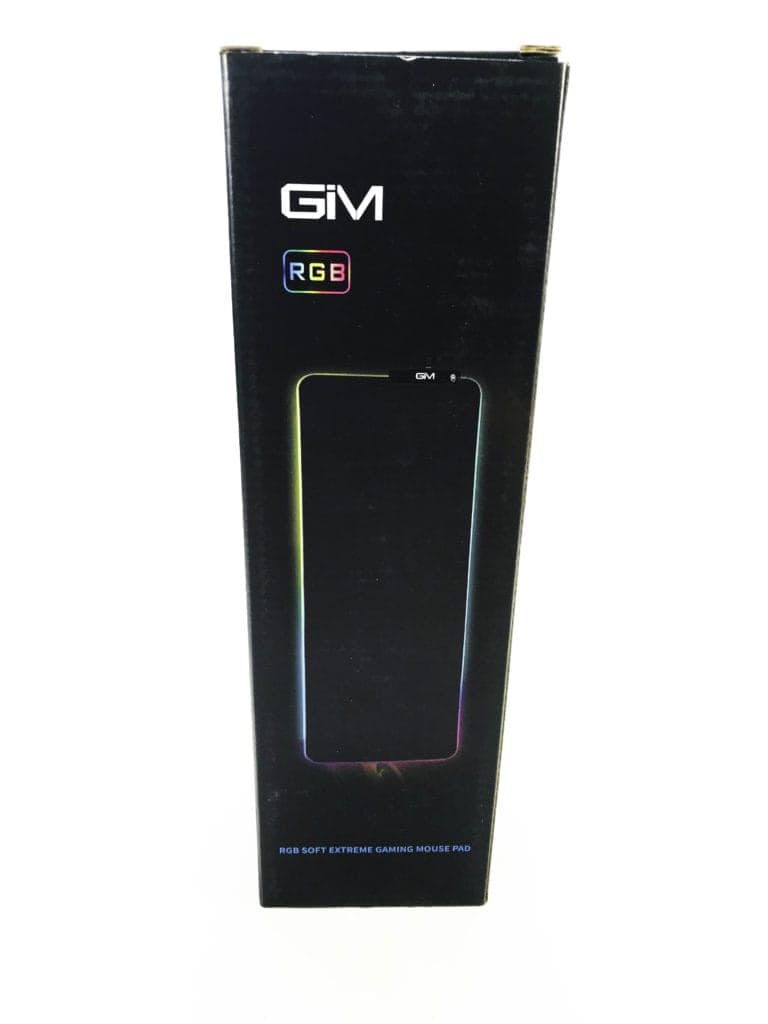 Upon opening the box you'll find the following; 1x Mouse Mat, 1x Micro USB Cable.
GIM RGB Gaming Mouse Pad.
The GIM RGB Gaming Mouse Pad is Black in colour and is made from water-resistant Neoprene. The total measurement of the pad measures 80.0cm x 30.0cm and has a thickness of around 5mm, the pad weighs 620G.
You'll notice on one end the user control section. This features a touch-sensitive button that enables you to turn on the lights and cycle through the 16 different light modes. I found this touch button to be a little clumsy and not also responsive to my touch.
Using the Gaming Pad.
To use this gaming pad, you'll need to use the supplied Micro USB cable (Which has a length of around 2M) and features and angled Micro USB plug and a heavy-duty braided cable design. Now you'll a 5V DC power source, a spare USB on your laptop or PC is fine. Don't worry about using up a spare USB port on your device though as GIM have provided a USB port on the side of the gaming pad which will allow you to plug in a USB device. I recorded the power from this USB port and measured 4.84V/0.02mA. So, it's OK for something small like a USB mouse.
Once power has been connected to the mouse pad you can cycle through the different lighting modes. You can choose from 7 static colours, 7 breathing light colours and 2 rolling lighting displays. As mentioned above the touch-sensitive user control button is a bit cumbersome and not always responsive to what you're asking it to achieve. But, after a while you can choose and select your preferred choice of LED lights. You can even turn it off altogether if you prefer, but why would you do that?
The backside section features a non-slip backing that grips to every desk, even glass. The mouse pad is also made from Neoprene, which makes it waterproof and can easily be cleaned from dirty finger-marks and crumbs from your late-night gaming session snacking.
Technical Specifications.
Brand: GIM
Model: RGB Gaming Mouse Pad
Model Code: fsd-18
Manufacturer Code: N/A
EAN: N/A
ASIN: B07NTL7FXN
Outlet Interface: USB 2.0
Inlet Interface: Micro USB Cable
Voltage: 5V, ≤ 150mA
Compliance: CE, RoHS
Conclusion.
I quite like the GIM RGB Gaming Mouse Pad. It's feels very high quality and the mat itself certainty doesn't move about when in use. It's very comfortable to use, especially with prolonged use, and the mat is easily cleaned. However, there's one little issue, and that's the touch-sensitive user control button, it' basically useless and intermittently works.
Aside from the button, the GIM mouse pad is very good and very good value from money.
If you want the GIM RGB Gaming Mouse Pad for yourself, it's available for purchase only on Amazon. The RRP for this product is £15.88.
Product sample provided by GIM in exchange for a detailed, unbiased review.
---
Thank you for taking the time to read my post. If you'd like to add a comment or thought on this post, please use the section below. I can also be contacted via the online contact form. Please subscribe for the latest reviews, news, and discounts. Please follow My Helpful Hints on Twitter, Instagram & Facebook too!