Today I'll be writing about a small Devonshire based company called Candled. Each candle is hand-crafted and is fully manufactured in Devon, UK.
Candled specialise in LED technology to give an authentic candle experience, all without the dangers of a real flame. You'll see each candle is made using real candle wax, can be controlled via a by remote control, and to look at, you'd think it's a real candle.
Candled advertise that their candles produce the same light output as a regular candle. I was sent a 4″ x 3″ (10cm x 7cm) pillar candle for review. Candled sell a variety of candles, including traditional tapered candles amongst pillar shaped candles.
But is it any good? What are my thoughts? Time to test it out!
Packaging and Contents.
The Candled candle comes packaged in a brown cardboard box which features print on the front and information printed on the reverse. The box measures 20.0cm x 11.0cm x 11.0cm and weighs 600G. It's worth pointing out that the postage packaging was very eco-friendly too, the packaging chips used were made from starch.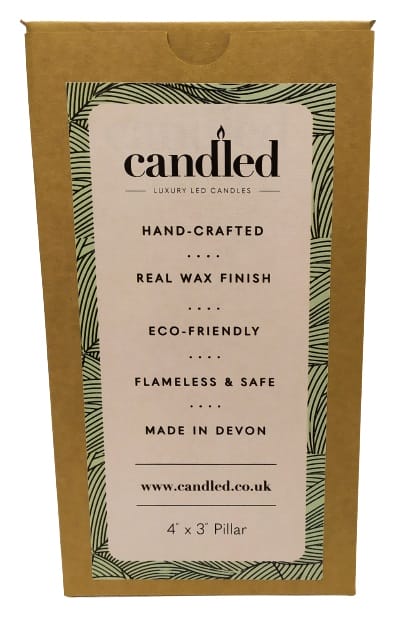 Candled supply the following with each order: 1x LED Candle, 1x Remote Control, 2x LR20 (D) Batteries,1x English User Guide.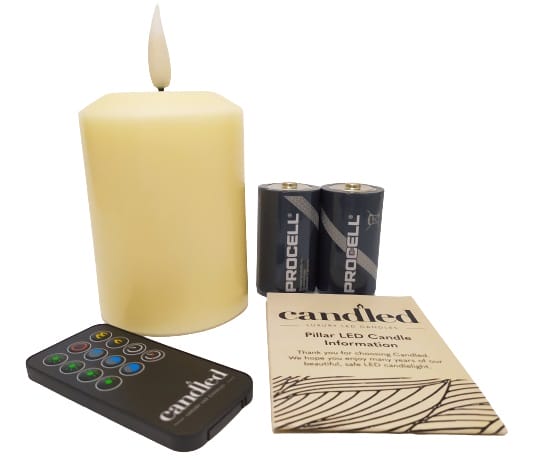 Not many companies supply complimentary batteries either, so this is a massive plus point from me. You can use your own rechargeable batteries too if you'd prefer, also Candled have some available for sale too.
Candled.
The Candled candle is made from real wax, the same real wax as you'd find with any other traditional type of candle. It looks, feels, and smells the same. The only difference is you don't light it! It's completely flameless and heatless too for that matter, this is all thanks to the low consumption power of LED lighting technology.
On the underside there's a felt ring, this provides surface protection. You'll see the battery housing compartment is located also on the underside. The battery door features a spring-loaded clamping mechanism that is easy to access, but also securely keeps the battery in place.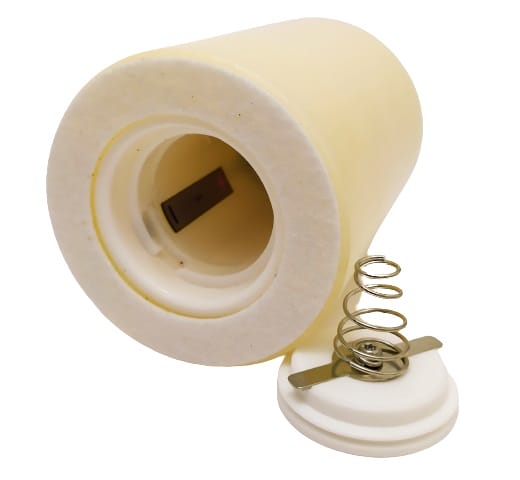 Simply insert the battery into the compartment (positive side up), twist the locking mechanism into place, and you're done. The candle features an anti-polarity circuit, so you can't damage the candle if you were to incorrectly insert the battery.
If you were to accidently break or chip your candle, Candled can repair it for you too (for a small charge) and will take back any candle at the end of the life of the product. Candled feel passionately about not seeing their products ending up in landfill. But, as you'll see further down, you're hardly going to be disposing of your candle any time soon.
Using the Remote Control.
You use the Candled candle via the supplied remote control, it's a multi-controllable candle. You can purchase multiple candles, and your single remote control will operate all of them simultaneously, this is excellent news if you were to say purchase 12 tapered candles and place them into a high-ceilinged area in a light fixture.
The remote control comes supplied with the CR2025 button cell battery; this produces the required 3V required to operate it. The maximum transmission distance I could achieve was 5M during the day and 10M in low lighting conditions. But, if that's not suitable for your needs, Candled have a beast of a remote control available with 50M transmission range!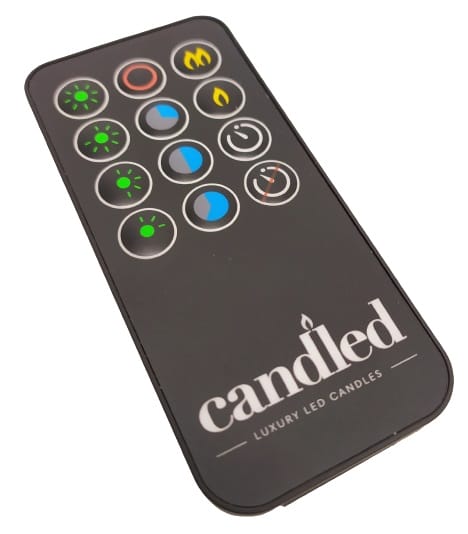 On the remote control you're able to control features such as: light levels, flicker settings, and programme timings. All very clever.
Using the Candle.
I was instantly impressed by the Candled candle. It looks just like a regular candle; it even has a faux wax pool on the op area too. The faux flame mimics the exact pattern of a flame. You can set the flicker level to also mimic a gust of wind too. You get 4 different lighting levels, with the highest level producing 12-15 lumens, the same light output as a traditional candle.
For me personally I preferred the lowest light setting and the lowest flicker setting, it added a nice ambient, warm light. If you go all out on maximum the battery will last approximately 75 hours, but if you use it on the lowest settings your battery will last 150 hours.
It's so difficult to capture how good the Candled candle looks on camera, but honestly, it's brilliant, just like looking at a real candle, you could easily fool anyone into believing it's a real candle, just without the flame. That brings me nicely onto my next topic, the flame, or rather lack of. No matter the light setting, the faux flame area remains cold to the touch, this is perfect for us around young kids and animals. The LED's will also last over 50,000 hours too.
I'll try and upload a couple of GIF's below.
It's so much better in real life than I can capture on camera, my camera recording doesn't do the Candled candle any real justice.
Further Thoughts.
This is where I need to convince you that spending nearly £60 on a candle is worth it. It's probably the hardest part of the review, is £60 for a candle good value for money?
It's on the expensive side, and more suited to a luxury purchasing budget than your average household. I think it's wonderful, very realistic, safe, and amazes me how well it looks and performs. Pricing is hard to judge, each candle is handmade, fully tested, comes with supplied batteries, comes supplied with a decent remote control, an easy-to-follow user guide, a 12-month warranty, an expected lifecycle of 50,000 hours, can be sent away to be repaired, as well as being produced using high-quality paraffin wax to produce.
Certainly, if you've got a high-ceilinged chandelier fitting, buy 12 Candled candles would probably be costs effective by the time you've factored in the labour costs of changing traditional style candles.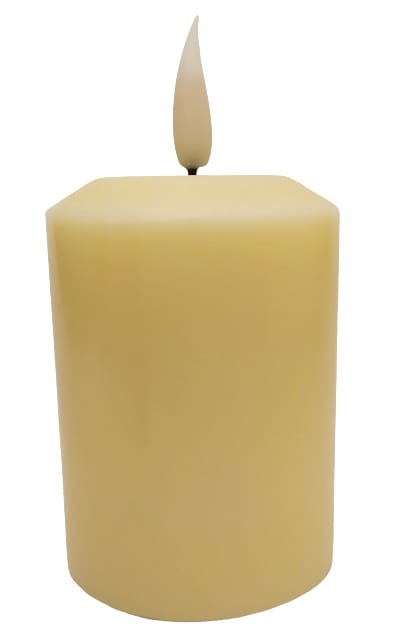 A traditional style 4″ x 3″ candle costs anything from £5 to £10, but then you have the added fire risk. Amazon do some flameless LED candles too, but they're crappy looking with plastic moving parts and around £20 each candle and won't last as long either, in fact probably half of the life expectancy of the Candled candle.
So, if you factor in all these little segments, overall, £60 doesn't sound too drastic, right? I'm sure it's not going to be to everyone's budget.
It's a luxury candle for those that want a realistic looking candle, with no risk to health.
Technical Specifications.
Brand: Candled
Model: Pillar LED Candle
Model Code: PC4X30
EAN: N/A
ASIN: N/A
Light Output – 12/14 lumens (equivalent to a traditional burning candle)
IP Rating – IP 42
Warranty – 1 year
Approximate Battery Life Full Brightness (alkaline) – 75 hrs
Approximate Battery Life Low Brightness (alkaline) – 150 hrs
Reverse Polarity Protection – yes
LED Life Expectancy – in excess of 50,000 hrs
Compliance: CE Marked, FCC, RoHS
Conclusion.
I really like the Candled candle, it performs equally as good as a traditional candle, all without the fear of a traditional candle too. The remote control works well, has multiple user controls and the life expectancy is brilliant.
My only concern is the price, although it's an excellent quality product, I fear the price tag would put a lot of interested people off from making a purchase. I'm sure if people could see in real life how well it performs, they'd be sold though. It's honestly a brilliant performing, relaxing candle to have on.
I was extremely impressed with the remote control too, it works brilliantly, and has an excellent transmission range, I wasn't expecting it to be that good to be fair.
If you want the Candled LED Candle for yourself, it's available for purchase only on their website. The RRP for this product is £57.25.
Product sample provided by Candled in exchange for a detailed, unbiased review.
---
Thank you for taking the time to read my post. If you'd like to add a comment or thought on this post, please use the section below. I can also be contacted via the online contact form. Please subscribe for the latest reviews, news, and discounts. Please follow My Helpful Hints on Twitter, Instagram & Facebook too!