Today I'll be reviewing the Final Touch Cocktail Mixing Set. A high-quality all in one mixology set from drinkware giftware company Original Products.
This is a high-end cocktail set with brass plated instruments and a heavy glass mixing pitcher.
It's no secret that I love products from Original Products. I've reviewed a few products from their entire range, and I'm looking forward to this one.
So, what is the cocktail mixing set like? Is it worth the money? Time to test it out!
Packaging and Contents.
The Final Touch Cocktail Mixing Set comes in a Black cardboard box which features product images and printed specifications. The outer box measures 23.0cm x 18.0cm x 11.0cm and weighs 1035G.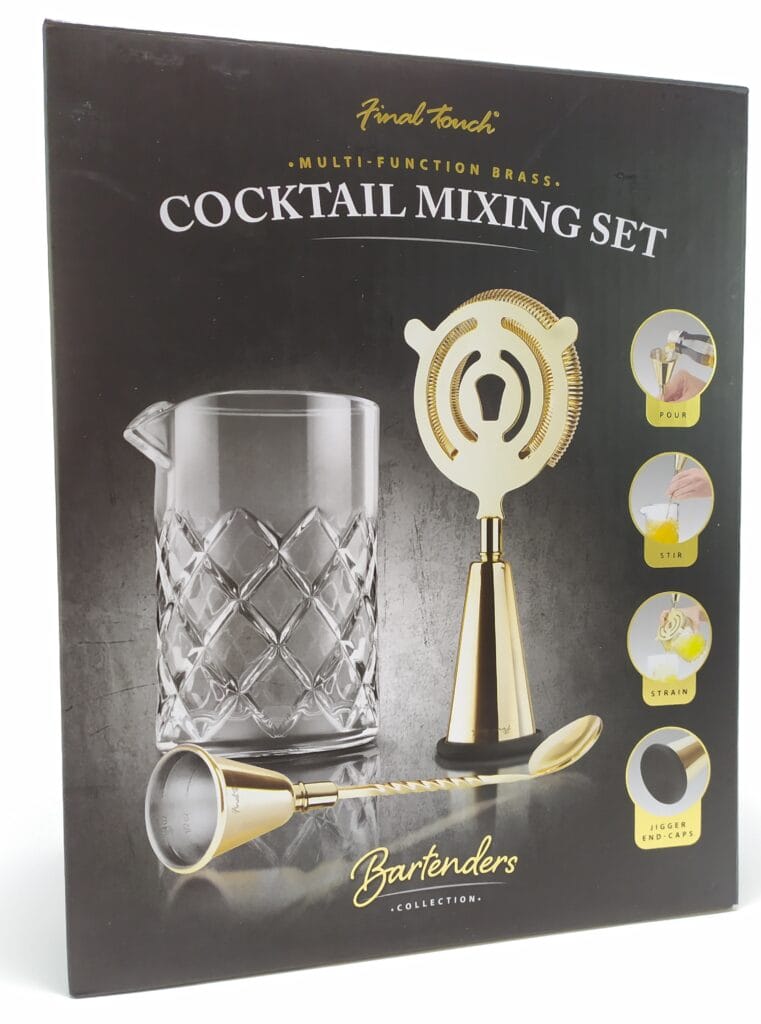 Inside the box you'll find the following: 1x Glass Pitcher, 1x Jigger Strainer, 1x Jigger Spoon, 2x Silicone End Caps.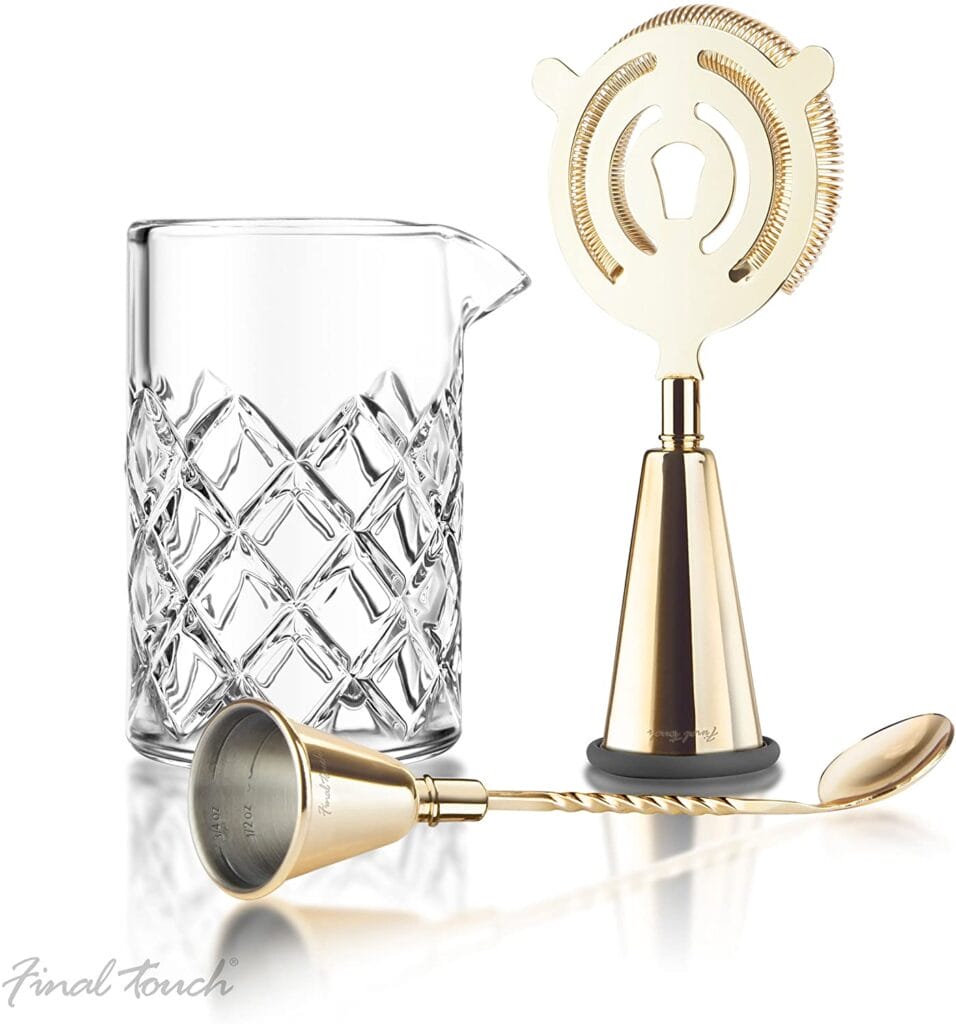 Final Touch Cocktail Mixing Set.
This cocktail mixing set has been made using high-quality materials, such as glass, and brass-plated metals. Upon first handling this set, you instantly feel the high quality. The glass pitcher is very heavy and weighs 680G and measures 13.5cm x 8.5cm.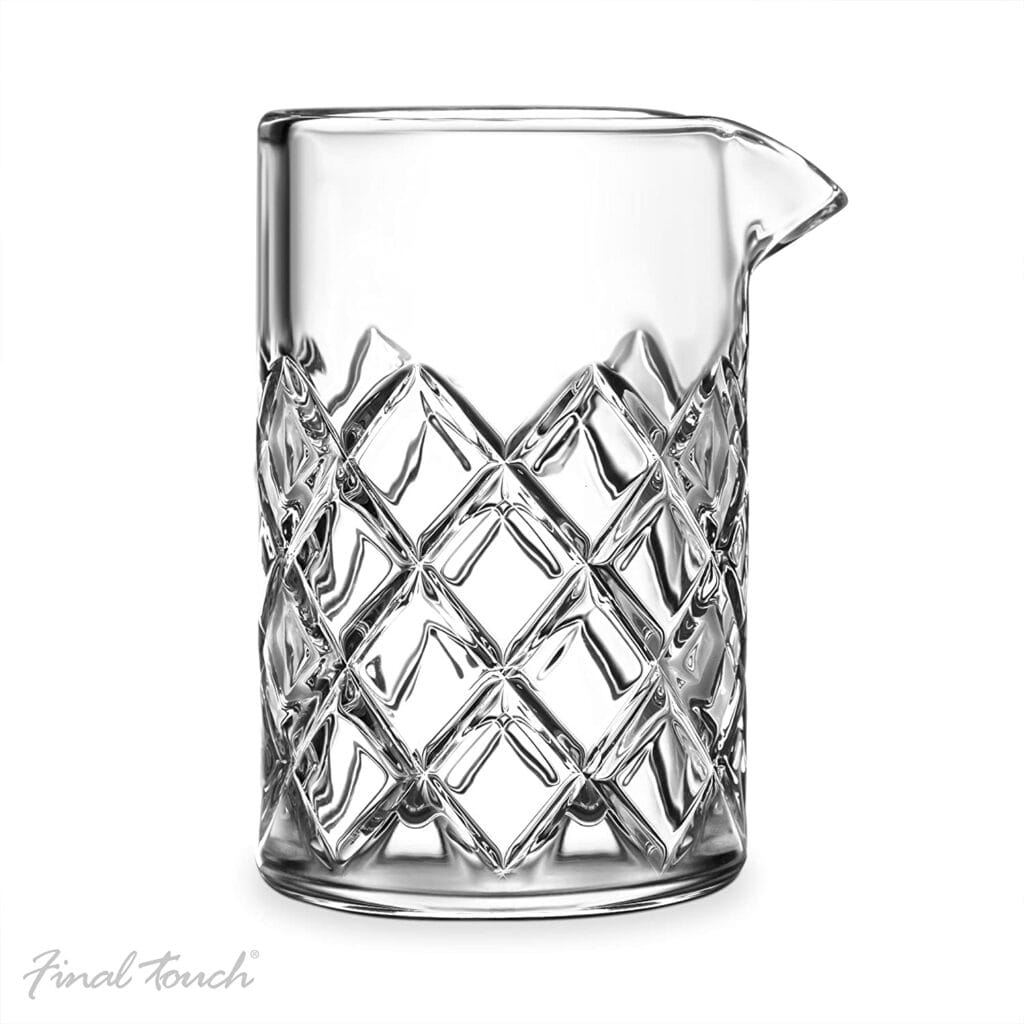 The brass-plated instruments are highly polished in a Gold colour. The advantages of using brass is rust prevention, they will never rust with alcoholic liquids or water. You're paying for quality with the Final Touch Cocktail Mixing Set.
The strainer's spring fits nice and securely into the glass pitcher without fear of falling out when you pour your cocktail.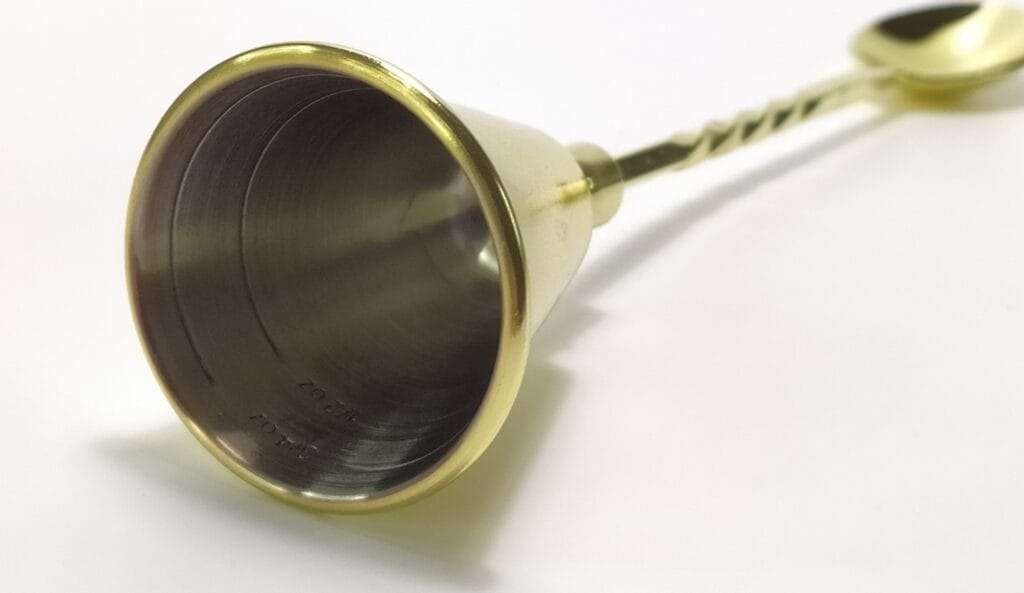 You'll also be pleased to know that both the spoon and strainer double up as jiggers too. So, you can easily measure your drinks out. The spoon measures spirits for 1/2 oz and 3/4 oz, and the strainer measures 1 1/2 oz. This is where things get confusing for a metric measurement millennial such as me. These imperial measurements mean absolutely nothing to me. So i had to Google each measurement and convert them to a more familiar metric measurement.
1 1/2 oz – 44ml
3/4 oz – 22 ml
1/2 oz – 14ml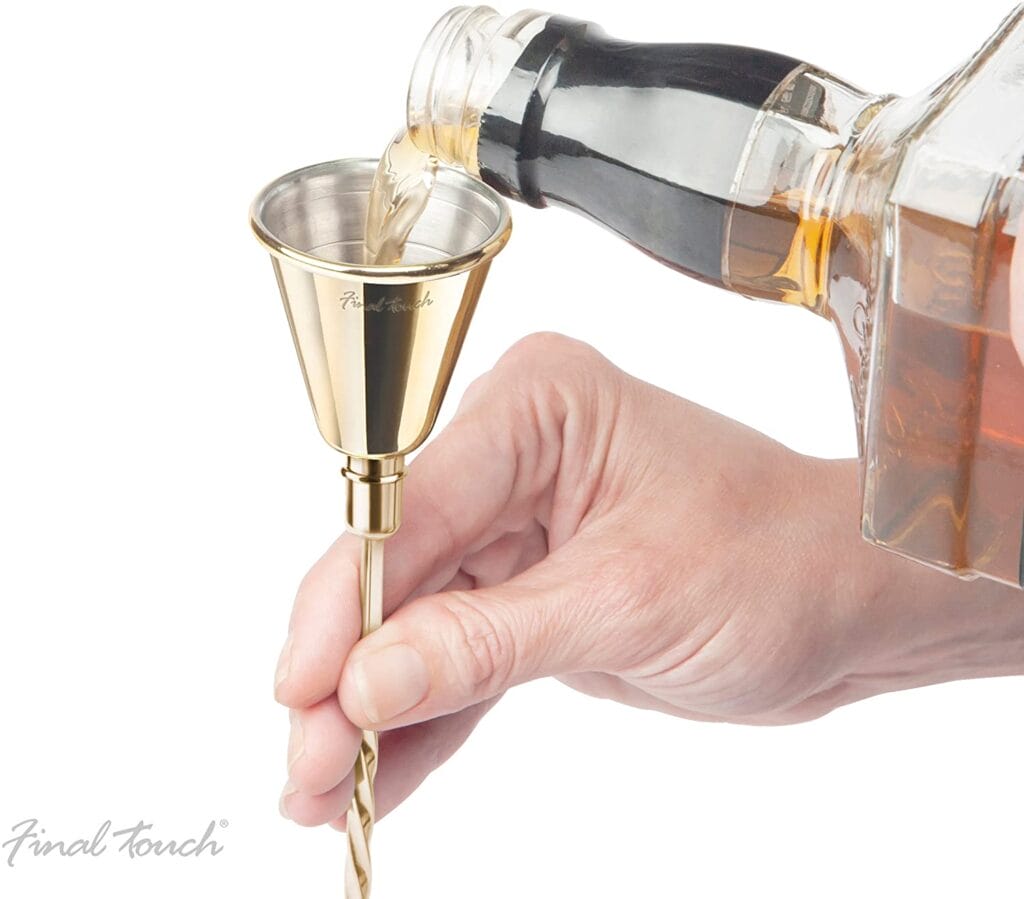 Ahh, that's better. But the standard UK measurement for a single shot is 25ml and a double is 35ml. So, you're not able to use these measurements correctly in the UK.
The Final Touch Cocktail Mixing Set is hand-wash only, don't chuck it into your dishwasher!
Technical Specifications.
Brand: Final Touch
Model: Cocktail Mixing Set
Manufacturer Code: GMP115
Manufacturer Reference: N/A
EAN: 886245010666
ASIN: B07DX8FY5F
Compliance: N/A
Conclusion.
I certainly like the quality feel to the Final Touch Cocktail Mixing Set. But it's designed for the US market only with imperial spirit measurements.
The quality aspect is exceptional without a doubt, you'll certainly be impressed by the build quality, but making some cocktails would be difficult with imperial measurements.
If you want the Final Touch Cocktail Mixing Set for yourself, it's available for purchase only on Amazon. The RRP for this product is £49.99.
Product sample provided by Original Products in exchange for a detailed, unbiased review.
---
Thank you for taking the time to read my post. If you'd like to add a comment or thought on this post, please use the section below. I can also be contacted via the online contact form. Please subscribe for the latest reviews, news, and discounts. Please follow My Helpful Hints on Twitter, Instagram & Facebook too!
Final Touch Cocktail Mixing Set