The BlitzWolf BW-FWC3 Wireless Charger is a premium wireless charger with a mirrored surface, its base is anti-slip which keeps your phone secure and stable whilst charging.
A sleep-friendly blue LED charging indicator illuminates when your phone is placed upon the wireless charger.
The BlitzWolf BW-FWC3 is compatible with all Qi-Enabled devices including; iPhones, Samsung, and other Android Mobile Phones.
Packaging.
The BlitzWolf BW-FWC3 Wireless Charger comes packaged in a White cardboard box with Green detailing.  The box measures 11.0cm x 11.5cm x 4.0cm and weighs 225G.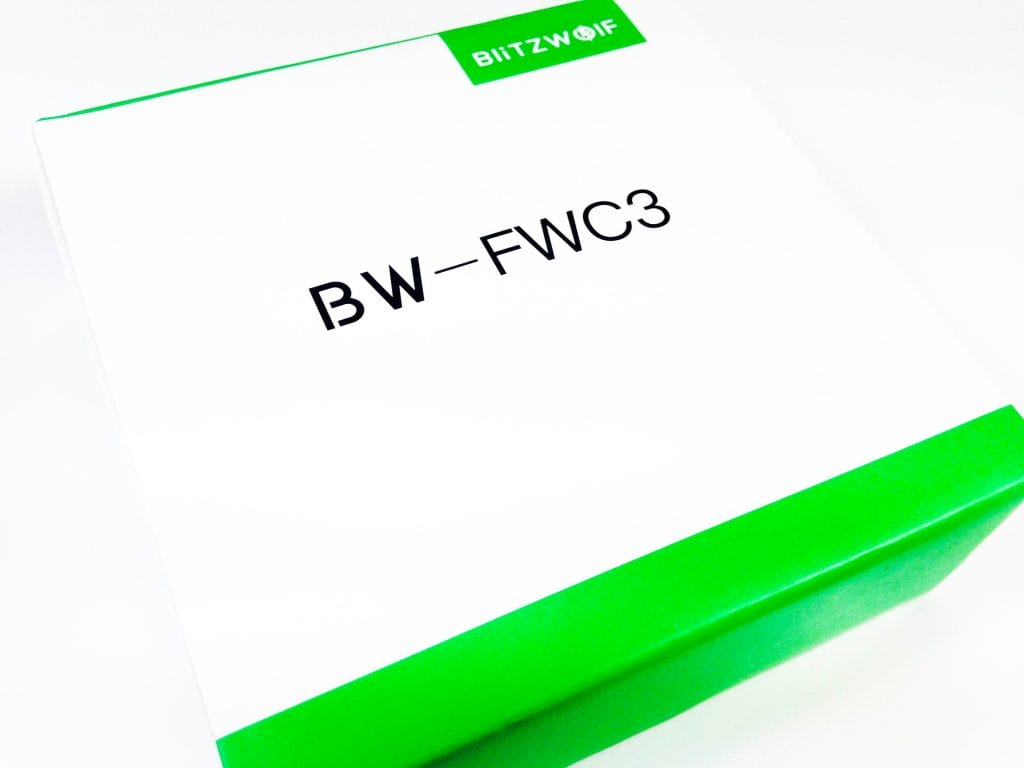 Contents.
Upon opening the BlitzWolf BW-FWC3 Wireless Charger box you'll find the following items. 1x Wireless Charger Base, 1x Micro USC Charger Cable, 1x Multi-Lingual User Guide, 1x BlitzWolf Warranty Card.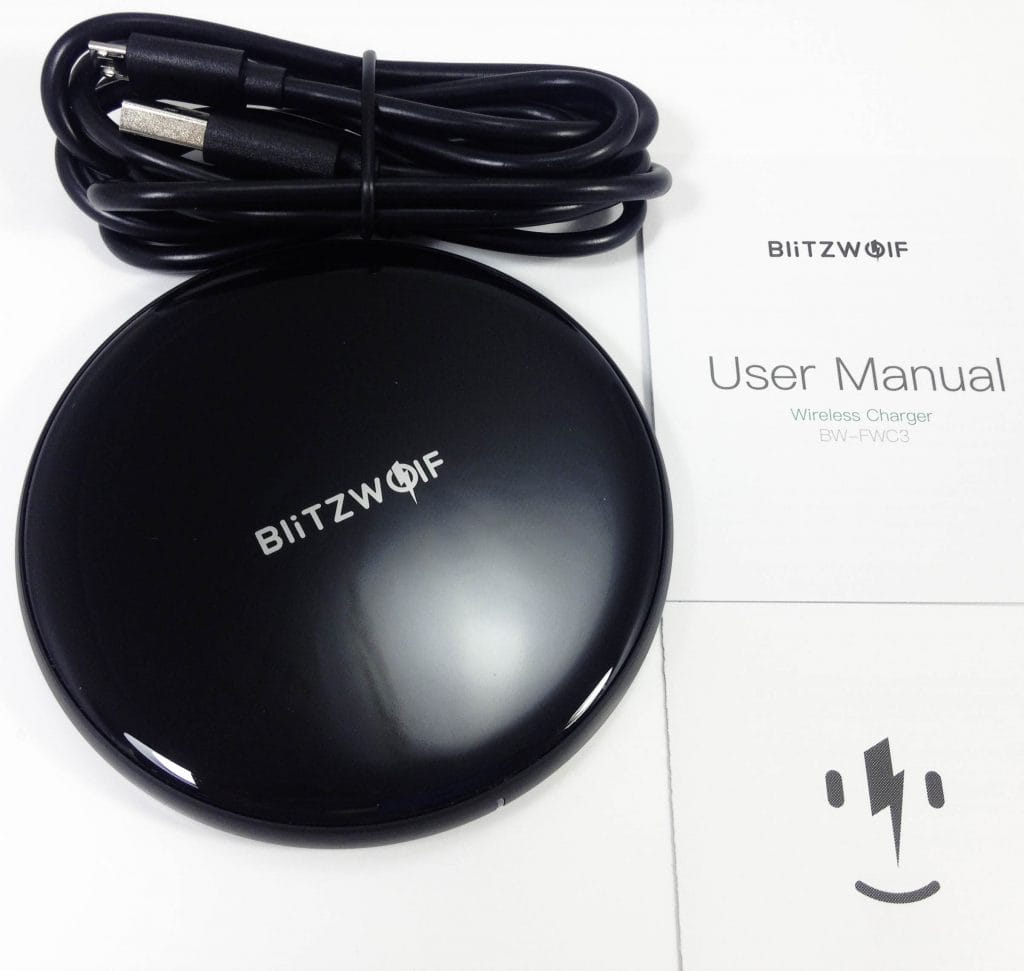 BlitzWolf BW-FWC3 Wireless Charger.
The BlitzWolf BW-FWC3 Wireless Charger is made from a variety of mixed materials; these include plastics, rubbers, and metals.  The main colour is Black with White logo detailing, the main base measures 9.0cm in diameter x 1.0cm in depth and has a weight of 130G.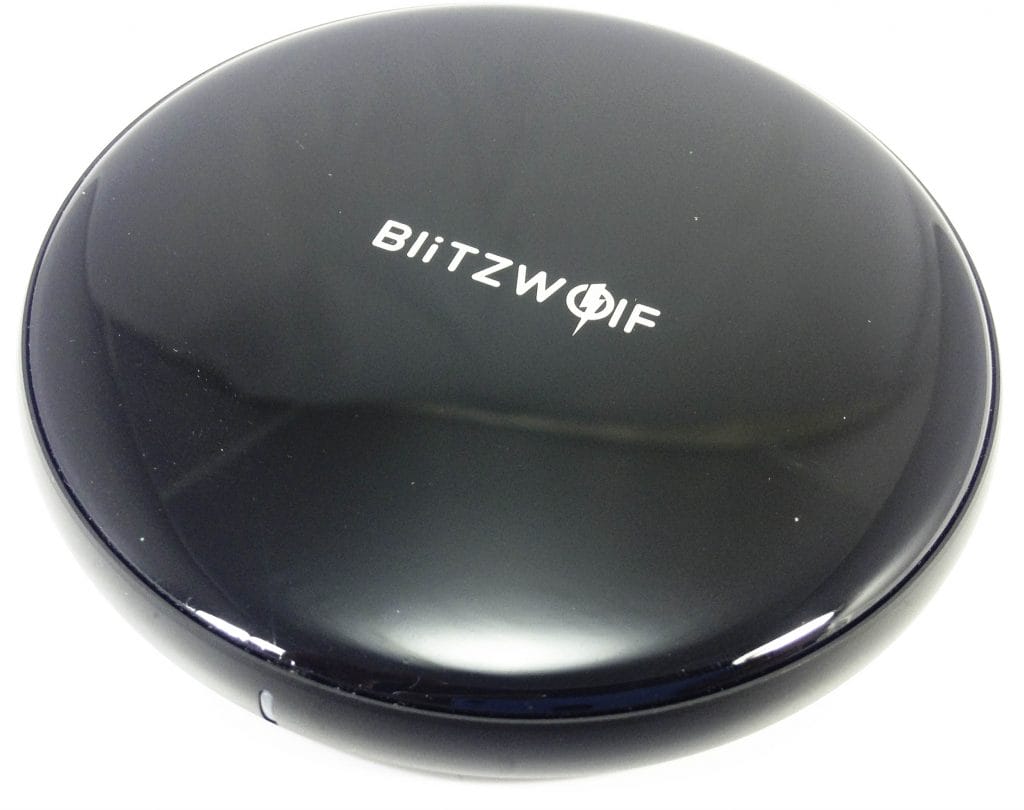 The top has a mirrored glossy finish to it with a soft rubber protection cushion to avoid damaging your device.
On the bottom there are 4 rubbered non-slip pads also.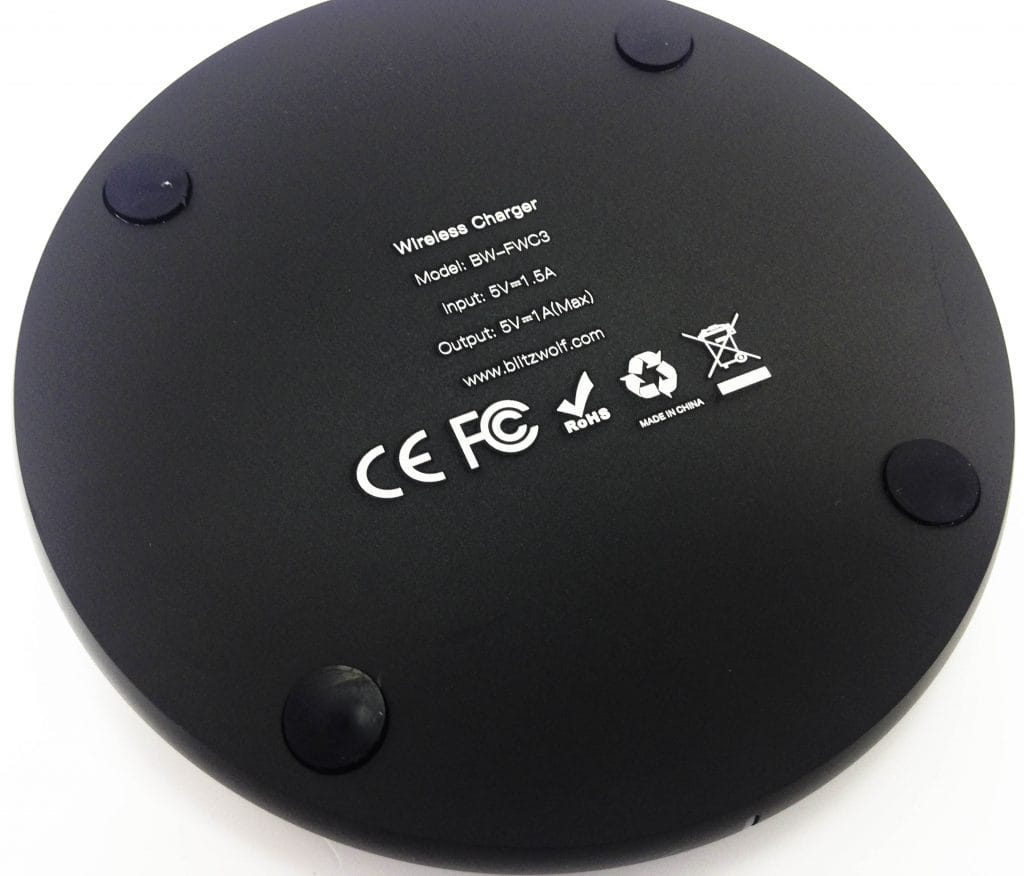 Using the Wireless Charger.
Using the BlitzWolf BW-FWC3 Wireless Charger really is a simple process.  All you do is plug in the supplied Micro USB cable (Which has a length of 1.5M) and put a Qi-enabled device directly onto the top of the wireless charger, and that's it!
The BlitzWolf BW-FWC3 has some built-in internal safety features such as protection of over-heat, over-current, short circuit and over voltage which protects not only your device but you too!
I found the glossy finish although designed to be stylish a real pain and attracts dust very quickly and will stick to it via static electricity that's being created from the charger.  And, that's not all, you also have to contend with finger marks too!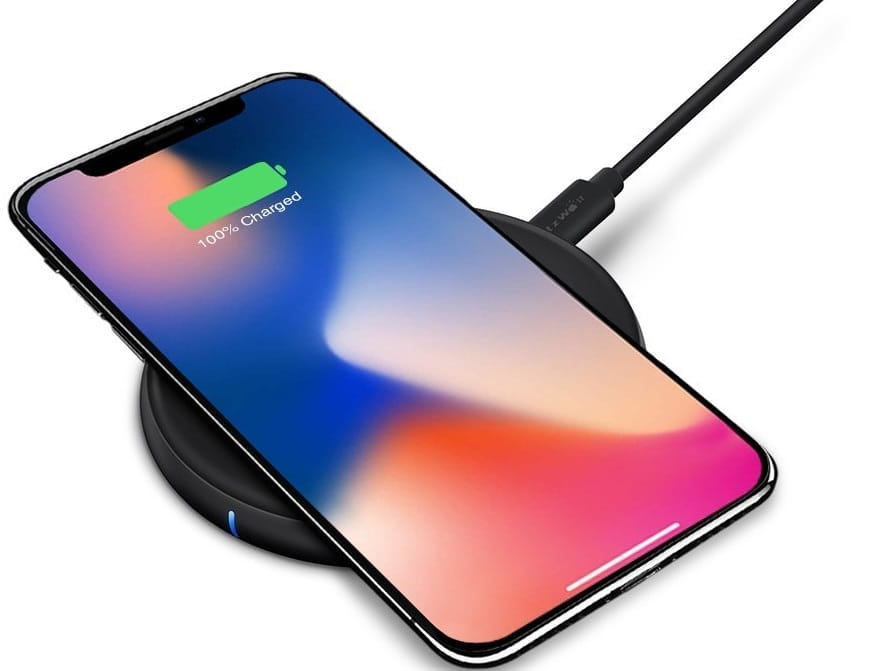 So, if this sounds like your kind of nightmare then the BlitzWolf BW-FWC3 is going to really annoy you and you'll be forever cleaning and probably swearing!
But if you can look past the nightmare of dust and finger-marks this wireless charger is actually very good.
Another point, this charger does look like a table coaster, so if granny is coming over to visit make sure you remove your wireless charger from the table or a hot cup of tea will be placed on it!
Also, make sure that you don't have anything metal come into contact with the wireless charger, such as a meal phone case or your phone will overheat!
Technical Specifications.
Brand: BlitzWolf
Model: Wireless Charger
Model Code: BW-FWC3
Manufacturer Code: BW-FWC3
EAN: N/A
ASIN: B0797PMBSZ
Colour: Black
Input: 5V 1.5A
Output: 5V 1A (Max)
Conversion Efficiency: 70%~82%
Charging Distance: 10mm
Compliance: CE, FCC, RoHS
Conclusion.
I like this wireless charging system by BlitzWolf, I like the non-slip design but a rather loath the glossy mirrored finish to it.  I'm not sure about the advertised charging times of quickly charging a device from flat to fully charged in 3.5 hours and would take this claim with a little pinch of salt!  But, overall I must say I quite like this wireless charger as an item, my only wish is for a different cosmetic design.
If you want the BlitzWolf BW-FWC3 Wireless Charger for yourself, it's available for purchase only on Amazon. The RRP for this product is £10.99.
Product sample provided by BlitzWolf in exchange for a detailed, unbiased review.
---
Thank you for taking the time to read my post. If you'd like to add a comment or thought on this post, please use the section below. I can also be contacted via the online contact form. Please subscribe for the latest reviews, news, and discounts. Please follow My Helpful Hints on Twitter, Instagram & Facebook too!
BlitzWolf BW-FWC3 Wireless Charger