The esLife Coffee Grinder is a stylish and compact kitchen grinder that not only grinds coffee beans, but also nuts, herbs, and spices too.
You get a powerful 200W motor that can easily grind coffee beans in a matter of a few seconds, it's quick, convenient, and easy to use!
Safety is in the forefront of this particular coffee grinder, this model features an interlock relay which means it won't operate unless the lid is securely into position and pressed down for any electrical contact for the motor.
But is this grinder any good? Will it work? Time to test it out!
Retail Packaging.
The esLife Coffee Grinder comes packaged very neatly in a Brown cardboard box which features product images, specifications, and instructional uses printed on it.  The box measures 19.5cm x 12.0cm x 12.0cm and weighs 795G.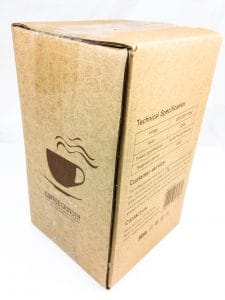 Contents.
Upon opening the esLife Coffee Grinder box you'll find the following items. 1x Grinder, 1x Cleaning Brush, 1x English/German User Guide.
esLife Coffee Grinder.
The esLife Coffee Grinder is made from plastic externally but a stainless-steel grinding bowl.  The grinder is Brown in colour and measures 16.0cm x 9.0cm and weighs 600G.  You get a generous grinding bowl which has a measurement of 7.0cm in diameter and has a depth of 4.0cm, this sizing easily can take the suggested 30G of coffee beans.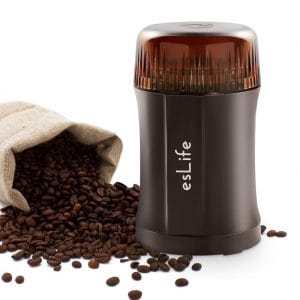 The blade is also made from stainless steel and is a blunt blade which has been designed to crush and grind items rather than slice them.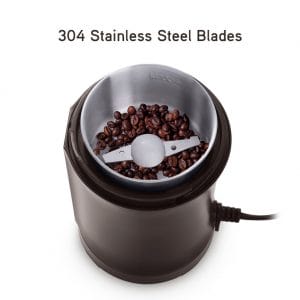 You get a UK plug and cable supplied too, which has a modest length of 105.0cm.
The grinding bowl itself has a 30G fill line too, so if you're unsure about the correct measurement you can use this line as a guide.
Using the Machine.
Using this grinder is simple, fill the grinding bowl with the desired amount of in this instance coffee beans.  Now place the lid onto the machine and press down, this operates the motor and blade and the beans will start getting crushed, to stop simply lift.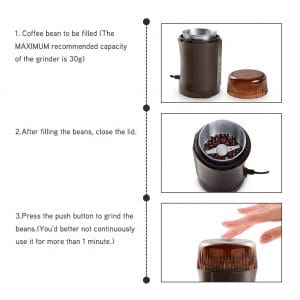 You only need a few seconds of grinding to get the perfect consistency, I recommend a few seconds of use and checking, if you need your beans finer, press again for slightly longer.  It's best to keep the machine doing lots of small uses rather than one big use as this could overwork the motor and burn it out.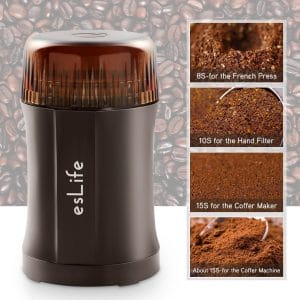 I do have one suggestion though, the lid needs to be more transparent as you can't quite see through the lid to check your beans, and you need to keep lifting the lid of the machine each time to check.
Cleaning is simple.  All you need is the supplied cleaning brush and if you wish you can use a dry cloth too.  Never use any kind of liquid in the machine, even to clean it as this will cause the machine to malfunction and poses an electric shock risk.  This machine is for dry ingredient use only.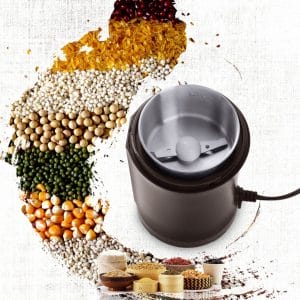 Technical Specifications.
Brand – esLife
Model – Coffee Grinder
Model Code – CG-8220
SKU Code – HG3118
EAN – 6920158607033
ASIN – B076P49KCT
Rated Voltage – 220~240V / 50Hz
Rated Power – 200W
Capacity – 30G
Compliance – CE, RoHS, FDA
Conclusion.
I really like this grinder.  In fact, I've been using it every day for the last 2 months and it's been excellent.  I never ground my own coffee beans before and always used instant coffee granules at home, but now I'm converted.
I do have a few suggestions though, one being the lid needs to be more transparent.  A choice of colour would also be great.  Not everyone wants Brown appliances in their kitchen and I personally think a Black or Grey colour model would be great!  The actual grinding process is good, and all the beans do get crushed and all to the same level of consistency also.
Overall, I can't really fault this little machine and I highly recommend you purchase one, you won't be disappointed.
If you want the esLife Coffee Grinder for yourself, it's available exclusively on
Amazon and comes with a 18 Month warranty.  The RRP for this coffee grinder is £29.99.
---
Thank you for reading this, feel free to comment down below, your input really matters to me.  I can also be contacted here.  Why not check out my other product reviews here.
Darren