The Energenie MiHome Light Switch is a radio controlled switch for your home.
Switching can be done via the MiHome App, MiHome Remote Control or manually by pressing the button on the front.
You can use dimmable LED, Halogen and Incandescent bulbs with this switch and it can take a maximum load of 5 bulbs per circuit (not exceeding 250W total).  Please note the Home Light is not suitable for Fluorescent, CFL or Non- dimmable LED bulbs.
Requires the MiHome Gateway or MiHome Remote Control to function (See my Gateway review).
Packaging.
The Energenie MiHome Light Switch comes very well packed in a frustration free packed cardboard sleeved box.  The box measures 9.5cm x 9.5cm x 4.0cm and weighs 150G.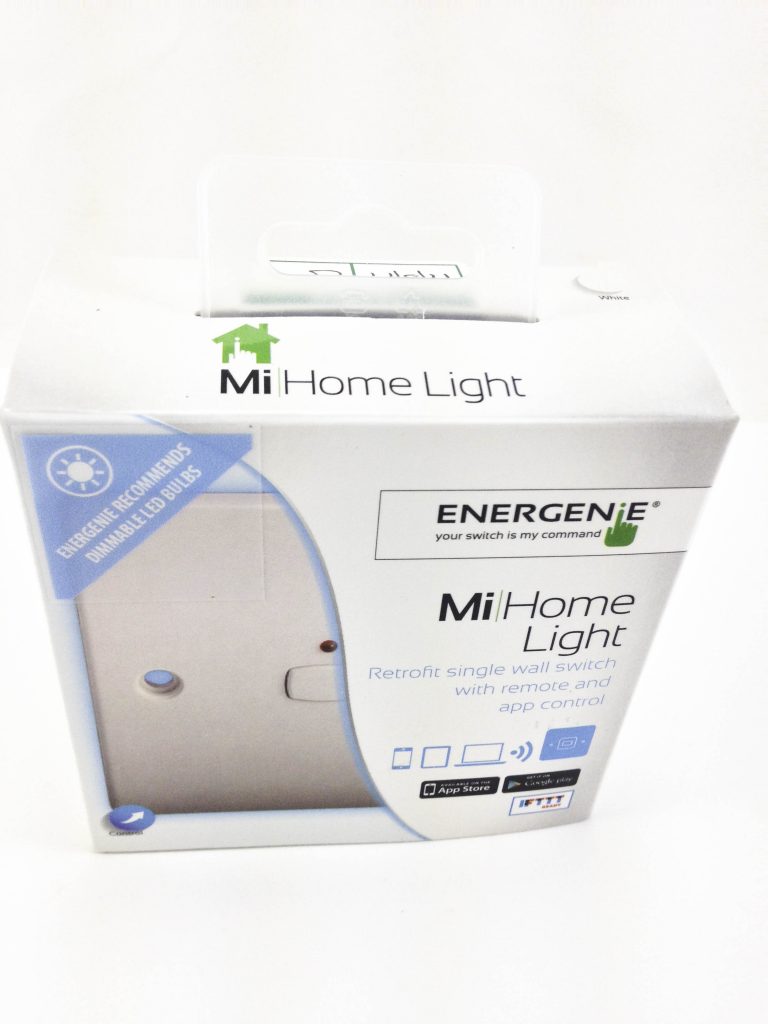 Contents.
When you open your Energenie MiHome Light Switch box you will find: 1x Light Switch, 2x Screws and Caps, 1x English Written User Guide.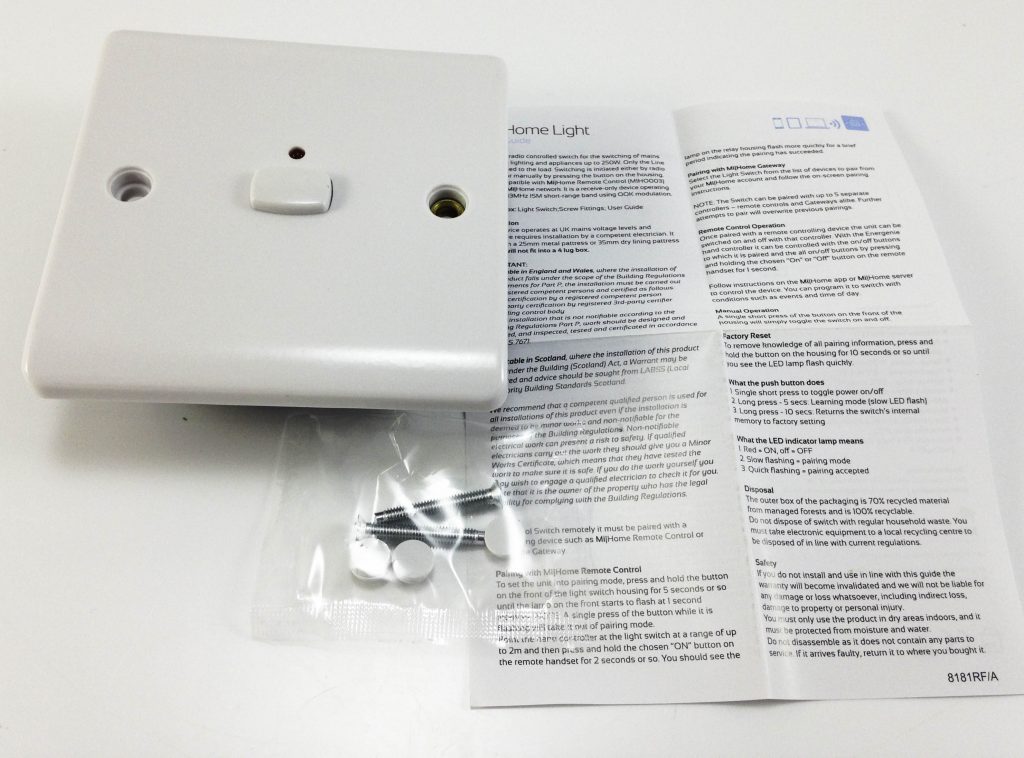 Energenie MiHome Light Switch.
The Energenie MiHome Light Switch is moulded using high quality plastic.  It's White in colour and measures 8.5cm x 8.5cm x 3.0cm and weighs 100G.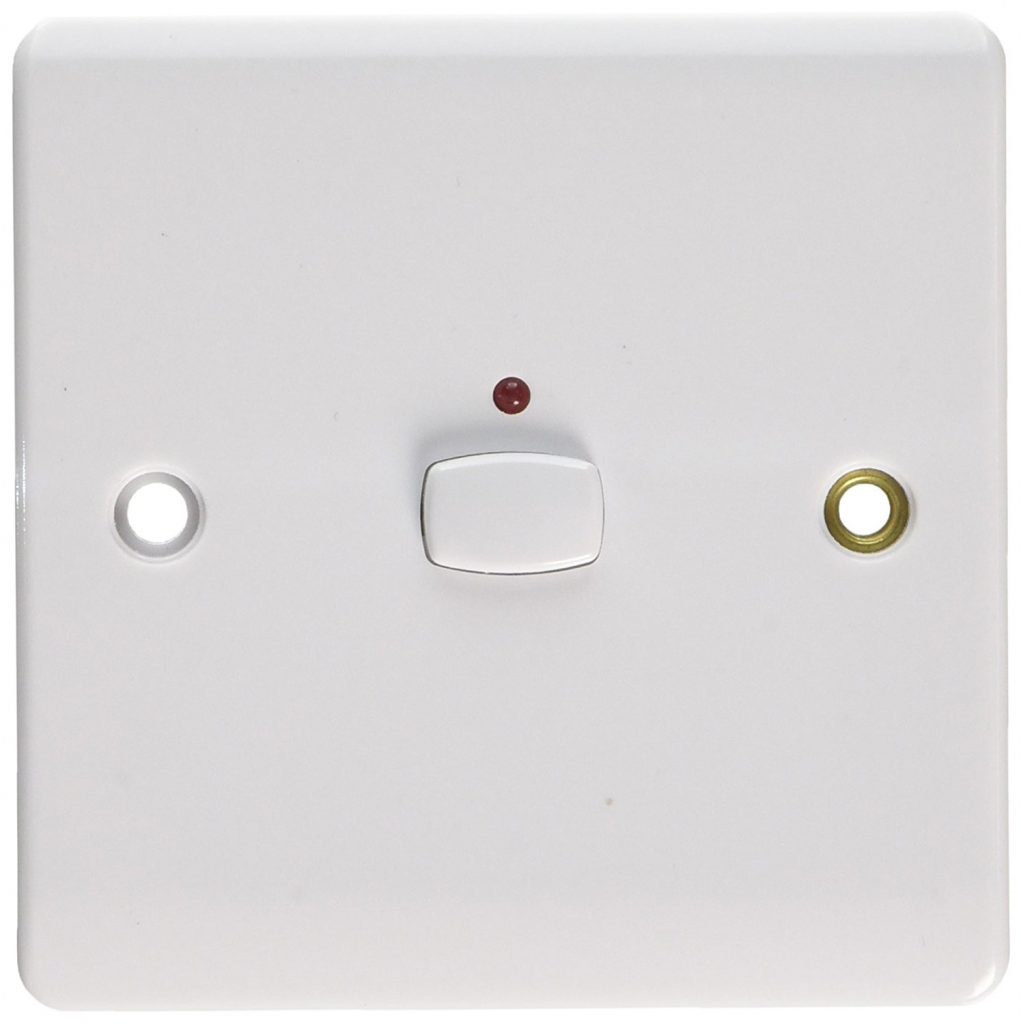 Installation.
To use this switch via the App, you need to ensure that you have a connected Energenie MiHome Gateway and have also installed the Energenie App.
This switch operates at UK mains voltage and therefore requires installation by a competent electrician.  You also need to be aware this light switch will fit into a 25mm metal pattress or 35mm dry lining pattress but will not fit into a 4-lug box.
To pair this light switch to the Energenie remote control you need to set the switch into pairing mode, to do this press and hold the button on the front for about 5 seconds or until the lamp on the front flashes at 1 second intervals.  Point the hand controller at the light switch and press and hold the ON button for about 2 seconds.  The light will flash more quickly for a brief period to show a successful connection.
To pair this switch with the MiHome Gateway you just need to select the light switch from the list of devices and follow on the on-screen pairing instruction.
Once paired with either the remote control or via the gateway day to day operation is simple.
You can also manually use the light switch by short pressing the button on the front to either turn on or off your lighting system.
Technical Specifications.
Brand: Energenie
Model: MiHome Light Switch
Model Code: MIHO008
EAN No: 5060166035839
ASIN: B00V52HM12
Radio Frequency: 433.92 MHz (ISIM Band)
Receiving Range: 30M in open area; 15-20M Installed
Rating: 220-240V ~ 50Hz, 1A, 250W MAX
Terminal Connections: L-IN, L-OUT, N-IN, N-OUT
Manual Control: Push Button
Indicator Lamp: Red LED
Operating Temperature: -5°C to 40°C
Storage Temperature: -20°C to 60°C
Protected Class: IP20
Approvals: EN60669-2-1, EN301489-1, EN301489-3
Compliance: CE, RoHS
Conclusion.
I really like the Energenie product range, it's simple to set up and installation is a breeze. Look out for more Energenie MiHome product reviews over the next couple of weeks too.  This switch is simple to install and use in a matter of minutes.  I really like the simple manual control button on the front too.
Overall though I do recommend the MiHome Light Switch to be added onto your Energenie MiHome range and build up a connected home network.
If you want the Energenie MiHome Light Switch for yourself, it's available for purchase only on Amazon. The RRP for this product is £21.43.
Product sample provided by Energenie in exchange for a detailed, unbiased review.
---
Thank you for taking the time to read my post. If you'd like to add a comment or thought on this post, please use the section below. I can also be contacted via the online contact form. Please subscribe for the latest reviews, news, and discounts. Please follow My Helpful Hints on Twitter, Instagram & Facebook too!
Energenie MiHome Light Switch