The Energenie MiHome Gateway is the main hub for all the Energenie product range.  The MiHome Gateway can control your heating, lighting, and appliances over any internet connection anywhere in the world.
The MiHome Gateway enables you to control the Energenie MiHome product range via an iOS and Android App as well as via a web browser. The App can be downloaded by searching MiHome.  Other features of the system include Geofencing and IFTTT.
Packaging.
The Energenie MiHome Gateway comes very well packed in a frustration free packed cardboard sleeved box.  The box is neatly designed with product information and specifications.  The box measures 22.5cm x 18.5cm x 6.0cm and weighs 395G.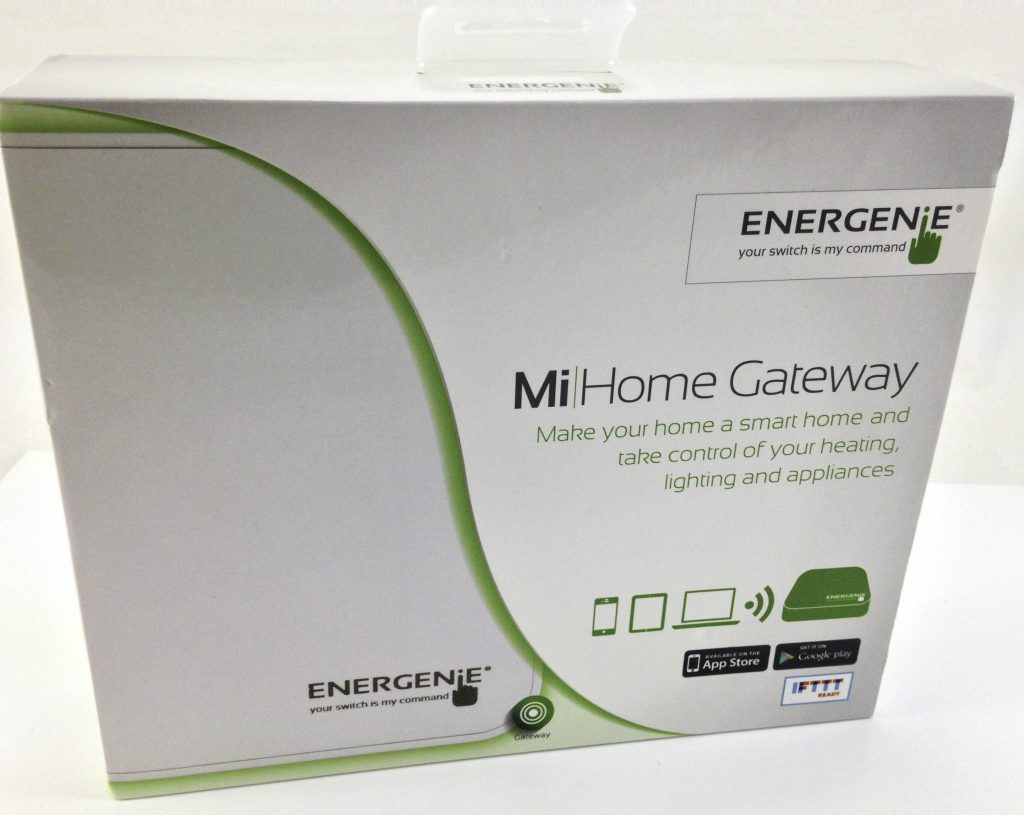 Contents.
When you open your Energenie MiHome Gateway box you will find: 1x Gateway, 1x PSU Adapter, 1x Micro USB Cable, 1x Ethernet Patch Cable, 1x Quick Start Guide.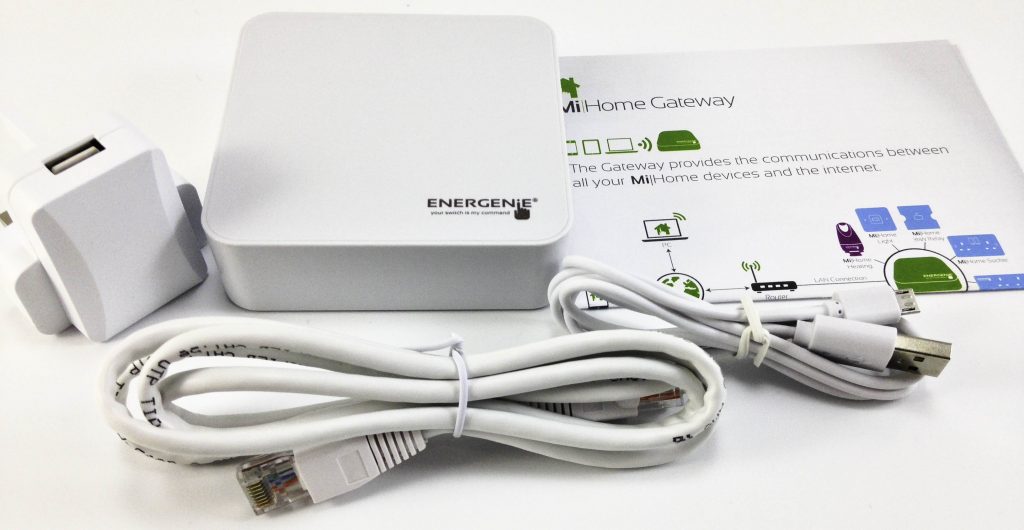 Energenie MiHome Gateway.
The Energenie MiHome Gateway is a small compact square shaped device.  The Gateway is moulded using high quality plastic.  It is White in colour and measures 9.0cm x 9.0cm x 2.5cm and weighs 88G.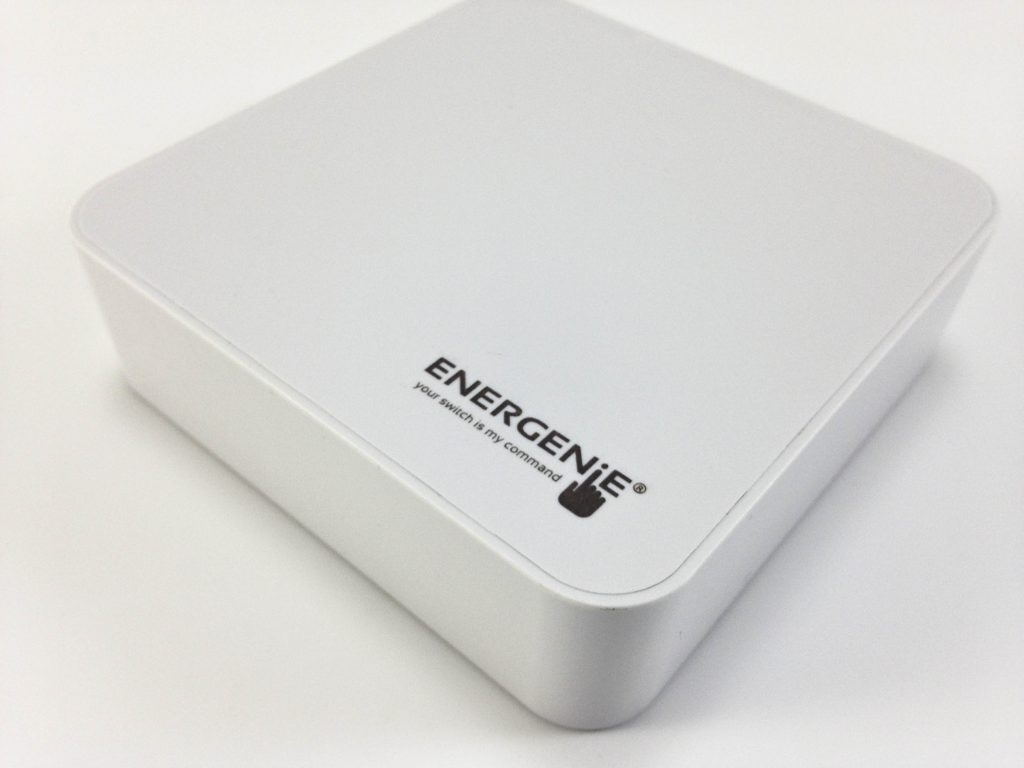 On the reverse you will find the Micro USB Port, Ethernet Port, LED indicator light and a Reset button.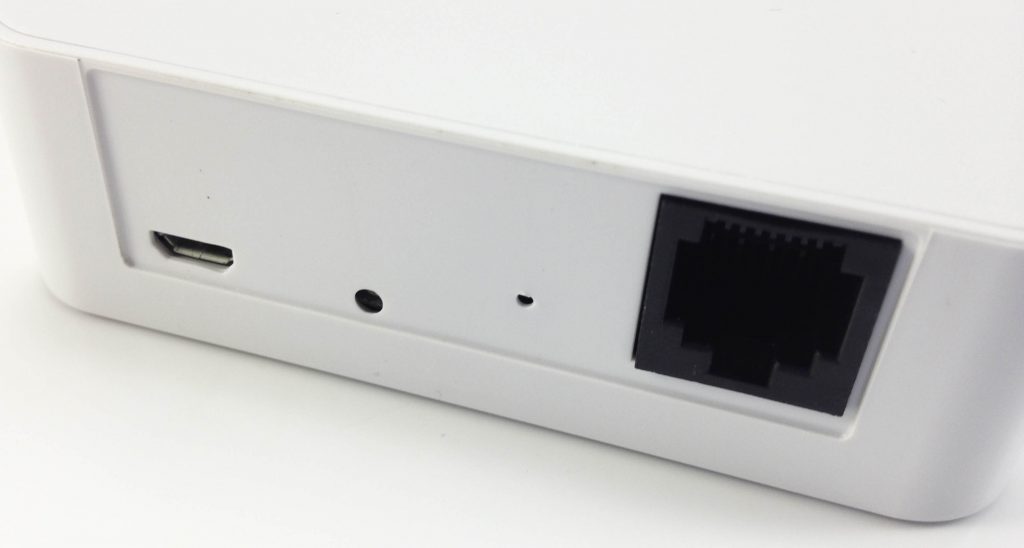 Installation.
You do get a quick start guide to correctly install the Energenie MiHome Gateway, but the installation process is very simple.
Firstly, you need to connect the Ethernet cable (Which has a length of 120cm) onto the Gateway and the other end onto your internet router.  Next plug the Micro USB into the Gateway and then plug in the power adapter (Which has a length of 100cm) into a mains power socket.  The Gateway will be connected and ready when the LED light goes from Orange to Green over a period of around 20 seconds.
Now you have two choices to control your Gateway, you can either use a web browser by going to the web address of mihome4u.co.uk or you can download a smartphone app.  I chose to download the iOS app (Android app is also available).
The iOS app is simple to use and understand and i presume the Android app is very similar to the iOS app.  Upon opening the MiHome app you'll need to create a MiHome account.  Once set up you can then add Energenie MiHome products to the Gateway and start controlling them wirelessly.
In the MiHome app you can add devices, rename them, and control them also.  Other features of the MiHome system includes Geofencing and IFTTT.
Technical Specifications.
Brand: Energenie
Model: MiHome Gateway
Model Code: MIHO001
ASIN: B00V52HTXS
Input: 5V DC 150mA
Power Connection: Micro USB
Transmission Frequency: 434.3 MHz
Ethernet Connection: RJ45
Standby Power: 0.3W
Compliance: CE, RoHS
Conclusion.
I really like the Energenie product range, it's simple to set up and installation is a breeze.  I will be doing more Energenie MiHome product reviews over the next couple of weeks and connecting them to this Gateway.  Energenie say you can add products as and when you like and build up a connected network so that is what I'm going to be doing.  This is the main operating base for the MiHome product range, I do recommend you purchasing the Gateway.  If technology is not your strongest point, the Energenie MiHome Gateway is still ideal even for a technology novice to set up and use.
If you want the Energenie MiHome Gateway for yourself, it's available for purchase only on Amazon. The RRP for this product is £32.96
Product sample provided by Energenie in exchange for a detailed, unbiased review.
---
Thank you for taking the time to read my post. If you'd like to add a comment or thought on this post, please use the section below. I can also be contacted via the online contact form. Please subscribe for the latest reviews, news, and discounts. Please follow My Helpful Hints on Twitter, Instagram & Facebook too!