Today I'm going to be sharing my thoughts regarding the electriQ 12 Litre Dehumidifier. This isn't a sponsored post in any way, in fact I purchased this appliance myself. electriQ have no idea about this review. But I think it's only right to share with you how this appliance has changed my health for the better.
I suffer from Asthma, always have since birth and every year around this time my Asthma worsens. It's due to the cooler air mixing with central heating which creates condensation and therefore mould. Mould is a huge trigger for anyone with Asthma.
My property is a standard 2 bed house, with recent double-glazed windows, which are very efficient for keeping the cold winter weather out. The problem is they're too good! That may seem odd, but older windows 'leak' and therefore produce a stream of fresh air, which combats condensation.
Condensation seems to collect on the cooler surface in my home, i.e. Windows, Exterior Walls and behind furniture, this always makes the interior walls damp to the touch, which then will turn into dreaded mould.
So, a dehumidifier is the answer, these appliances can eradicate moisture in the air and produce a comfortable humidity range, especially for people with Asthma.
Packaging and Contents.
The electriQ 12 Litre Dehumidifier comes packaged in a very heavy-duty cardboard box. This box measures 53.0cm x 23.0cm x 38.0cm and weighs 12.5KG.
Inside the box you'll find the following; 1x Dehumidifier, 1x Activated Carbon Filter, 1x Drain Hose, 1x English User Guide.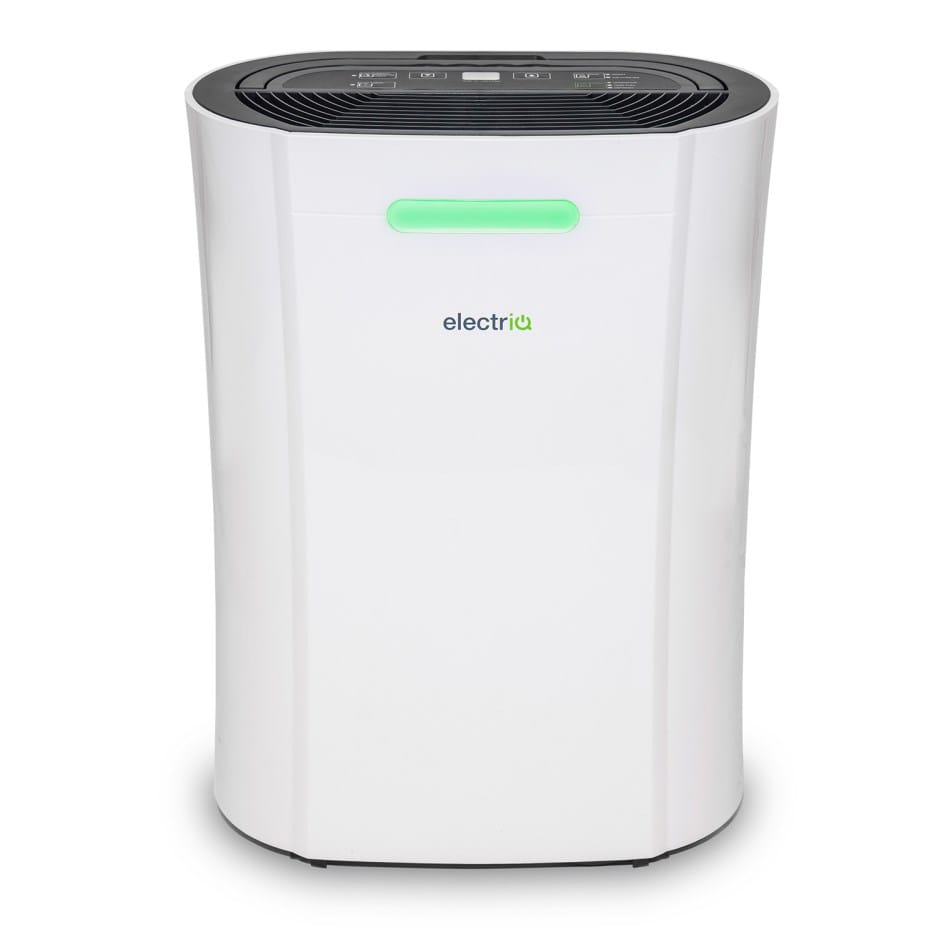 The idea behind the supplied hose is that you can plumb it into the water outlet and have a permanent drain for your collected condensation. I didn't use this and instead used the standard water tank method.
I did fit the activated carbon filter into the back of the unit. This filter traps odours and purifies the air.
The dehumidifier does come with 4 casters, these are already fitted and makes moving the unit around easier.
There' also a built-in handle on the top too, which seems to hold the weight of the unit and feels quite sturdy.
electriQ 12 Litre Dehumidifier.
The electriQ 12 Litre Dehumidifier is White in colour and features a Black user panel to the top. The dehumidifier measures 49.1cm x 34.9cm x 20.0cm and weighs a hefty 11.5KG.
The main reason why I chose this model over the others is due to the LED light on the front. This light is an indication as to the current levels of humidity being detected by the dehumidifier. It uses a traffic light system of Red, Amber, and Green.
Red: High humidity, Relative Humidity ≥ 70%.
Amber: Comfortable level, 70% > Relative Humidity ≥ 60%.
Green: Air is dry, Relative Humidity <60%.
These levels are automatically shown on the front of the unit. Although there is around a 2-minute delay after a different level of humidity has been detected. The LED indicator can be turned off if you wish, although I don't understand why you'd want to.
Using the Humidifier.
Simply plug in the main cable (Which measures 1.5M) and turn on the unit using the power on/off button on the control panel. The electriQ 12 Litre Dehumidifier goes into its factory default setting of 55% humidity. But you can manually set it as low as 35%, although you'll struggle to achieve this, especially in the winter months. But what it means is the dehumidifier will continue to work as hard as it can to remove moisture, without switching off.
That's what I did, and you'll be surprised just how quickly water is collected in the 2.5L water tank. It's like a magic trick, pulling water out of thin air!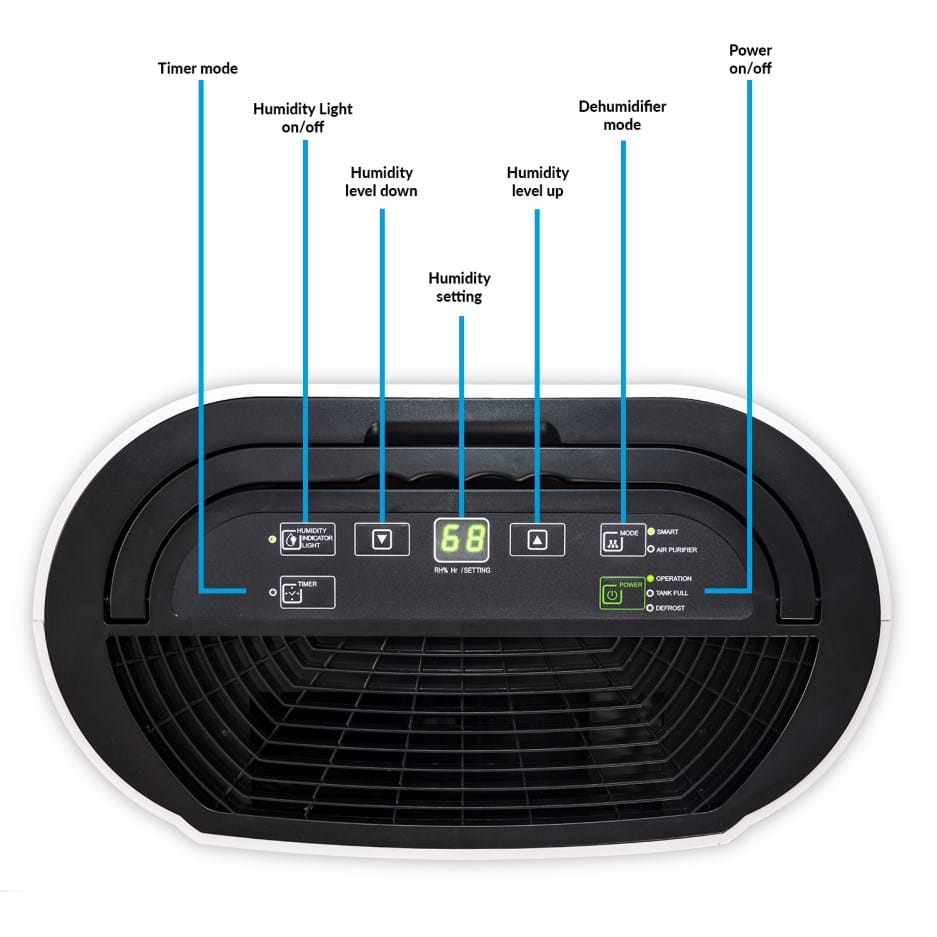 When you first start using the electriQ 12 Litre Dehumidifier you'll find it near impossible to get near to the Green light level. But after a few days of Red/Amber lights, you'll see the magic Green light. But, don't let the Green light fool you that everything is OK and turn of the unit. Humidity quickly changes and the unit will glow Orange again. I'm currently emptying the water tank twice daily, that's 5 Litres of condensation going down the sink rather than in the air. It's hard to comprehend what 5 Litres is as an air bound vapour, I suppose it's like having a rain cloud moving around your house, ready to burst at any minute.
This slideshow requires JavaScript.
I can honestly say, as an Asthma suffer my breathing has improved since using this machine. No bullshit, I'm not getting payed to say this, nor did I receive a free product, this machine is brilliant. My interior walls even feel warmer/dry to the touch, whereas before they felt cold and sometimes wet.
Other Features.
Aside from improving my overall health, the electriQ 12 Litre Dehumidifier has other great features, these include.
Air Purifier: In the summer months, press this option and enjoy fresh purified air. You can even purchase a HEPA filter and have purified air that is 99% clean and free from dust and allergens.
Timer: The electriQ 12 Litre Dehumidifier features a built-in timer, you can set a delayed power on, or even a delayed power off setting.
Defrost: The appliance features an intelligent automatic defrost feature. This enables the machine to protect itself and prevent the build-up of ice on the internal evaporator coils.
Tank-Full Alarm: When the water tank is full an audible alarm will go off to alert you. The LED light will also start to flash, and the unit will power itself off. Empty the tank and full service will resume.
Laundry Mode: If you dry clothes indoors then the electriQ 12 Litre Dehumidifier is great for that too. Set the unit to the lowest setting of 35% and your clothes will dry a lot quicker without the added moisture getting into the air.
Technical Specifications.
Brand: electriQ
Model: 12 Litre Dehumidifier
Manufacturer Code: CD12P
Manufacturer Reference: N/A
EAN:5056096019520
ASIN: B07KT8YHZB
Voltage: 220-240V AC ~ 50Hz
Current: 0.81A
Power Consumption: 185W
Dehumidifying Capacity: 12L per day (at 30°C / 80%RH)
Dehumidifier Type: Compressor
Tank Capacity: 2.5L
Humidity Setting Range: 35% ~ 80%
Refrigerant: R290 (55G)
Airflow: 135 m³/h
Maximum Noise Level: 39 dB
Auto Restart: Yes
IP Rating: IPX1
Compliance: CE
Conclusion.
The electriQ 12 Litre Dehumidifier is perfect. It's easy to use and makes a huge difference to me and my Asthma. I especially like the LED lighting indicator which is easy to follow and understand. Emptying the water tank is easy too and you'll be just as surprised as me as to how much condensation has been collected.
Are there any improvements? At this present moment in time the answer is no. I can't think of anything that can be improved on this unit, it works brilliantly, and my breathing has improved.
I highly recommend it to anyone who suffers from Asthma or other breathing conditions. Overall, I can't praise this appliance enough, honestly, I feel better and can breathe. Now I'm all set for the Winter.
If you want the electriQ 12 Litre Dehumidifier for yourself, it's available for purchase only on Amazon. The RRP for this product is £129.97.
I purchased this product myself and decided to write a review, electriQ didn't send me the product or know about this review until published.
---
Thank you for taking the time to read my post. If you'd like to add a comment or thought on this post, please use the section below. I can also be contacted via the online contact form. Please subscribe for the latest reviews, news, and discounts. Please follow My Helpful Hints on Twitter, Instagram & Facebook too!