Today I'll be reviewing the Pecute Cat Roller Toy. This toy has 4 different levels and features 4 different balls, and a mouse teaser toy too.
One of the balls has catnip inside and another features a bright LED light.
The mouse teaser toy is on a spring and sits on top of the roller toy, more on the teaser later.
So, is this cat toy any good? Will Tammy enjoy it? Time to test it out!
Packaging and Contents.
The Pecute Cat Roller Toy comes without any external Amazon packaging and is shipped in the retail box, upon receiving it you'll see below how badly damaged it was in the postal system. It's a good job I didn't purchase it as a gift! The box measures 25.0cm x 25.0cm x 10.0cm and weighs 455G.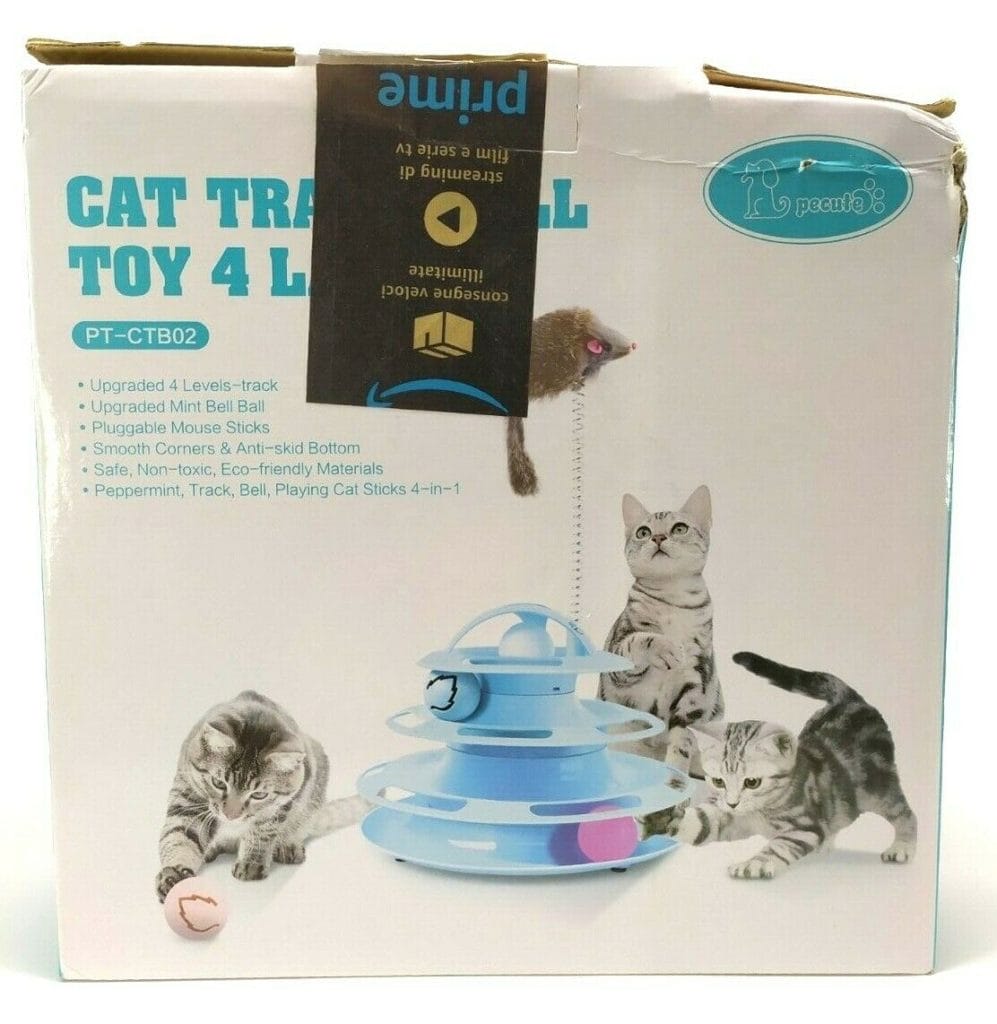 Upon opening the box you'll find the following; 1x Roller Toy (In 3 sections), 1x Mouse Teaser, 4x Foam Feet.
Pecute Cat Roller Toy.
The Pecute Cat Roller Toy is made from entirely plastic; it measures (Once assembled) 16.5cm x 25.5cm and each ball has a measurement of 4.0cm.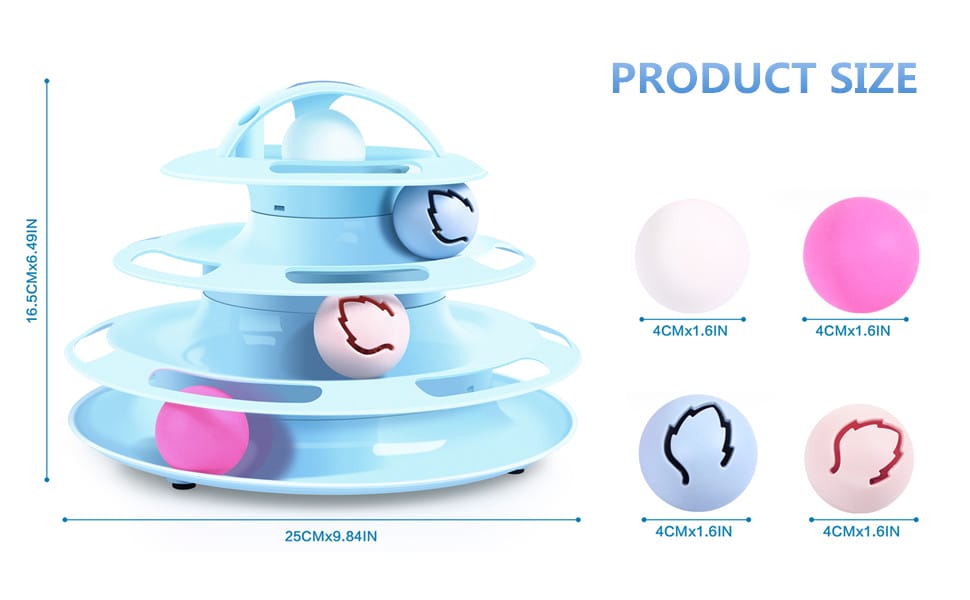 Pecute advertise that it has 4 different levels, well in fact it has 3 levels, you can't count the top area as another level as all that happens is a ball rolls around a small area. The other 3 levels provide the entertainment. Two of the balls are plain and lightweight (Similar to a Ping Pong ball) and the other two features either a LED light, or scented with catnip.
My ball with the catnip had dried up and no longer was producing a scent. The LED light ball worked and is the usual system where you contact the ball and it goes into a flashing Bled/Red light sequence for around 30 seconds.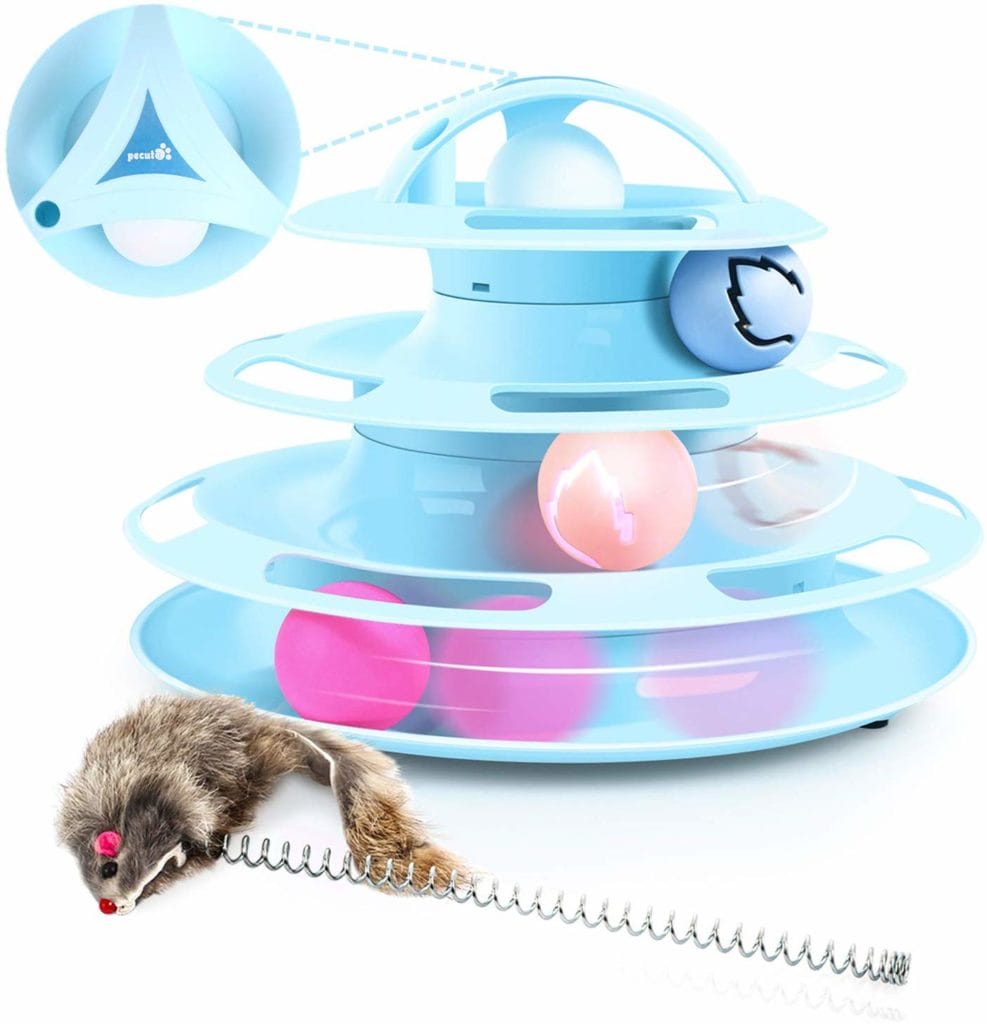 The two special balls are too heavy (10G) to smoothly glide around the roller section and slow down the whole process. The two other balls (2G) work, but I've seen faster moving roller section on other branded toys. I'm not sure as to why, but this toy isn't the fastest and Tammy soon became bored!
Mouse Teaser.
The mouse teaser is on a spring and you're supposed to insert into the hole section on the top. But as soon as Tammy contacted it, the motion of the spring propelled the mouse out of position. I also didn't like it when Tammy decided to chew the spring and I thought she would end up hurting herself on the metal. So, basically, it's useless.
But more worryingly are the comments on Amazon regarding the use of real fur. People noticed the mouse teaser was produced using real Rabbit fur. Which is absolutely disgusting.
Pecute have responded saying firstly that it's not real fur but artificial fur, but later on in the comments admits to using Rabbit fur blended with artificial fur.
I find this absolutely disgusting and will not be allowing Tammy to play with the mouse teaser at all.
Amazon don't allow the sale of products containing real animal fur, but they quite happily allow this to be sold on their website, despite 1 Star comments from consumers warning about the use of real fur. One consumer even took a photo which showed the fur attached to skin. I looked closely at my mouse and could see brown crusty sections underneath the fur, I presume its skin with dried blood.
Technical Specifications.
Brand: Pecute
Model: Cat Roller Toy
Manufacturer Code: PT-CTB02
Manufacturer Reference: N/A
EAN: N/A
ASIN: B07JGGW3QF
Compliance: N/A
Conclusion.
The Pecute Cat Roller Toy should be removed from sale. It contains real Rabbit fur! Also, the actual toy itself is no good either and Tammy didn't seem all that interested in it.
I cannot and will not recommend a toy or any other product that uses the fur of an animal, as an animal lover its disgusting to see this type of thing, it's 2019!
Come on Amazon, remove this product ASAP.
I'll provide the link to the product, not to make any affiliate money (I've removed my affiliate link) but, for you to report this listing to Amazon. Hopefully we can get this taken off sale.
Here is where you'll find it Pecute Cat Roller Toy. Again, I've not added any affiliate links to this product. I do not want to benefit in any way from this type of product.
Product sample provided by Pecute in exchange for a detailed, unbiased review.
---
Thank you for taking the time to read my post. If you'd like to add a comment or thought on this post, please use the section below. I can also be contacted via the online contact form. Please subscribe for the latest reviews, news, and discounts. Please follow My Helpful Hints on Twitter, Instagram & Facebook too!