Today I'm going to be reviewing the Dorco Pace 6 Plus Razor. This patented six-blade angular razor aims to match the contour of your face.
The blades are replaceable and each one features 6 ultra-sharp blades, and a Vitamin E, Aloe Vera and Lavender lubricating strip too!
I opted to purchase a trial pack consisting of 1 razor handle, and 1 cartridge blade.
Dorco's pricing structure is around 30% less than other well-known shaving brands. But, can Dorco compete with more well-known and established brands? Time to test this razor out!
Packaging and Contents.
The Dorco Pace 6 Plus Razor comes packaged in a plain looking White cardboard box. The box measures 14.0cm x 5.0cm x 2.3cm and weighs 60G. Upon opening the box you'll find; 1x Razor Handle, 1x Cartridge Blade.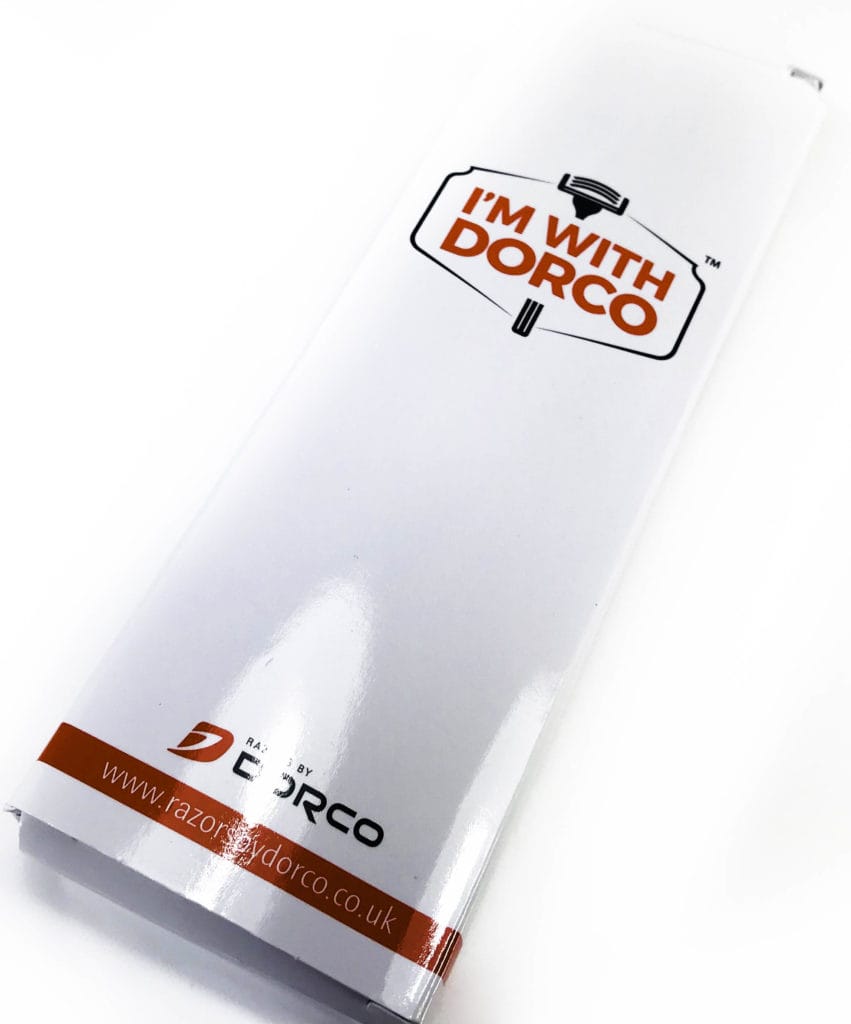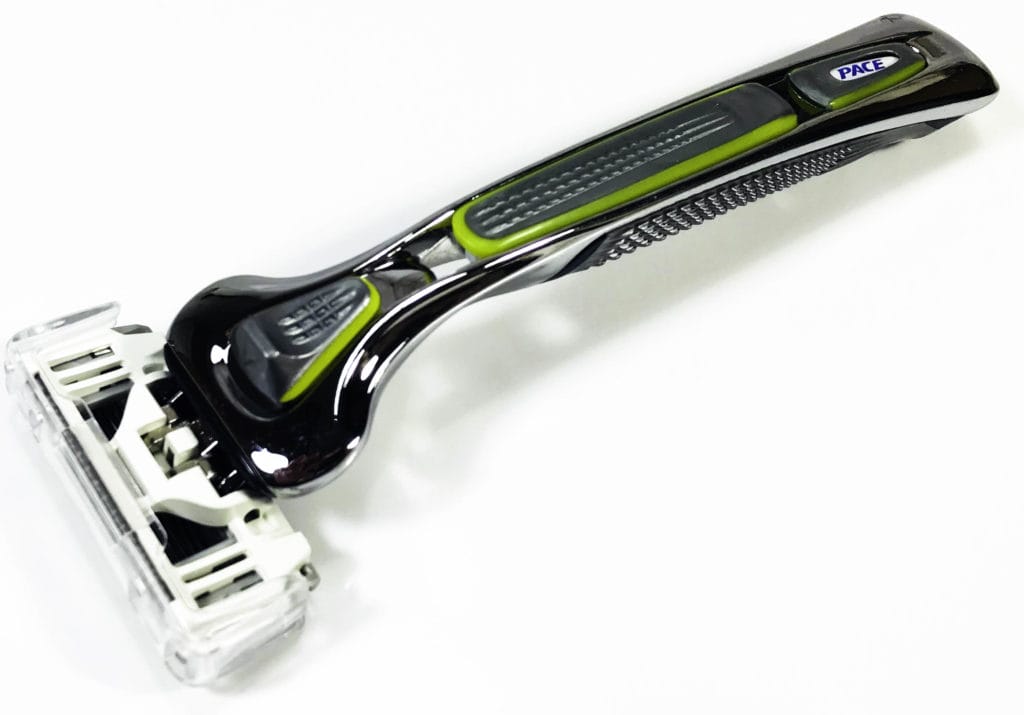 Dorco Pace 6 Plus Razor.
The main razor handle is made from metal with soft rubber grip sections along the body. The handle measures (Without the blade attached) 13.0cm in length and tapers out towards the end for better balance and grip. Click on the cartridge (Which measures 4.5cm x 1.8cm) and the total weight is just 52G. You can release a blade by pressing the release button on the handle itself.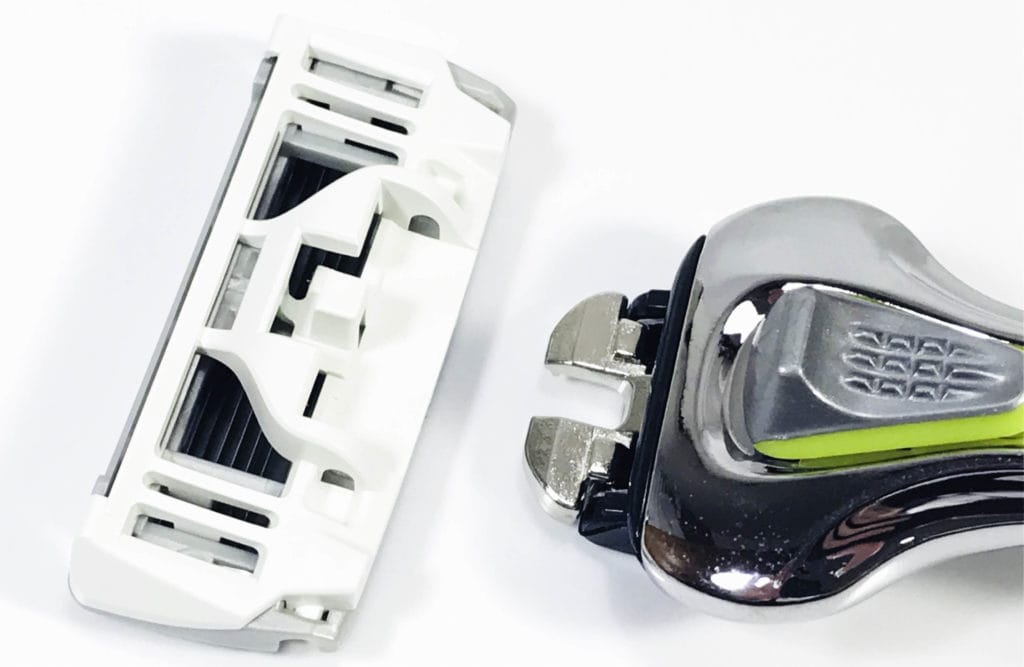 The replaceable cartridge blade features 6 ultra-sharp blades and a lubrication strip at the top end. This strip contains Vitamin E, Aloe Vera and Lavender which moisturise and enrich your skin as you shave. The Blue rubber section of the blade acts like a squeegee and remove excess water and shaving foam from your face. You also get a single trimmer blade on the back too, which is great for the those hard to reach places.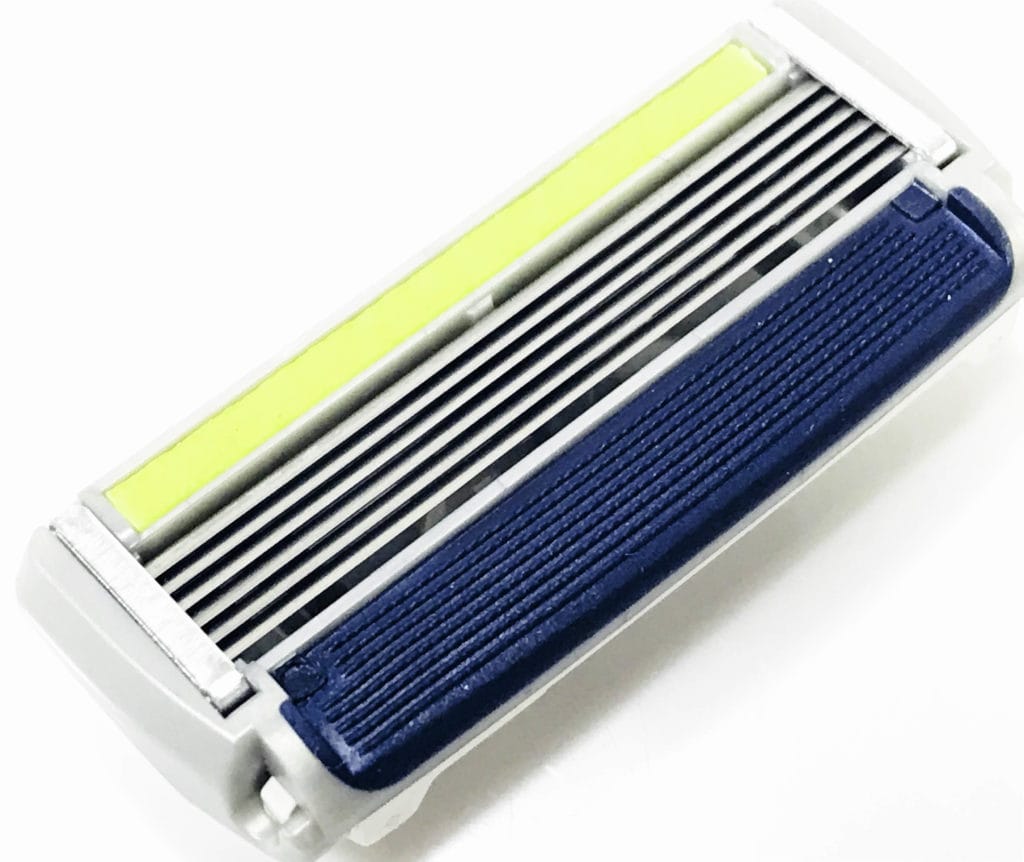 The unique Dorco docking system allows you to use any type of Dorco Pace cartridge blades and will guarantee to fit.
Using the Dorco Pace 6 Plus Razor.
I decided to try out this razor properly and give it a real test. I let my facial hair grow to around 3mm in length as I wanted to see how it would perform and whether I'd clog up the cartridge blades. So, I lathered my face using a cheap shaving gel (From Aldi) and wet the head of the razor and started to shave. The 3mm hair length did hinder the performance of the razor and to be honest was bloody hurting me as it was more ripping the hair from my face rather than shaving it!
After I endured what seemed like torture (Especially the hair above my top lip) and wiped the tears from my eyes I then went back around again. This time my shaving experience was a much more pleasant one. The Dorco razor cut the stubble which had been left over from my first attempt and left my skin super smooth, soft, and completely hair-free. In fact, it was so close I couldn't feel any stubble, not even one bit.
I also noted that I was hair-free for an extra day when compared to other razors that I've previously used.
I decided the next time around not to use the Dorco razor on such a long hair length. So, after around 1mm in length I decided to shave using the Dorco Pace 6 Plus Razor again and…
This time it was much better, no pain, only a smooth shave and every hair was removed on the first attempt. And just like last time, my skin was smooth and feeling soft.
Is the Dorco Razor Value for Money?
The initial outlay is very cheap indeed, for only £6.99 you get 1 handle and 1 cartridge blade to get you started. And, at the time of purchasing Dorco was having a special promotional saving of £6.00. So, in fact this razor and blade cost me 99p (With free Amazon Prime next day delivery too).
But moving forward you'll need to replace the blades, and this is where costs could start to mount up. Dorco advertise the fact they're around 30% cheaper than other brands, and usually the business model is to sell you the handle for a loss and make money back on the blades themselves, and the Dorco razor is no different.
So, is the Dorco razor value for money? Yes and no. Yes, it's much better in value in comparison to other established brands. And, no in comparison to a cheaper non-replaceable cartridge shaving system.
I do like the Dorco razor, don't get me wrong, but I think I'll stick to using my Kanzy Victory Razor as I believe these types of razors provide much more value for money. And you don't produce any plastic waste too, unlike the Dorco cartridge blade system.
Technical Specifications.
Brand: Dorco
Model: Pace 6 Plus Razor
Model Code: N/A
Manufacturer Code: N/A
EAN: 8801038576671
ASIN: B06WVRC4WN
Compliance: CE
Conclusion.
The Dorco Pace 6 Plus Razor is a great and works very well on short stubble. But does struggle to cope with stubble around 3mm in length. If you shave regularly, you'll find the Dorco works very well and quick too. Your skin feels soft and smooth and you'll find you'll not have to shave as regularly as you would normally do. But, the ongoing cost of replacing the cartridge blades will start mount up, despite their cheaper market price!
The handle is very grippy and the pivot heads gives you a close but comfortable shave. And the blades are very easy to change too!
Overall, I like the Dorco razor, but I'm not a fan of the whole buy a razor and forever be indebted to a company for additional accessory purchases business model.
If you want the Dorco Pace 6 Plus Razor for yourself, it's available for purchase only on Amazon. The RRP for this product is £9.50.
Product sample provided by Dorco in exchange for a detailed, unbiased review.
---
Thank you for taking the time to read my post. If you'd like to add a comment or thought on this post, please use the section below. I can also be contacted via the online contact form. Please subscribe for the latest reviews, news, and discounts. Please follow My Helpful Hints on Twitter, Instagram & Facebook too!