For today's review I'll be trying out the MYMAHDI MP3 Player. This little device features a Bluetooth connection, a colourful TFT screen and has 16GB of in-built memory too.
Transferring of music can be done via the Bluetooth connection, or you can use the supplied data cable and transfer music via a USB plug or Micro USB adapter.
Other features include; music playback (WMA, OGG, APE, FLAC, WAV format playback), video playback (AMV, AVI), record, FM radio, picture browsing (JPEG, BMP format), E-book, folder, alarm clock and has a stopwatch.
You can also add a Micro SD card and extend your memory to a massive 128GB.
But is this MP3 player any good? Is it easy to use? Time to test it out!
Packaging and Contents.
The MYMAHDI MP3 Player comes packaged in a plain White cardboard box. The box measures 13.0cm x 7.5cm x 5.0cm and weighs 225G. Upon opening the box you'll find the following items; 1x MP3 Player, 1x USB Cable, 1x Micro USB Adapter, 1x Earphone, 1x Multi-Lingual User Guide, 1x Warranty Card.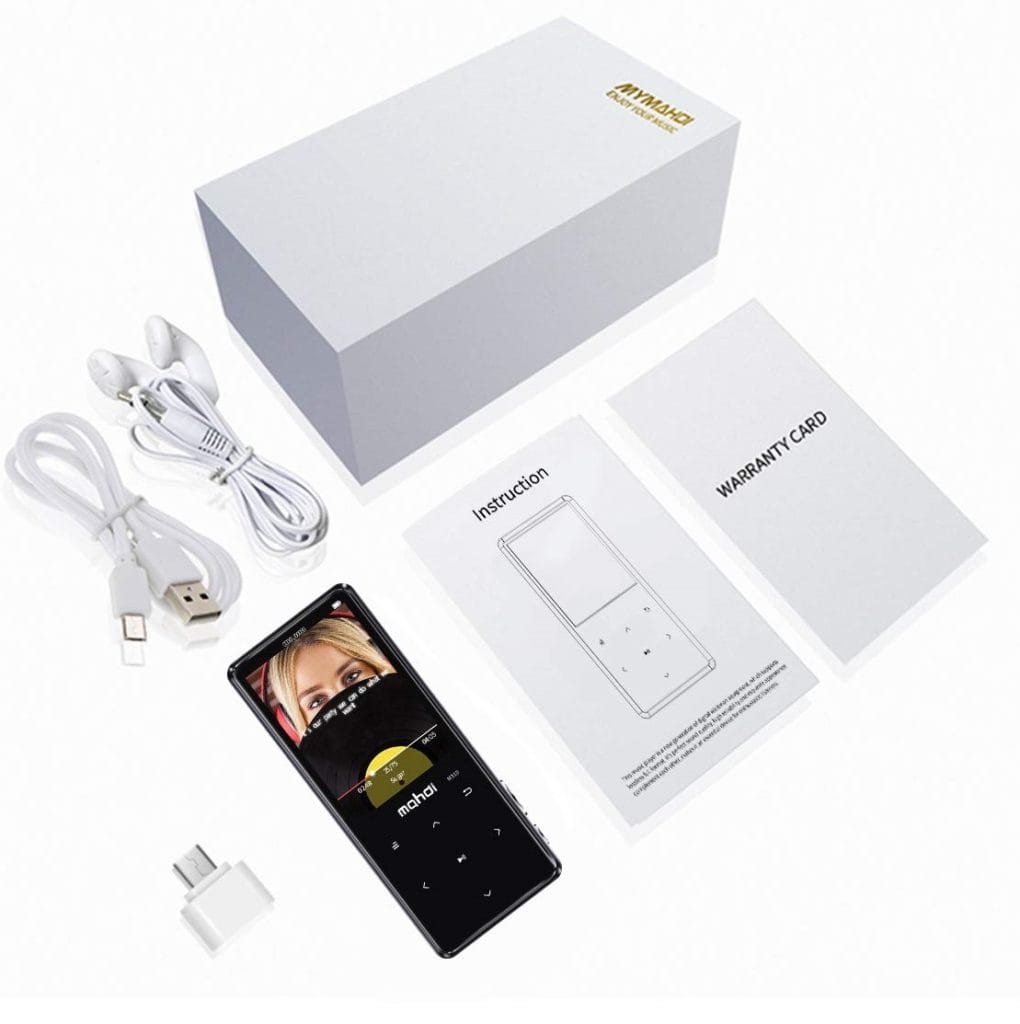 MYMAHDI MP3 Player.
The MYMAHDI MP3 Player is Black in colour, the main materials are tempered glass and metal. The MP3 measures 10.5cm x 4.5cm x 0.8cm and weighs 100G. You get a colour TFT screen which measures 5.0cm x 3.8cm and touch sensitive user controls.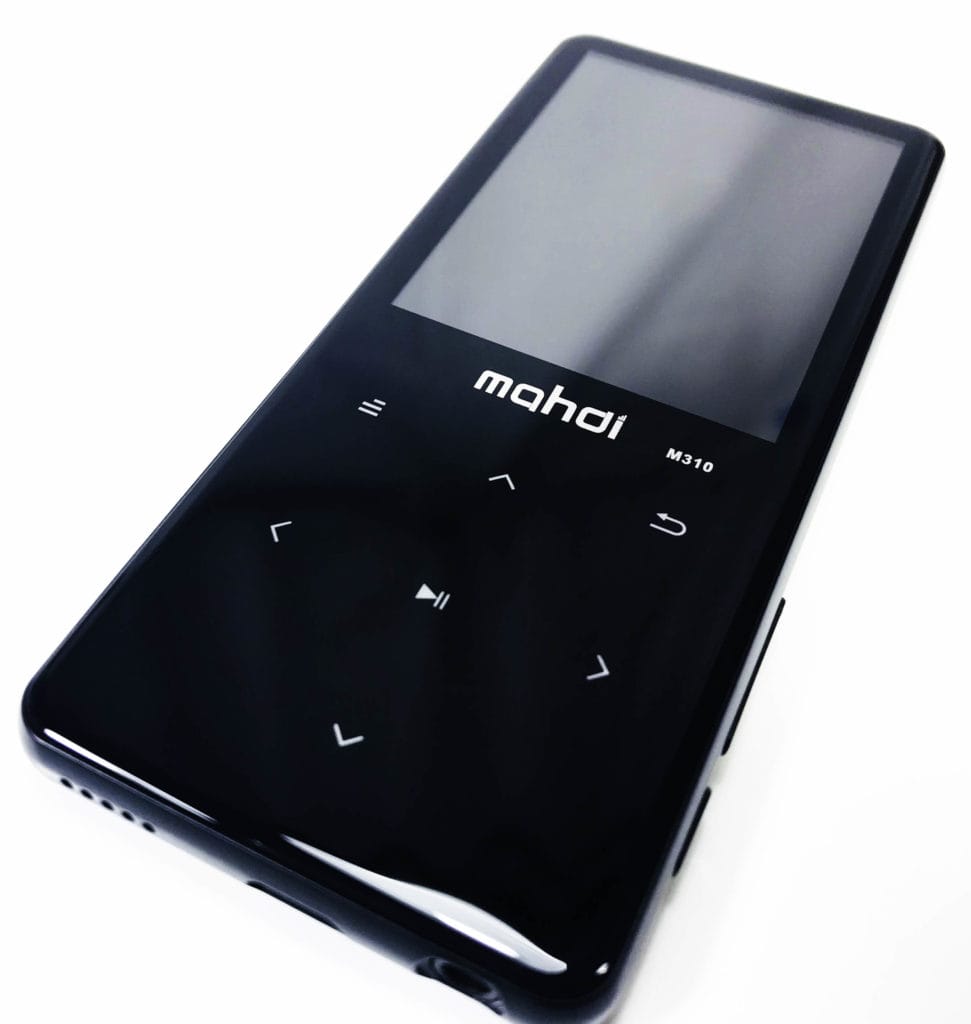 The supplied USB cable (Which measures 80.0cm in length) can be used for both charging and for transferring music onto the MP3 player. On one side you'll see where you can insert a Micro SD Card (Upto 128GB) for additional storage. The MYMAHD MP3 Player already comes with 16GB of in-built memory. Which is more than enough to get you started!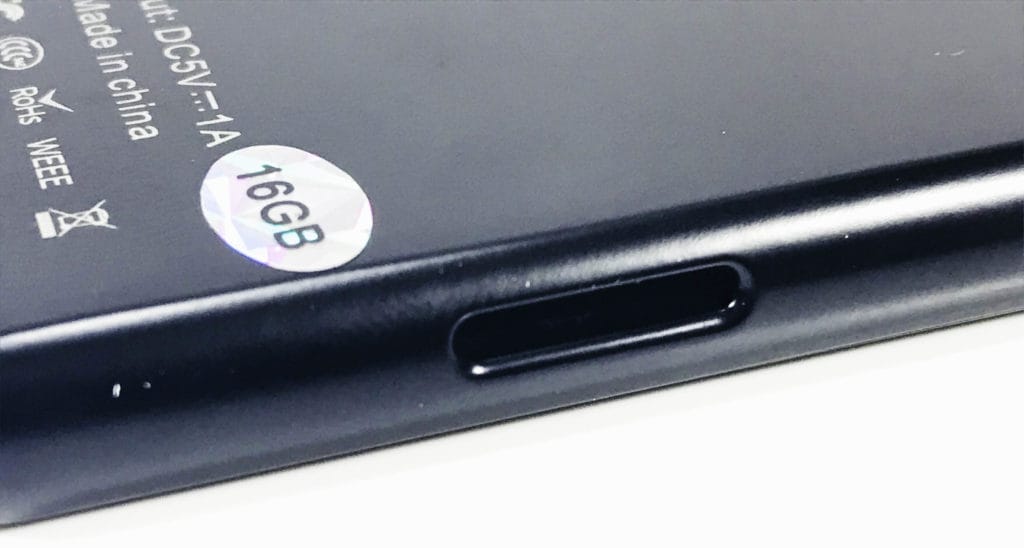 On the other side of the MP3 player you'll see two buttons. These buttons control the power on/off and the volume.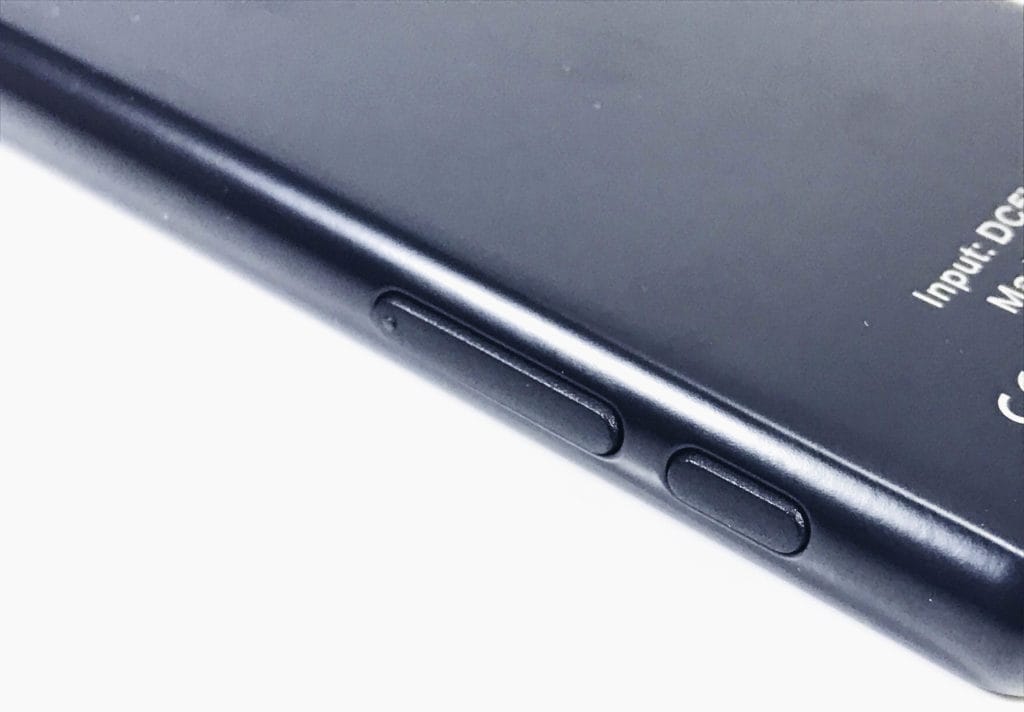 On the end section you'll see a 3.5mm Jack, the Micro USB Port, and an Output Speaker.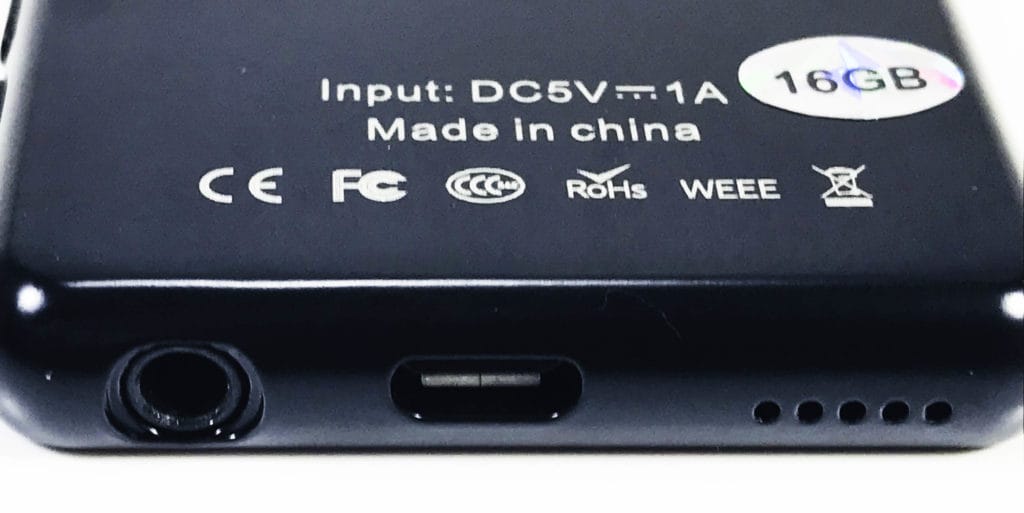 Charging and Setting Up.
The MYMAHDI MP3 Player has an in-built battery and will require charging prior to use. You simply plug in the USB cable and plug the other end into any 5VDC power supply. You're able to charge and sync at the same time if you plug the MP3 player into a laptop.
Charging takes around 2 hours and you'll be able to enjoy listening to your music for around 9 hours.
To power on the MP3 player you need to press and hold the power button located on the right-hand side. The screen will light up and take you directly to the main menu. To scroll through the different options, you need to use the touch-sensitive controls and use the centre Play/pause button to enter a menu. On the TFT screen you'll see the remaining battery level and the time (Once you've set this up). After around 60 seconds on inactivity the MP3 player goes into standby mode to prolong the battery life. To awake the MP3 player, you need to press the power button.
Transferring Music, Photo, Video.
This can be done in three different ways, the first being via an Android mobile phone (You'll need to use the Micro USB Adapter), the second via a wireless Bluetooth connection and the last way is via the USB cable to your laptop/PC. For ease I'll be doing the third option and transferring files directly from my laptop to the MP3 player via the USB cable.
When you plug the USB cable into your laptop/PC the MP3 player start to charge, after a short wait your USB Drive menu will open. you simply drag and drop files to that folder, and they will transfer onto the MP3 player directly.
You can also transfer photos and video onto this MP3 player, this can be done the same way as above for audio.
Playing Music.
Once you've transferred your files you can play audio via the speaker or can use either the supplied set of earphones or any pair of earphones. You can use a wired pair of earphones with a 3.5mm audio jack, or use a Bluetooth set of earphones too.
I tried to play music on the in-built loudspeaker and the sound was dreadful, tinny and basically hurt my ears. I used the supplied earphones and the sound was OK, nothing special and the earphones are very low quality. But once I switched them to my Betron AX5 Earphones the sound then drastically improved.
The touch buttons are very easy to use and navigate between menu's too.
Other Features.
The MYMAHDI MP3 Player comes with a handful of features including a stopwatch, alarm clock and the following extra's:
E-Book: You can download and view an E-Book from the MYMAHDI MP3 Player.
Recording: This MP3 player will also record and play audio recordings.
Radio: Plug in your earphones (As this is used as an aerial) and you're able to scroll through and play FM radio.
Video: Yes, the MYMAHDI MP3 Player will also play video clips in a AMV, AVI format.
The MYMAHDI MP3 Player is small and easily fits into your hand without feeling too big or bulky, the tempered glass design makes the player a little heavy though and attracts finger marks everywhere. But I quite like the overall design, it feels very high quality.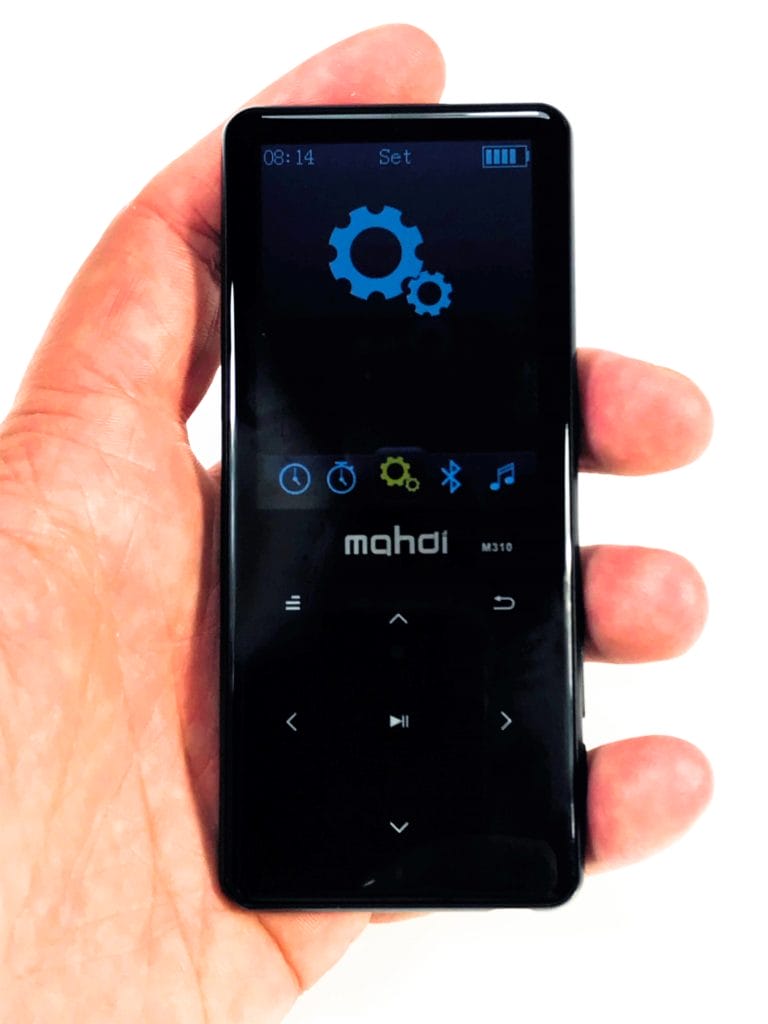 Technical Specifications.
Brand: MYMAHDI
Model: MP3 Player
Model Code: N/A
Manufacturer Code: M310-Black-16GB
EAN: N/A
ASIN: B07GDLBX7K
Battery Type: 1x Lithium Battery (Built-In)
Power: USB DC 5V 1000mA
Music Format:

WMA, OGG, APE, FLAC, WAV

Video Format: AMV, AVI
Picture Format:

JPEG, BMP

Supports: TF Card/Micro SD Card (Upto 128GB)
Compliance: CE, FCC, RoHS
Conclusion.
I was quite surprised with the MYMAHDI MP3 Player. It works very well and is easy to use and navigate through the different menus. My only real gripe is the poor sounding loudspeaker and the very low-quality earphones that were supplied. But you can use any universal earphones with a 3.5mm jack and massively improve the overall sound.
The colourful TFT screen makes using the MP3 player a lot easier and having a rechargeable battery ensures that you can use this MP3 player again and again.
If you want the MYMAHDI MP3 Player for yourself, it's available for purchase only on Amazon. The RRP for this product is £29.99.
Product sample provided by MYMAHDI in exchange for a detailed, unbiased review.
---
Thank you for taking the time to read my post. If you'd like to add a comment or thought on this post, please use the section below. I can also be contacted via the online contact form. Please subscribe for the latest reviews, news, and discounts. Please follow My Helpful Hints on Twitter, Instagram & Facebook too!