The COCOCITY Cut Resistant Gloves are designed to be able to withstand accidental knife cuts when cooking or preparing food.
They are advertised as being EN388 certified and with a high level 5 when it comes to protecting your hands from cuts.
You get a pair of food graded gloves that can also be machine washed.
But are they any good? Do they work? Time to test them out!
Packaging.
The COCOCITY Cut Resistant Gloves come packaged in a zip-up clear http://www.iveamobility.com/ativan-lorazepam/ bag with only a poorly written paper insert to keep your gloves company.  The bag weighs 380G.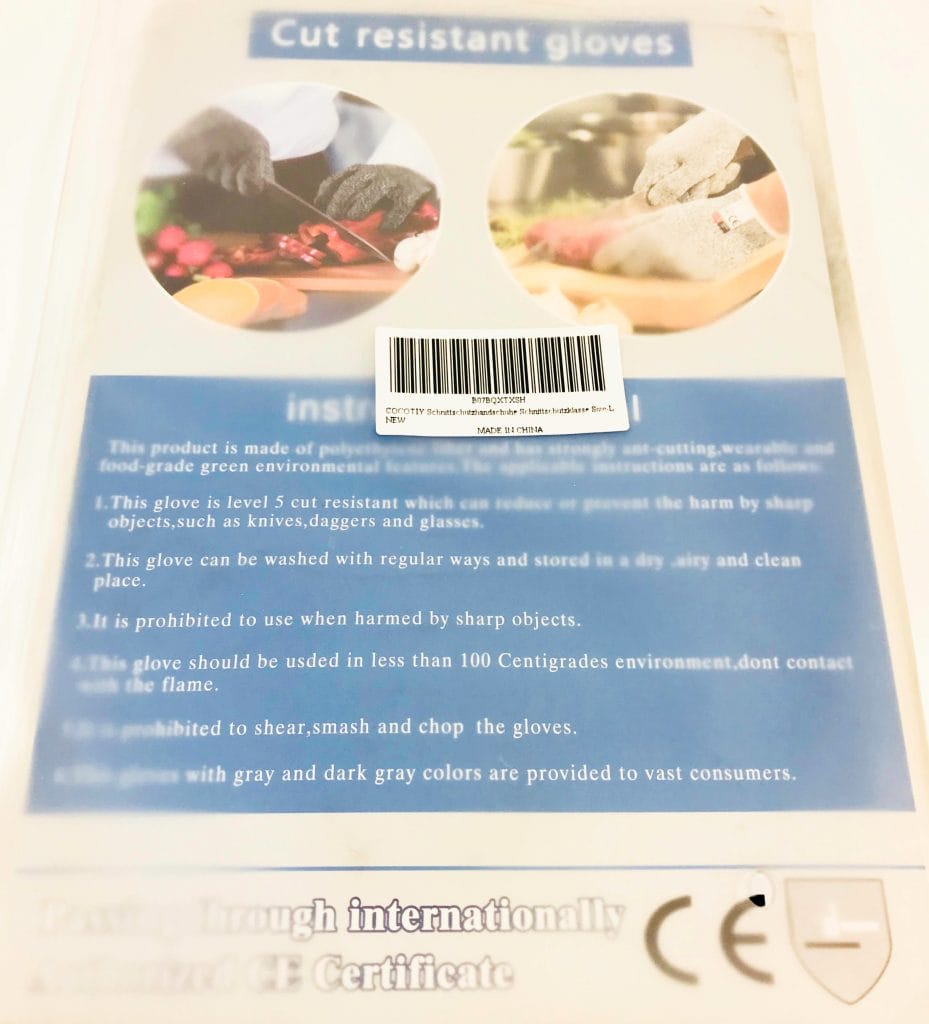 Contents.
When you open the COCOCITY Cut Resistant Gloves bag you will find: 1x Pair of Gloves.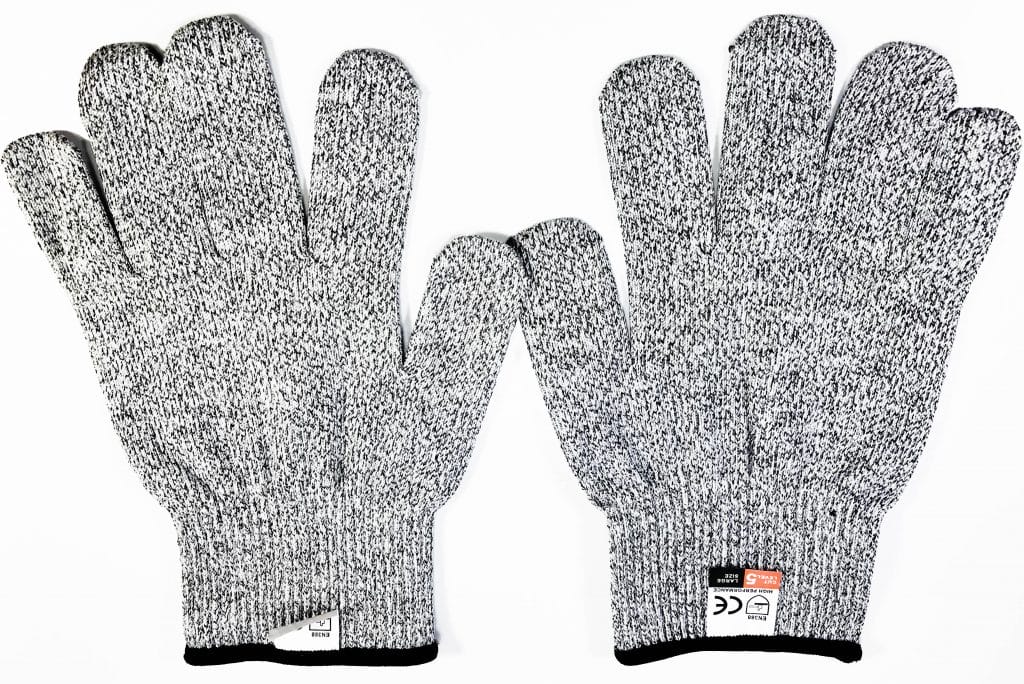 COCOCITY Cut Resistant Gloves.
The COCOCITY Cut Resistant Gloves are Grey in colour and come in two sizes, medium and large.  I went for the large sized pair.  The material used is called Polyethylene Fibre which is a synthetic man-made fibre.  You get an elastic wrist cuff to ensure your gloves stay put.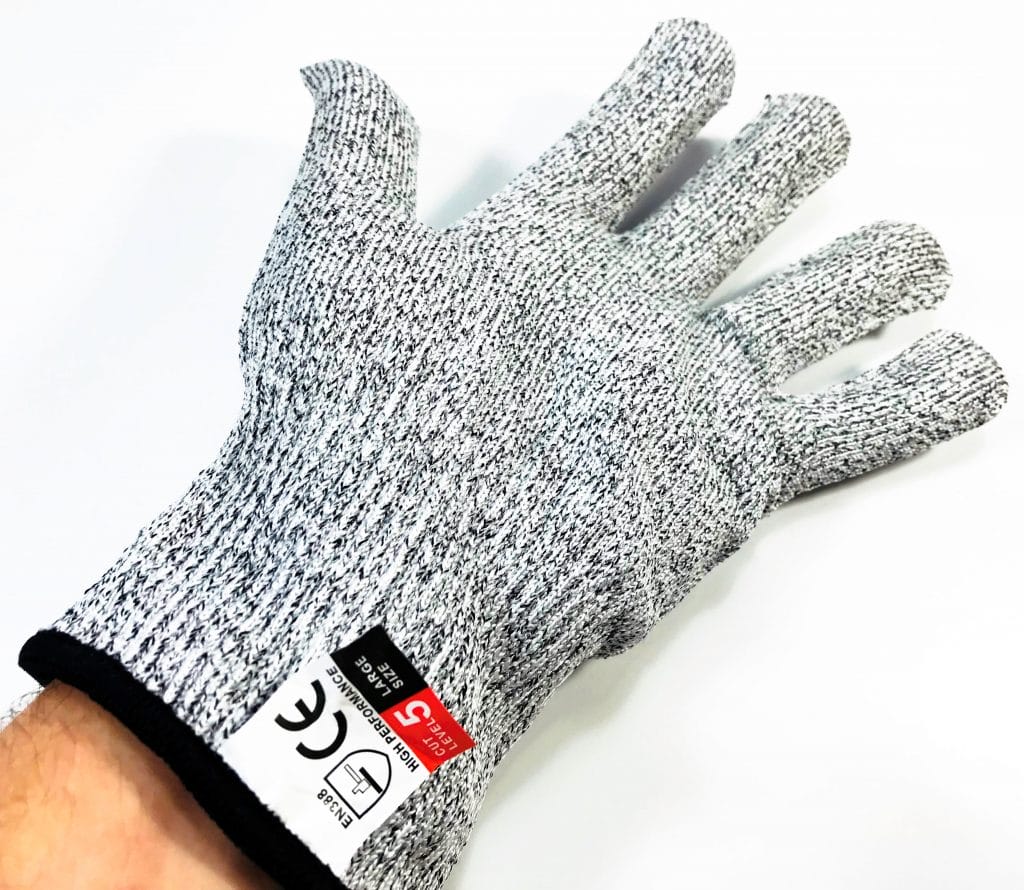 You get a pair of gloves which are advertised as being graded to EN388 standards.  This standard is an industry recognised standard for these types of gloves.  The COCOCITY are advertised as being 4544, this is probably one of the highest standards you can achieve.  These numbers all relate to a particular function and scored from 1-5 for cut resistant (The second number on the 4544 rating) and 1-4 for things like wear, tear, and penetrate.
Testing out the Gloves.
OK, so I'm not going to put my hands into these gloves and start slashing myself silly.  Instead I used a piece of cardboard and then tested them out.  At least until I feel confident enough to try them out for real.
I cut these with a sharp blade and to my horror the gloves gave way and the cardboard underneath was cut, so that would've been my hand if it wasn't for the cardboard.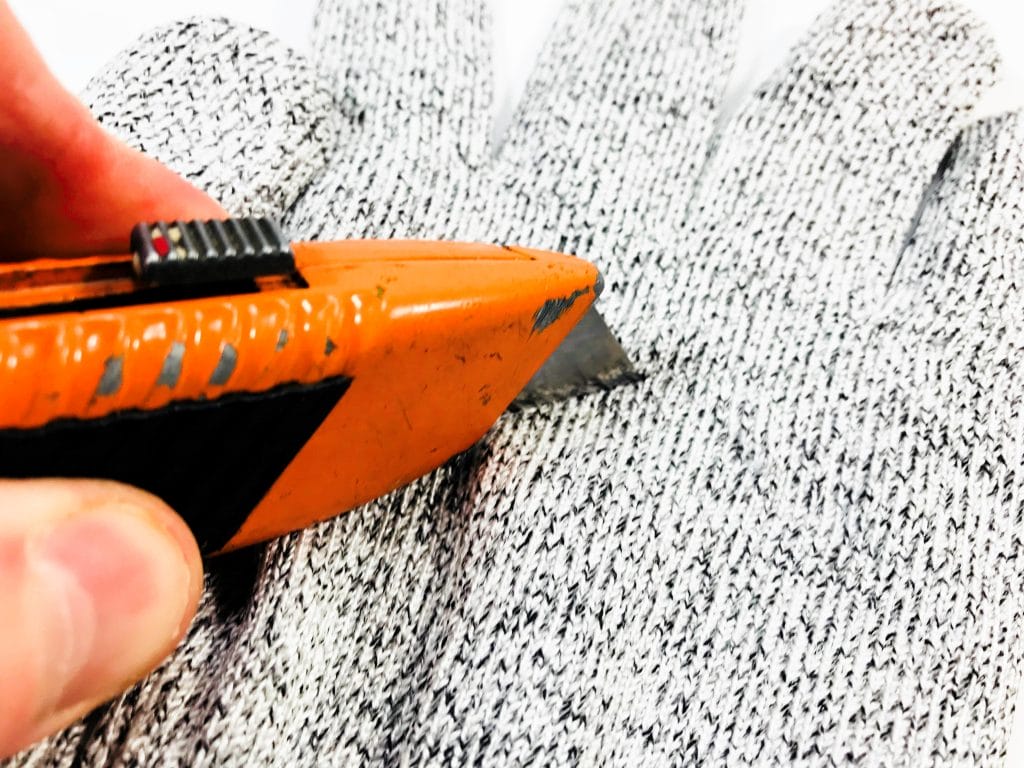 That cut also left behind a cut into the fabric of the glove.
I thought maybe the blade I used was too sharp to try out the gloves correctly, so I decided to use a standard kitchen knife, like as the company advertises.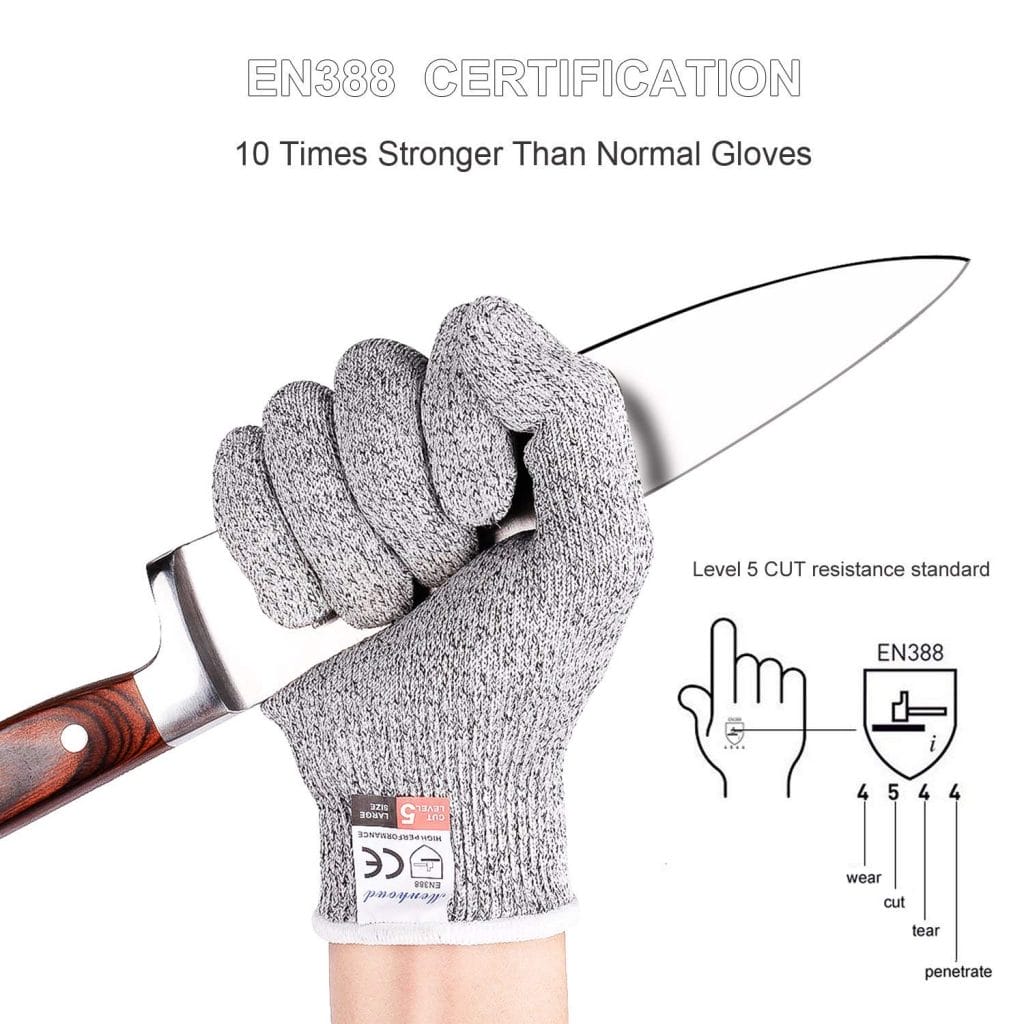 And, it did withstand cuts using my knife, but I don't have the sharpest knives in the world.  It did mark the cardboard underneath, but it didn't cut it.  I then decided to try the kitchen knife out again, this time instead of the gloves I used a sock, and it had the same result as the glove?  So, either my knife is completely useless, or my socks are a better protection option for your hands!
Penetration Test.
I then decided to try out another test for prodding through the gloves only using the tip of a biro pen. The nib penetrated through the gloves and left me with an ink stain on my hand.  So, again I tried my sock, and shockingly, the nib didn't penetrate through!
So, my little conclusion is that these gloves are useless at protecting you, and not really cut resistant.
They can protect you if you hold a knife like their company image above, but I believe all gloves would protect you from holding a knife like that.  It's when it comes down to slicing and dicing you need protection.
They feel like a glorified pair of woolly gloves, and the piece of paper that comes supplied doesn't feel you with much confidence either.  It's littered with spelling mistakes, odd English referencing, and an odd sense of pride that they're Grey in colour!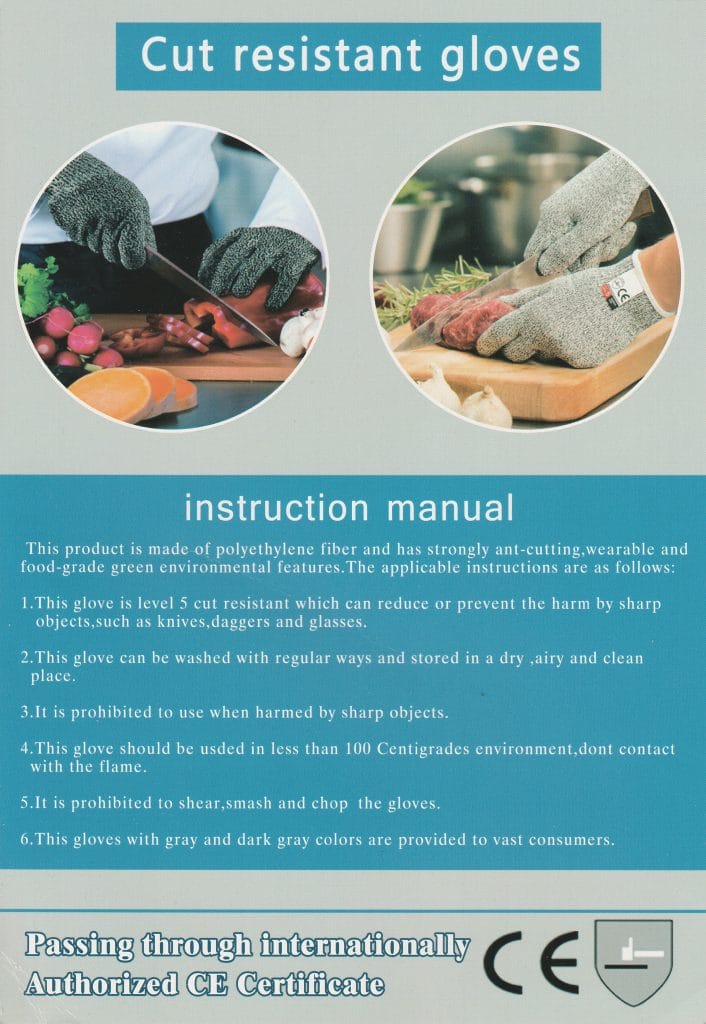 Technical Specifications.
Brand: COCOCITY
Model: Cut Resistant Gloves
Model Code: Handschuhe-L
ASIN: B07BQXTXSH
Compliance: CE
Conclusion.
If you value your fingers I would stay away from these "Cut Resistant" gloves.  But, I wouldn't suggest you use a pair of socks either.  Maybe just be careful when using knives would be the best possible safety solution.  I wouldn't recommend these at all.  There're literally hundreds available on Amazon, they look kind of generic with each seller adding their own brand to them.  I just worry that someone will try to cut themselves to prove these work and find out horribly that they don't.
If you want the COCOCITY Cut Resistant Gloves for yourself, it's available for purchase only on Amazon. The RRP for this product is £6.99.
Product sample provided by COCOCITY in exchange for a detailed, unbiased review.
---
Thank you for taking the time to read my post. If you'd like to add a comment or thought on this post, please use the section below. I can also be contacted via the online contact form. Please subscribe for the latest reviews, news, and discounts. Please follow My Helpful Hints on Twitter, Instagram & Facebook too!
COCOCITY Cut Resistant Gloves