You might be wondering, what is CHISELL? Well I can tell you it's a revolutionary new idea that helps to define and shape a man's jawline.  Only needed for a few minutes each day, CHISELL will give you that Hollywood muscular jawline that apparently woman find irresistible.
The idea is still in the early stages and I'm one of a few lucky people to try it out before it goes out to the general market.  CHISELL hope to be fully functioning in the early part of 2019.
Not only could you get a jawline of a hunk but you're also exercising and strengthening your jaw muscles too!
But what is CHISELL like to use? Is it any good? Time to test it out!
Packaging.
CHISELL comes packaged in a Black metal tin. The tin measures 6.0cm x 5.0cm x 1.5cm and weighs 22G.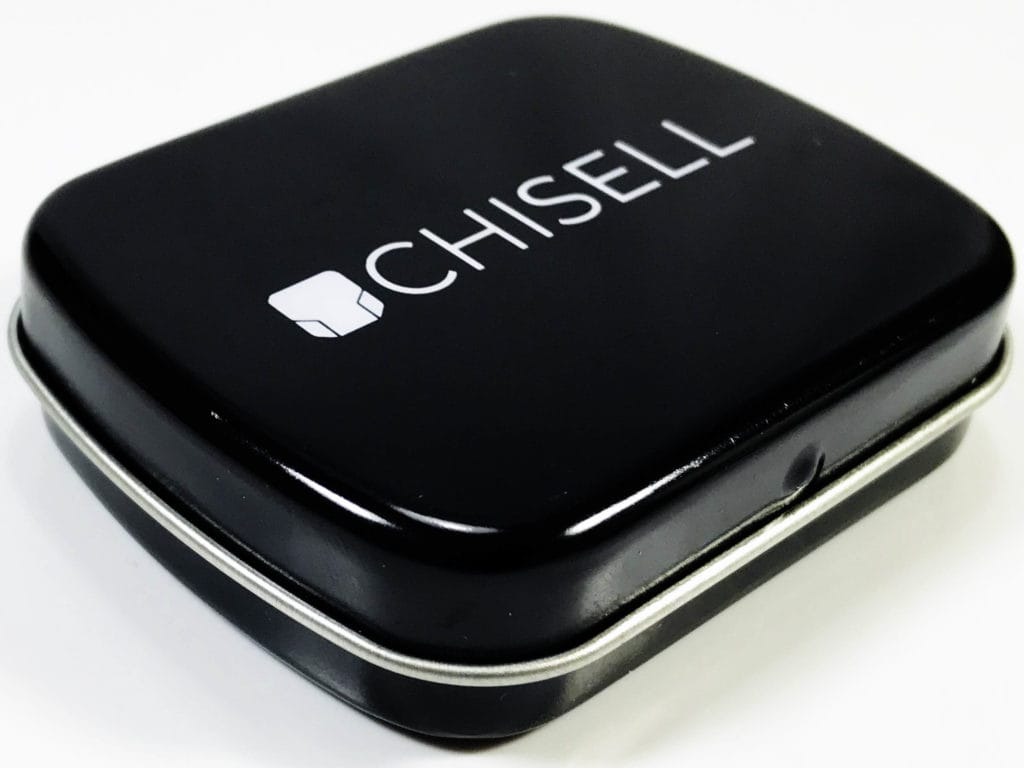 I'm not sure if this tin design is the final packaging design for the product as I have the early test kit. So, the packaging might change when they start shipping out orders in the early part of 2019.
Contents.
Upon opening the tin you'll find the following items. 1x Pair of CHISELL, 1x Illustrated User Guide.  Again, like the packaging this is a testing kit, so the final contents might change upon receiving a fully completed project.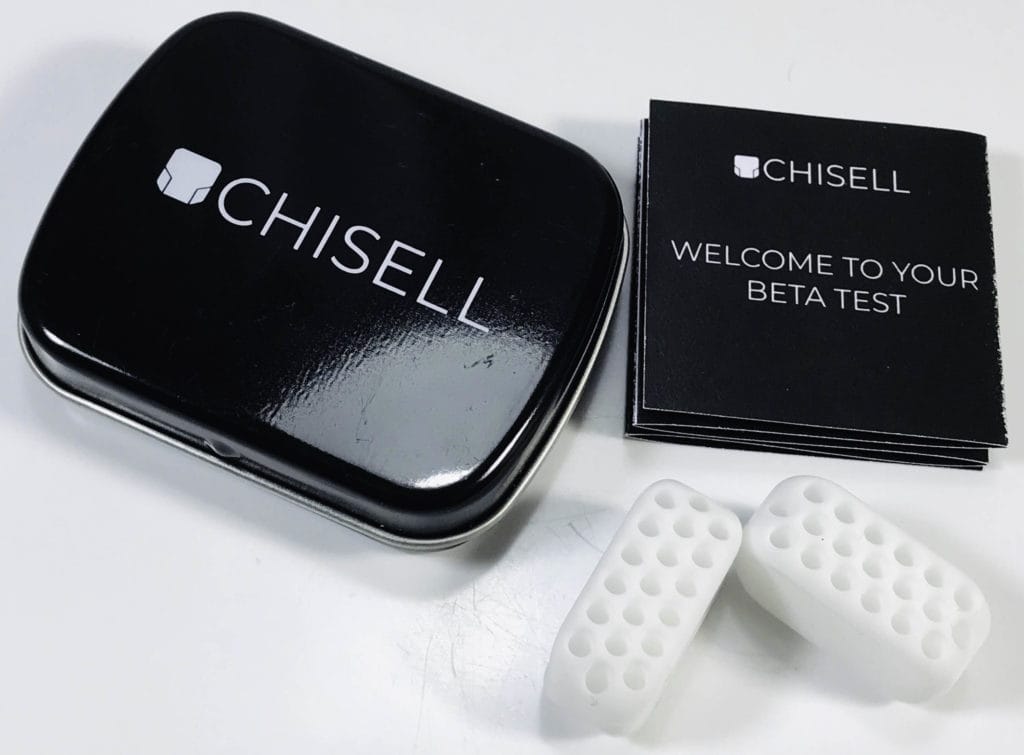 CHISELL.
Each CHISELL measures 2.5cm x 1.0cm x 1.5cm and weighs only 3G. Each piece has multiple holes running through the main core area, this ensures you can chomp down on them and they act as a spring motion that repels your jaw back open again. CHISELL has 68KG of biting resistance too! As the brand becomes more permanent, they'll issue different sized pieces, different biting resistance and different coloured pieces!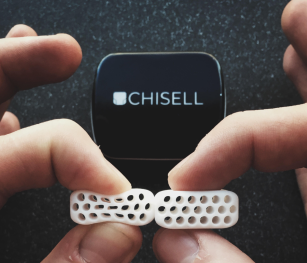 Each piece is soft and very flexible and is easy to clamp down and squeeze on your back teeth. CHISELL even collaborated with a rocket scientist to design the finished article.
Using CHISELL For the First Time.
Before you throw these into your gob and start munching away, there's a little thing you need to do.  You need to wash them in water or mouthwash and you'll need to do this before using them every time. Now you're ready to chuck them in.
There're a few exercises you can do with CHISELL, each one has been designed to increase the width and strength of your muscles in your jawline. The first exercise is to chew in a straight up/down motion ensuring you're not chewing in a circular pattern, this will get you used to how to best use this product.
I did find however the holes although have been designed to be squashed and then pop back up again managed to produce a suction effect on my inner cheeks and started sticking to them! This was something that I had to then work around to get the best out of CHISELL.
I'll now go onto to explain each exercise and the recommended duration for each. Do these 3-5 times a day for best results!
Exercise 1: Clamp down fully, hold this for 1 second and then release.  Repeat for around 2 minutes.
Exercise 2: Squeeze fast without holding 40-50 times.
Exercise 3: Squeeze and hold for 30 seconds, take a 1-minute break.
That's it, that's the cycle. CHISELL do recommend you train for two days and then have a rest day.

I found although they kept becoming stuck to my inner cheeks the exercises ached my jaw muscles to start off with. I suppose whenever you start exercising any muscle that's not used to being used to any level it'll ache the first few days. You certainly feel the effect of CHISELL straight away.
Using CHISELL For Over a Week.
After about a week of using CHISELL my jawline didn't hurt after doing the exercises, but I developed a gagging sensation when using the product.  It's probably just me, I do have quite sensitive gagging reflexes and it doesn't take much for me to gag!
But this could be an issue for other users too! Maybe a smaller sized version would be good for future development as I'm sure I'm not the only person to have such issues. I did manage to find a way round it, and that was to use only one CHISELL and then move it to each side of my mouth each time.
I haven't noticed any difference in my physical appearance, but I certainly feel like my biting pressure has increased. Maybe CHISELL would be a great product idea for not only looking your best, but also as a rehabilitation idea for people who've had recent jaw breaks/fractures.
CHISELL has been designed to be taken with you wherever you go, but ensure your teeth are clean first as any leftover food can easily become trapped in the multiple holes.
About CHISELL.
The idea was the brainchild of Dmitrii and began in August 2017 with the idea being created out of frustration of not finding a suitable product on the marketplace to improve the jawline of a man.
Dmitrii wanted to have a chiselled jawline and wanted to be able to train the jawline to achieve his goal, but there just wasn't anything available to help. After a little research Dmitrii discovered the secret to a chiselled jawline lies with the masseter muscle. If you stress this muscle it can in fact increase in mass. The idea started from a tube of resin, after cutting into manageable pieces he started creating exercises and a product idea that would eventually become CHISELL.

Today CHISELL has a team of 5 who are fully committed to making it a success!
Technical Specifications.
Brand: CHISELL
Materials: Silicone
Resistance: 68KG
Compliance: FDA Approved Material
Conclusion.
I like the idea behind CHISELL and whether I'll see a difference is of course another thing altogether. But I certainly feel as though my biting pressure has increased after only about a week of using the product. So, from that perception tings are good! I do however have an issue with gagging and I'm sure I'm not alone on this, I think a future model which is less in height would easily overcome this problem for me. And, the holes are great for clamping up/down but do have a habit of becoming stuck to inner part of your cheek, but I can't really see any ways around it as it's fundamentally part of the design. After a while though you do work around it. Maybe these two issues are just me, with fat inner cheeks and a heighten sense of gagging!
I certainly can feel the difference in strength but yet to see a physical difference.
CHISELL is still in the early stages and crowdfunding as I type this review, pop over and see the latest and why not back the idea whilst you're there. The team behind the brand seem friendly and responsive to queries and feedback.
December 2019 update: CHISELL have released a newer version, see my latest review for the 2.0 CHISELL.
Payment and product sample provided by CHISELL in exchange for a detailed, unbiased review.
---
Thank you for taking the time to read my post. If you'd like to add a comment or thought on this post, please use the section below. I can also be contacted via the online contact form. Please subscribe for the latest reviews, news, and discounts. Please follow My Helpful Hints on Twitter, Instagram & Facebook too!