Today is an exciting day for the My Helpful Hints website, I get to write to you all about the 2.0 CHISELL. I originally tested the first version of CHISELL precisely 1 year ago today! It went on to become one of the most popular reviews on the site, attracting large visitor numbers.
Since then CHISELL has gone past the crowdfunding stage of development and is available for general public purchase. I was lucky enough to be one of the first reviewers to try out CHISELL last year and the 2.0 version has had a little makeover.
I wasn't the biggest fan of the original version, it made me gag, and it used to get vacuum stuck to my inner cheeks. The 2.0 version has had some improvements to eliminate those issues.
CHISELL are also steadily building up a big Instagram fanbase too, which is nice to see!
So, is the 2.0 version better than the original? Time to test it out!
Packaging and Contents.
The 2.0 CHISELL comes packed in beautiful packaging, CHISELL have really stepped up their game with the packaging for this product. It comes in a foam lined, magnetic closure type giftbox. The box measures 18.5cm x 11.5cm x 3.0cm and weighs 200G.
Upon opening the box you'll find the following, all positioned in its own space: 1x Pair of CHISELL, 1x Container, 1x Exercise Guide, 1x Instruction Guide.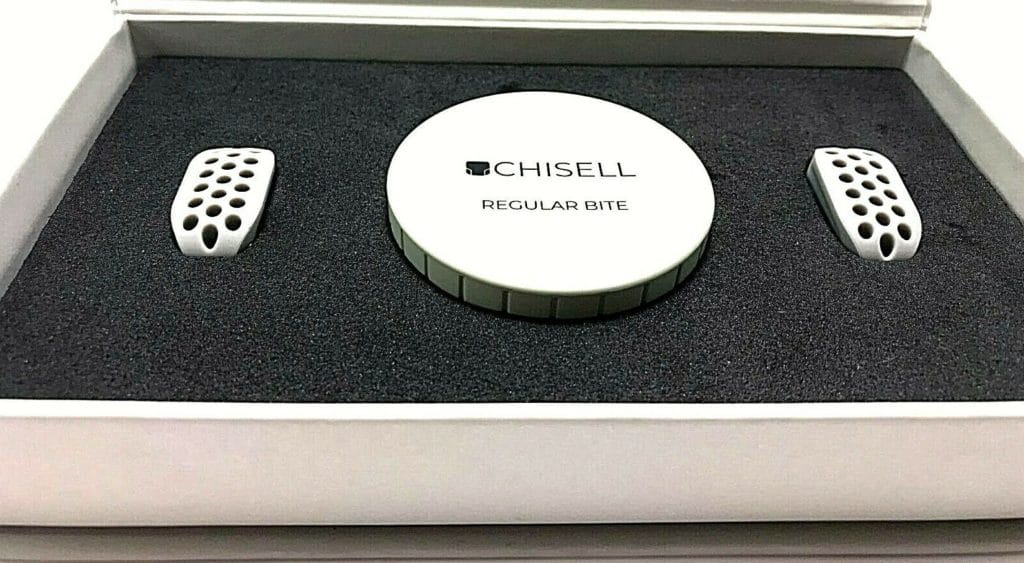 2.0 CHISELL.
The 2.0 CHISELL is a lot different overall to the original version. It's taller in profile and has been designed to be even more durable. Each singular 2.0 CHISELL measures 2.9cm x 1.5cm x 1.5cm. As this version is taller in profile you instantly feel the extra spring action when you clamp down on it.
CHISELL have issued me with their Regular Bite model which has a 85KG (180 lb) resistance. They do two other versions too, the Light Bite which has a resistance of 50KG (110lb) and the Tough Bite which has a massive 115KG (250lb) resistance.
If you're unsure which version to go for I'd suggest starting with the Light Bite and gradually working your way up. Although I can't imagine what the Tough Bite must be like to use, the Regular Bite was a real workout for me!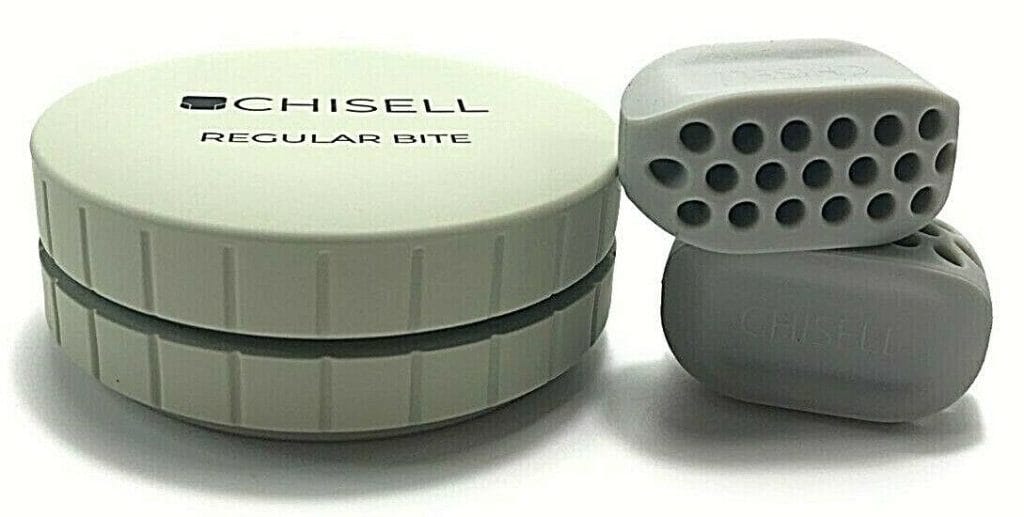 The price for each model is the same too. And CHISELL have a guaranteed replacement programme if you've damaged your CHISELL they'll replace it for you, for free!
Using the 2.0 CHISELL.
So just like before you'll need to give your pair of CHISELL a good clean, I used my regular mouthwash as it got into the tiny holes and gave it a proper clean. You can pour some into the container and screw the lid on and give them a thoroughly good shake.
Once cleaned I checked the exercise guide provided and started to use the 2.0 CHISELL. I was a little apprehensive as last time the previous version used to make me gag and I'd feel like I was about to vomit.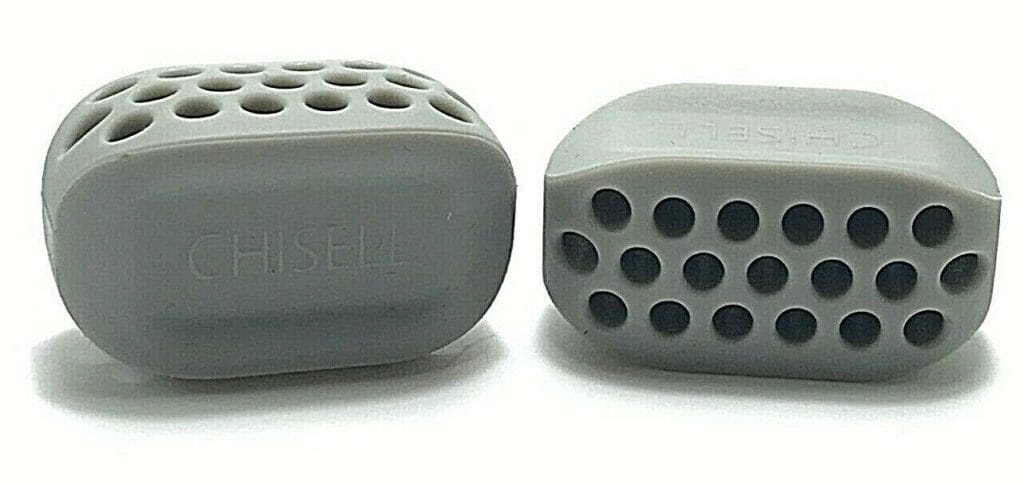 This time however that didn't happen, But CHISELL have informed that around 5% of user experience that exact issue, they do however have some handy hints for any gaggers out there.
Breath fully during the exercise, do long inhales and long exhales.
Go slower on the fast bites and do less holds.
90% of people who'd experienced gagging reflexes reported the above techniques helped them stop.
But for me I was lucky this time around, so that was a nice experience.
I can honestly say the 2.0 CHISELL will give you a solid workout, within a minute or two my jaws were aching, and I had to stop. All day I felt it!
The next day I went a little bit longer and gradually built it up over the coming week. I can certainly feel more strength when chewing food. Cosmetically I didn't see any great difference, but that might occur later over the coming weeks. But certainly, you feel the workout!
The new shape of the CHISELL also prevented it from become vacuum stuck to my inner cheeks too, so CHISELL have made some huge improvements for me in this 2.0 version.
Technical Specifications.
Brand: CHISELL
Model: 2.0
Materials: Silicone
Resistance: 85KG
Compliance: FDA Approved Material
Conclusion.
The 2.0 CHISELL is far more superior to the original version. I can see the improvements first-hand and I'm impressed with the newer version. It's much better than the original version, I also like the way it's been packaged, it makes for a great gift!
Another big plus point for me is the brand itself, CHISELL are very quick to respond to emails and social media enquires too. They've accumulated a social following on Instagram and regular interact with user about their product and deal with any issues quickly.
The gagging reflexes I'd experienced in the original version are now non-existent and gone too is the cheek vacuum effect, it must be down the newer shape!
Overall, I recommend the 2.0 CHISELL, if you'd like to try out 2.0 CHISELL for yourself you can purchase your directly from the CHISELL website.
Product sample provided by CHISELL in exchange for a detailed, unbiased review.
---
Thank you for taking the time to read my post. If you'd like to add a comment or thought on this post, please use the section below. I can also be contacted via the online contact form. Please subscribe for the latest reviews, news, and discounts. Please follow My Helpful Hints on Twitter, Instagram & Facebook too!