Welcome to the first review of 2022 and welcome to my review for the BLON BL-Max Earphones. I have had these in my possession for several weeks now and have tested the heck out of them over the festive period. So, today's review is based on a serious amount of usage time.
This isn't the first BLON review on this website either, I have been graced with this brand before. An inexpensive audio brand that produces some quality gear too.
Today it's all about the BL-Max model, a 10mm carbon diaphragm + 6mm lightweight diaphragm hybrid dual unit. The IEM (inner ear monitor) casing is made from zin alloy too. They come with a standard 0.78mm 2-pin interchangeable cable.
But what are they like? Time to test them out!
Packaging and Contents.
The BLON BL-Max Earphones come packaged in a white box, which features product images and specifications. The box measures 18.0cm x 9.5cm x 3.5cm and weighs 161G. Inside the box lid you'll see the IEMs in a plastic moulded section.
Inside the box you'll receive: 1x Pair of IEM's, 1x Cable, 4x Additional Silicone Ear Tips, 1x Fabric Bag, 1x Chinese/English User Guide.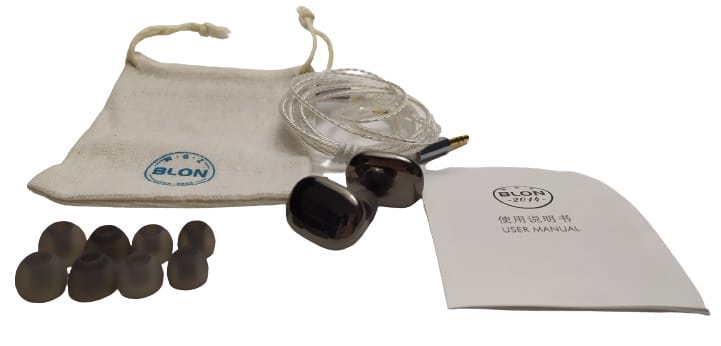 BLON BL-Max Earphones.
Each BLON BL-Max Earphone casing measures (without silicone ear tip) 27.0mm x 19.8mm x 22.9m and weighs 14.3G (I'll get onto the weight below). The model I have is gun metal grey and doesn't feature an inline microphone, this is an option and costs a just couple of your chosen earth currency tokens extra.
The weight! These earphones are chunky bois, they're heavy at a weight of 14.3G each, especially when compared to the usual 5.0g≤ of other industry standard IEM's. They're heavy due to the zinc alloy casing, this extra weight makes them unfortuanlty a pain in the arse when using them, they fall out of my inner ear, even when changing ear tips to wedge them in, they still slip out.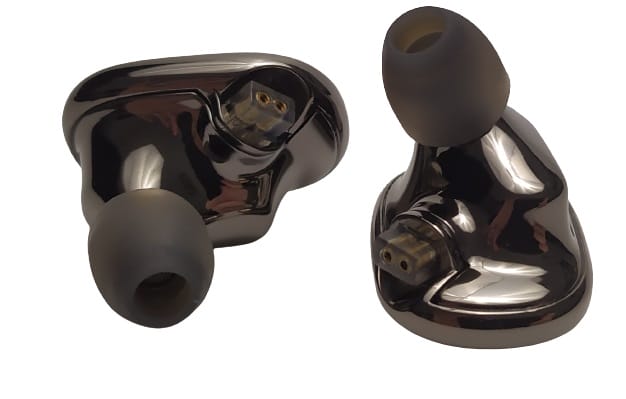 Gold-plating interfaces provide an excellent stable audio quality connection, the gold-plating theme continues to the supplied 1.2M cable which features a gold-plated 3.5mm TRS (Tip Ring Sleeve) jack plug. The cable is made from silver wire and features a durable outer coating.
The Nozzle.
The BLON BL-Max Earphones feature BLON's die-cast acoustic guide nozzle which can effectively avoid sound resonance and helps to achieve a more natural sound transmission.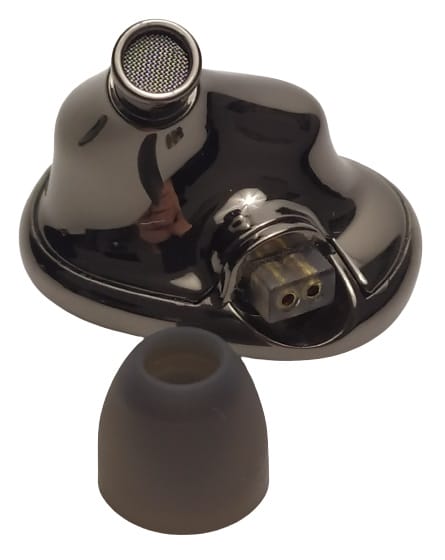 Aside from the technical aspects of these BLON BL-Max Earphones the shape of them offers very little comfort, although advertised as being ergonomic, they're far from it. Each IEM feels like you're wearing a heavy pebble, the hooked cable tries to maintain the earphones in lace, but due to the weight of each IEM they simply fall out of your inner ear canals. If they were shaped more like standard IEM's then maybe the 14.4G weight wouldn't be so much of an issue.
Sound Quality.
Impressive. The BLON BL-Max Earphones have a pleasant and enjoyable audio sound. That is when you can keep them in place long enough. I found virtually no distortion whatsoever, even when turning up to maximum sound output. Sound is clear, punchy, and acoustically they're spot on.
The BL-Max earphones feature a double moving coil that work together to achieve a three-frequency response rate that precisely crosses low, medium, and high frequency bands.
Technical Specifications.
Brand: BLON
Model: BL-Max
Manufacturer Code: N/A
Manufacturer Reference: N/A
EAN: N/A
ASIN: N/A
Interface: 0.78mm Pin
Frequency Range: 20-20kHZ
Sensitivity: 115dB
Impedance: 32Ω
Plug: 3.5mm gold plated connector
Cable Material: 4 Core Silver Cable
Driver Unit: 10mm + 6mm Dual Magnetic Circuit Dynamic Driver
Compliance: CE, FCC, RoHS
Conclusion.
It's a mixed review for the BLON BL-Max Earphones. On one hand the sound is very impressive, and they come packed with advanced technological advances that's usually seen on more expensive audio brands, then on the other hand there're issues with weight and a lack of an agronomical design. They look pretty, but I somehow can't shake the mental image of wearing two pebbles in my ears.
The BLON BL-Max earphones need to be at least half of their current weight to be comfortable enough to wear, but this will of course come at a cost with regards to the audio quality. It's a dilemma, and quite frankly I'm thankful one I don't have to solve, I'm happy to use and write and not be involved in the design and manufacture of audio gear.
If you'd like to purchase this item, please check out the purchasing options below. The RRP for this product is £54.20.
Product sample provided by Keephifi in exchange for a detailed, unbiased review.
---
Thank you for taking the time to read my post. If you'd like to add a comment or thought on this post, please use the comments section below. I can also be contacted via the online contact form. Keep up to date with the latest news on social media.