Today I'm writing about the IMOU Cell 2 Security Camera, a wireless CCTV unit with a rechargeable 6-month charge battery. Just read that last part again, a wireless camera with a rechargeable 6-month charge battery. That's right!
How impressive does that sound as an opening sentence? That's what perked my interests when IMOU approached me to review the Cell 2. This camera packs some excellent features aside from a rechargeable battery. These include, Full-Colour Night Vision, 4MP QHD Video, Two-Way Talk, Spotlight and more.
The IMOU Cell 2 Security Camera supports human/animal/vehicle detection, and sends an instant alert message to your phone via the IMOU Life App. You can also record locally via a Micro SD Card or record remotely via the IMOU cloud.
So, what is the IMOU Cell 2 Security Camera like to operate? Is it as good as it sounds Time to test it out!
Packaging and Contents.
The IMOU Cell 2 Security Camera comes packaged in a white/orange coloured cardboard box which features printed product images and specifications. The box measures 20.5cm x 14.5cm x 7.0cm and weighs 630G.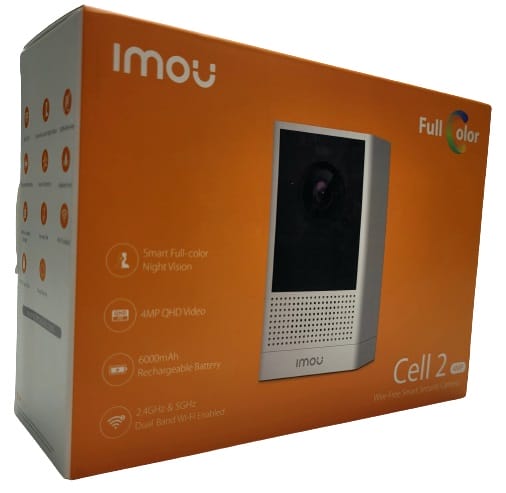 Inside the box you'll find the following: 1x Camera, 1x Mounting Template, 1x Battery, 1x Mounting Plate, 1x Micro USB Cable, 1x Mounting Bracket, 1x 32GB Micro SD Card, 1x Screw Pack, 1x Quick Start Guide/User Guide.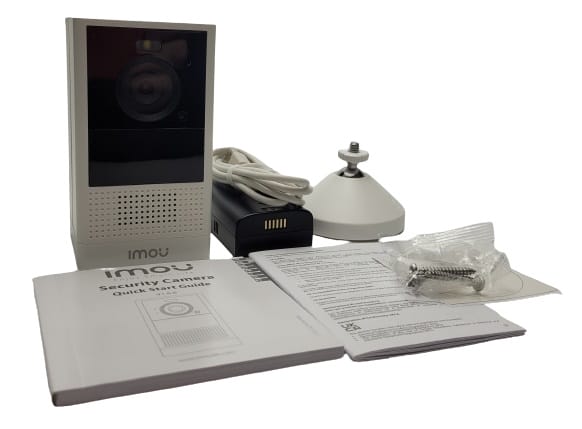 IMOU Cell 2 Security Camera.
The IMOU Cell 2 Security Camera is white in colour and measures 11.0cm x 6.0cm x 6.0cm and weighs 370G (including battery, and mounting bracket).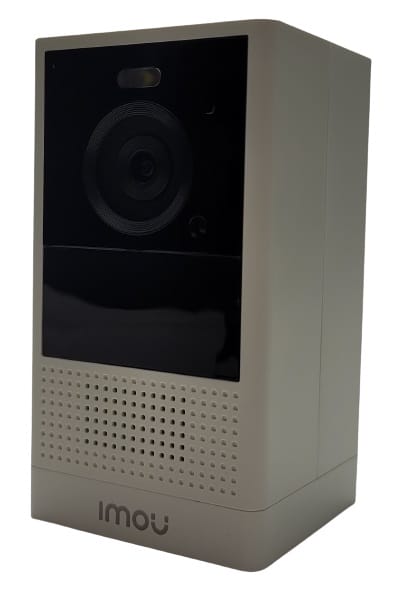 The mounting plate has three fixture holes, it also features a removable feature to easily remove the camera for when you need to recharge the battery. The battery itself is a 3.6V/6000mAh/21.6Wh rechargeable Lithium-Ion unit. The battery features a secure clip mechanism that allows to fully insert into the camera body without it falling out.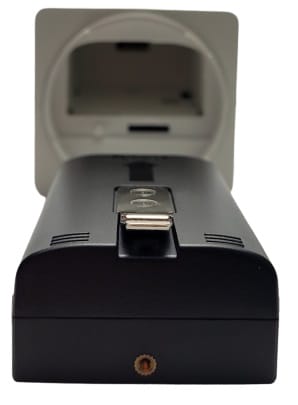 Charging.
IMOU supply a 1M Micro/USB-A Cable to recharge the battery. There're two methods of charging your battery, you can remove he battery from the camera body itself and insert the Micro USB plug directly onto the battery, or there's an easier user-friendly option. You can recharge the battery whilst the battery is still in place. There's a silicone cover on the back protecting a Micro USB charging port. You can simply charge via 5V DC power source, you can even recharge via a suitable powerbank for complete, cable-free ease.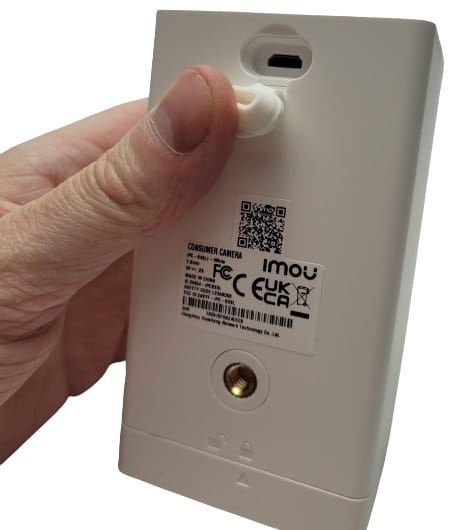 Charging takes around 6 hours and charge is indicated by a LED light. A fully charged battery can last up to 6 months, based on 10 video recordings per day. This timescale in between charge sis dependant on several factors including environment, WiFi signal, live stream viewing and more. But to give you some idea, I had mine trigger around 15 alerts each day for pigeons in my garden, after a full week of these alerts my battery had drain down to 94%, and that's with me playing around and live stream viewing and spotlight uses too.
Setting Up.
IMOU make the setting up process nice and easy, I've now set up three IMOU cameras, and each time I've been impressed just how easy it is to do. You do need to download the IMOU app, it's free and the setting up process is a step-by-step process as indicated when you start the process. IMOU take GDPR data protection very seriously, so there's no worry when it comes to your data.
The IMOU Cell 2 Security Camera comes with 2.4G/5GHz Dual-Band WiFi capabilities too, with no need to switch from 5GHz to 2.4GHz frequency bands anymore.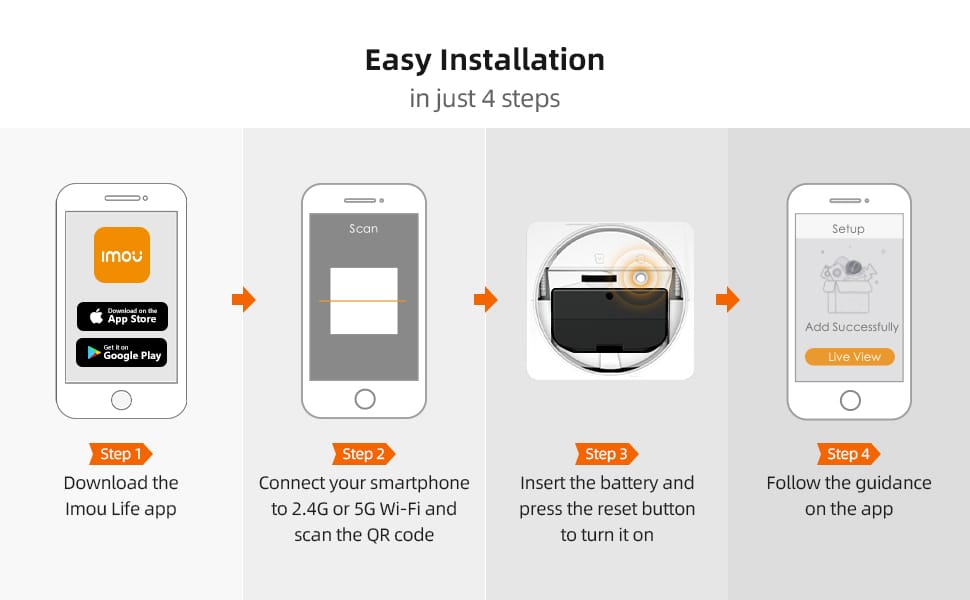 Once set up you can change settings such as recording quality, alert settings, and be able to speak through the app through to the camera, turn on/off a spotlight, and much more, including Amazon Alexa and Google Assistant too.
The IMOU Cell 2 Security Camera is IP65 waterproof rated too, so can be used in all outdoor weather conditions. You can also shield the camera too, so it won't record until you turn this feature off again.
Recording/Streaming.
The IMOU Cell 2 Security Camera is equipped with 4MP glass optics, which delivers 2 times the clarity of 1080p, the high-quality sensor and advanced IR lights enhance night vision up to 10m/33ft. Four types of night vision mode for you to choose too which you can easily switch it on the mobile app.
The full colour night vision is top notch, I've previously written a section about this before, so I won't duplicate the same findings, but I've linked it above for you to see.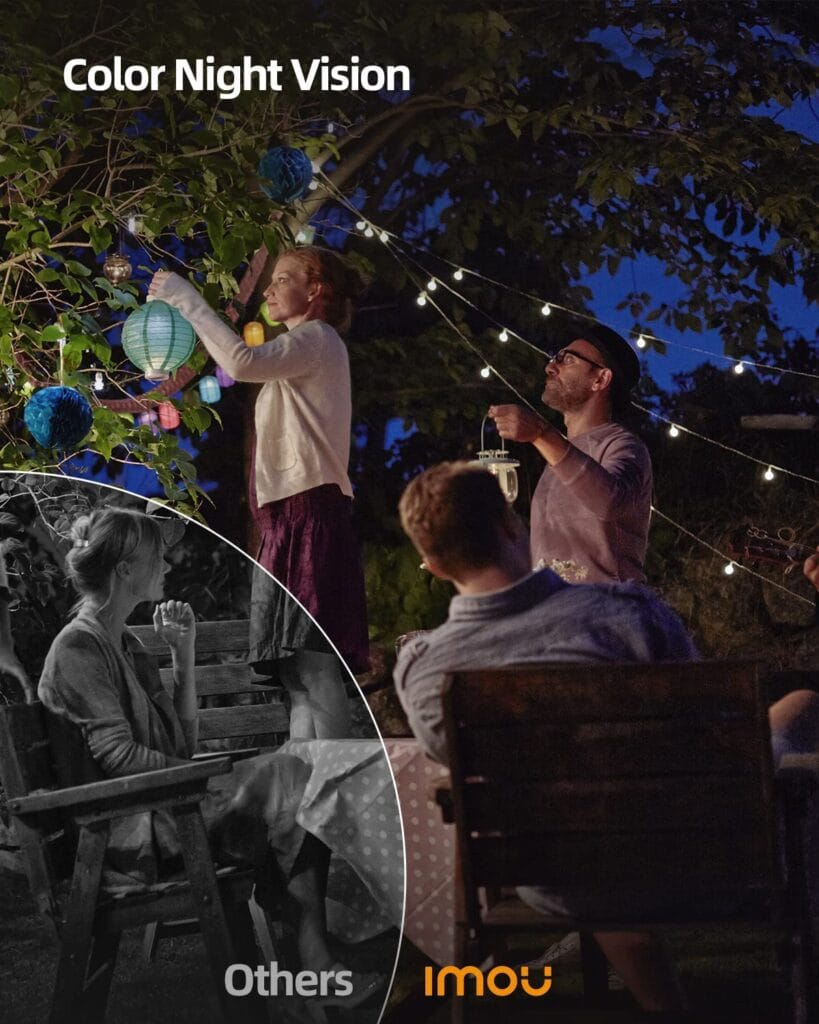 I also found no noticeable lag when viewing the live stream too, my recordings were on point too, all on the supplied 32GB Micro SD card too.
You even have the option to produce a siren noise to scare away unwanted gangsters from your property, or you can tell them go do one via the two-way speaker feature, whilst recording them.
Technical Specifications.
Brand: IMOU
Model: Cell 2 Security Camera
Manufacturer Code: IPC-B46LP
Manufacturer Reference: N/A
EAN: N/A
ASIN: B09JS9BFK5
Camera: 1/2.9"4 Megapixel Progressive CMOS
Recording: 4MP (2560 x 1440)
Lens: 2.8mm Fixed Lens, F2.0
Field of View: 110°(H), 61°(V), 130°(D)
Black & White Night Vision: 10m(33ft) Distance
Colour Night Vision: 5m(16.5ft) Distance
Network: Wi-Fi: Dual-band 2.4GHz&5GHz, IEEE802.11b/g/n/ac
Video Compression: H.265/H.264
Frame Rate: Up to 15fps
Zoom: 16X Digital Zoom
Siren: 110dB Siren
Waterproof Rating: IP65
Compliance: CE, FCC, RoHS
Conclusion.
I'm absolutely astounded by the IMOU Cell 2 Security Camera. A wireless camera, with a long-life rechargeable battery that can produce high quality recordings, including full-colour night vision. Wow! Just simply Wow!
The app is top notch too, with lots of user settings and features to suit everyone. I'm so impressed.
All this technology for only around £100 too. But wait there's more how about an exclusive 20% My Helpful Hints discount code for not only this camera, but across the entire IMOU Amazon Store?
Enter code HELPHINTS until 31st December 2022 to get an instant 20% saving.
If you'd like to purchase this item, please check out the purchasing options below. The RRP for this product is £109.
Product sample provided by IMOU in exchange for a detailed, unbiased review.
---
Thank you for taking the time to read my post. If you'd like to add a comment or thought on this post, please use the comments section below. I can also be contacted via the online contact form. Keep up to date with the latest news on social media.
IMOU Cell 2 Security Camera