The BlitzWolf BW-ES2 Earphones are manufactured using frequency division technology that pumps out bright treble and deep bass respectively.
They come with ultra-high voice resolution, which can better present sweet or hoarse voices.
A built-in microphone and volume control allows you to make hand-free phone calling, switch song's, and adjust your music volume.
Fitted with a 3.5mm gold-plated jack plug, so they are compatible for many of your devices including; iPhone, Android, Samsung, Sony, PC, iPod, tablet, MP3 players and many more devices that support a 3.5mm input.
Retail Packaging.
The BlitzWolf BW-ES2 Earphones come packaged in a sturdy built Black coloured cardboard box.  The box is plain looking with only logo detailing.  The box measures 11.0cm x 11.0cm x 5.0cm and weighs 220G.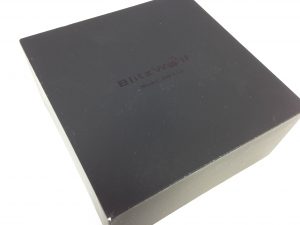 The earphones are protected in a zip-up Black case inside a foam lined interior.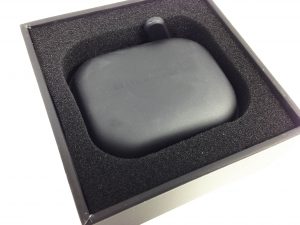 Contents.
Upon opening the BlitzWolf BW-ES2 box you will find the following items. 1x Earphone, 1x Earphone Case, 1x Earphone Strap, 1x Clip, 2x Silicone Tips, 1x Multi-Lingual User Guide, 1x BlitzWolf Warranty Card.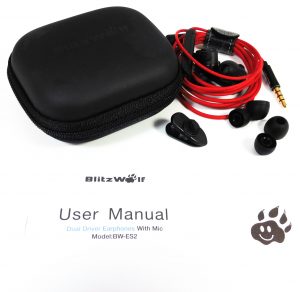 BlitzWolf BW-ES2 Earphones.
The BlitzWolf BW-ES2 Earphones are made from mixed materials, these materials are rubber and plastics.  The earphones are Red in colour with Black detailing.  BlitzWolf do have another product colour combination of Black with Black detailing.
The cable length is around 1.2M in length and is made with Thermoplastic Elastomers (TPE) this is a mixed blended material of plastic and rubber which has been designed to be long lasting.  The BlitzWolf BW-ES2 weigh 18G.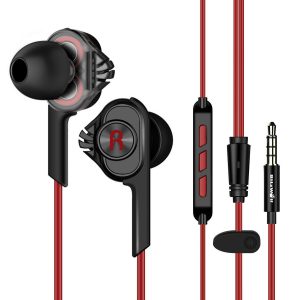 The BlitzWolf BW-ES2 earphones comes with an in-line cable control button.  You get 3 different control buttons that can control different settings including volume selection, track choice and answer/end phone calls.
The supplied zip-up carry case is Black in colour and has a hard-shell exterior.  The inside has a netted storage area for keeping your ear tips in.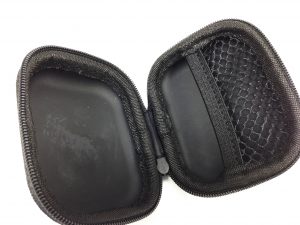 The jack plug is Gold Plated and is a standard sized 3.5mm input plug.  The plug features a 3 pole Tip Ring Ring Sleeve (TRRS) for Left Audio, Right Audio, Ground and Microphone arrangement.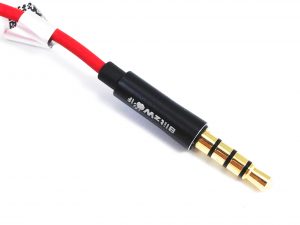 Using the BlitzWolf BW-ES2 Earphones.
I found inserting the earphones quite tricky and when fitted i found them a little uncomfortable.  They seem quite big, bulky, and hard.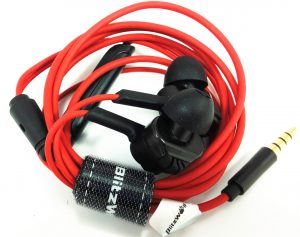 I also found they keep trying to pull themselves away from the ear.
The sound produced is ok, but the noise isolation is poor, and sound can be heard from only a couple of feet away.
Technical Specifications.
Brand – BlitzWolf
Model – Earphones
Model Code – BW-ES2
Manufacturer Code – BW-ES2-R
EAN – N/A
ASIN – B075RRVKVC
Driver Unit – 6mm
Impedance – 16

Ω

Sensitivity – 108dB

±

3dB
Frequency Response – 20-40KHz
Cable Length – 1.2M
Microphone – Yes
Jack Plug – 3.5mm
Compliance – CE, FCC, RoHS
Conclusion.
The first thing you notice when you get hold of these earphones is the exterior packaging.  It has a quality feel to it and the carry case is also fantastic.  Now, it might be just me but i found these uncomfortable, other people have left reviews on Amazon and have said they found them comfortable!  I suppose it's a matter of preference, but i found they hurt my ears whilst they were inserted.
The sound is great, but i found the noise isolation poor.
If you want the BlitzWolf BW-ES2 earphones for yourself, they are available only on 
Amazon and come with an 18 Month warranty.  The RRP for these earphones is £21.98.
---
Thank you for reading this, feel free to comment down below, your input really matters to me.  I can also be contacted here.  Why not check out my other product reviews here.
Darren