Today I'll be writing about another small business, this time it's for Chapel Soap. A small business based in Essex and run by Dean Hall BA, DipRS, DipHE, CertHSC.
The business was set up in August 2019. Chapel Soap have good business ethics, these include no plastic packaging, 100% cruelty free and vegan friendly too.
Before setting up Chapel Soap Dean was a registered nurse who worked on several NHS wards. mainly working with people with Dementia. Dean's partner is also a registered nurse who continues to work as a nurse prescriber with a Dementia Crisis Team, and recently has been terribly busy due to the Covid-19 pandemic.
Dean has always had an interest in soap and has been making his own soaps for around 20 years as a hobbyist. Why? well it's because commercially available soap had an artificial smell and dried out his skin and made him red and blotchy.
Dean left his nursing job in early 2019 to help care for his mum who sadly had been diagnosed with Cancer. She sadly passed away in May that year. Dean was left some money from his mum and it was then that he decided not to return to nursing, instead he followed his ambitions and set up Chapel Soap.
Safety Assessment.
This isn't a fly by night business idea, it takes a lot to set this type of business up. Each bar of soap must be UK/EU safety assessed. Before Chapel Soap can put a soap on the market each recipe needs to be submitted (at a huge cost of around £200 each) so it can be legally sold. This is a huge outlay. But it does mean each product from Chapel Soap is safe to use.
Each bar of soap also takes around 4 days before being cut up into smaller bars of soaps. These are then put aside for 6 weeks before being added to the website.
Chapel Soap use an exceedingly high percentage of fair-trade Shea Butter to combat the issue we all have with soap drying out too quickly. All ingredients are freely listed on the website.
What I like about each product on the Chapel Soap is the educational aspect of each soap. You not only see what's in each bar, but Dean has kindly added what each bar does and how each can benefit you.
It's a first for the My Helpful Hints website, I've never reviewed soap before. But with my new mindset of not only helping small businesses, but also to seek eco alternative products wherever possible, I'm looking forward to sharing with you my experiences.
So here goes then…
Packaging and Contents.
The Chapel Soap bare of soap are sent in 100% plastic-free packaging. Not a single trace of plastic, not even sticky tape. Each bar is wrapped in tissue paper. Also, when you spend £20.00 you not only get free UK postage, but you also get a free organic hemp soap saver bag (worth £5.00).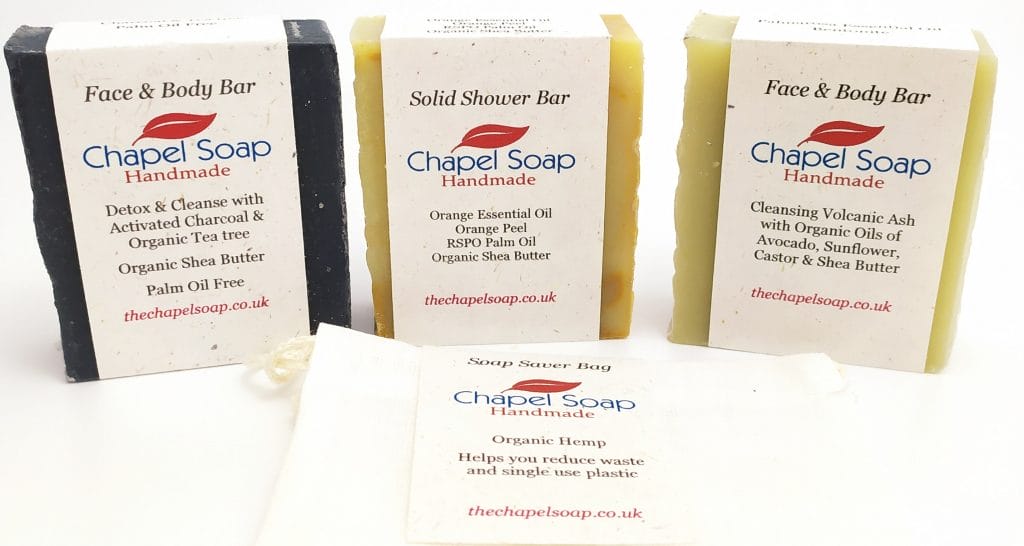 Each bar weighs approximately 125G and each has a paper sleeve to display the product information.
Charcoal & Tea Tree.
I've been using charcoal products for a while now; its natures wonder organic material. It unclogs pore and leaves skin smooth and impurity-free. I love charcoal products. So was incredibly happy that Chapel Soap produce a charcoal soap. The bar from them is Palm Oil free too.
It's made from Sodium Olivate (Olive Oil), Sodium Cocoate (Coconut Oil), Sodium Shea Butterate (Shea Butter), Charcoal Activated Medicinal (Charcoal), Melaleuca Alternafolia (Tea Tree Essential Oil).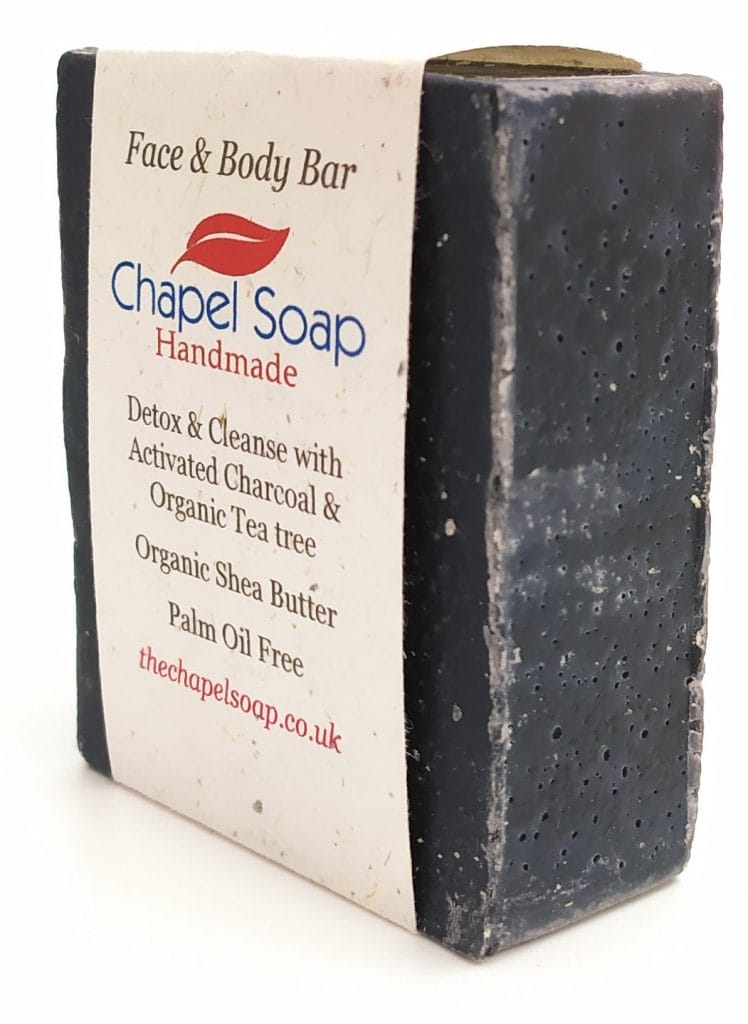 I really liked this soap. It made my skin feel exceptionally clean. I also used it for my face too and was extremely impressed. Especially after a wet shave too.
Since I used this soap straight after shaving, I've not had any spots appearing, this usually happens a couple of days later. But I've not had that happen.
The only downside to this soap is the Black/Grey sludge that appears around the bath after use.
Orange.
When I first received this soap, it was very scented. This scent spread to the other soaps. I mentioned this to Chapel Soap who quickly came up with a solution to help future customers. Dean suggested that he'd use extra tissue paper and wrap this bar in cardboard. It's wasn't an unpleasant scent, but if you ordered other scents if did mean you wouldn't be able to smell each one. But I think Dean's solution will help.
It's made from Sodium Palmate, Sodium Olivate (Olive Oil), Sodium Cocoate (Coconut Oil), Sodium Shea Butterate (Shea Butter), Citrus Sinensis Peel Oil (Orange Essential Oil), Cymbopogon Nardus Oil (Citronella Essential Oil), Citrus Aurantium Dulcis Peel (Ground Bitter Orange Peel), Illite (French Yellow Clay).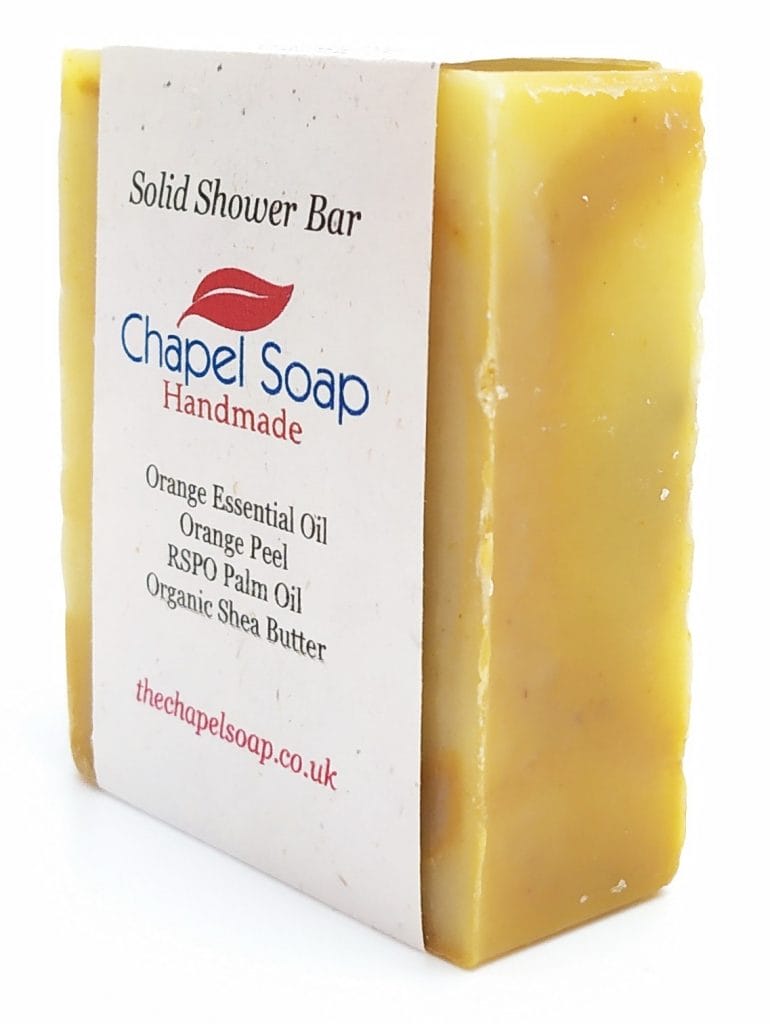 I love the scent of Orange and this was very scented upon first using it. Although unfortunately this scent soon dissipated over the following weeks to there's a very slight Orange scent now apparent. This is probably the prettiest bar out of the three. If you look closely, you'll see Orange Peel too.
Palmrosa and Bentonite.
Hands up, I had no idea what this was at first. But it's fantastic to use. It has a silky lather and feels very luxurious. This bar has been designed to draw out impurities. This is due to Bentonite, a volcanic clay material.
It's made from Sodium Palmate, Sodium Olivate (Olive Oil), Sodium Cocoate (Coconut Oil), Sodium Sunflowerate (Sunflower Oil), Sodium Shea Butterate (She Butter), Sodium Avocadate (Avocado Oil) , Sodium Ricinoleate (Castor Oil), Sodium Bentonite Powder, Cymbopogon Martini (Palmarosa Essential Oil), Citrus Sinensis Peel Oil (Orange Essential Oil), Citrus Limonum Peel Oil (Lemon Essential Oil).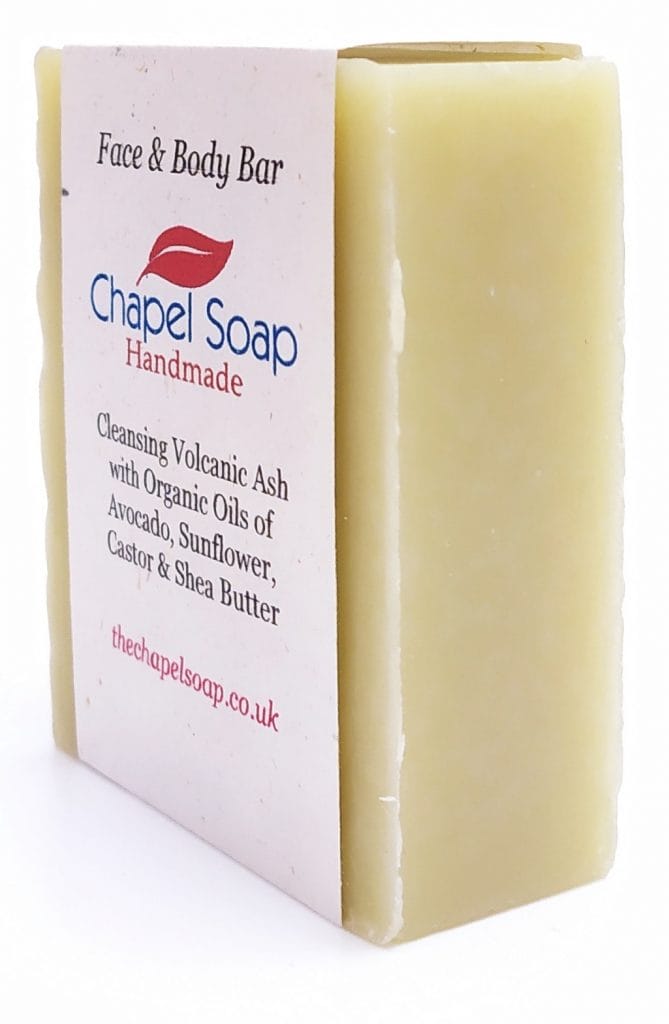 Soap Saver Bag.
Chapel Soap sell these soap saver bags separately for £5.00, but if you spend £20.00 in a single transaction they'll chuck one in for free. So, what is a soap saver bag?
It serves two purposes. Firstly, it stops helps make your soap last longer as it dries out the bar, secondly you can use a soap through the bag, a bit like an exfoliate experience.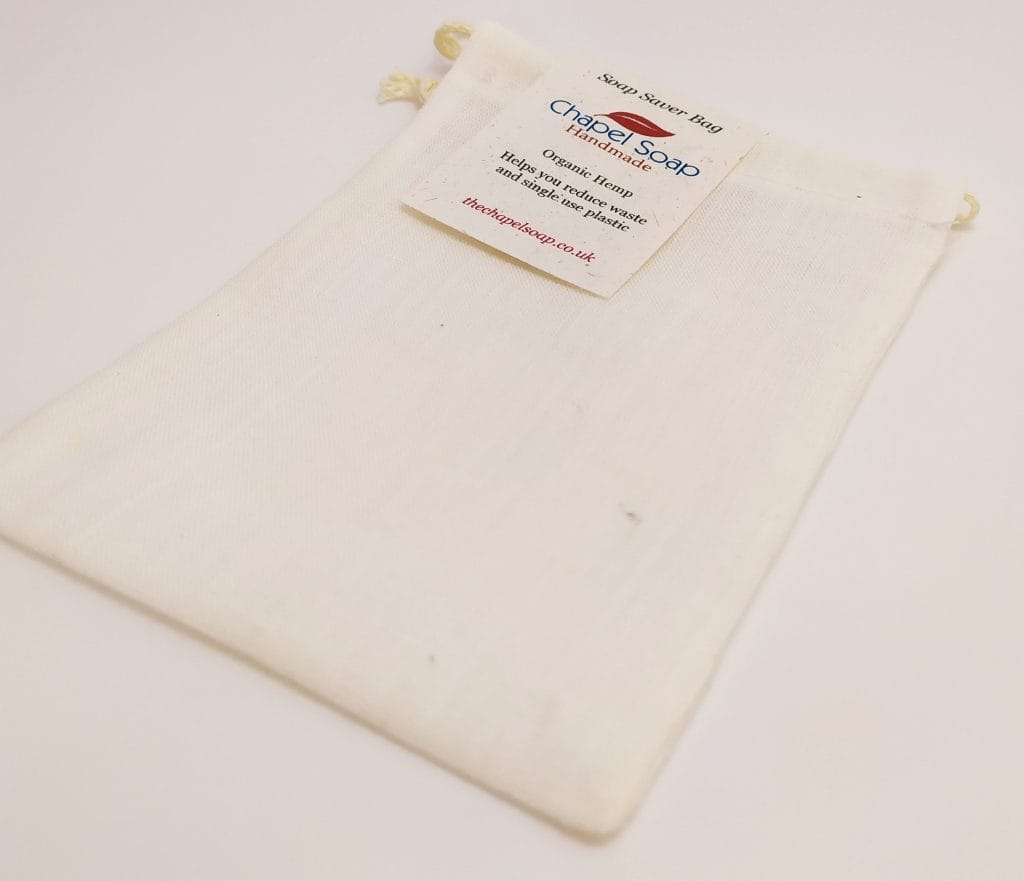 The bag is made from Hemp and Organic Cotton thread.
Nothing goes to waste with Chapel Soap, whenever possible Dean adds some free samples to each order. These are generally off cuts that are too small to be classified as a bar. It also means customers get to try out new products too.
Technical Specifications.
Brand: Chapel Soap
Model: Handmade Soap
Manufacturer Code: N/A
Manufacturer Reference: N/A
EAN: N/A
ASIN: N/A
Compliance: N/A
Conclusion.
I'm overly impressed with Chapel Soap. The soaps are remarkably high in quality and my skin feels amazing after using each bar. It's also reassuring to see a company taking safety so seriously. Each bar is fully safety documented to both UK/EU law.
Chapel Soap have some plans too, these include solid hair bars, beer soap, and dog soap too.
I can fully recommend Chapel Soap and suggest you pop over to their website and take a browse. It'll mean a huge deal to this small business whom along with other businesses are struggling due to the current pandemic. Order a bar and see for yourself. Postage is cheap enough to just purchase one bar (£3.50 UK postage) but delivery is free when you spend £20.00.
Below is the web page link to each product I reviewed from Chapel Soap.
Charcoal and Tea Tree – £5.00
Orange – £4.00
Palmarosa and Bentonite – £5.00
Hemp Soap Bag – £5.00
---
Thank you for taking the time to read my post. If you'd like to add a comment or thought on this post, please use the section below. I can also be contacted via the online contact form. Please subscribe for the latest reviews, news, and discounts. Please follow My Helpful Hints on Twitter, Instagram & Facebook too!