It's very nearly Christmas so today's review for the Vinology Vinimal Bottle Holder is a perfect match for this time of year.
This self-assembly wooden bottle holder is in the shape of a reindeer. It can hold almost all bottle sizes and keeps them secure.
Made from high quality Birch wood and can be assembled without the need of any fixings. You can use it every year and once done it can be dismantled away easily.
But is it sturdy? What is the quality like? Time to test it out!
Packaging and Contents.
The Vinology Vinimal Bottle Holder comes packaged in a gift designed cardboard box. The box measures 45.0cm x 13.0cm x 2.0cm and weighs 235G.

Inside the box you'll find the bottle holder in four different sections. It is a self-assembly build.
Vinology Vinimal Bottle Holder.
The Vinology Vinimal Bottle Holder is made entirely from high quality Birch wood. The model I have is darker in colour as the wood has been varnish. Vinology have another version available in natural. Once fully assembled the reindeer measures approximately 44.0cm x 10.0cm x 21.0cm.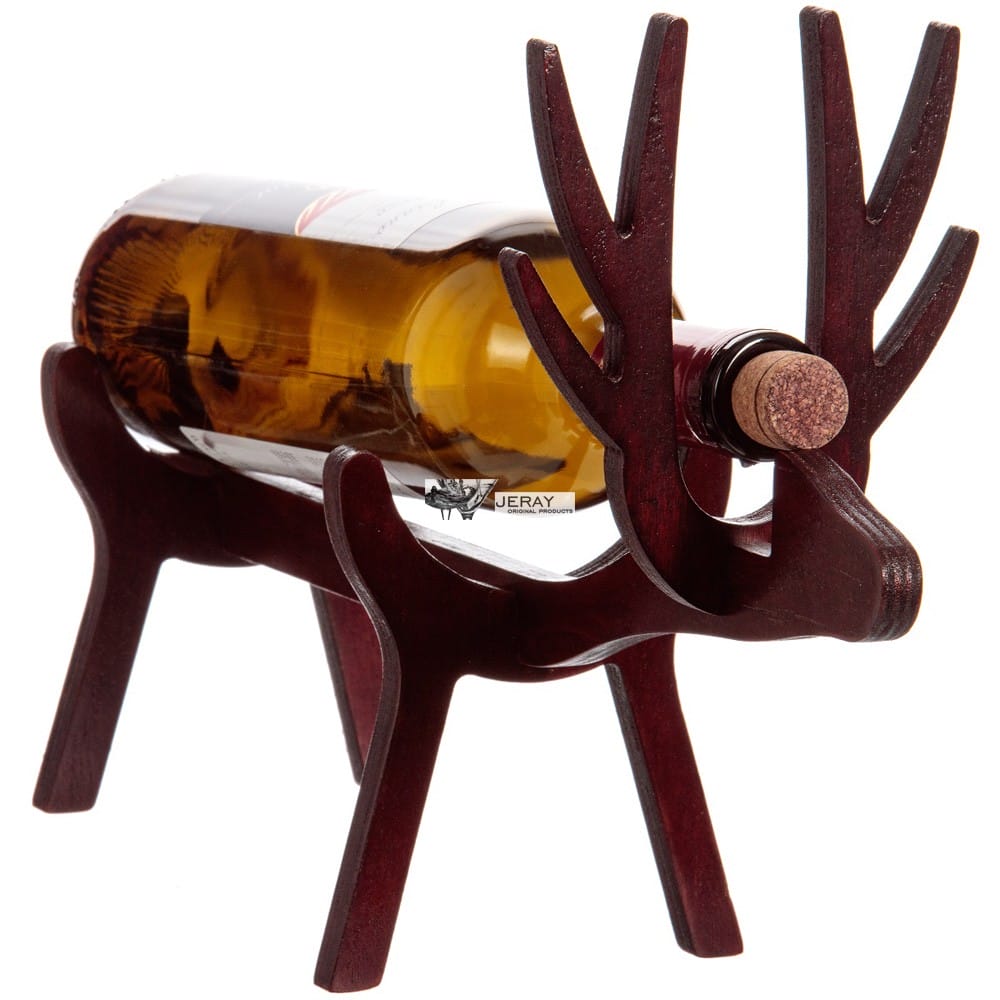 The assembly is very simple. All you need to do is press together the main section into each of the two leg sections and one antler section. That's it, it's that simple!
The beauty of this design is that after the festive period you simply pull apart these sections and store the reindeer flat packed, ready for next year.
The Vinology Vinimal Bottle Holder can store almost any sized bottle, if you're using a larger bottle the neck of the bottle can protrude through the antlers, if using a smaller bottle, it'll nestle nicely in between the middle arched holders.
I purchased a standard sized (70cl) bottle of Mulled Wine and it sits very neatly. There's still room on the reindeer for a larger bottle.
Each piece is handmade, which makes this product unique. Use a damp cloth to clean if needed as anything else could remove the varnish.
Technical Specifications.
Brand: Vinology
Model: Vinimal Bottle Holder
Manufacturer Code: BHRD
Manufacturer Reference: 39459
EAN: 5013313004448
ASIN: B077T1X9ZG
Care: Wipe clean only
Compliance: CE
Conclusion.
What's not to love about the Vinology Vinimal Bottle Holder It's been handmade to a very high specification and can be assembled/dismantled in seconds. It holds a standard sized bottle of wine with no issues, it feels sturdy and ensures the bottle stays secure too.
Overall, I can't fault it, it's a great piece that can be used again and again at Christmas. I'm certainly going to be using it over this Christmas and all future Christmas's.
If you want the Vinology Vinimal Bottle Holder for yourself, it's available for purchase only on [amazon_textlink asin='B077T1X9ZG' text='Amazon' template='ProductLink' store='myhelpfulhint-21′ marketplace='UK' link_id='4ef9106c-fdea-4c9e-9989-51eeec062e01′]. The RRP for this bottle holder is £14.99.
Product sample provided by Vinology in exchange for a detailed, unbiased review.
---
[amazon_link asins='B077T1X9ZG' template='ProductAd' store='myhelpfulhint-21′ marketplace='UK' link_id='eb464c10-6dc1-46f8-9b77-dcfb81cb5792′]
Thank you for taking the time to read my post. If you'd like to add a comment or thought on this post, please use the section below. I can also be contacted via the online contact form. Please subscribe for the latest reviews, news, and discounts.
Vinology Vinimal Bottle Holder