The UBeesize Mobile Phone Tripod is a lightweight, compact, and portable universal mobile phone tripod.
The tripod can be used for all smartphones, digital cameras, GoPro and webcams up to 9.0cm in width.
The UBeesize comes with a Bluetooth remote control button that can be used for both iOS and Android devices.
Retail Packaging.
The UBeesize tripod comes packaged in a Brown cardboard box.  The box measures 19.0cm x 7.0cm x 5cm and weighs 170g.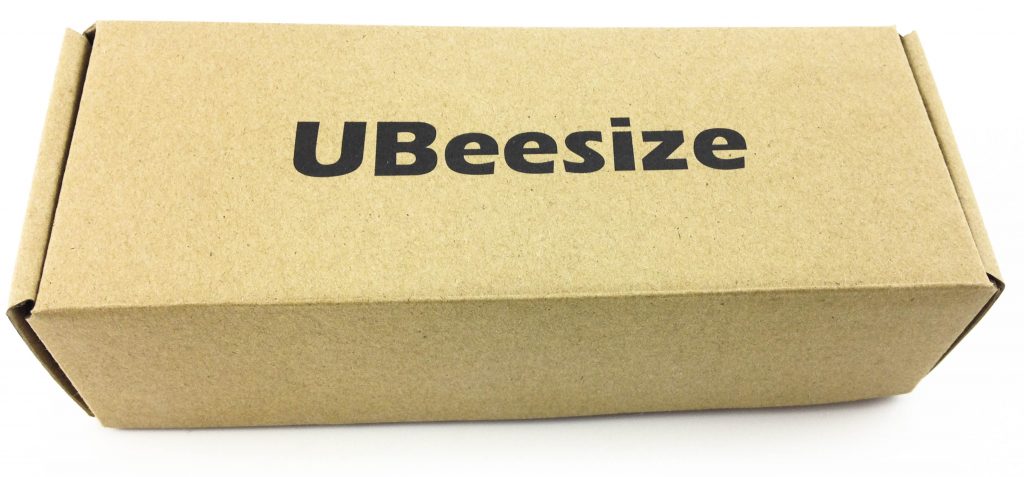 Contents.
Upon opening the UBeesize Mobile Phone Tripod box you will find the following items. 1x UBeesize Tripod, 1x Universal Action Camera Holder, 1x Bluetooth Remote, 1x Universal Clamp, 1x Strap, 1x Fabric Carry Bag, 1x English written user instructions.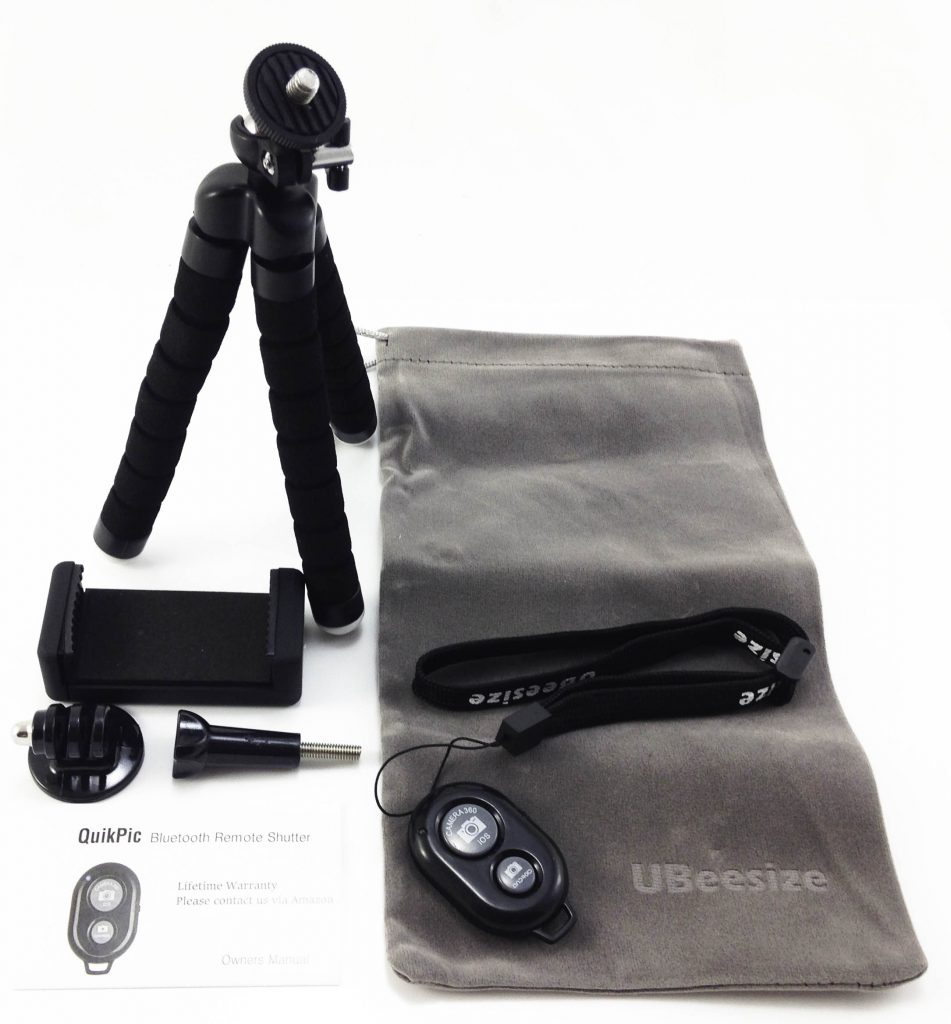 UBeesize Mobile Phone Tripod.
The UBeesize tripod is made from foam, metals and mostly plastic, it is Black in design with White feet.  The tripod when set up measures 17.0cm tall and has a width span of 11cm, the tripod weighs 55g.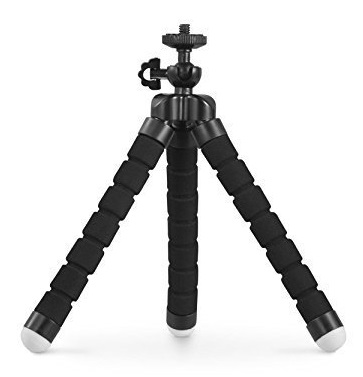 The UBeesize tripod can hold most smartphones upto 9.0cm in width.  Depending on where your camera lens is located on your device, you will need to adjust your device to not only fit into the holder but not cover the camera lens.  This can sometime cause the tripod to topple over.
You can mount the tripod on a flat surface, or even around a post!
The tripod does come with a Bluetooth controlled remote control shutter with two buttons on it, one button for iOS users and the other button for Android users.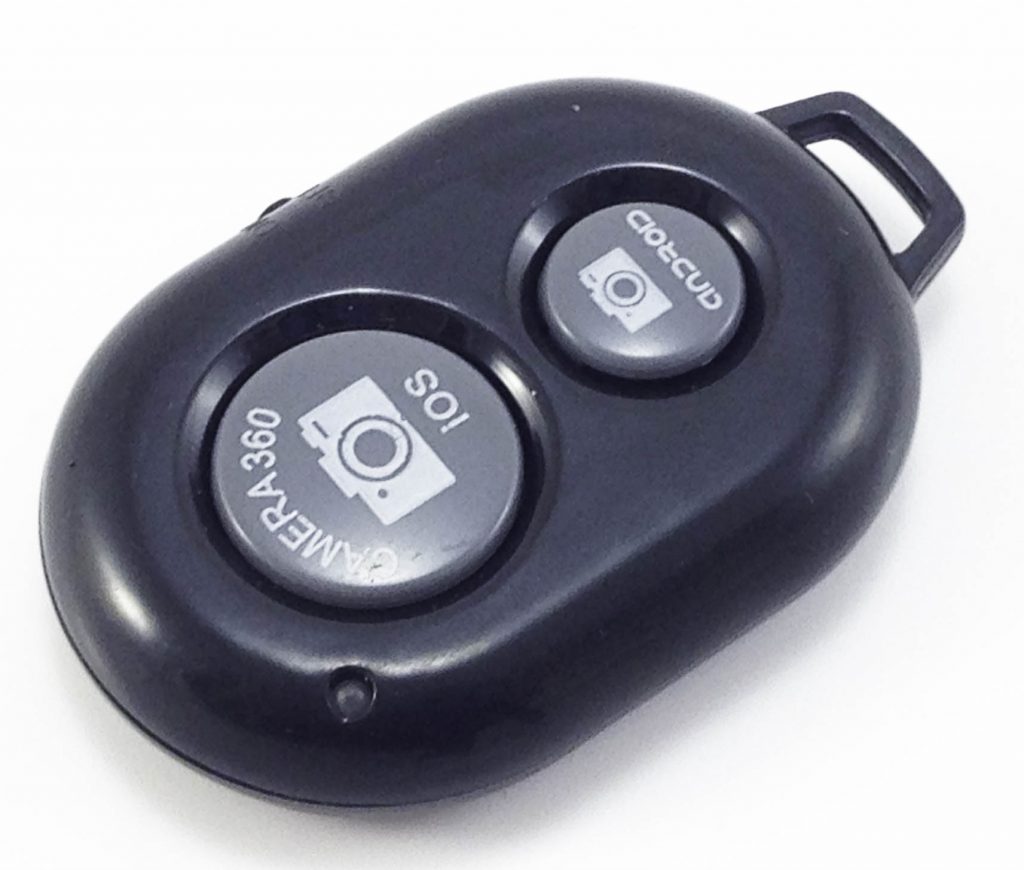 The Bluetooth remote control shutter measures 5.0cm x 3.0cm and weighs 10g.  The remote shutter does have a hook to enable you to put it onto the supplied carry strap or even a keyring.  The remote shutter comes with a pre-installed CR2032 battery that can last upto 6 months if using 10x a day.
Using the Bluetooth Remote Shutter.
I was using the Bluetooth remote control shutter on an iOS device.  To use, simply turn on the remote control using the toggle switch on the side and a Blue LED will flicker.
Next go to your phone's Bluetooth settings and perform a search for "AB Shutter 3" connect to that and the Blue LED will stop flickering to show the remote and your device have been paired.
Now go to your phone's camera screen and simply press the correct button on the remote-control shutter for your device and a photograph will be taken.
The advertised range of the Bluetooth remote control shutter is around 10M, but i could only get a range of around 8M before it stopped working.
The tripod also comes with a carry strap for the Bluetooth remote control shutter, the strap is 23.5cm long and has an adjustable clamp too.
The tripod comes with an action camera mount enabling you to mount a GoPro or similar type camera also.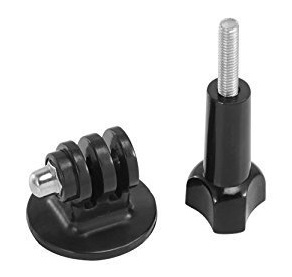 Technical Specifications.
Brand: UBeesize
Model: Mobile Phone Tripod
Model Code: bzysjjblack001
Colour: Black
EAN:N/A
ASIN: B0784WBJHG
Materials: Foam, Metal, Plastic
Head Type: Universal
Communication: Bluetooth V 3.0
Frequency: 2.4GHz – 2.4835 GHz
Max Range: 10M
Battery: 1x CR2032 Lithium 3V Coin Cell (Supplied)
Compatibility: Android 4.2.2 or newer and iOS 6 or newer
Conclusion.
The UBeesize tripod is simple to use and is ideal for group photographs. I did find the tripod kept on trying to topple over when in use on a flat surface though.  I would prefer it though if somehow only one button was needed on the remote shutter because it would make it easier to use.
If you want the UBeesize Mobile Phone Tripod for yourself, it's available for purchase only on Amazon. The RRP for this product is £19.99.
Product sample provided by UBeesize in exchange for a detailed, unbiased review.
---
Thank you for taking the time to read my post. If you'd like to add a comment or thought on this post, please use the section below. I can also be contacted via the online contact form. Please subscribe for the latest reviews, news, and discounts. Please follow My Helpful Hints on Twitter, Instagram & Facebook too!
UBeesize Mobile Phone Tripod