Today I'll writing about these TropicBrush Bamboo Toothbrushes. Bamboo toothbrushes are everywhere, they're advertised as the solution to all our plastic waste. Over the last couple of years multiple brands have sprung up and offered eco-friendly alternatives to the traditional plastic toothbrush.
TropicBrush is another such brand, selling on the Amazon platform, they offer a multi-pack of 4 brushes for less than £6.00. Unlike a previous review that I wrote about, TropicBrush don't claim their brush is 100% biodegradable. They're very honest with their claims and advertise a 90% biodegradable product. The bristles are made from BPA Free Nylon, so aren't biodegradable.
Bamboo is a wonderful material, it's also extremely versatile, grows at rapid speed, and is fully biodegradable too.
So, are these brushes any good? Time to test them out!
Packaging and Contents.
The TropicBrush Bamboo Toothbrushes come packaged in a plain looking cardboard box which features product images and specifications printed on it. The box measures 20.0cm x 11.0cm x 2.0cm.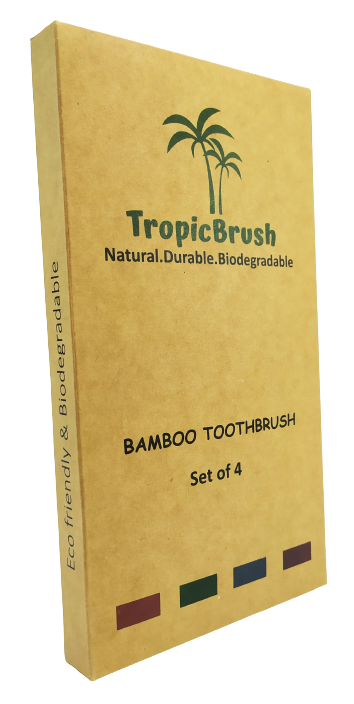 Inside the main box you'll find 4 smaller boxes, each containing a toothbrush each.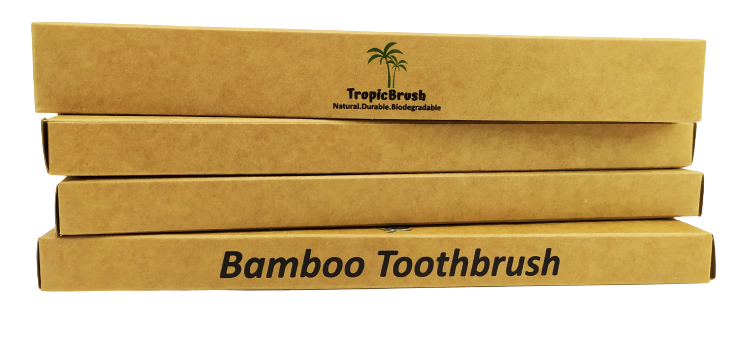 TropicBrush Bamboo Toothbrushes.
Each toothbrush measures 18.5cm in length x 1.0cm in circumference. The bristle area measures 2.5cm in length x 0.6cm in width x 1.0cm in height and has a dipped middle section that ensures a deep clean.

What I like most is the colourful bristles and painted handles of each brush. Each brush is unique and easy to identify. I've been using one for about 2 months so far and overall, I'm impressed. In the beginning a few bristles did come out and on one occasion got stuck in between my teeth.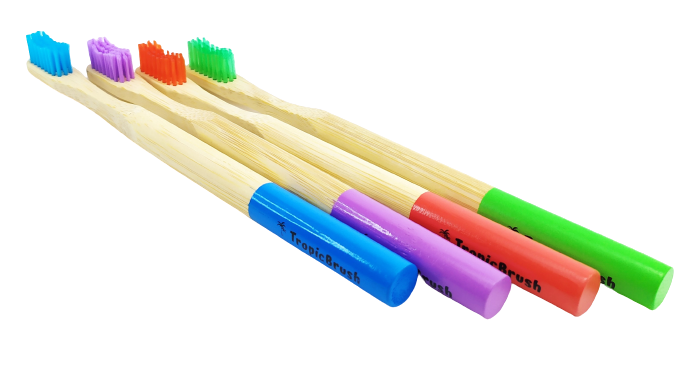 The bristles are medium in stiffness, so ideal for general everyday use and each brush is naturally anti-bacterial and made from panda-free moso bamboo (Phyllostachys edulis) plantations.
Only the handle can be composted, on the back of the box it says you'll have to remove the Nylon bristles. But how easy is this to do? Truth is, it's impossible to remove the bristles. You must snap off the head and then you're able to compost the handle. It does snap easily enough to be fair.
Technical Specifications.
Brand: TropicBrush
Model: Bamboo Toothbrushes
Model Code: N/A
EAN: N/A
ASIN: B07L7RNZPY
Compliance: N/A
Conclusion.
I like the TropicBrush Bamboo Toothbrushes. They're bright, cheery and 90% biodegradable. Only downside was at the beginning where a few bristles came loose. But after nearly two months of use I have no issues with using this branded bamboo toothbrush.
If you want the TropicBrush Bamboo Toothbrushes for yourself, they're available for purchase only on Amazon. The RRP for this product is £5.99.
Product sample provided by TropicBrush in exchange for a detailed, unbiased review.
---
Thank you for taking the time to read my post. If you'd like to add a comment or thought on this post, please use the section below. I can also be contacted via the online contact form. Please subscribe for the latest reviews, news, and discounts. Please follow My Helpful Hints on Twitter, Instagram & Facebook too!
TropicBrush Bamboo Toothbrushes