The Tacklife TPS02L Tyre Pressure Gauge is a simple to use, accurate analogue instrument.
It features a 360-degree swivel chuck and with an extended double chuck tip for easy access to the tyre valve from any angle.  At any time, you can clearly and accurately see the dial to determine the correct tyre pressure value.
The Tacklife TPS02L has a range of 0-60 psi / 0-4 bar and it has been calibrated to ANSI B40.1 Grade B (±2%) International Accuracy Standards.
Retail Packaging.
The Tacklife TPTPS02L comes packaged in Brown cardboard box.  The box measures 15.5cm x 7.5cm x 4.0cm.  The box weighs 255g.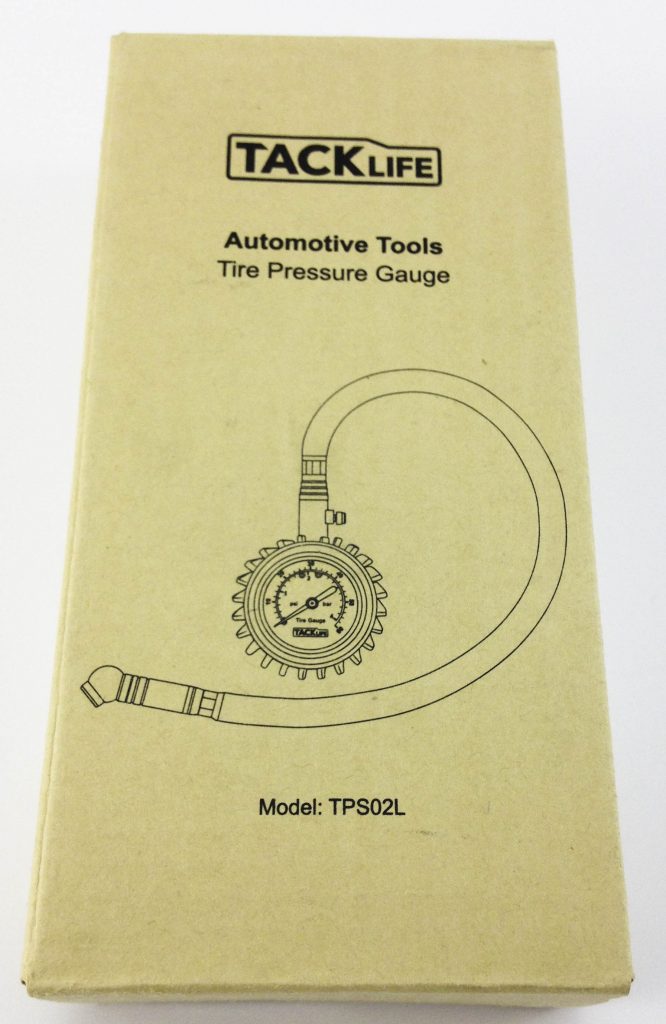 Contents.
Once you open the Tacklife TPS02L box you will find: 1x Tacklife Tyre Gauge, 4x Tyre Valve Caps, 1x Warranty Card and a set of Multi-Lingual user instructions.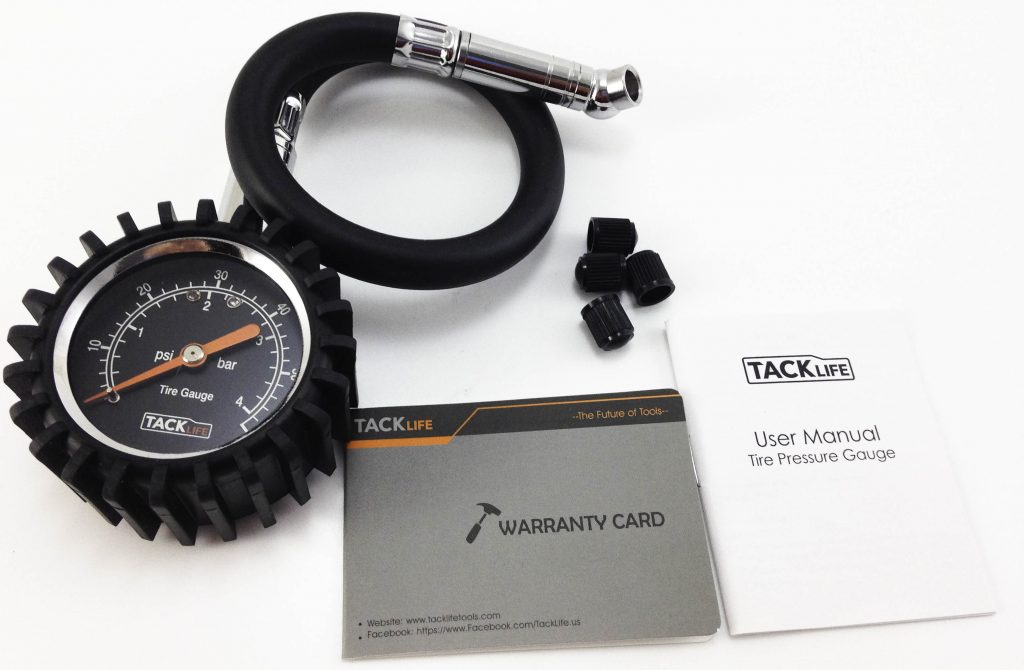 Tacklife TPS02L.
The Tacklife TPS02L Tyre Gauge is made from high quality metals, glass and rubber.  The gauge measures 6.5cm x 3.0cm and the hose has a length of 38cm.  The gauge weighs 215g.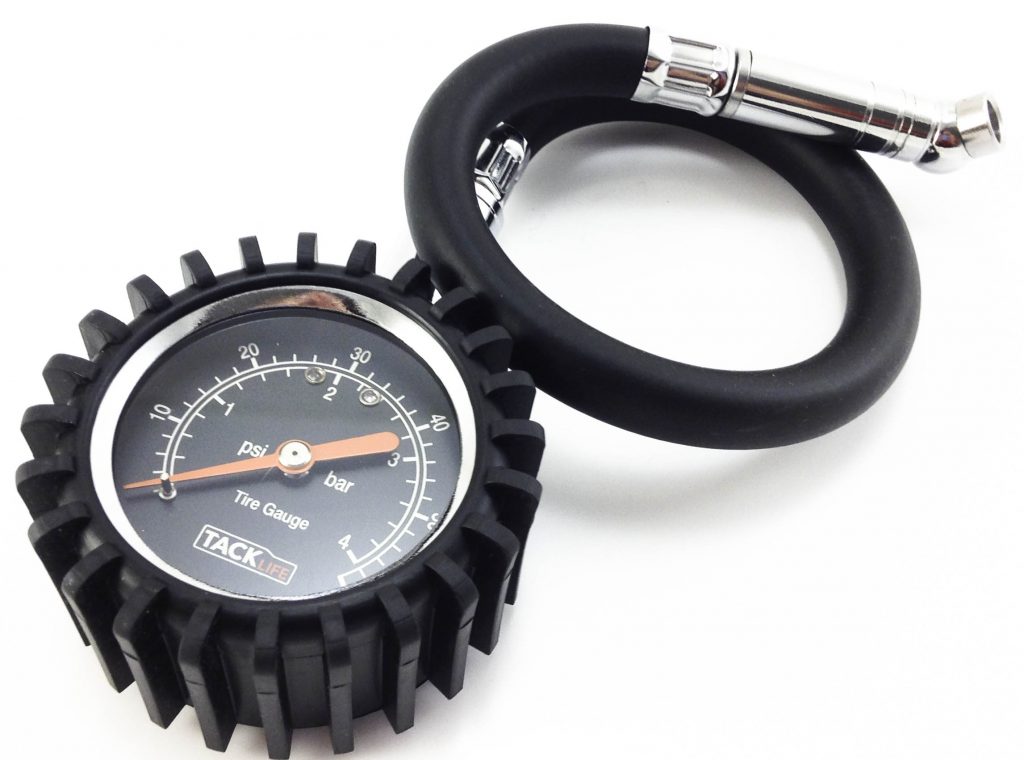 The rubber protection surround provides protection for the glass and also adds a rugged chunky look too.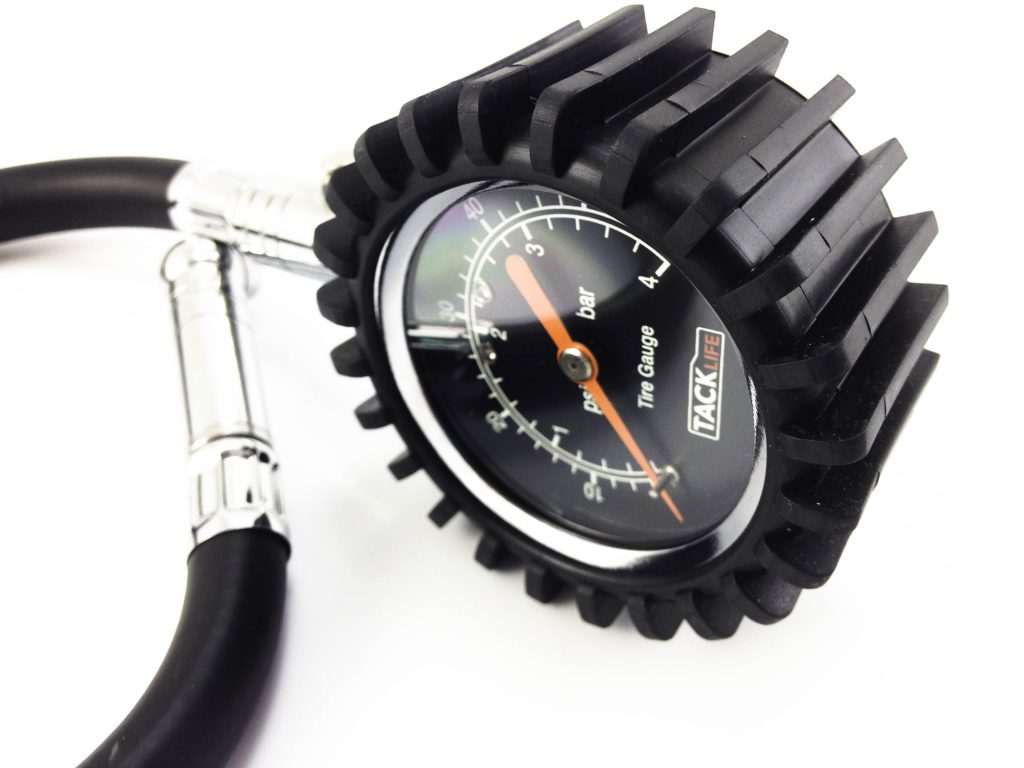 At the end of the hose you get a swivel designed chuck that makes fitting onto a tyre easy.  Another fantastic feature of the Tacklife TPS02L is the bleed valve, this valve easily released excess air pressure from an over-inflated tyre.
The analogue dial display is easy to read and understand and displays both imperial and metric increments and has a range of 0-60 psi / 0-4 bar.
Technical Specifications.
Brand: Tacklife
Model: Tyre Pressure Gauge
Model Code: TPS02L
EAN: N/A
ASIN: B0732RTGFP
Connection Type: Radial / Axial / Radial Eccentricity / Axial Eccentricity
Rated:

ANSI B40.1 Grade B (±2%) International Accuracy Standards

Compliance: RoHS
Conclusion.
I really like the simple design of the Tacklife TPS02L Tyre Pressure Gauge.  It feels chunky and protected from knocks and bumps.  It's also compact enough to easily store in a vehicle without taking up too much space.  If you're looking for a simple no frills tyre gauge, then this is the instrument you need.  I also like the fact that you get 4 tyre valve caps too, these are very handy to have around!
If you want the Tacklife TPS02L for yourself, it's available for purchase only on Amazon. The RRP for this product is £11.99.
Product sample provided by Tacklife in exchange for a detailed, unbiased review.
---
Thank you for taking the time to read my post. If you'd like to add a comment or thought on this post, please use the section below. I can also be contacted via the online contact form. Please subscribe for the latest reviews, news, and discounts. Please follow My Helpful Hints on Twitter, Instagram & Facebook too!