The Syncwire UNBREAKcable Lightning Cable has been specifically designed to be robust and durable whilst also providing you with a good quality charging cable.
You get a cable that can withstand over 30,000 cycles of 90-degree bend tests and hold up to 125 kg in lab tests, which is 30 times stronger than original Apple device cables.
Not only is this cable a quality piece, it's also has approval for MFi, UL-FCC-CE certification and strict quality control that ensures your Apple devices are loaded safely at the correct maximum speed.
But is this cable any good? Will it live upto the hype? Time to test it out!
Retail Packaging.
The Syncwire UNBREAKcable Lightning Cable comes boxed in a White cardboard box.  The box measures 9.3cm x 9.3cm x 1.0cm and weighs 50G.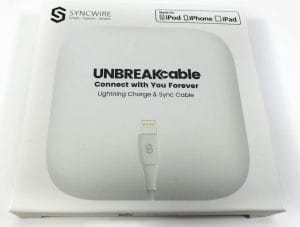 Contents.
Upon opening your Syncwire UNBREAKcable Lightning Cable box you will find: 1x Cable (Wrapped around a plastic case), 1x Multi-Lingual User Guide.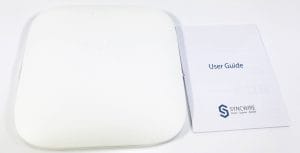 Syncwire UNBREAKcable Lightning Cable.
The Syncwire UNBREAKcable Lightning Cable is White in colour and has a total length of 1.0M.  One end is the required 8 pin Lightning plug and the other is the standard USB input plug.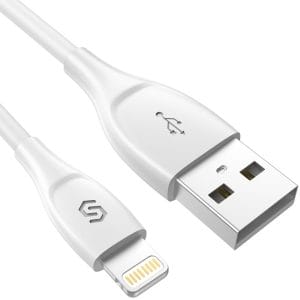 You can use this cable for many different Apple devices, including the iPhone 7, 6, SE, iPad, iPod and many more.  If it has a lightning port, then the Syncwire cable will work!
The Syncwire UNBREAKcable Lightning Cable is made using ultra-high molecular weight polyethylene, toughened aramid fibre core and laser-welded connectors to ensure superior functionality under heavy usage.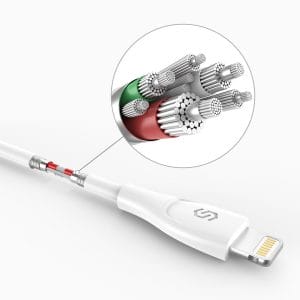 Syncwire UNBREAKcable contains a unique serial number and an authorisation chip issued directly from Apple, which means it can be used with any of your Apple devices.  Apple only provides this to companies after an intensive verification process.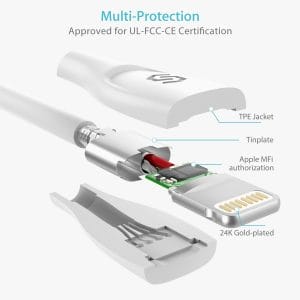 I put to the test the cable and wrapped it around my office chair which weighs more than 30KG and the cable lifted the chair multiple times and still managed to work on my iPhone 7.  I then decided to twist and pull around both connections at the end for around a minute, and it still charged my phone.  So, I can confirm this cable is strong and will last.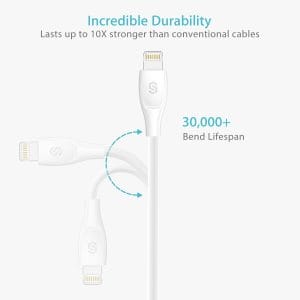 Technical Specifications.
Brand – Syncwire
Model – UNBREAKcable Lightning Cable
Model Code – SW-LC034
ASIN – B072XCZT59
EAN – 0712038287987
Cable Length – 1.0M
Connection Type – 8 Pin Lightning
Compliance – CE, FCC, RoHS
Conclusion.
This cable is actually very good, it's very durable and works great too.  You get a real sense of quality when you're using the Syncwire UNBREAKcable lead in your device.  I also think any company that has been verified by Apple to produce a charging cable must be trustworthy.  Apple don't usually endorse anything except another Apple product!
I would like to see a 2M version though as 1M for me is too short and I would normally choose a 2M charging lead if I had the choice.
Overall, I highly recommend this cable, especially if you go through many original cables.
If you want the Syncwire UNBREAKcable Lightning Cable for yourself, it's available only on
Amazon and comes with a full 36 Month Warranty.  The RRP for this cable is £8.49.
---
Thank you for reading this, feel free to comment down below, your input really matters to me.  I can also be contacted here.  Why not check out my other product reviews here.
Darren
[wpedon id="71″ align="left"]