Today I'll be reviewing these Srhythm NC35 ANC Headphones. This is the third model I've reviewed for Srhythm, it's no secret that I'm a massive fan of their products. I've previously reviewed the NC25 and NC75.
Srhythm have also generously provided giveaway prizes for both models previously, meaning many of my readers are now enjoying these superb headphones.
So, when Srhythm contacted me to review these NC35 headphone of course I instantly said yes!
The NC35 feature Srhythm's Active Noise Cancelling (ANC) technology which I regard as the best in the business. And as an Autistic person having a decent set of ANC headphones is an absolute must. This technology is brilliant as it reduces all unwanted background noises and means you can become totally immersed in your audio, undisturbed and isolated. Pure bliss!
These headphones are foldable, rechargeable 40_ hour playtime (With UBC-C Port), a Bluetooth V5.0 connection, and above affordable (£59.99).
How do they sound? Are they comfortable? Time to test them out!
Packaging and Contents.
The Srhythm NC35 ANC Headphones come packaged in a plain looking Black cardboard box with no product images printed on the front and specifications printed on the reverse. The box measures 22.5cm x 15.5cm x 5.5cm and weighs 580G.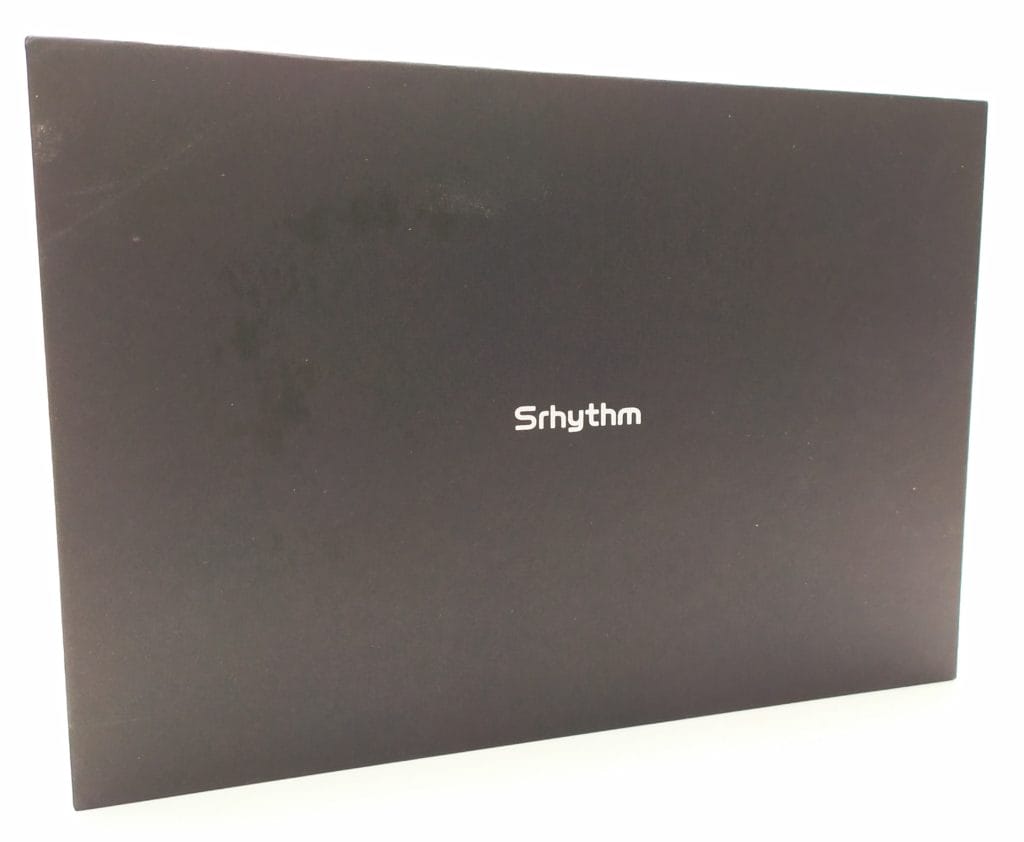 Inside the box the first thing you'll come across is the Neoprene zip case, this case safely stores your headphones and the accessories.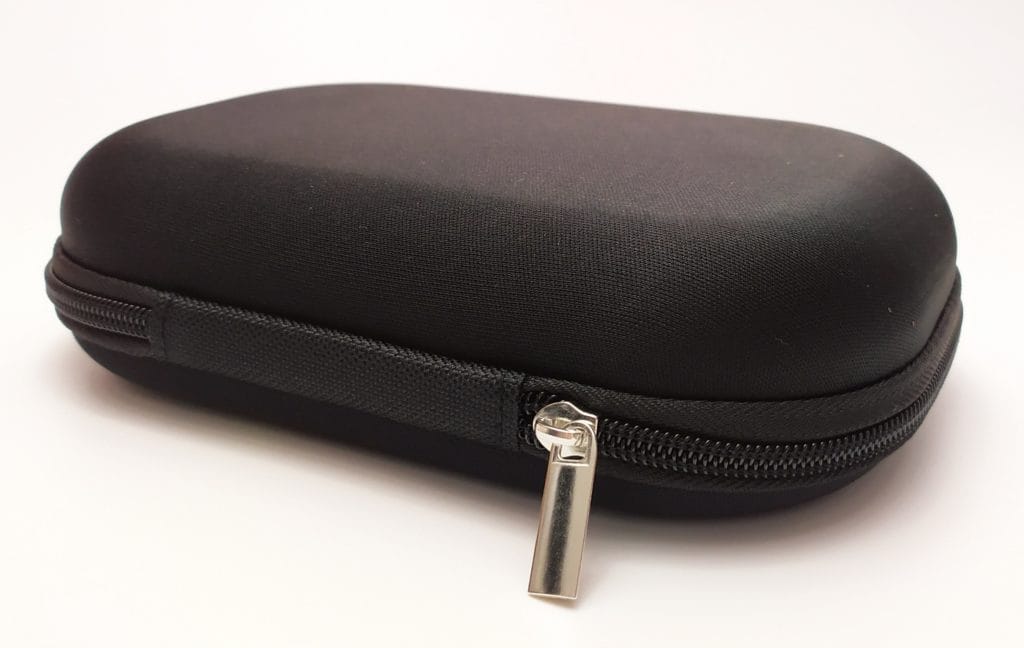 Inside the case you'll find the following: 1x Headphones, 1x Charger Cable, 1x Aeroplane Adaptor, 1x AUX Cable, 1x Multi-Lingual User Guide.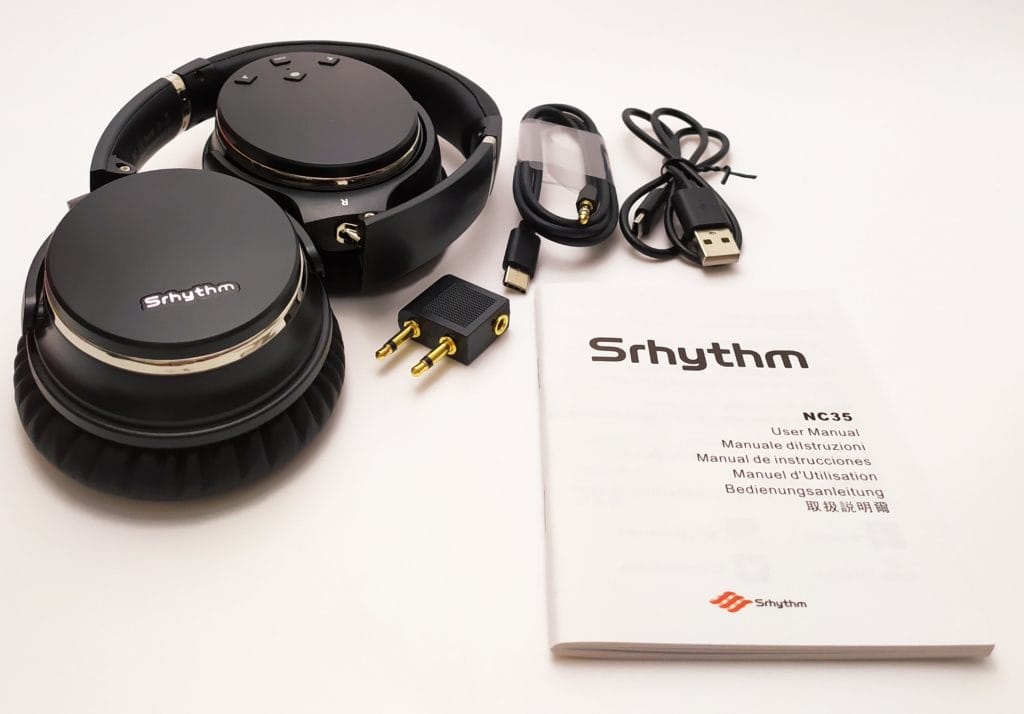 Srhythm NC35 ANC Headphones.
The Srhythm NC35 ANC Headphones are made from mixed materials, these include plastic, PU leather and are Black in colour with Chrome detailing. They measure from ear-cup to ear-cup (Measuring from the bottom of the ear-cup and across the top of the headband to the bottom of the other ear-cup) 52.0cm but can extend upto 60.0cm and weigh 205G. These ear cups rotate and swivel, so you can a fit that's suitable for your head. They also fold flat for storage and transporting.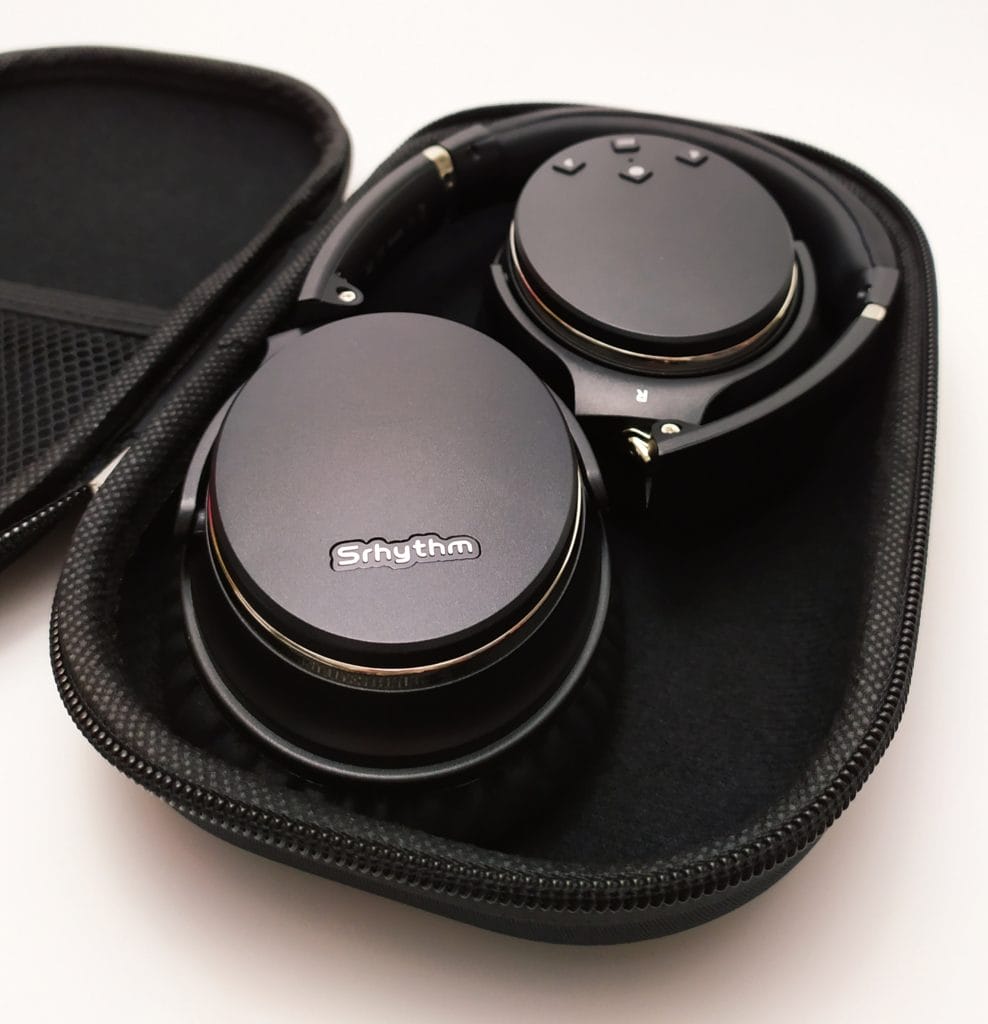 The headband is also super-squishy and features memory foam and topped with PU leather.
Ear Cups.
Each ear cup is also heavily padded with memory foam. This makes them both comfortable and helps with noise cancellation too. They're not oversized and will over the top of most people's ears. Each ear cup measures 11.0cm x 8.0cm with the centre section hole measuring 6.0cm x 4.0cm. They also rotate 90°- 170°.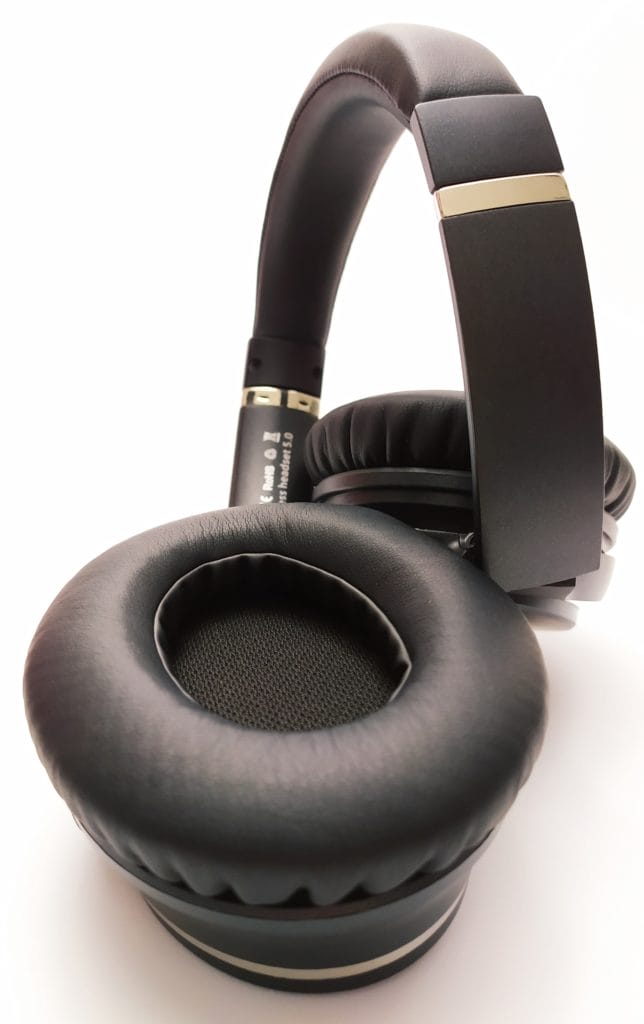 On the right ear cup is where you'll find the wireless controls and find the charging port. You're able to control volume, select tracks, pause/play, answer/end a phone call, power on/off the ANC function with only these four control buttons. However, there's no tactile feel to any control button so it's very difficult to distinguish between each function. After a little use you do get used to the location of each control. But a little tactile feel to each control would be highly advantageous.
You're also able to use your usual voice assistant and both Siri/Google will work on these headphones too.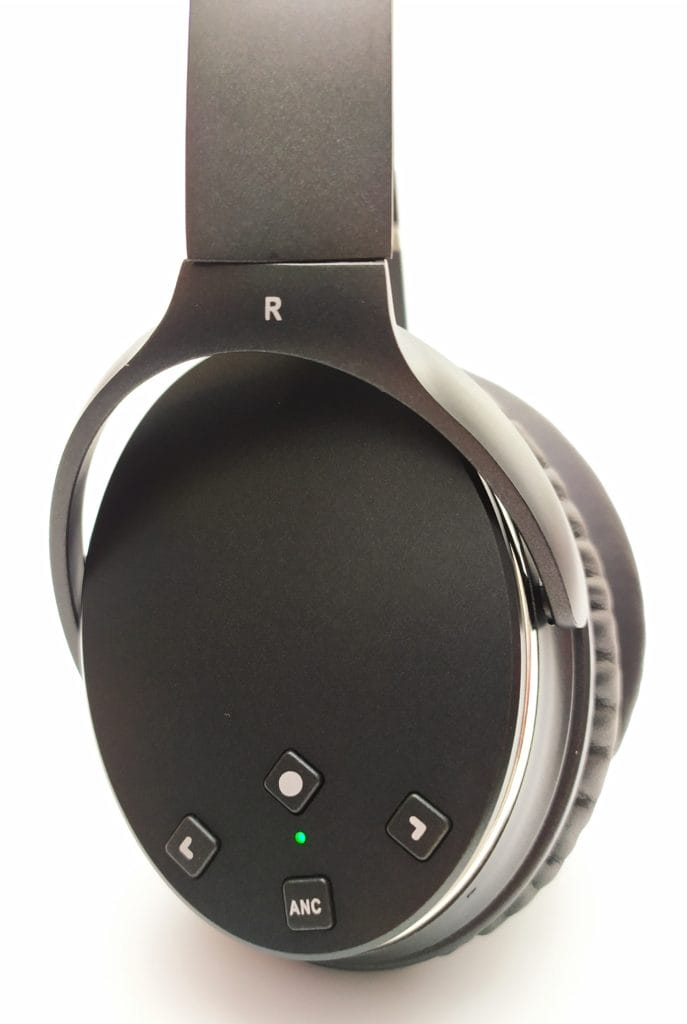 Charging.
To charge the Srhythm NC35 ANC Headphones you need to use the supplied USB-C cable (which measures 60.0cm in length) and power it up using any 5V/12V DC power source. It takes around 2 hours to fully charge the in-built 800mAh lithium-polymer battery and on a single charge you'll be able to use the NC35 headphones for upto 40 hours. This usage time is all dependent on volume settings and whether the ANC function has been used. If you use the ANC function the battery will last around 30 hours. Which is still incredible.
The added benefit of the USB-C port is the function of quick charge. A 10-minute charge will provide you enough battery for around 3 hours of audio.
The charge cycle is complete when the Red light turns off.
If you're not able to use the quick charge function you can always go old school and use the wire. One end features a 3.5mm TRRS (Top Ring Ring Sleeve) plug and a USB-C plug on the other end, so is suitable for most modern mobile phones and other devices. This cable measures 1M in length.
Pairing.
The best way to enjoy these Srhythm NC35 ANC Headphones is via the Bluetooth V5.0 connection. Pairing is simple and once you locate the option 'NC35' you'll be automatically paired, and automatically paired for all future connects too!
The advertised Bluetooth range is 10M, but Srhythm always under-estimate their Bluetooth range, I managed to use them to a range of around 20M and they were still fully functional. I was unable to interrupt the signal too, so I can confirm that the Bluetooth signal is strong and table.
I was able to leave my phone upstairs in my house and still play music through the headphones whilst downstairs, again with no signal drop!
Sound Quality.
It's no secret that I love Srhythm and will always rave about their products. But I'm also an honest product reviewer too.
But once again Srhythm have produced a fantastic pair of headphones. The sound is excellent. Nice punchy bass tones with clear crisp vocals.
Honestly, they're very good. Please take my word for it, I'm not making this up.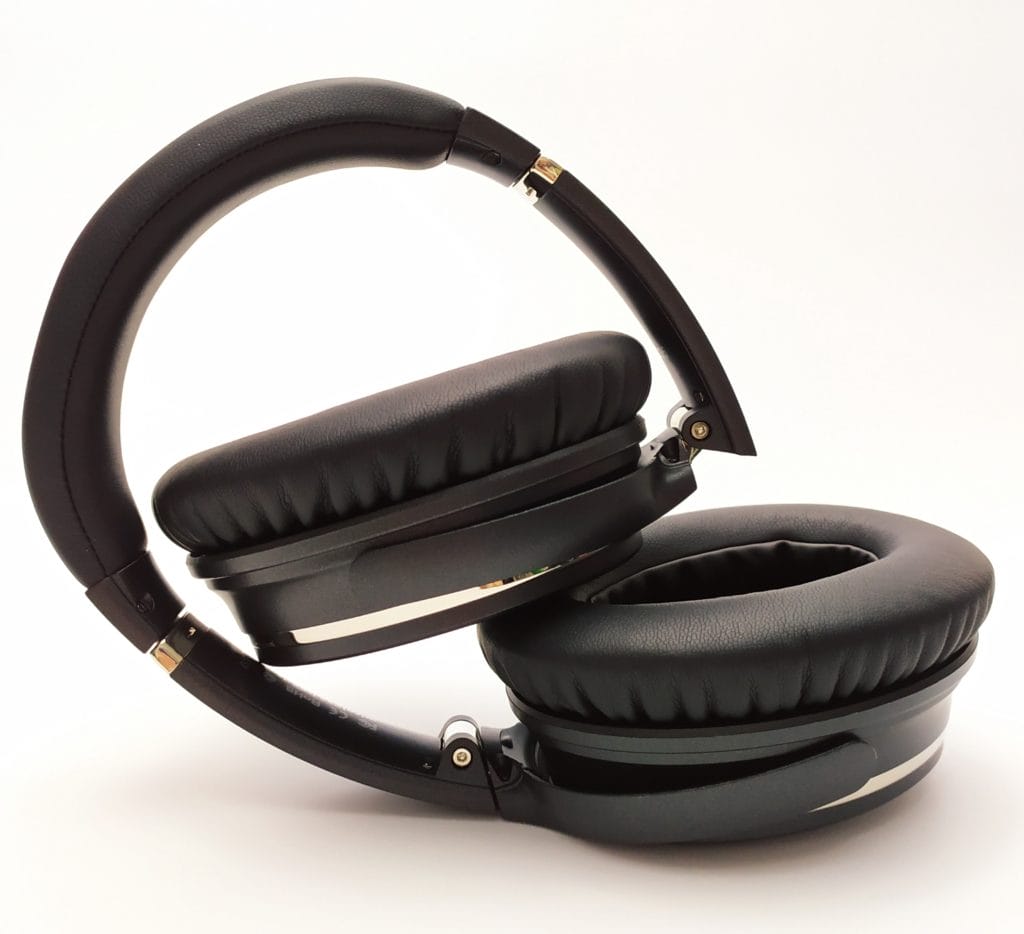 The Active Noise Cancellation function is also highly impressive, you can even use this function on its own with no audio playing. An estimated noise reduction of 90% is noted but not human vocal sounds. These are still present, but all other distracting or over-bearing background noises instantly vanish. As a person who has ASD (Autism Spectrum Disorder) I find sound unbearable. Usually background noises no matter how small the sound all compete for my attention and I end up becoming stressed. But with the ANC function it's amazing just how quiet the world can become in an instant. I can become immersed in my own audio or even my own thoughts without hearing the boiler, birds, floorboards moving, electrical current etc.
Other Thoughts.
Even without using the Active Noise Cancellation (ACN) function the Srhythm NC35 ANC Headphones do a very good job of blocking out background sound. This is due to the thick cushioning on the ear cups themselves. Although I was amazed just how good it felt to be using these headphone others can too.
Sound leakage is noticeable and other will be able to hear your Stormzy tracks. But to be honest if I'm enjoying my music, I'm not too fussed what others think. But it's something worth noting if you're planning on using the NC35 headphone in public.
After an hour or so I did notice the ear cups were getting warm on my outer ear. But not too much that it became uncomfortable or unbearable. Just they get warm that's all.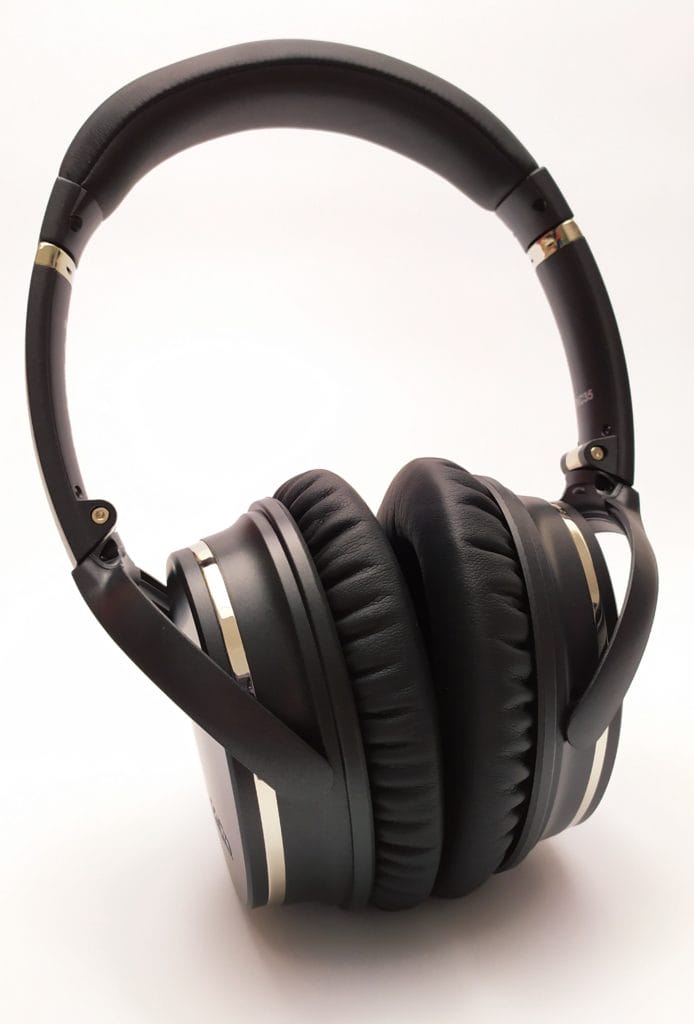 The Srhythm NC35 ANC Headphones have a weatherproof rating of IPX4. This means that you're able to use your headphones outdoors and if it rains, it doesn't matter. It doesn't mean you can wear them whilst having a shower or anything like that. But for everyday outdoor use they're be fine in the Great British weather.
The Srhythm NC35 ANC Headphones also come with an in-built microphone to take phone calls wirelessly. The microphone is OK and performs as you'd expect. It's not designed to be a high-end microphone like a gaming headset, if you're planning on buying these headphones for gaming you'd be disappointed as that's not what they're for. They're for audio use primarily.
Technical Specifications.
Brand: Srhythm
Model: ANC Bluetooth Headphones
Model Code: NC35
EAN: N/A
ASIN: B07WHCB57L
Battery: Li-Polymer
Battery Capacity: 800mAh
Input: 5V – 12V
Battery Life: 40 Hours
Charge Time: 1-2 Hours
Bluetooth: CSR V5.0
Technology: A2DP, AVRCP, HSP, HFP, CVC
Microphone: CVC 8.0
Speaker Unit: Dual 40mm Driver
Magnet: Neodymium
Sensitivity: 105 ± 3dB
Impedance: 32 Ω ± 10%
Waterproof Rating: IPX4
Compliance: CE, FCC, RoHS
Conclusion.
I love the Srhythm NC35 ANC Headphones. They're very good sounding and the ANC function is superb. I was very impressed by the whole experience of using them. There is still some improvements needed to make these the best headphones on the market, these include:
Tactile is required on the function control buttons.
Noise isolation needs some improvement.
Possibly a more user-friendly user guide.
I'm struggling to find faults with these headphones, they're fantastic and a real bargain too.
If you want the Srhythm NC35 ANC Headphones for yourself, they're available for purchase only on Amazon. The RRP for this product is £59.99.
Product sample provided by Srhythm in exchange for a detailed, unbiased review.
---
Thank you for taking the time to read my post. If you'd like to add a comment or thought on this post, please use the section below. I can also be contacted via the online contact form. Please subscribe for the latest reviews, news, and discounts. Please follow My Helpful Hints on Twitter, Instagram & Facebook too!
Srhythm NC35 ANC Headphones