The Solmore 12 LED Strobe Light is a bright and powerful party light.
This light can produce LED light automatically to the rhythm of your music or it can be manually controlled using the speed control knob.
You get 12 LED lights, 4 Red, 4 Green, and 4 Blue in colour and you get to see a combination sequence of Red, Green, Blue, Red & Green, Red & Blue, Blue & Green, and Red Green & Blue LED lights.
Packaging.
The Solmore 12 LED Strobe Light comes boxed in a Black cardboard box with product images printed on it.  The box measures 17.5cm x 17.5cm x 6.0cm and weighs 440G.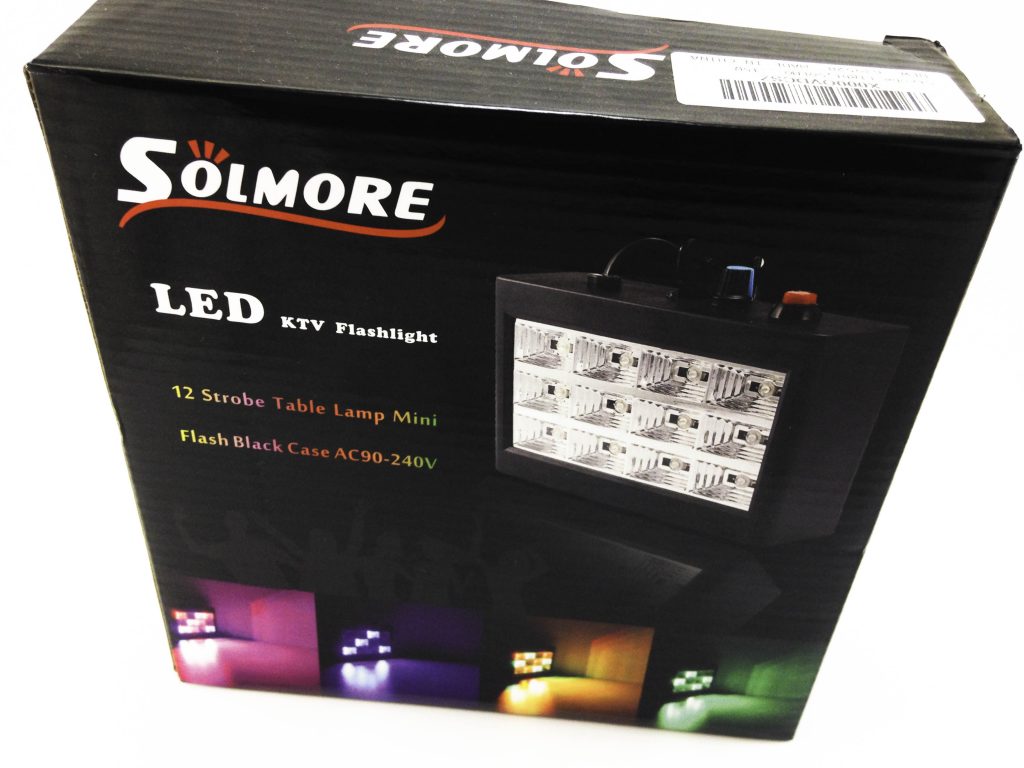 Contents.
When you open your Solmore 12 LED Strobe Light box you will find: 1x Strobe Light, and 1x English Written User Guide.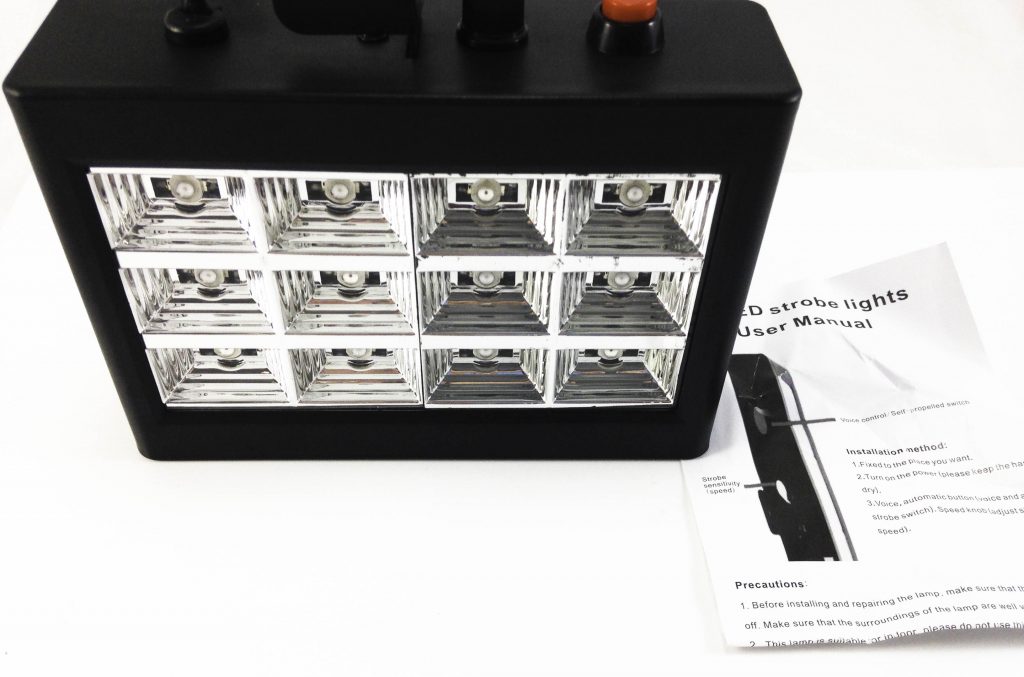 Solmore 12 LED Strobe Light.
The strobe light measures 17.0cm wide x 11.5cm high x 5.0cm in depth, the strobe light weighs 305G.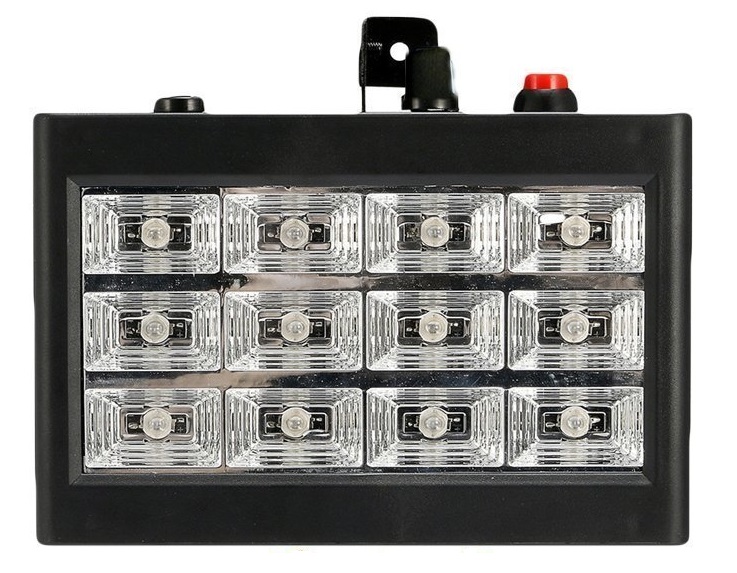 To use the Solmore strobe light you just need to simply plug in the main power cable. (Which has a length of 155cm) When you power up the device it's automatically set to sound activated mode. This means it detects the sounds around it and produces strobe lights to those beats, you can control the speed of the lights by using the speed control knob.
You can also have it running through a random sequence of lights by pressing the Red button and the strobe light will produce a random light pattern without any noise to activate it.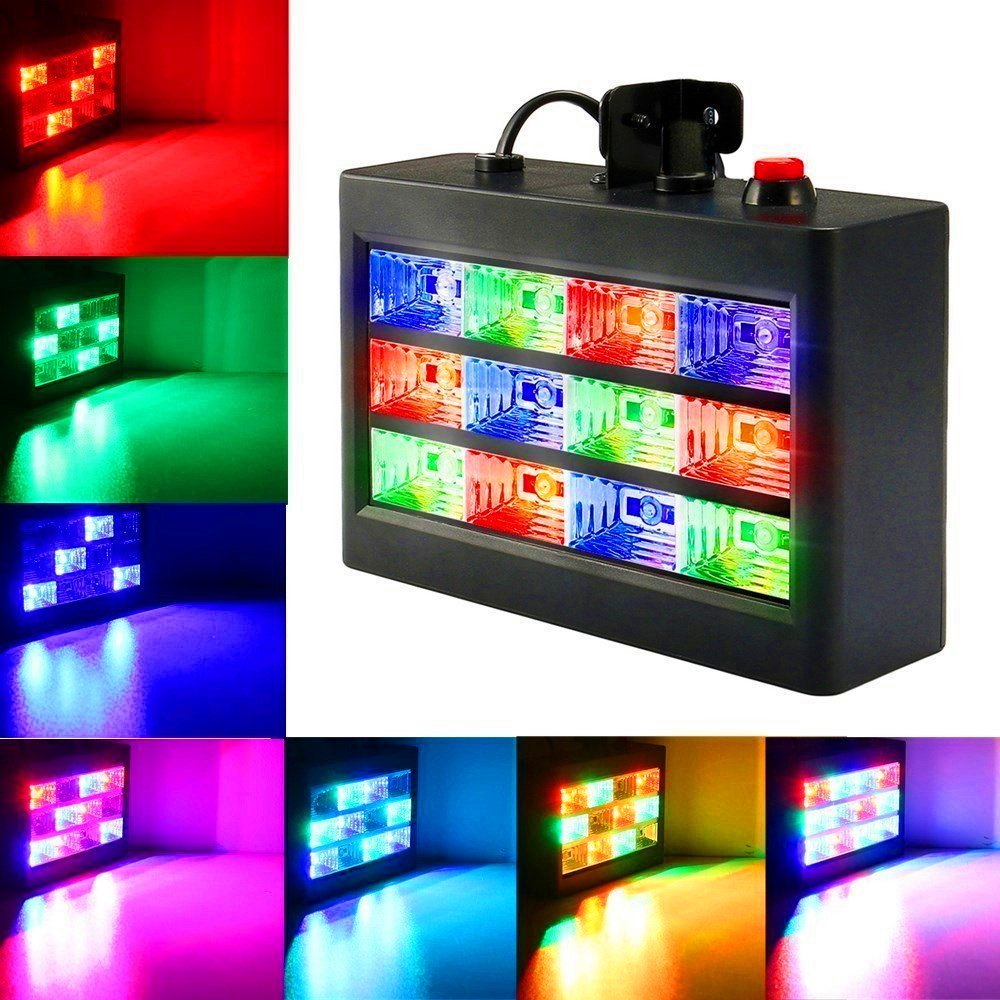 The Solmore strobe light comes fitted with a bracket.  The bracket allows you to hang the light onto a more permanent fixture like a wall or table.
Quality.
I looked inside the Solmore 12 LED Strobe Light and was shocked to see how it was built.  The main control PCB Board was screwed onto the outer casing.  It's in a weird position, and where a cooling fan would normally be located.  I don't know if a small brushless cooling fan would be necessary for this light as it didn't get warm when I tested it.
You can see the PCB Board has been mounted in such a way that it's starting to bow due to the odd placement.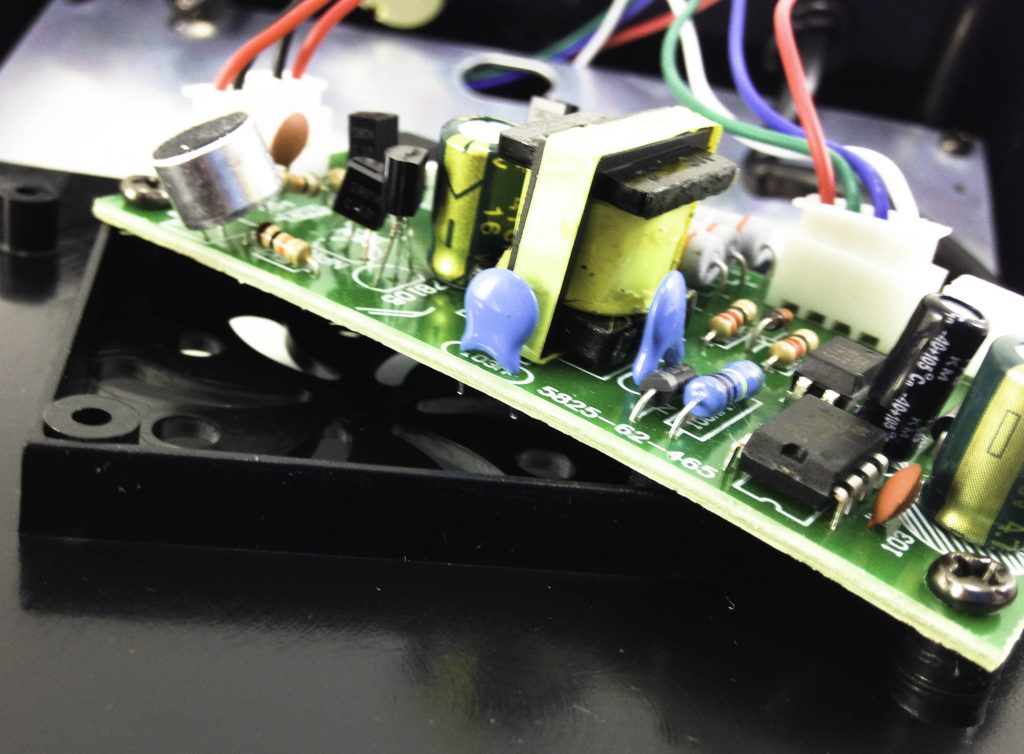 Technical Specifications.
Brand: Solmore
Model: 12 LED Strobe Light
Model Code: SOLMOREp4zK3ncy2
ASIN: B07FLY9DM9
Input: 110V – 240V AC
Power: 15W
Frequency: 50 ~ 60 Hz
Light Source: 12 LED 5050 Full Colour
Control: Voice Control, Self – Propelled
Compliance: CE, FCC, RoHS
Conclusion.
If you're looking for a super bright LED strobe light for your next party, then I recommend the Solmore strobe light.  I was a little disappointed by the quality of the manufacture and hope Solmore improve in this field as the light itself is actually very good.
If you want the Solmore 12 LED Strobe Light for yourself, it's available for purchase only on Amazon. The RRP for this product is £11.95.
Product sample provided by Solmore in exchange for a detailed, unbiased review.
---
Thank you for taking the time to read my post. If you'd like to add a comment or thought on this post, please use the section below. I can also be contacted via the online contact form. Please subscribe for the latest reviews, news, and discounts. Please follow My Helpful Hints on Twitter, Instagram & Facebook too!
Solmore 12 LED Strobe Light