Today I'll be reviewing the SeQuro GuardPro2. This is a simple home CCTV system and in a matter of minutes you can have a fully functioning CCTV system.
This system compromises of a touchscreen monitor, and a wireless camera combo. That's not all, you can also use via an app for remote viewing and system access too.
The camera is IP66 waterproof rated and features a crystal clear visual, this includes night-vision, whilst also enjoying a transmission range of up to 1000ft.
You can store your CCTV recordings via either a Micro SD card or via HDD storage (both not included). You can also set the camera to record motion detection. The system has an auto-rewrite feature to maximise recorded storage. You can also extend the system with 4 additional cameras (sold separately) and create a small network in home surveillance. Sound is also recorded via the built-in microphone.
So, is this CCTV system any good? Time to test it out!
Packaging and Contents.
The SeQuro GuardPro2 comes packaged in white cardboard box. The box measures 31.0cm x 14.0cm x 22.0cm and weighs 1200G.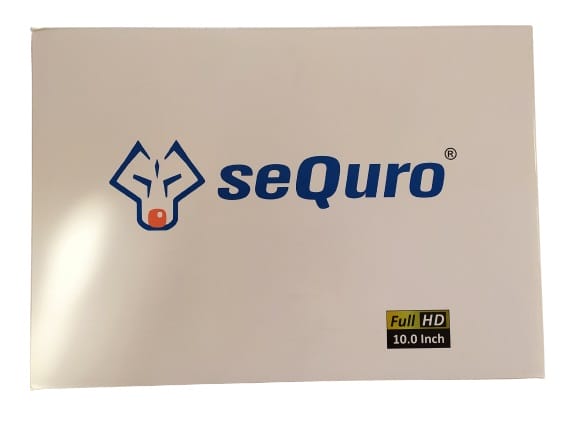 Inside the box you get the following items: 1x Camera, 1x Antenna, 1x Antenna Extender, 1x Monitor, 2x AC Power Adapters, 1x Screw Pack (Including Allen Key), 1x Ethernet Cable, 1x HDMI Cable, 1x English User Guide, 1x CCTV Warning Sticker.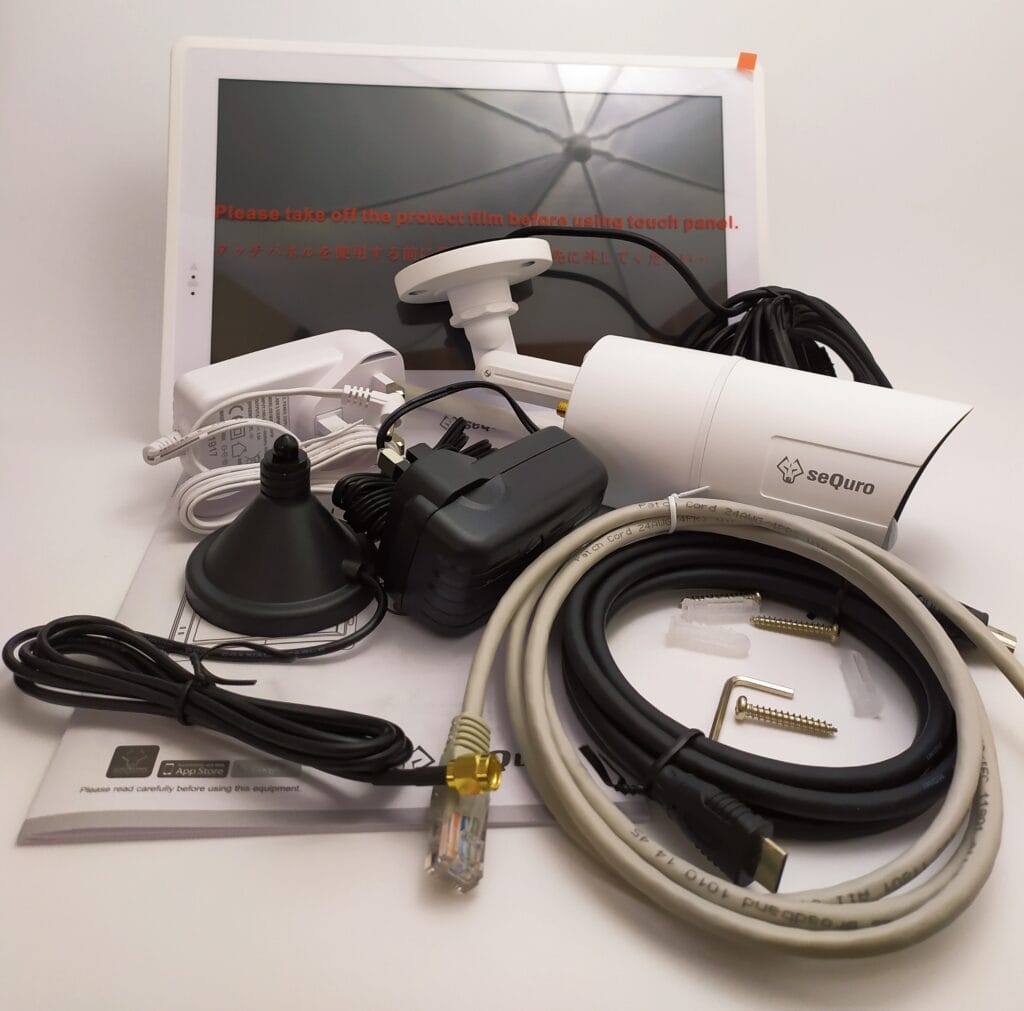 SeQuro GuardPro2.
The camera itself can be used either in an indoor or outdoor environment. It's IP66 rated, Ingress Protection Code 66 = dust-tight and water protection level of Water volume: 100 litres per minute (0.37 impgal/s) Pressure: 100 kPa (15 psi) at distance of 3 meters (9.8 ft). So, it's ideal in an outdoor environment where rain might be present. The camera measures 12.9cm x 6.0cm x 6.7cm (without stand).
The metal alloy body aids both protection and heat dissipation, the camera features 20 Infrared LED lights and a PIR (Passive Infrared Sensor) for motion detection, and a light sensor to monitor the ambient light levels and switches between standard and night vision as required. The f4.0mm, f2.0 lens produces 1920H x 1080V colour image, it's a fixed range with no pan or tilt function.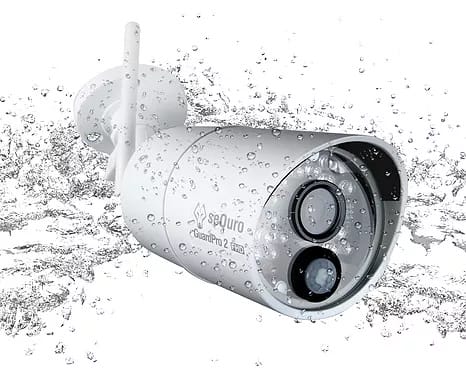 The included antenna simply screws into the antenna thread, the Dipole antenna enables a clear transmission range of 1,000 ft in open area, and a solid 200 ft through a concrete structure. SeQuro also supply an antenna extender too if you require this. You need to screw in the antenna into this.
The Monitor.
The monitor features touchscreen technology. The monitor measures 26.5cm x 17.5cm x 6.5cm and weighs 700G. You get a large 10.1-inch display, which also features a built-in 3.7V Lithium-Ion rechargeable battery, ideal for portable use.
On the side of the monitor, you get: 1x Power Button, 1x Micro SD Card Slot, 1x USB Connector, 1x HDMI Connector, 1x Speaker, 1x Ethernet Port.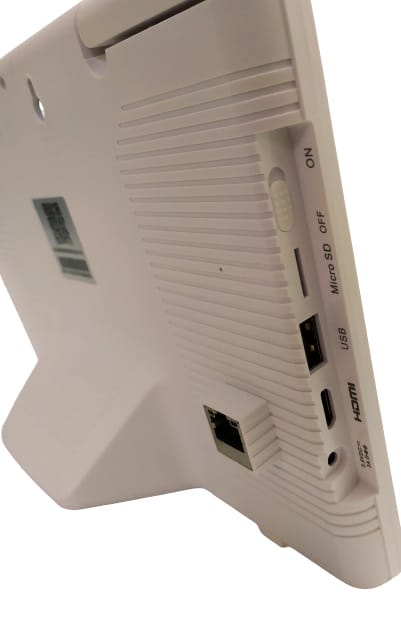 The monitor also features two antennae for enhanced audio-visual viewing and recording. You get full menu control and a full colour LCD screen for easy viewing.
Setting Up.
Prior to first use you need to use the white power plug and charge the monitor up. After the initial charge you'll be able to use the monitor without using a cabled system. But it's OK to do this too.
To set up the camera you need to locate a suitable mounting location. There're 3 mounting screw holes on the bracket for easy installation and a cable notch so you don't crimp and damage the cable.
You need to use the antenna and tighten this up. Next, you'll need the black AC power plug, this plug fits snuggly into the female plug of the cable from the camera. That's it!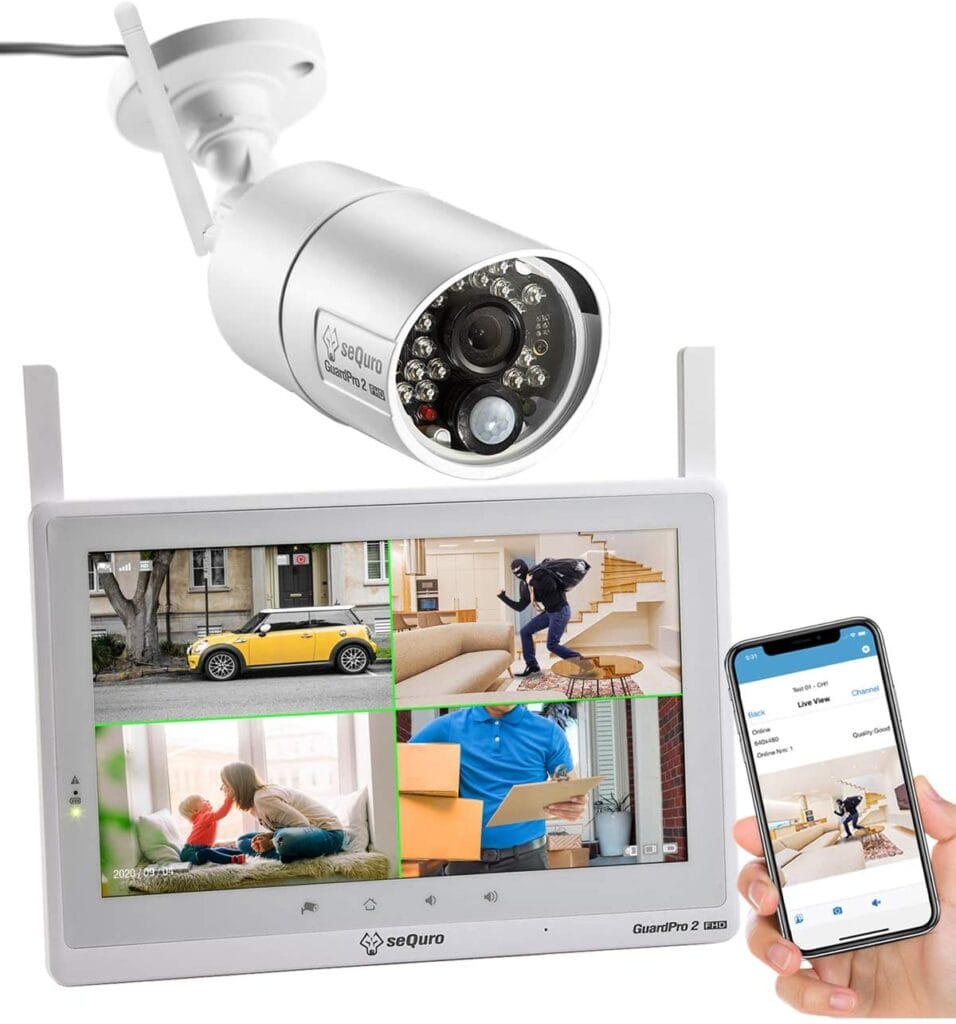 Next, you'll need to power on the monitor. The SeQuro GuardPro2 camera and monitor already come pre-paired, so there's no faffing about. The live camera feed will appear on the screen. Now you manually adjust the bracket on the camera until you're happy with the image. This is where having a rechargeable battery is advantageous as you're able to take the monitor out to the camera for easy adjustment. An extra person is not required to shout at during installation.
Using the SeQuro GuardPro2.
To maximise the full potential of the CCTV system, you'll need to supply a Micro SD/TF card to record your CCTV images. You can use a card upto 256GB capacity. They're relatively inexpensive and plentiful on Amazon, I have some selected here for your convenience.
You're able to select how you'd like the SeQuro GuardPro2 to record, you're able to choose from 3 different options, these include motion, scheduled, and manual recording.
You can adjust things like time/dates in the menu area on the monitor, along with other user adjustments such as: brightness levels, resolution settings, and adjust any anti-flicker issues. You're also able to adjust the sensitivity of motion detection along with recording times, and alert notifications too. To stop you filling up your storage you can also set it to overwrite data when your card becomes full, if you choose not to overwrite your system will stop recording. You can also remove the Micro SD card and download any footage on a PC for archive purposes.
User Experience.
I managed to set up the SeQuro GuardPro2 easy enough, the visual quality is extremely good. You're able to clearly define what is being recorded with no distortion whatsoever. The automatic night-vison feature is superb, I've reviewed CCTV cameras before and this is usually a massive weak point, but not with the SeQuro GuardPro2.
But there is a weak point, and it's the audio recording. The built-in microphone on the camera is weak, it records a muffled sound and whatever sound is recorded is made worse via the playback on the monitor. This is due to the speaker, it literally sounds like it's blown, and almost unrecognisable. So, to summarise, visual good, sound not good.
The touch screen works, but sometimes there's a notable delay between pressing menus and opening speed. Just a little annoying, and nothing serious.
I added the SeQuro GuardPro2 via the SeQuro Android app and this feature works well too. You need to remember to hook up the monitor to your router via the supplied ethernet cable. A wireless feature to my router would be a huge improvement for any future models.
The supplied HDMI cable is great to view on your TV, you can switch between the monitor or your plugged-in device using the monitor.
You can use the SeQuro GuardPro2 without using internet and via the simple camera and monitor setup. To be honest, it's what I'm going to continue to use, it works and is effective.
Technical Specifications.
Brand: SeQuro
Model: GuardPro2
Model Code: 8796
EAN: N/A
ASIN: B07JMBMVLQ
Frequency: 2.4GHz
Antenna: Dipole Antenna
Transmission Distance: 300m
Modulation: GFSK, FHSS
Image Sensor: Colour CMOS
Effective Pixels: 1920H x 1080V Pixels
Lens: f4.0mm, F 2.0
IR LED: 20 pcs (10 Meters)
Camera Power: DC 9V 800mA
Monitor Power: DC 5V
Monitor Battery: Built-In 3,7v Lithium-Ion Battery
Screen Size: 10.1 inch
Motion Alarm: Yes
IP Rating: IP66
Compliance: CE Marked, FCC, RoHS
Conclusion.
I quite like the SeQuro GuardPro2. At first glance it doesn't look like it's up to much, but that initial opinion is mis-judged and wrong. It's a great piece of kit and ideal for domestic home surveillance. The image is clear, and the night-vision is exceptional, I was overly impressed.
The sound is crap and could do with a tweak or 5, but aside from the audio, the most important feature of having CCTV is a decent image recording system, and the SeQuro GuardPro2 certainly does that.
I'd like to reach out to SeQuro to include a wireless internet connection in a future version as this would enhance the user experience further.
I'm extremely pleased and would recommend this for your home.
If you want the SeQuro GuardPro2 for yourself, it's available for purchase only on Amazon. The RRP for this product is £209.99.
Product sample provided by SeQuro in exchange for a detailed, unbiased review.
---
Thank you for taking the time to read my post. If you'd like to add a comment or thought on this post, please use the section below. I can also be contacted via the online contact form. Please subscribe for the latest reviews, news, and discounts. Please follow My Helpful Hints on Twitter, Instagram & Facebook too!