The Pingko F71 Sports Action Camera is a 170° wide angled lens camera with full 1080P HD recording.
You can use this camera for any extreme sporting events including underwater activities to a depth of 30M.
You're also able to control and view your recordings using a free downloadable app.
This camera is available to anyone on a tight financial budget and looks to be as good as the leading action camera brand.
But is the Pingko camera any good? Does it perform to a high standard? Time to test it out!
Retail Packaging.
The Pingko F71 Sports Action Camera comes packaged very neatly in a White cardboard box with product specifications printed on it.  The box measures 22.5cm x 11.5cm x 7.0cm and weighs 690G.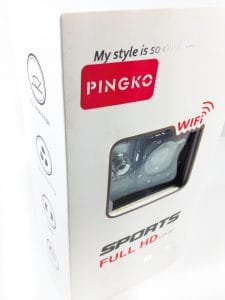 Contents.
Upon opening the Pingko F71 Sports Action Camera box you will find a huge number of accessories and parts.  You get the following items.  1x Camera, 1x Waterproof Case, 1x Fixed Base, 1x Protective Door, 1x Back Clamp, 1x Back Clamp Clip, 2x Adhesive Mounts, 1x Bicycle Stand, 1x Base, 1x Adapter, 4x Cable Ties, 3x Different Switch Supports, 1x Fixed Base, 3x Adhesive Tapes, 2x Velcro Straps, 2x Batteries, 1x Wire Rope, 1x USB Cable, 1x Cleaning Cloth, 1x Chinese/English User Guide.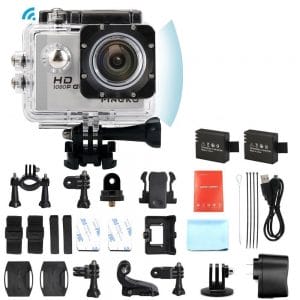 Pingko F71 Sports Action Camera.
The Pingko F71 Sports Action Camera has a two-tone colour scheme of Silver and Black.  The camera measures without the case fitted 6.0cm x 4.0cm x 3.0cm and weighs with the battery fitted 60G.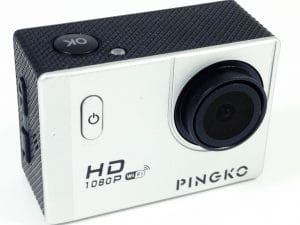 On the front of the camera is where the main power button is located, on the right-hand side you'll see an up and down button and on the left side of the camera is the Micro SD Card input, HDMI Output and the Micro USB Charging Port.  There's also an OK button on the top of the camera.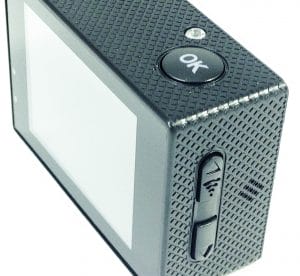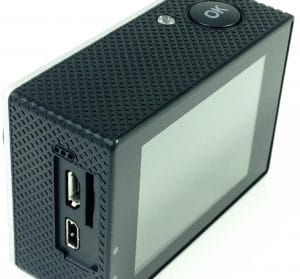 Setting up the Camera.
The first thing you'll need is your own Micro SD Card, the Pingko F71 Sports Action Camera doesn't come with one supplied.  This camera will support any Micro SD Card from 8GB right upto 32GB.  It's best to purchase a good branded card and I suggest a SanDisk Ultra Class 10 32GB Card for optimum performance and recording quality. 
The battery removal process is quite a tricky operation.  To access the battery compartment, you'll need to slide the buckle on the bottom and the battery door will come away.  This is where I think Pingko need to improve the camera, the access is terrible and I had to use a small bladed screwdriver to help with sliding the buckle away as there is little grip to use your finger nail with!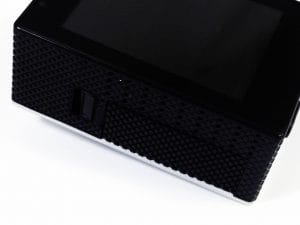 Anyway, when you have the battery door removed you'll see the removable battery with a pull tab, simply pull the battery out and change with your replacement battery.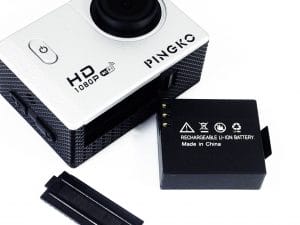 Charging.
Charging can only be carried out with the help of the camera, so to charge a battery you'll need to insert it into the camera and hook up the Micro USB charging cable.  Once charged you'll need to do the same for the other battery until you get two fully charged batteries.
It takes around 4 hours to fully charge one battery which will give you around 90 minutes of recording.
You can charge and record at the same time if you prefer.
I think a separate battery charger or even to be able to charge the battery directly using a Micro USB charging port on the battery itself would be best and certainly would improve the whole charging experience for me.
GoPlus Cam.
You're able to use an App called GoPlus Cam which will let you control things like playback and start/stop recordings using only your device.  The App is free to download and available to both iOS and Android users.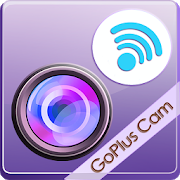 Once downloaded, you'll need to open the App and press the phone symbol, this will perform a Wi-Fi search for your camera for which you'll need to connect to the WiFi network.  To ensure this happens you'll need to turn on the camera and press the up button until you see the Wi-Fi screen, now on your phone go to the Wi-Fi network and connect to your camera and input the password that's displayed on the camera.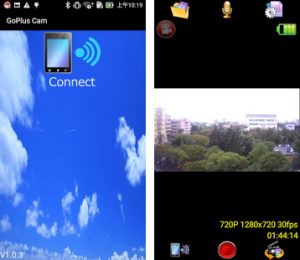 Now when you go into the App you will you will see a new control screen.  Here you can you can see what the camera is displaying, to start recording press the Red record health canada pharmacy antibiotics button on the screen and press it again to stop recording.  You can playback your recording using the top left icon.  On the top right corner, you're able to set and control your camera without needing to take hold of the camera itself.
Control from the Camera.
You can also control and amend settings without downloading any Apps and do these on the camera itself.  Press the power button on the front to access the menus and use the up/down button to scroll through the menus and press the OK button to enter any of the sub-menus and confirm any changes.
You can also change from video recording to taking photographs by pressing the power button on the front and playback any recordings using this method too.
Waterproof!
The Pingko F71 Sports Action Camera advertises as being waterproof and capable of maintaining this to a depth of 30M.  This is not true!  The camera is not waterproof, the case is waterproof!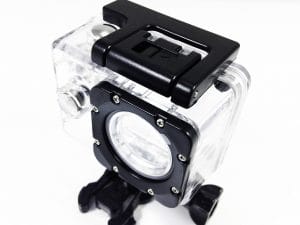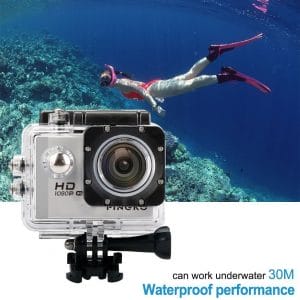 You'll also need the case is properly closed and sealed before you go underwater, or you'll find your investment fail before your eyes!  That said I filmed in a filled bathtub and the recording was clear and crisp and the camera was still dry and operable afterwards.
Recording Quality.
Being a budget camera, you'd expect the video recording quality to be poor and miss frames, but, this camera is actually very good.  The video recording is excellent and comparable with a higher branded camera (You know which one I'm referring too!) and overall, you'd be hard pressed to tell apart any recording differences.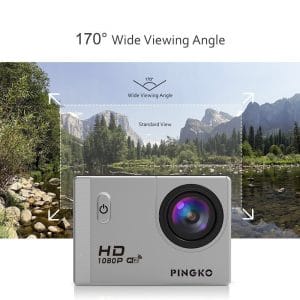 Fitment Accessories.
The Pingko F71 Sports Action Camera comes with so many fitment accessories that you're be in accessory heaven.  You can hook up to your bicycle, helmet, vehicle and even your selfie stick can't even escape the placement of the Pingko camera!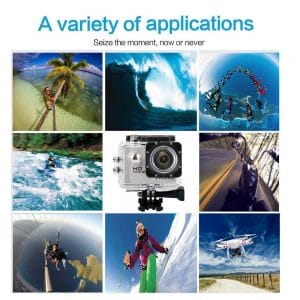 You're able to use this camera in many extreme circumstances, take it swimming (Not in a public pool though, or might get done for voyeur recording), strap it on your bike, hook it up on your snowboard, record whilst you skydive, or if being extreme sounds too tiring to you, use the Pingko camera to record your cat!
Features.
The Pingko F71 Sports Action Camera comes packed with great features and settings, so you can record like a boss!  These included:
Wi-Fi – You get Wi-Fi built into the camera which will allow to connect to the GoPlus Cam App and even export your recording directly to your social media channels via your smartphone or tablet.
Motion Detection – Your camera will start to record when motion has been detected.
Anti-Shake – Helps you to record and eliminates shake in your recordings.
Time-Lapse Photography – Let's you get into position and capture your pre-planned cheesy poses.  I suppose it can be used to capture a nice family moment too!
Loop Recording – Choose from no loop recording or from either 1, 2, 3, 5 or even 10-minute recording.
Time Lapse – Record and piece together a time lapsed video.  Choose from 1, 2, 5, 10, or 60 second time lapse setting.
Technical Specifications.
Brand – Pingko
Model – Sports Action Camera
Model Code – F71
Manufacturer Code – PK-F71
EAN – N/A
ASIN – B01L89MSQA
LCD Display – 2.0 LTPS
Lens – 170° Wide Angle Field of View
Video Resolution – 1080P (1920×1080)@30fps, 720P (1280×720)@30fps
Video Format – AVI
Compression Encoding – MJPG
Image Resolution – 12M, 10M, 8M, 5M, 2M
Storage – Micro SDHC Class 6 or above 8GB to 32GB (Not Supplied)
Capture Modes – Single/Time Lapse (3S/5S/10S)
Frequency – 50Hz/60Hz
USB – Micro USB 2.0
Power Source – 5V/1A
Battery Capacity – 900mAh
Power Consumption – [email protected]
Battery Working Time – 1080P/90Mins
Charge Time – 4 Hours
Sensor Chip – GC1014
Interface – USB 2.0, HDMI
Compliance – CE, FCC, RoHS
Conclusion.
This camera is honestly better than you'd think for the small price tag.  The recording is excellent and comparable with a more expensive brand.  There are however some drawbacks, these include the access to the battery and the actual battery charging is a real pain.  But, if you can look past those pitfalls then you'll fall in love with this camera very quickly.  I for one was surprised just how good this camera was to use and you too will be very pleased with the recording outcome.
If want the Pingko F71 Sports Action Camera for yourself, they are available only on 
Amazon and comes with a 12 Month warranty.  The RRP for this camera is £89.99.
---
Thank you for reading this, feel free to comment down below, your input really matters to me.  I can also be contacted here.  Why not check out my other product reviews here.
Darren
[wpedon id="71″ align="left"]