These Betron BT1010 Wireless Bluetooth Earphones are sweatproof and very cool looking too!
The Betron BT1010 easily pair with your Bluetooth enabled device and will give you upto 4 hours of music playtime.
And, just when you thought not only are these a good-looking set of earphones, Betron have a little surprise, you're able to take handsfree calls whilst out on your daily jog!
But are the Betron BT1010 earphones any good? Do they work as good as they look? Time to test them out!
Retail Packaging.
The Betron BT1010 come packaged very neatly in a Grey and Lime Green cardboard box.  The box measures 19.0cm x 10.5cm x 3.5cm and weighs 115G.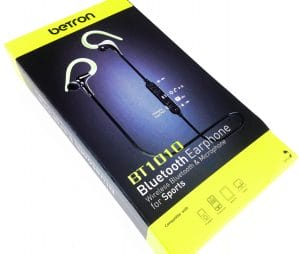 Contents.
Upon opening the Betron BT1010 box you will find the following items. 1x Earphones, 1x USB Charger Cable, 1x Carry Case, 9x Different Sized Ear Tips, 1x Wire Clip, 1x Chinese/English User Guide.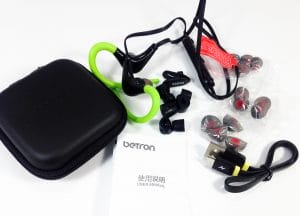 Betron BT1010 Wireless Bluetooth Earphones.
The Betron BT1010 Wireless Bluetooth Earphones are made from durable plastic with soft Silicone earhooks.  You get a two-tone colour scheme of Black and Green which I think look great!  They also measure (Measurement from ear tip, along the bridge cable to the other ear tip) 66.0cm and weigh only 16G.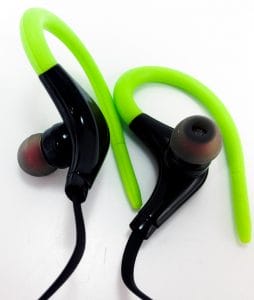 You also get in-line control which allows you to control track selection, volume and has an in-built microphone for handsfree calling.
Setting up the Betron BT1010.
Before you hook up and get your swag on you'll need to give these a charge.  You can use any Micro USB charger cable or can use the supplied USB cable (Which has a length of 31.0cm) and plug it into any 5V outlet, or if you prefer you can use a powerbank!
Charging takes around 2 hours and will give you around 4 hours of sweet musical playtime!
Now, you'll need to connect these to your Bluetooth device.  With the earphones powered off press and hold the centre multi-function power button, the LED will flash Red/Blue to indicate pairing mode.  Now head over to the Bluetooth menu on your device and perform a Bluetooth search for "BT1010" and connect to this.  You're now all set and ready to hook up.
You'll now need to select which ear tips fit more comfortably for your ear, as it happens the ones that were supplied on the earphones fit me perfectly!
The hooks are soft and hook around the back of your ear, which not only stops the earphones from slipping out of place but also ensures the ear tips fit perfectly into your ear canal and cancel out any background noise.
Now you're all set and ready to hit that pavement listening to some motivational music!
In-Line Control Button.
You may only get 3 different buttons on the control section, but this is all you'll need, and everything is easily controlled from here without needing to use your device.
Volume, Track Selection and Mute – To control the volume you'll need to press either the + or – button to increase or decrease the volume.  Want to change tracks? Press the same buttons again but hold them for around 3 seconds to skip or go back on a track.  If you need to mute your audio press the middle power button, press it again to unmute.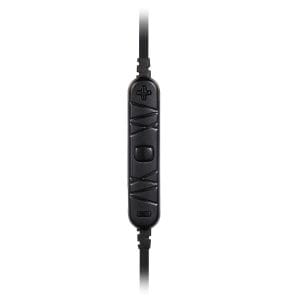 Handsfree Calling – So you're out on a jog and you get a phone call, what do you do? Well, with the Betron BT1010 you needn't do anything and can answer that call without even stopping.  Press the centre button once to answer the call and press it again to end the call.  If you don't want to talk and wish to continue listening to your tracks press and hold the button for around 2 seconds and the call will be diverted.
Technical Specifications.
Brand – Betron
Model – Wireless Bluetooth Earphones
Model Code – BT1010
EAN – 5060264024995
ASIN – B0164PODZ2
Bluetooth Version – V4.0
Output Power – 10mw
Working Distance – 10M
Working Hours – 5 Hours Talk Time, 4 Hours Play Time
Standby Time – 200 Hours
Charge Time – 2 Hours
Charging Voltage – DC5V 300mA
Driver – 10mm
Sensitivity – 110dB ± 3dB
Impedance – 16Ω ± 15%
Frequency Response – 20-20000 Hz
Compliance – CE, FCC, RoHS
Conclusion.
I was pleasantly surprised by these earphones as I normally don't use such earhook designed earphones, but these are great.  They're comfortable and the sound is to the usual high standard that you'd expect from Betron.  I also love the colour combination of the Green and Black, they look great.  I found the signal strength to be better than the 10M advertised and was able to go a further 5M.
If want the Betron BT1010 Wireless Bluetooth Earphones for yourself, they are available only on 
Amazon and comes with a 12 Month warranty.  The RRP for these earphones is £39.99.
---
Thank you for reading this, feel free to comment down below, your input really matters to me.  I can also be contacted here.  Why not check out my other product reviews here.
Darren
[wpedon id="71″ align="left"]