OneTigris have released several new items in the past few months, with the patch panelled MOLLE pouch being one of them. Perfect for displaying your favourite patches, this versatile piece of kit is a must-have. So, sit down, grab a cuppa and let's get into this review!
The Unboxing.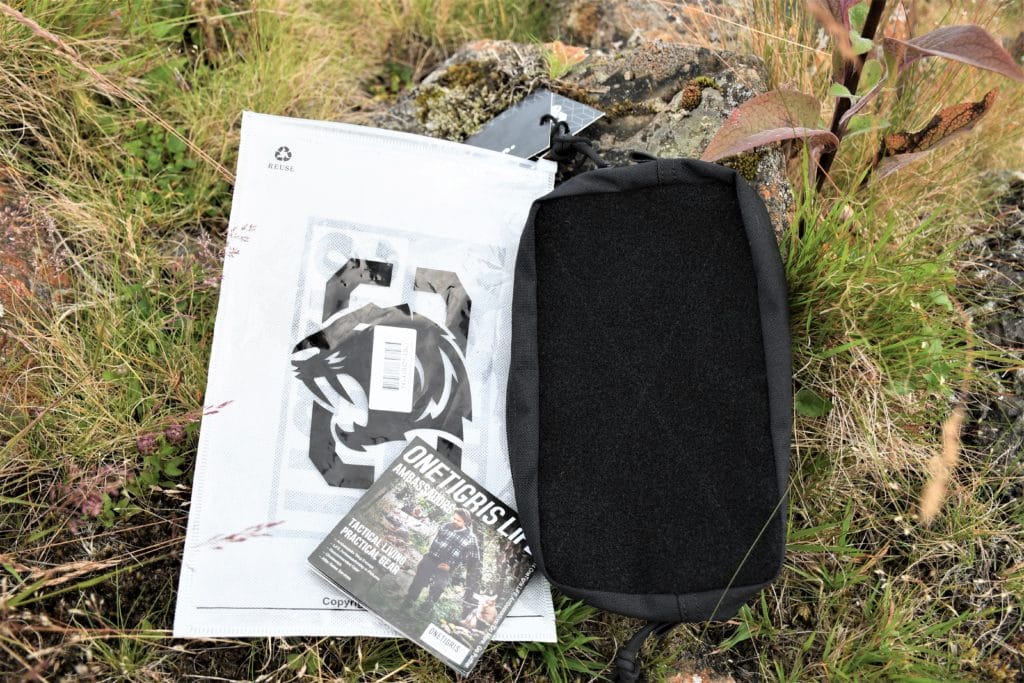 The product comes in a zip-lock bag instead of a box, with one side of the bag being see-through plastic and the other side being a white mesh material. Inside, you receive:
OneTigris Life Ambassadors card
OneTigris patch panelled MOLLE pouch
The bag that this EDC item arrives in is durable and ideal for storing things like gloves neatly. The reusable bag reduces the amount of waste produced and in turn is better for the environment. It's a win-win situation really.
First Impressions of the OneTigris Pouch.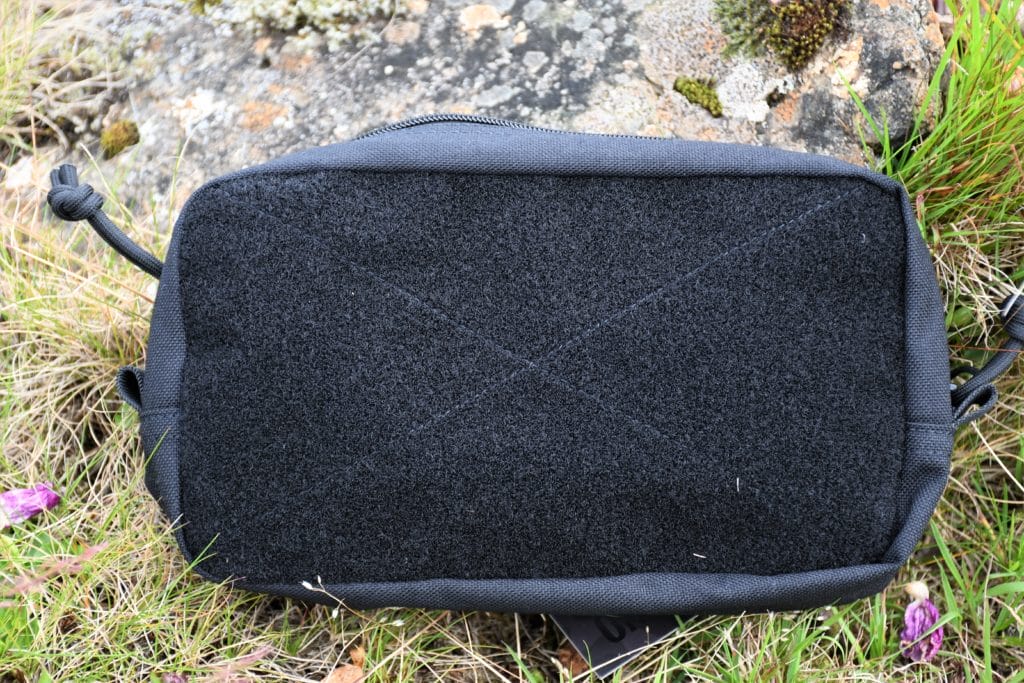 On the OneTigris website, the photos do not do this product justice – it is much bigger than it looks! Constructed from 500D nylon, it is durable, lightweight and water-resistant – everything that an EDC bag should be. Unloaded, it weighs in at 100 grams and it has a maximum capacity of two litres. The dimensions of this item are as follows: 22.9 centimetres in length by 12.7 centimetres in width by 6.4 centimetres in depth. A minimalist approach has been taken inside, with three large elasticated loops to secure your gear, with the rest of the storage space being open. So, let's have an in-depth look at this OneTigris pouch!
The Front of the OneTigris Patch Panelled MOLLE Pouch.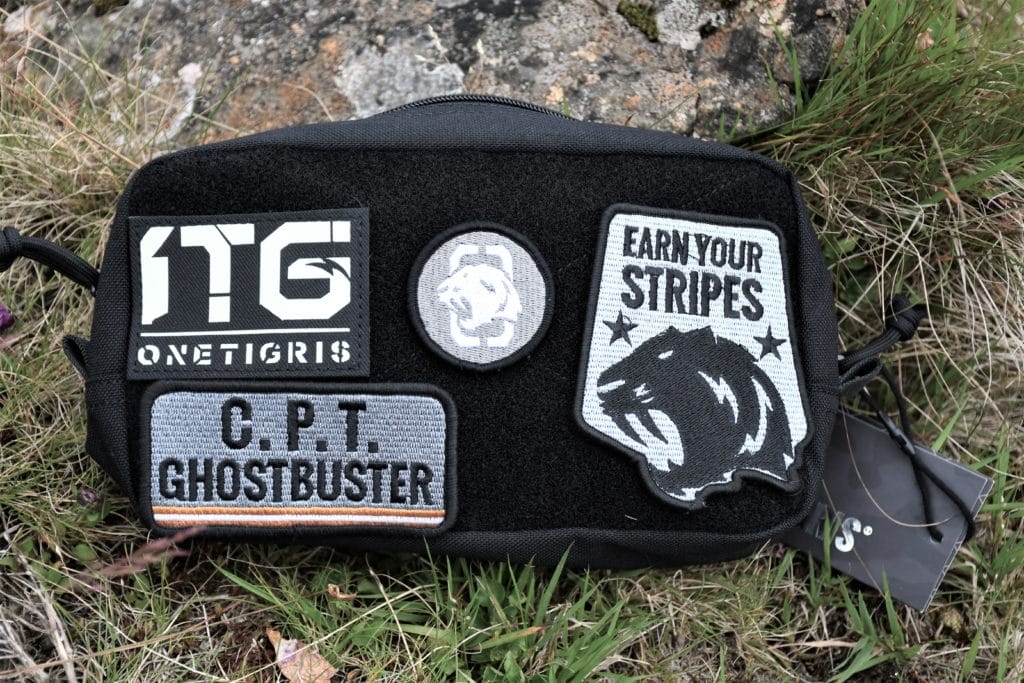 Patch collectors will love the front of this EDC pouch, as there is nothing but soft Velcro on the front. As you can see from the photo above, the choices are endless in terms of personalisation. Before I got more involved in the EDC world, I never really saw the point of patches, but now I have grown to like them. OneTigris were kind enough to send me a few of their own patches to place on my pouch and I display them with pride. To boost storage potential, hook and loop systems can also be used.
The Back of the Pouch.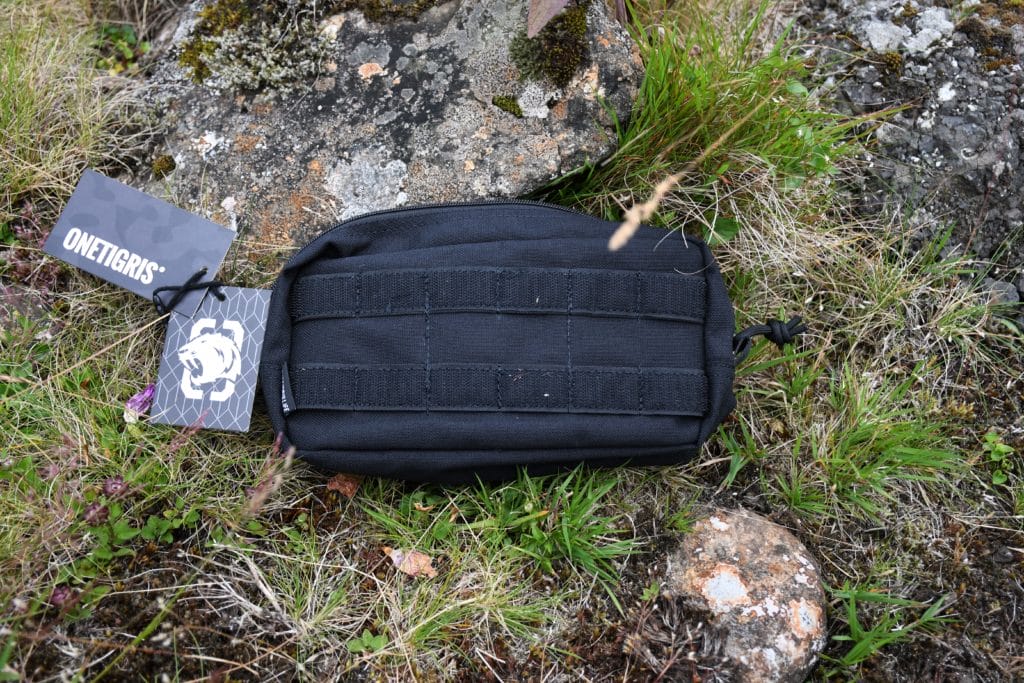 The back of this pouch is different to every other one that I have come across. Instead of snap-button straps, two rows of Velcro-backed MOLLE webbing have been used. This allows you to attach your new pouch to any of your other EDC gear, providing there is a large enough Velcro area. The Velcro part has been stitched onto MOLLE webbing.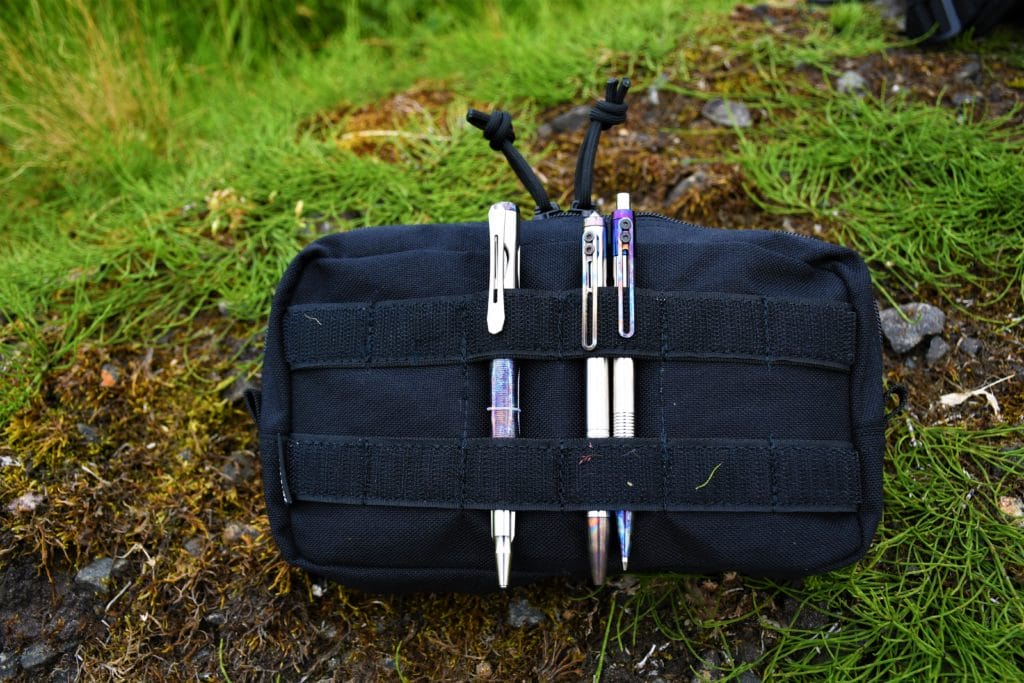 As you can see in the photo above with the Nitecore NTP20, NTP30 and NTP40, pens and pencils can also be safely stored here.
So far, the Velcro strips have not frayed or come undone. The durability of this pouch impresses me a lot.
The Zips.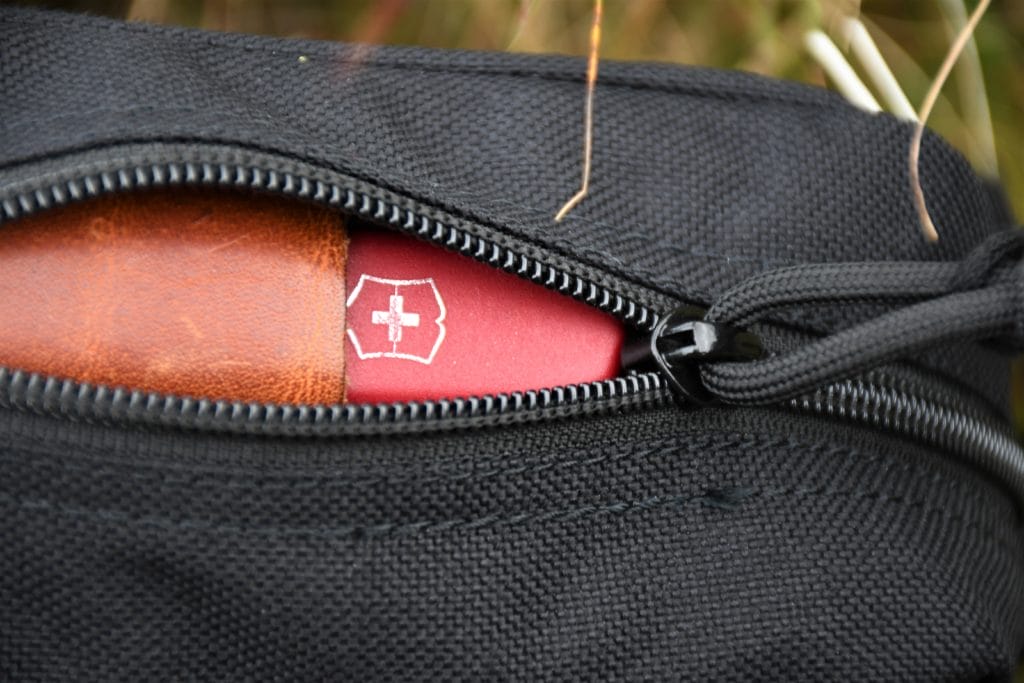 Like many great EDC bags, this pouch uses YKK zippers. These have never jammed or got stuck on the lining of the pouch and are smooth to open. This is something that I feel is important, as if you were planning on using this pouch as a first-aid kit, in an emergency, you need to be able to access everything as quickly as possible.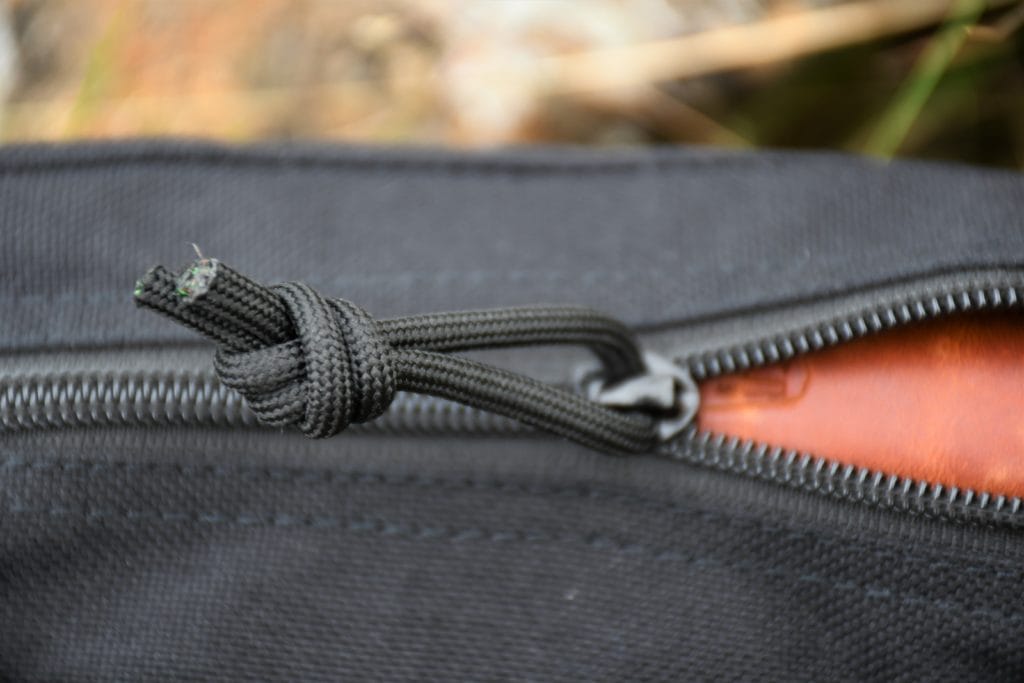 As for the zip-pulls, a simple loop of black paracord has been used. Simple-yet-effective, they can be used even when wearing thick gloves (I tested this using my shooting gloves – a pair of Mechanix M-Pact gloves).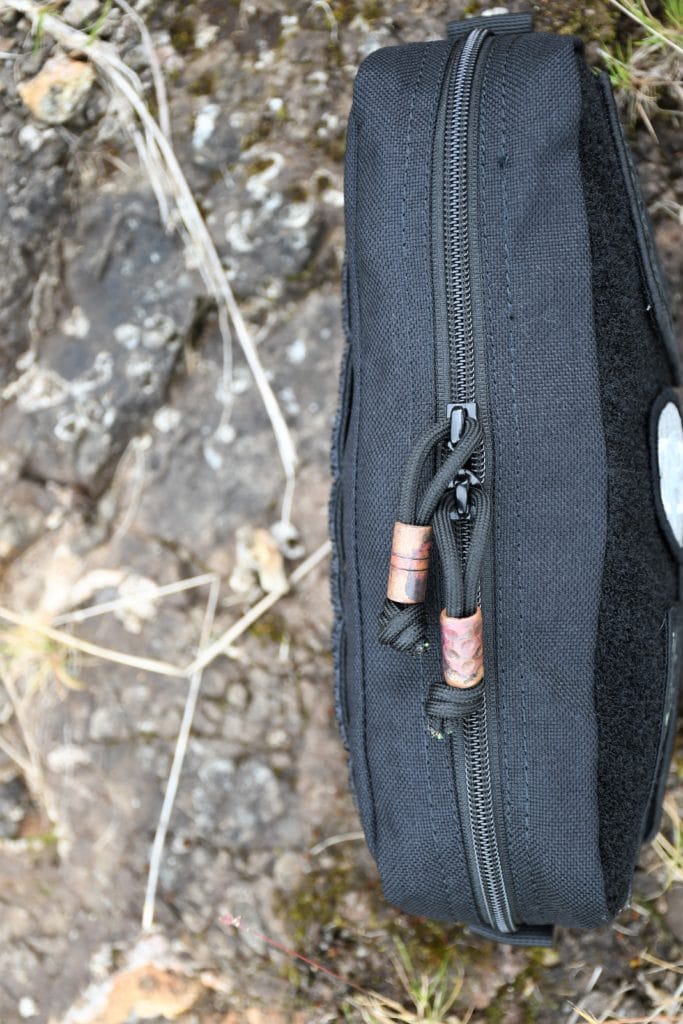 If you wanted to, you could put a bead on each of the zip-pulls like I did, which gives your pouch a nice personal twist.
Inside the Pouch.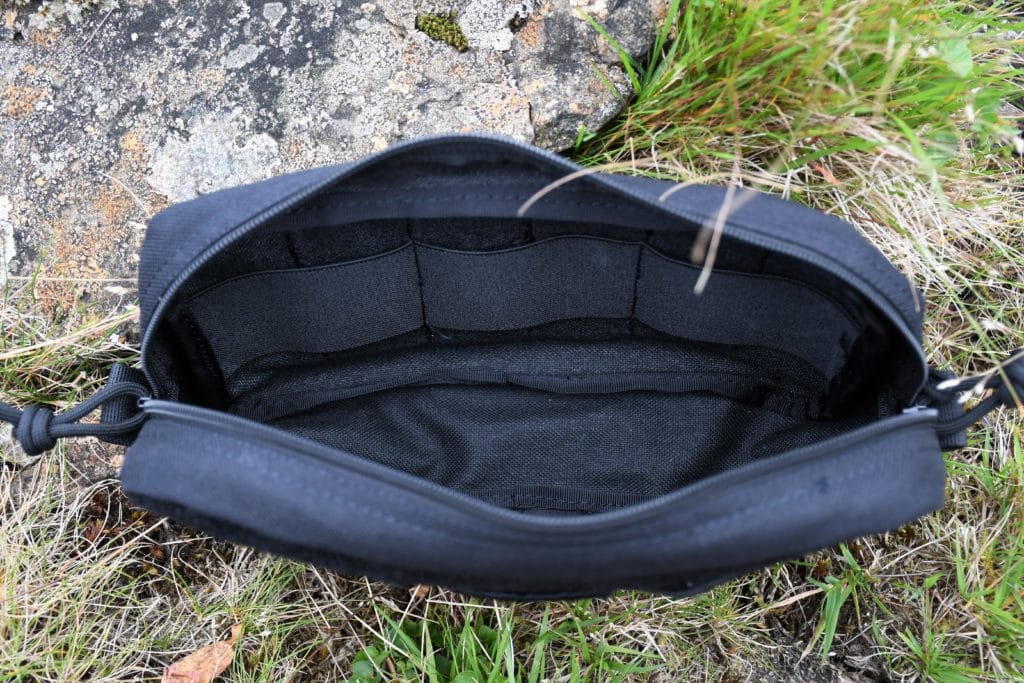 As I mentioned previously, a minimalist approach has been taken in the designing of the interior. Three elasticated loops allow you to secure items such as keys,18650 batteries and a box of matches.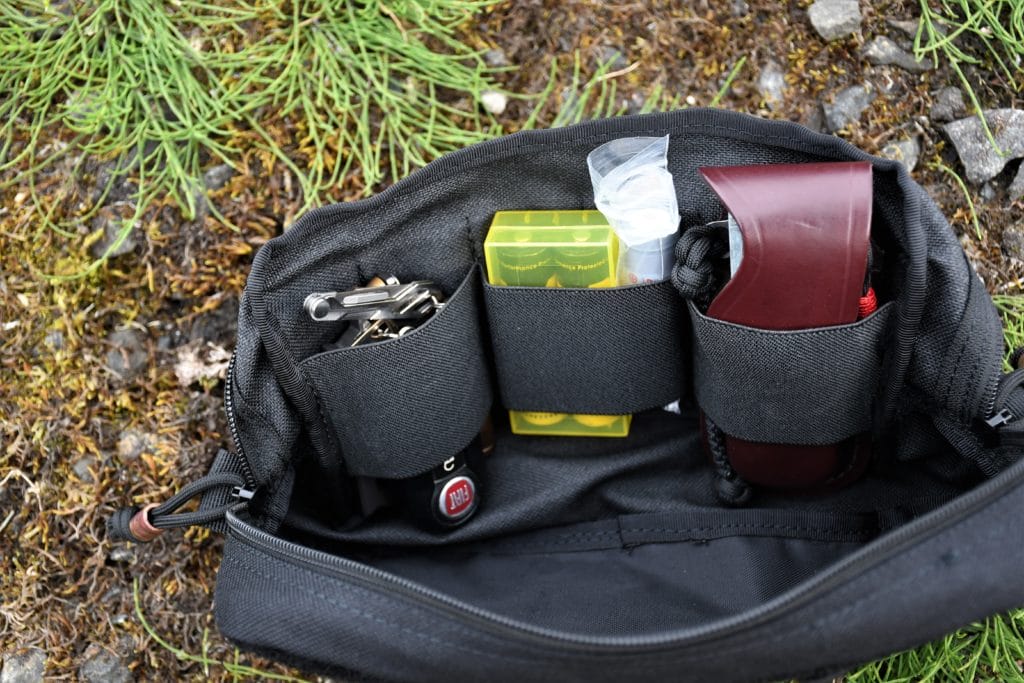 A Leatherman multitool can also fit into one of the elasticated loops. The possibilities really are endless. In my case, I am carrying my keys, three 18650 batteries and multitool in the three loops. However, I tend to change my rotation based on what I plan on doing that day.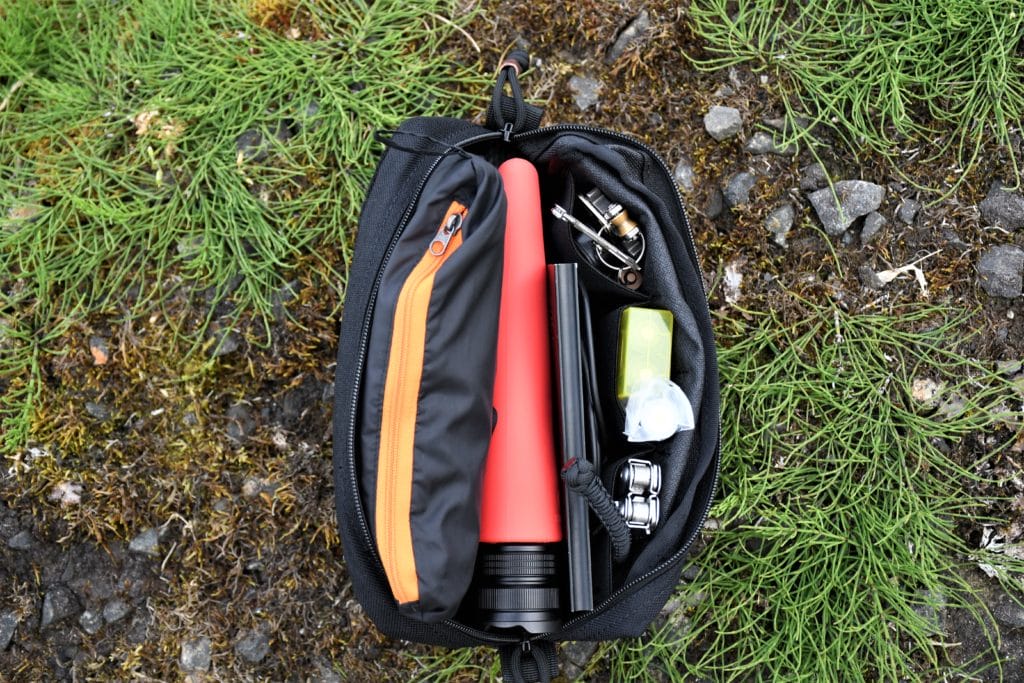 In the large section, you can carry umbrellas, flashlights, powerbanks, gloves or a raincoat. I have been carrying my Brinyte PT18 Oathkeeper inside a red traffic wand, a powerbank and a compact umbrella.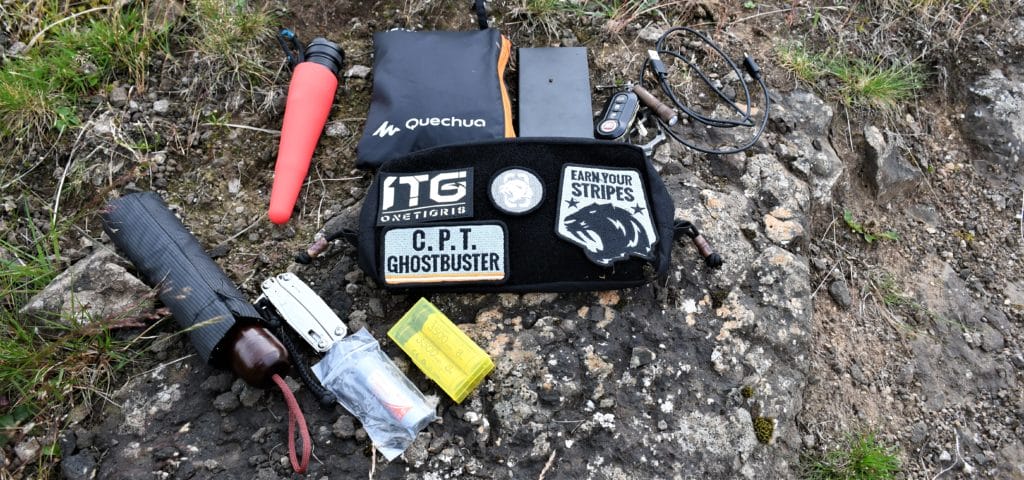 I plan on switching between the PT18 Oathkeeper and the new Olight Javelot Pro which surprisingly fits inside the pouch. Granted, things get a bit cramped with the addition of the Javelot Pro, but you can still fit things like a hank, a medium-sized powerbank, spare batteries and a box of weatherproof matches inside. Impressive!
Suggestions and Improvements.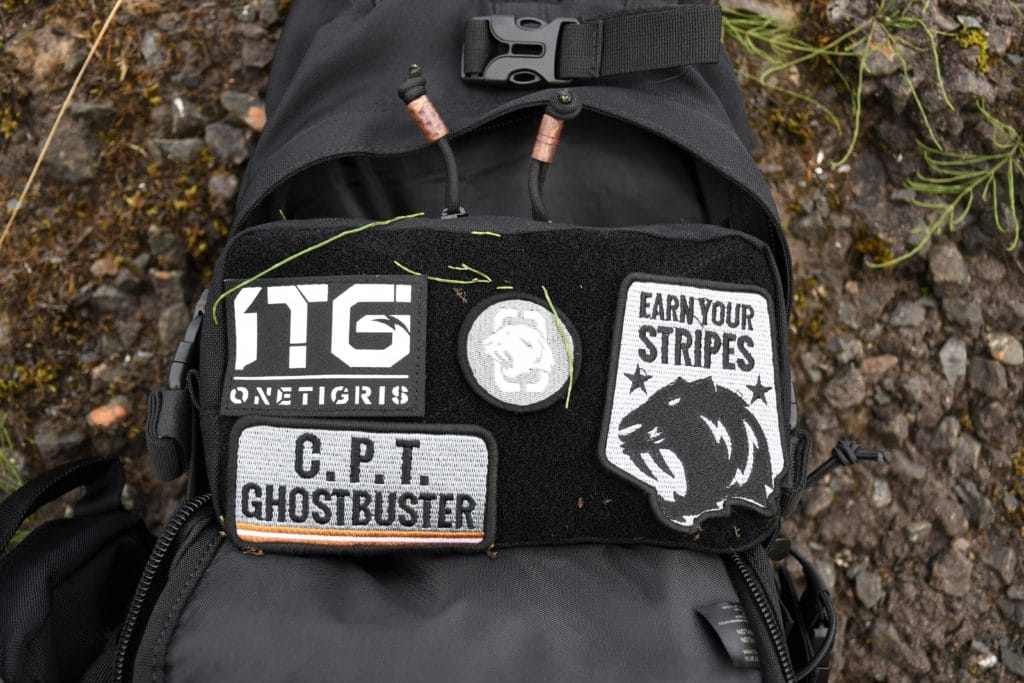 There are a few suggestions that I have that I believe could improve the OneTigris Patch Panelled MOLLE Pouch. If 1000D nylon was used instead, the pouch would have a greater resistance to tearing because of the thicker yarn used, however both 500D and 1000D are very strong. More colours (for example wolf grey or multicam) would be nice, because the pouch would blend in with your other gear. Apart from that, snap-button straps on the rear of the pouch would be good, as it would mean that the pouch could be attached more securely to your gear.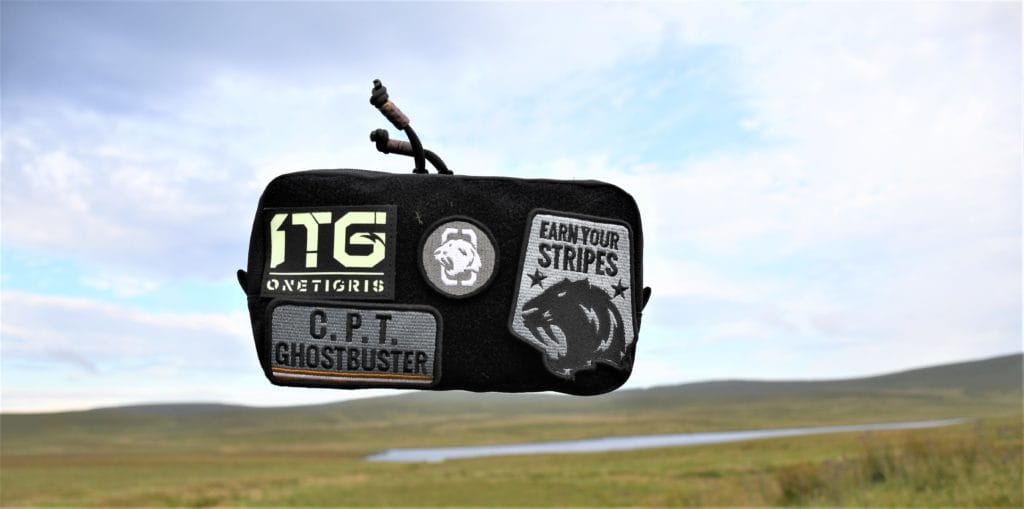 To conclude, at $13.95 I feel that this pouch is an absolute steal and I plan on buying some of these for friends as presents.
If you want the OneTigris Patch Panelled Pouch for yourself, it's available for purchase only on Amazon and on he OneTigris website. The RRP for this product is £23.98.
Product sample provided by OneTigris in exchange for a detailed, unbiased review.
---
Thank you for taking the time to read my post. If you'd like to add a comment or thought on this post, please use the section below. I can also be contacted via the online contact form. Please subscribe for the latest reviews, news, and discounts. Please follow My Helpful Hints on Twitter, Instagram & Facebook too!
OneTigris Patch Panelled Pouch