This will be the first Olight product that I have reviewed. Before I begin, I'd like to thank Olight UK. Due to a misunderstanding, I was sent two of these flashlights – one a few days after the other. I contacted them and offered to return it to them. They told me that I could keep it and in return, I told them that I would review it for them. Here's my review for the Olight S1A Baton.
Olight S1A Baton First Impressions.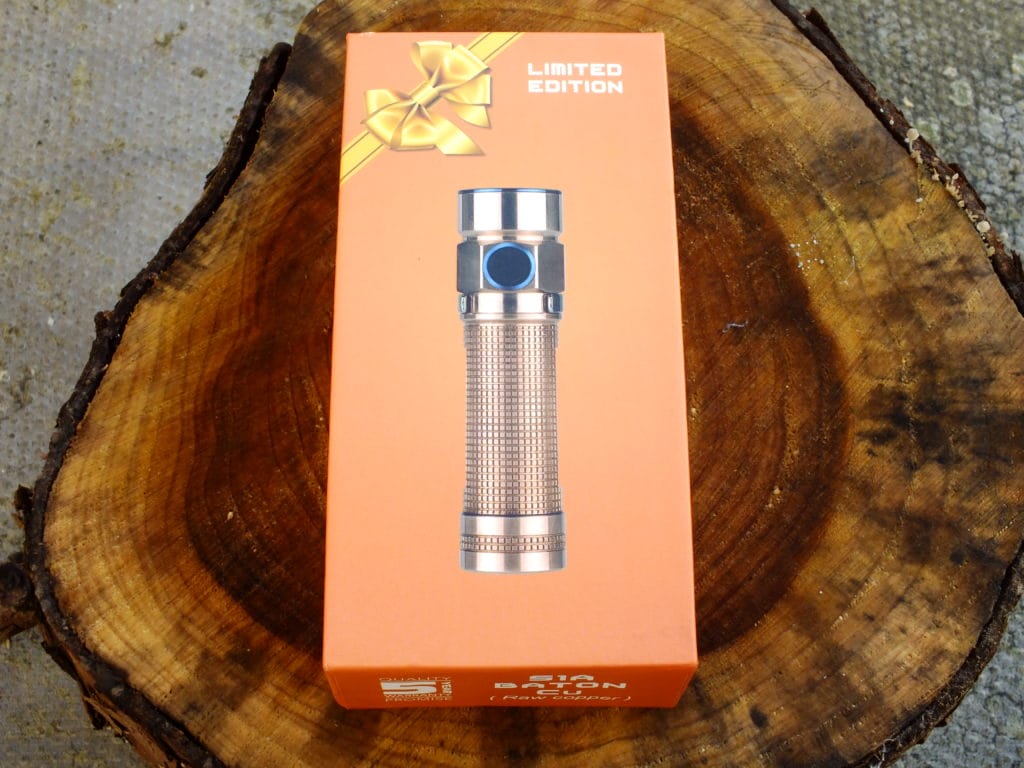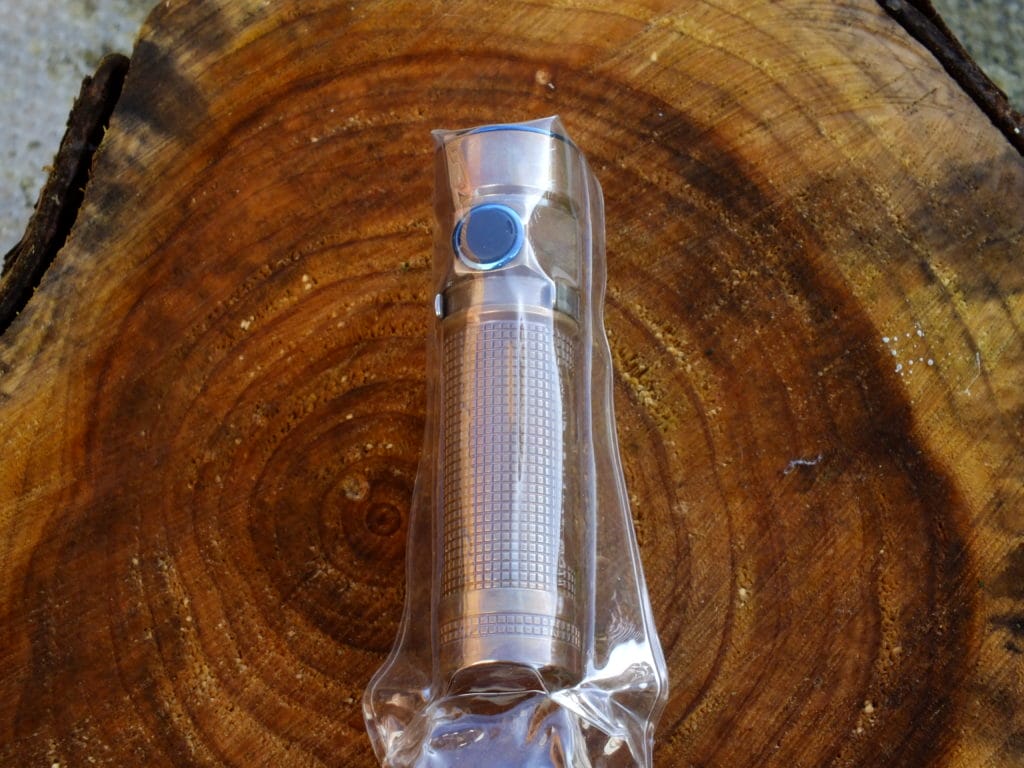 The Olight S1A Baton arrives in a decorative, orange box. On the front, there is a 1:1 scale image of the copper flashlight. Inside the box is where the treasure lies; vacuum sealed to prevent oxidisation (patina). Now, my S1A Baton came with a bit of patina even though it was sealed, but that doesn't bother me as I like the fact that my flashlight will be unique.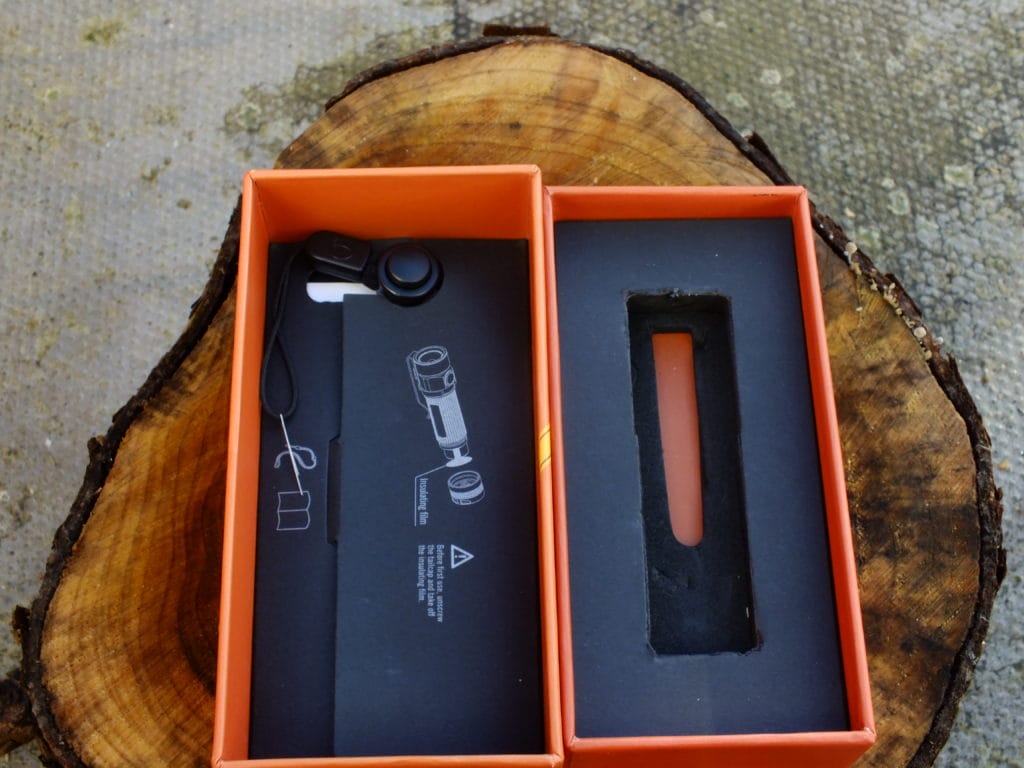 It comes nestled in thick foam, protecting it during transit. Now, you may not see the accessories at first and that is because they are in a black envelope, tucked into the lid of the box.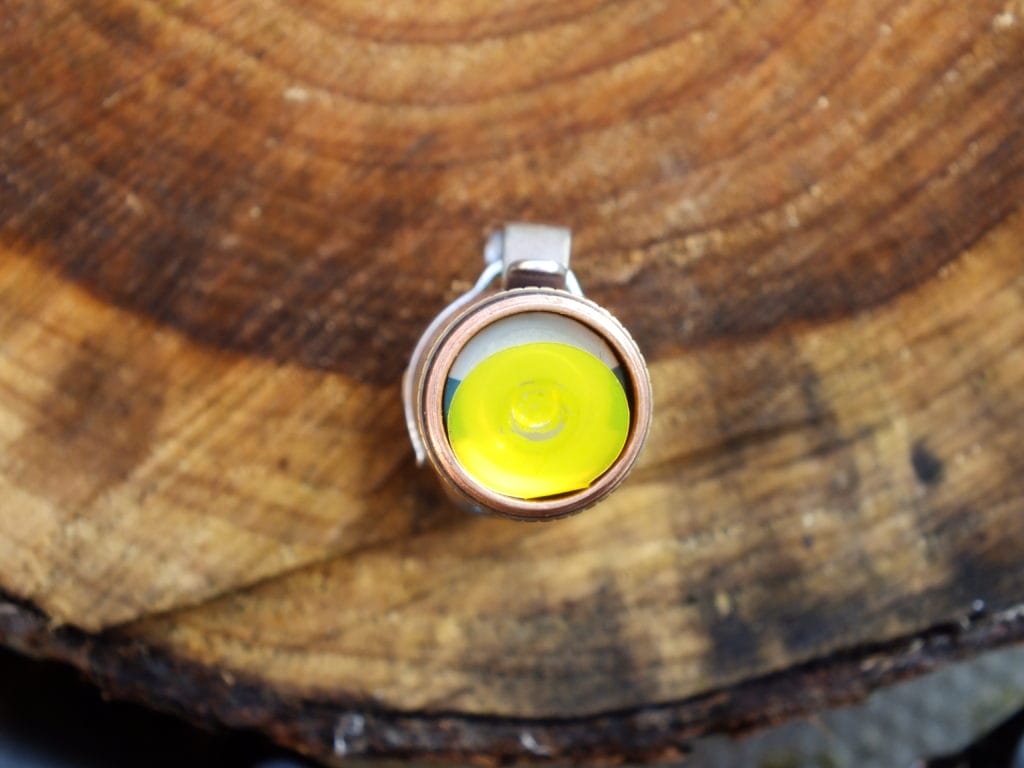 Printed on the envelope is a notice reminding you to remove a thin film of plastic which prevents the spring from making contact with the battery, therefore breaking the circuit and preventing the light from turning on.
Contents.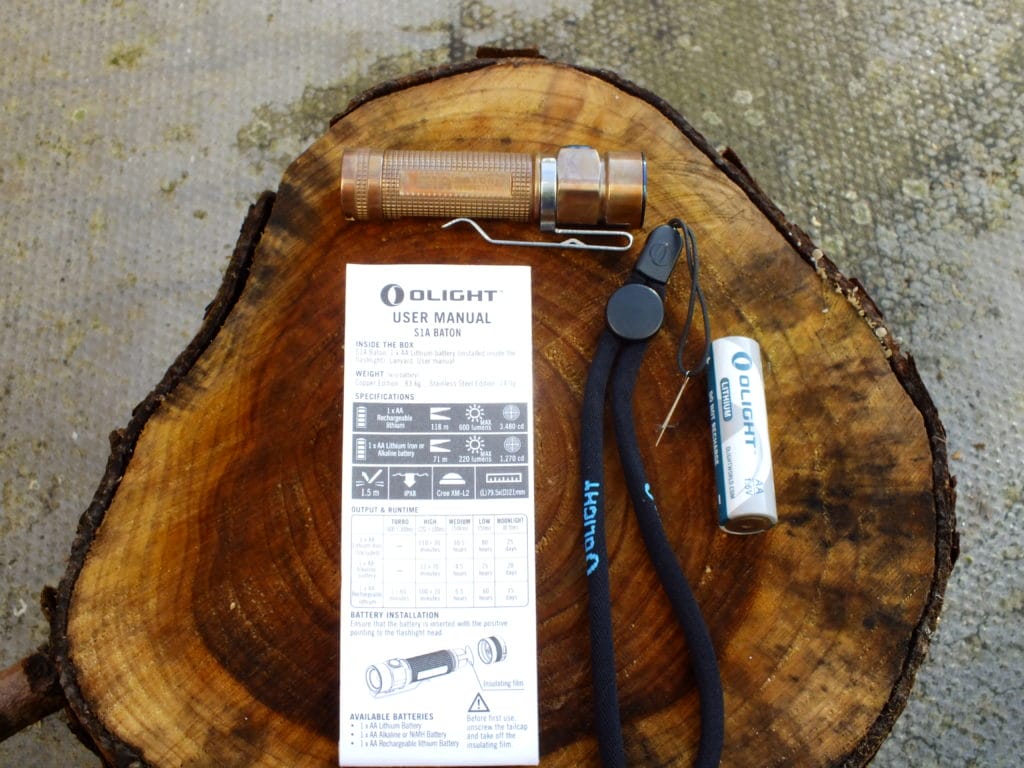 In the box, you receive:
Instruction manual in 17 different languages
Quality Olight lanyard (adjustable)
Threading needle (makes threading the lanyard through the carry clip easier)
AA lithium ion rechargeable battery
Olight S1A Baton in Raw Copper
Due to the fact that the S1A Baton is made from solid copper, it is quite deceptive when it comes to the weight of the flashlight. Although it is quite compact, it is still quite heavy, but not too heavy to be burdensome to carry. The copper construction serves another purpose as well as looking appealing – it is an effective heat sink material.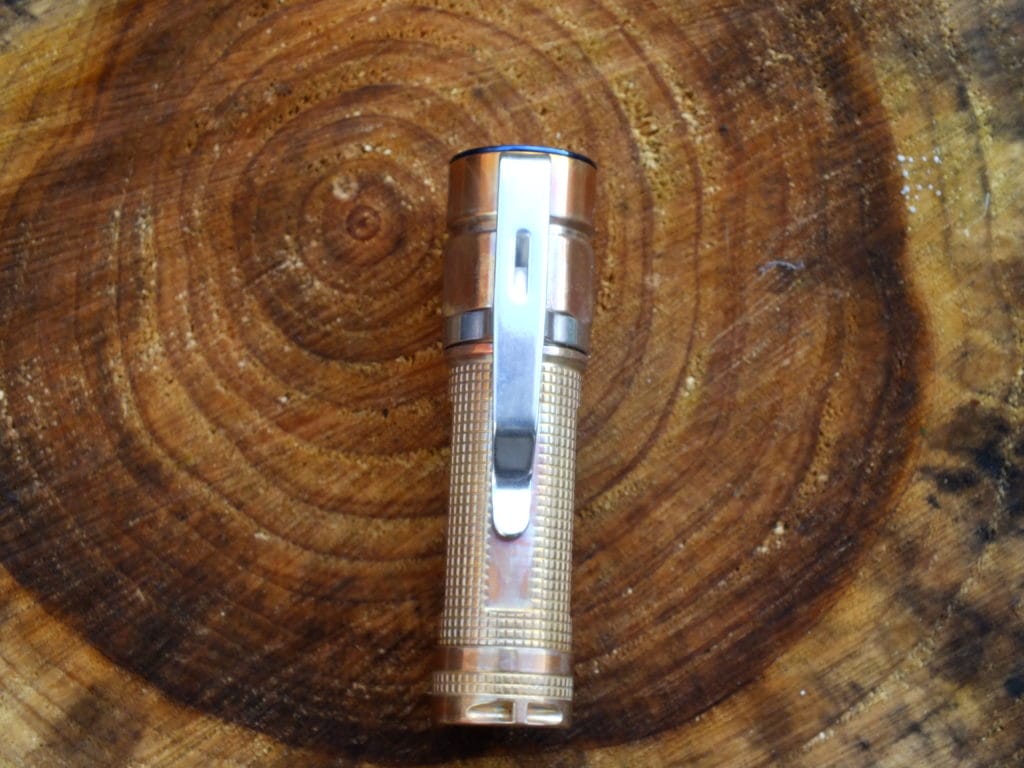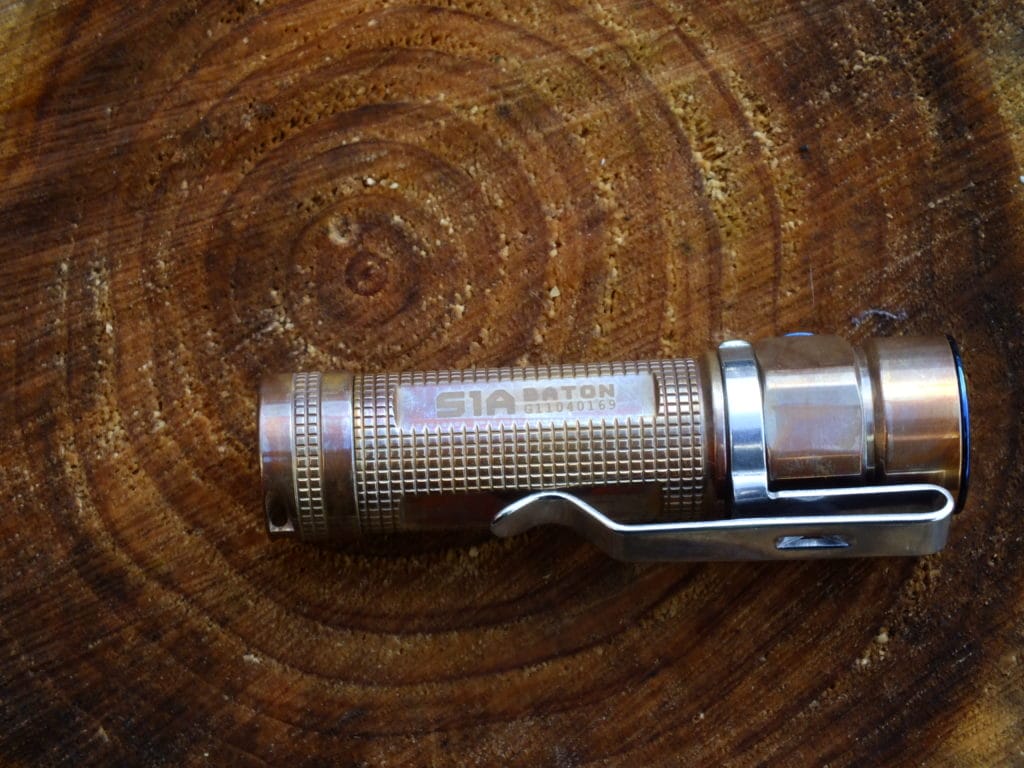 There is a pocket clip included and it is quite deep – about ¾ the length of the flashlight. It is made of shiny stainless steel and is springy, yet stiff enough to keep the S1A Baton from falling out of your pocket. The clip has been designed to allow you to carry the flashlight face-up. It is not reversible. The Olight S1A Baton also has tail stand capabilities, which is always useful.
Features.
The Olight S1A Baton has a waterproof rating of IPX-8, which means that it is submersible up two metres. This means that you don't have to worry about your brand new flashlight being damaged if it gets soaked. The flashlight has been designed in such a way that it incorporates subtle anti-roll features – the pocket clip and also the design near the head. Square knurling has been used, allowing you to grip the S1A Baton tightly even in bad weather.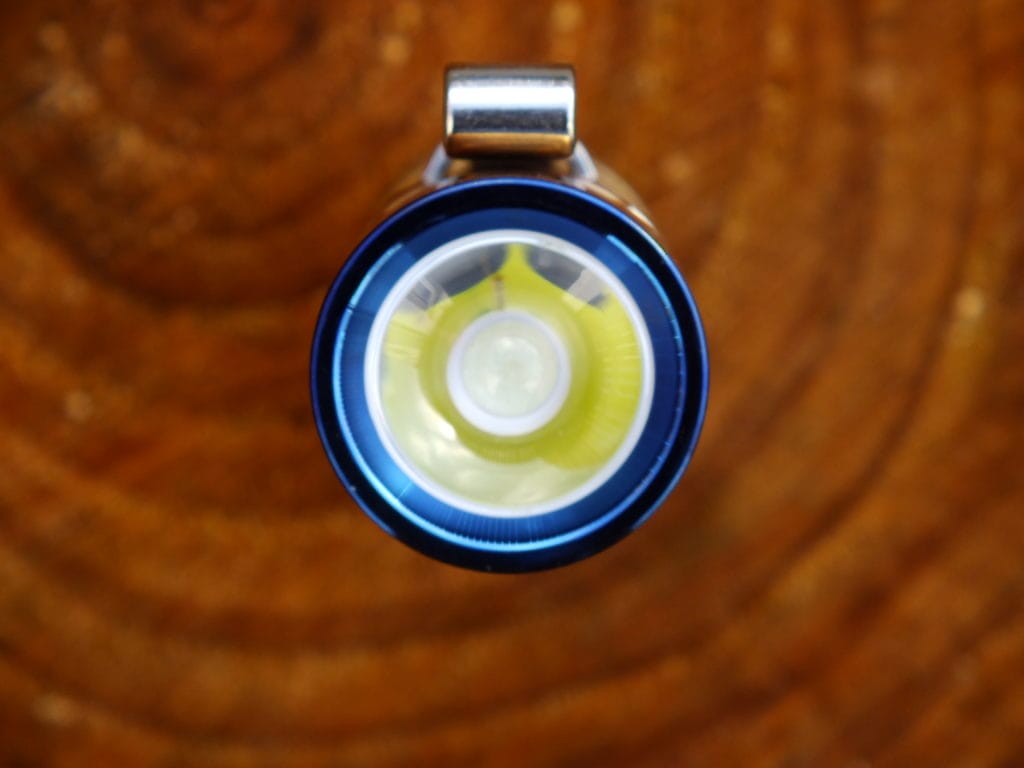 Equipped with a memory function, the flashlight remembers what mode you last used and will automatically turn on at that brightness setting when you press the side switch. The S1A Baton is also impact resistant up to drops of 1.5 metres – an essential feature for an EDC flashlight. A CREE XM-L2 LED gives the flashlight a maximum output of 600 lumens with a beam intensity of 3,480 candelas and a maximum beam throw of 118 metres (using a rechargeable AA lithium ion battery). The reflector is smooth, coupled with Olight's signature high light transmission rate TIR optic lens. This delivers an even, balanced beam. Below is a table showing the run times and other figures:
| | | | | | |
| --- | --- | --- | --- | --- | --- |
| Power source | Moonlight (0.5 lumens) | Low (5 lumens) | Medium (50 lumens) | High (200 -> 100 lumens) | Turbo (600 -> 300 lumens) |
| AA lithium iron battery (included) | 25 days | 80 hours | 10 hours 30 minutes | 110 + 30 minutes | N/A |
| AA alkaline battery | 20 days | 75 hours | 4 hours 30 minutes | 12 + 70 minutes | N/A |
| AA rechargeable lithium ion battery | 15 days | 60 hours | 6 hours 30 minutes | 100 + 10 minutes | 1 + 60 minutes |
Operating the Olight S1A Baton.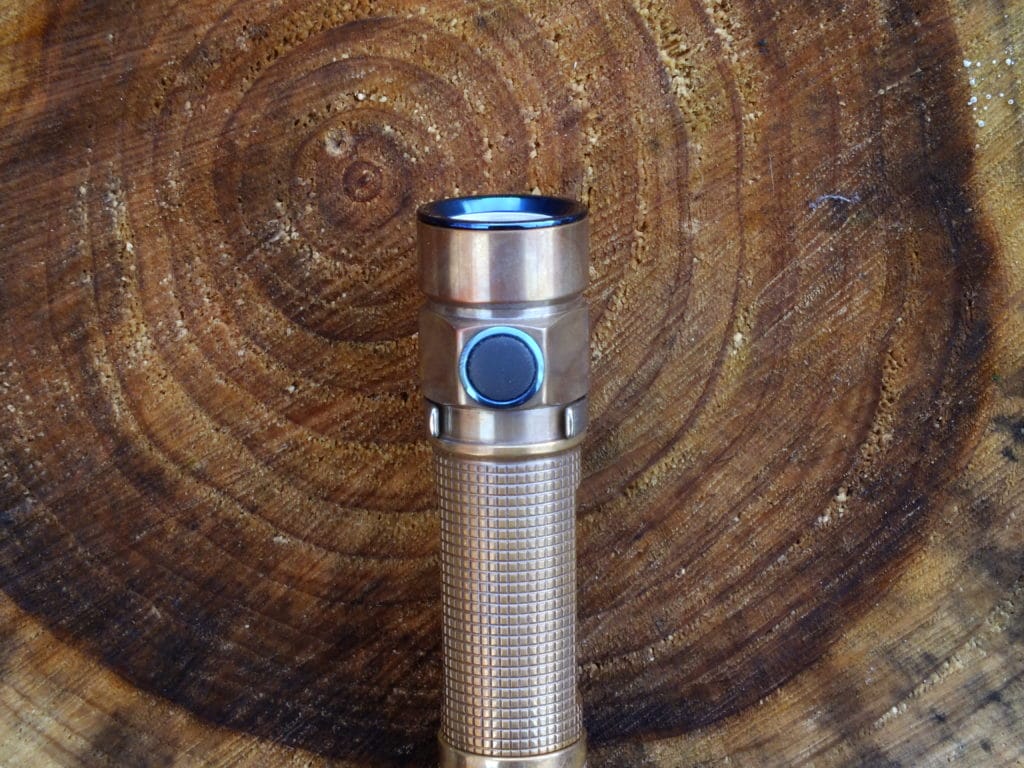 Using the flashlight is quite simple, as a single side switch controls all of the functions. Press it once to turn the flashlight on and continue to hold it in to change through each brightness level (low – medium – high). To access the "moonlight" mode, when the flashlight is off press and hold the switch for more than one second. To access turbo, when the flashlight is off, double press the switch. There is a hidden strobe feature – accessed through triple-clicking the side switch (the strobe has a frequency of 10 Hz).
Timer Settings.
The flashlight has two timer settings – long (9 minutes) and short (3 minutes). After this period of time, the light will automatically turn off. To change between the two, turn on the S1A Baton, then double-click the side switch. A single flash from the LED means that the flashlight is in "short timer" mode, whereas two flashes means that the S1A is in "long timer" mode.
Dealing with Temperature.
As I mentioned previously, the sheer amount of copper used allows the heat to dissipate quickly. However, the light doesn't actually get that hot, which is why no other heat dissipation features have been used (for example, an ATR module or cooling fins).
Improvements and Suggestions.
I'm very impressed with this light, however I have one suggestion: a reversible clip. This would be good, as it would allow people to carry the S1A Baton whatever way they wish. Apart from that, Olight have come up with a fantastically built, limited edition EDC flashlight that will appeal to many people.
Beam Shots.
Here are some beam shots I took of the S1A Baton on turbo: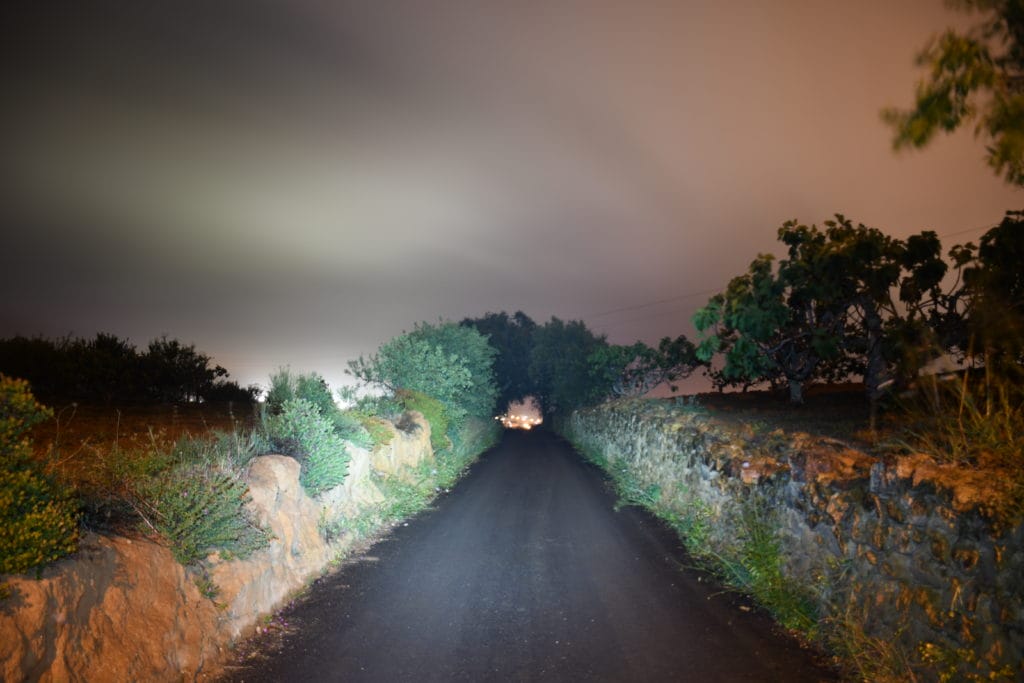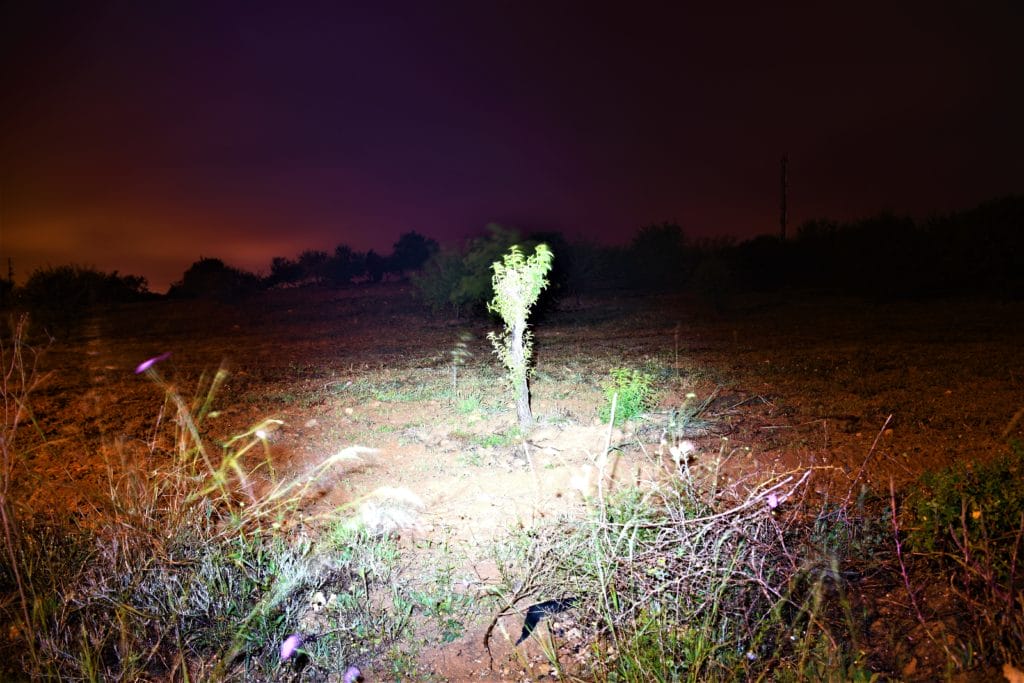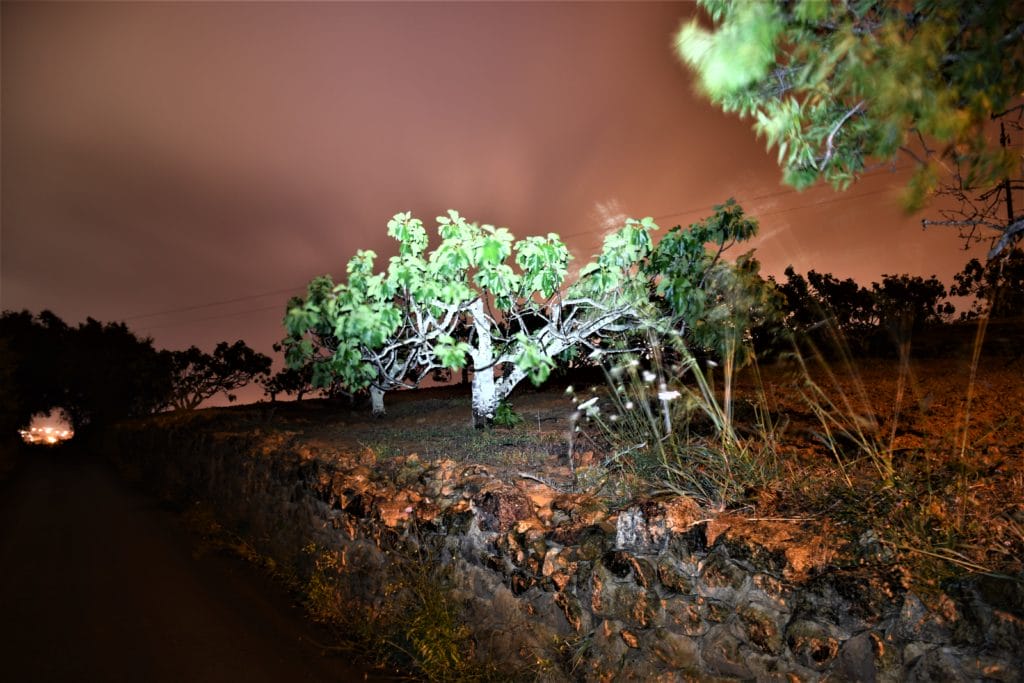 Buy the Olight S1A Baton in one of three limited-edition styles (rose gold copper, raw copper or black stainless steel) here:
If you want the Olight S1A Baton for yourself, it's available for purchase only on Amazon. The RRP for this product is £69.95.
Product sample provided by Olight in exchange for a detailed, unbiased review.
---
Thank you for taking the time to read my post. If you'd like to add a comment or thought on this post, please use the section below. I can also be contacted via the online contact form. Please subscribe for the latest reviews, news, and discounts. Please follow My Helpful Hints on Twitter, Instagram & Facebook too!
Olight S1A Baton in Raw Copper