Today is a special day for the My Helpful Hints website, I'm finally pleased to be able to share with you the NEWYES SyncPen 2nd Generation. I've had this pen now for a few weeks and today I'm going to be sharing with you my thoughts.
The pen (as of 20th April 2020) has not yet been released and is in early project status on Kickstarter. I'm one a few lucky people to have hold of this 2nd Generation SyncPen.
So, what is this product? Well basically it's a smart pen that records your handwriting and uploads it onto a special app. You're then able to amend and send your creations via social media and email.
You're also able to use both a physical paper book and make use of the NEWYES reusable LCD tablet which brings about some special features. More on this later.
Another cool feature is the handwriting search facility, the app will search for any text containing your search term and locate your handwritten masterpiece. Great for finding an important document.
Usually with a review I'd go onto to describing packaging and contents, but with today's review that's not possible as it's in the very early stages of development and could possibly change over time.
Contents.
So, I received the following from NEWYES, 1x Notebook, 1x LCD Tablet, 1x SyncPen, 3x Ink Tips, 3x Stylus Tips, 1x Micro USB Cable, 1x Multi-Lingual User Guide.
These contents could change over the duration of the Kickstarter campaign and might change when the product has been fully released onto the market.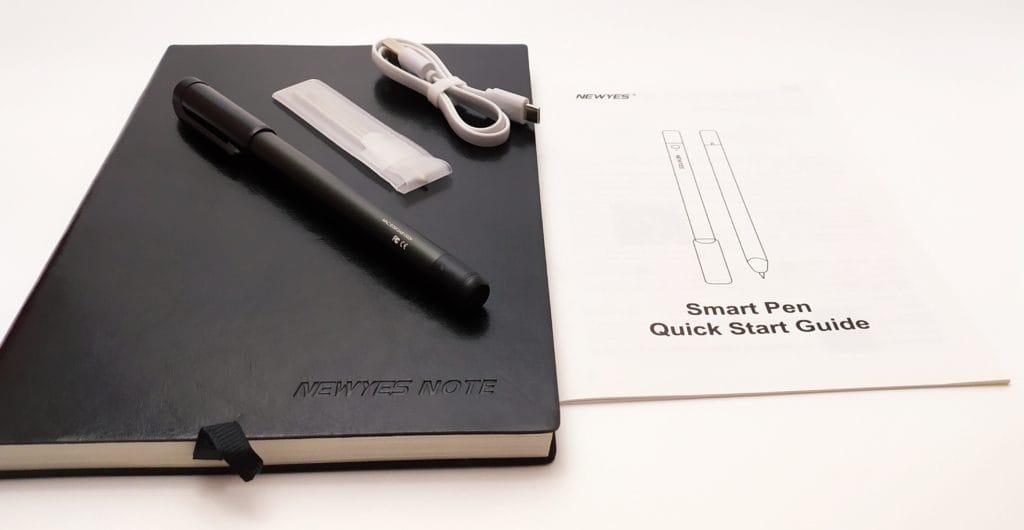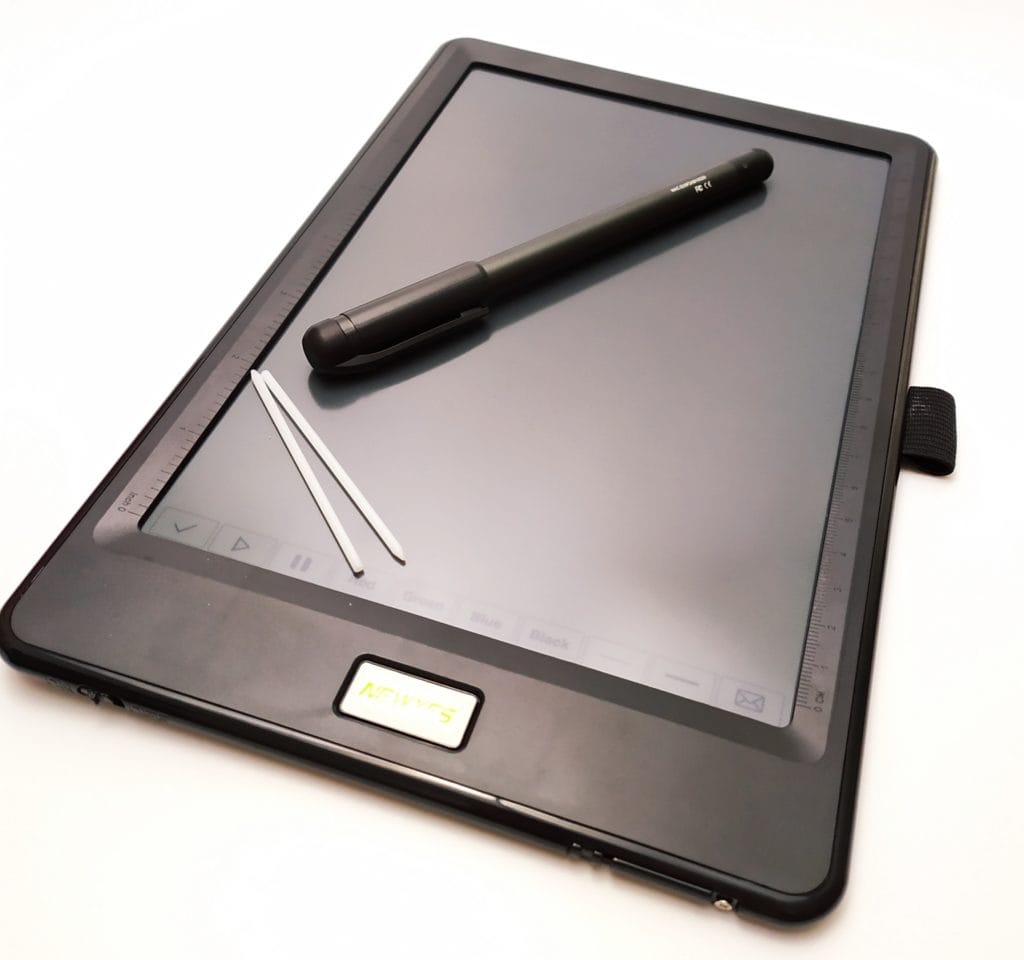 NEWYES SyncPen 2nd Generation.
This is the second attempt of launching a smart pen from NEWYES as the clue of 2nd Generation would indicate. Their first SyncPen was launched after a very successful Kickstarter campaign which raised $86.999 with a total of 746 backers. This time NEWYES are hoping for the same level of backers to make this product a possibility.
The indicated product price is $180 (£144.61) for the pen, notebook and LCD tablet. But of course, you can add extra notebooks and even request different coloured outer covers.
The 2nd generation version of the SyncPen features a different sized pen, it's more of typical sized writing pen, the 1st gen pen was longer, thicker, heavier and couldn't operate in a 360° direction. This 2nd gen pen measures 148mm in length (without the cap), 10.5mm in width (without cap) and weighs a mere 20G.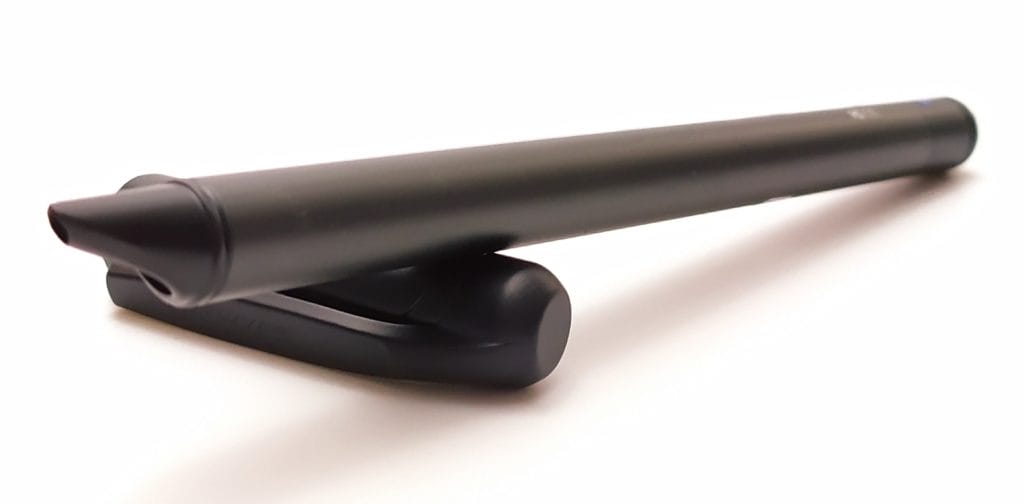 The nib of the pen has a special angle to it, this enables it to record and sync your movements to the app. You can easily switch between ink or the stylus by pushing each into the hole of the nib area. Obviously don't use the ink tip on the LCD tablet.
Charging.
The pen features an in-built rechargeable 260mA Li-Polymer battery. To charge you can use the supplied measure 40.0cm in length. But you can use any Micro USB cable as the supplied cable is small in length. For reference it's the same cable as an Android mobile device.
The pen has a special Micro USB charging port located on the end of the pen.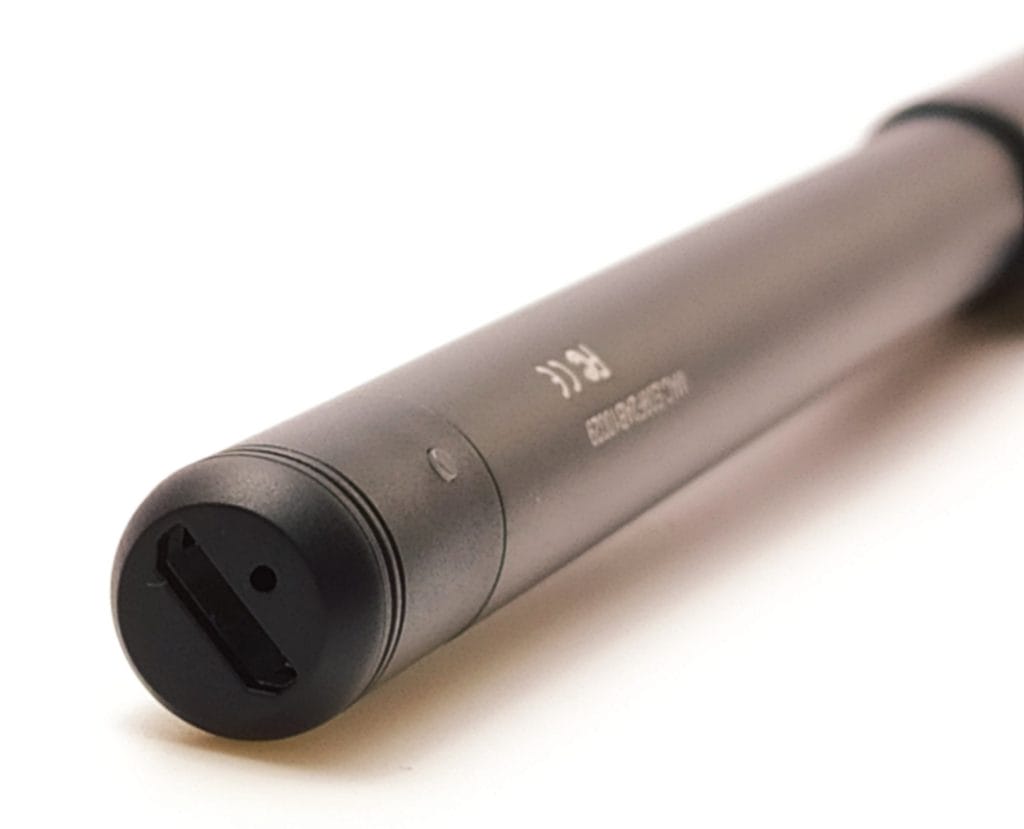 To charge you'll need to use the USB plug and power it via any 5V DV power source. Any spare USB port on your power bank, laptop, TV, USB wall adapter is suitable and will charge the pen at 5V DC/500mA.
The battery fully charges in only 1.5 hours and single charge allows you to write continuously for around 8 hours!
This charging cycle is indicated by an LED light located near the end of the pen. Whilst charging a Red LED is visible, upon a full charging cycle the Red LED light will turn to Green. Simple!
If whilst using the pen the battery level drains to 20% the Red LED light will keep flashing to indicate a recharge is due soon.
Pairing to the App.
The NEWYES SyncPen 2nd Generation use a Bluetooth V4.2 wireless connection to sync your work to your mobile device. You're able to use both Android 5.0 or above and iOS 9.0 or above operating systems and the Bluetooth connection is a silent type whereas when the pen is not in use the connection sleeps and awakens upon removing the pen cap. You'll know when the pen is active as you'll feel a slight vibration. The pen goes to sleep automatically is no activity has been detected for 20 minutes.
You'll only need to set up a connection once and the easiest way is via the NEWYES app. This app is where all the magic happens and forms a major factor of the product.

Go to your usual app store and search NEWYESNOTE. Download this app and start the journey of registering on the NEWYES database. The app will perform a search for a suitable product and will automatically detect the SyncPen. The enclosed user guide refers to pressing a button to connect, but there isn't any visible button on the pen itself and the image of where they're showing is just the LED light. A little strange. But maybe a future user guide will have this problem fully addressed.
App Features.
The app itself is easily accessible for all persons and features multiple settings and menus. It's very simple to use, if you're able to perform a search and download the app then you'll have no issues using the app itself.
You're able to save documents in different ways such as PDF, JPG, MP4 and more. You're also able to post directly onto social media networks such as Facebook, WhatsApp, Instagram and Twitter. You can also send via email and the app will launch your usual email mailbox.
NEWYES Notebook.
The notebook supplied by NEWYES is an 80 double sided paged book (160 writable pages) which features a wipe-clean outer PU leather cover. The pages are paper-free too and made from mixed composite materials. Each page features 23 pre-ruled lines on an off-white coloured page. The Notebook is a standard A5 (148mm x 210mm) size.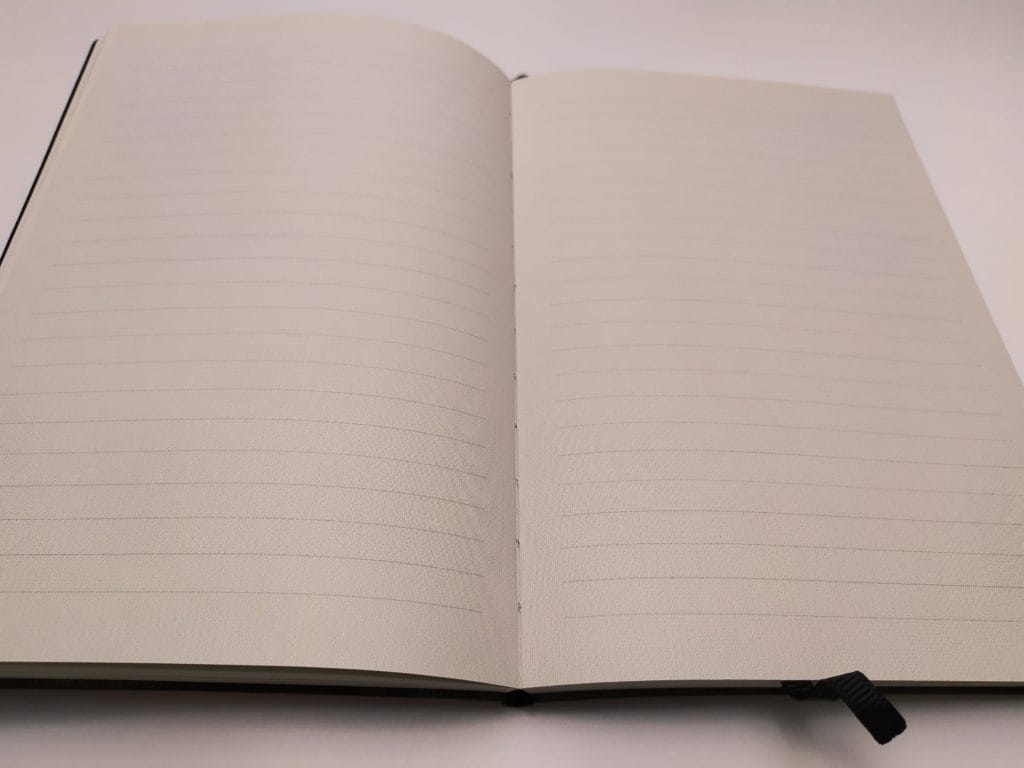 To use the Notebook, you need to ensure that you've placed in the ink tip into the pen. The tips write in Black ink only, a possible future edition might include some Blue ink too.
Although in the app you can set it up that'll allow you to automatically change the colour on the app view.
The thing that surprised me was how easily the pen glides as you write. It feels like a high-quality nib and something that you'd get with a high-end pen manufacturer.
You'll need to select the option 'notebook' on the app.
The SyncPen has 1024 different pressure levels, which means it'll record the lightest of sketches to the most forceful stabbing motions.
You can write all day long and then sync the pen to the app in one go as the pen can store 32MB of data (almost 800 pages of work). Or you can sync as you write, and you'll be amazed to see your writing appear in live form on the app as you write on the page. Like magic. Whilst using the app in live mode you can even change the way the records on the app, you can select writing thickness, and even erase text from the screen.
Honestly, it's incredible to witness!
LCD Tablet.
NEWYES have supplied an LCD Tablet too. This is great if you want to draw and upload images. The biggest benefit of using the LCD Tablet is that you'll not be using the pages up on your notebook. The tablet also features some special features that goes beyond using the Notebook. To use the tablet please remember to remove the ink tip and slide in the plastic stylus tip.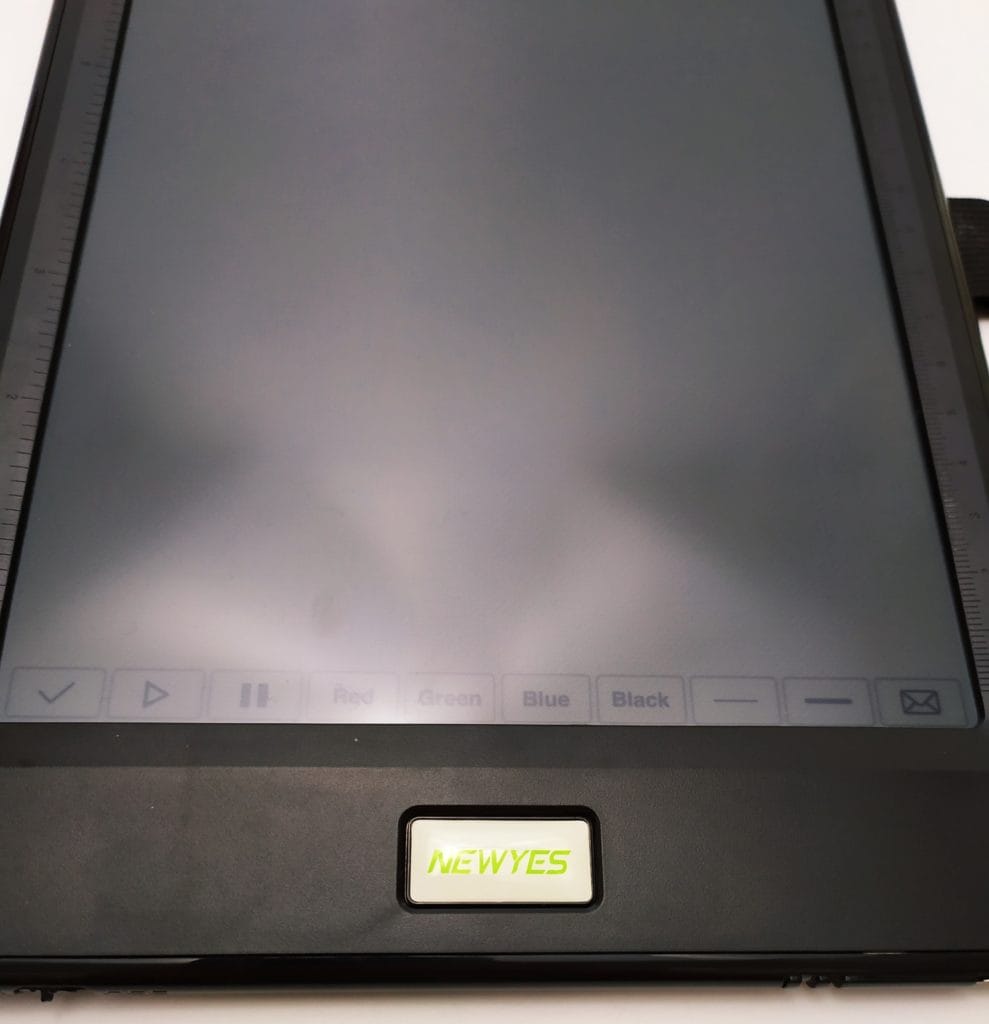 You'll need to power on tablet via the toggle switch located on the bottom left hand side of the tablet. Then you'll need to select the option 'LCD Pad' on the menu of the app. Create a new document can be achieved by selecting the plus icon.
On the bottom of the tablet you'll see some options, these options are live and change text colour (Red, Green, Blue & Black), Thickness and to select these you'll need to press the pen onto each icon. You're also able to directly send to an email address by pressing the pen onto the envelope icon (when initially set up for email forwarding)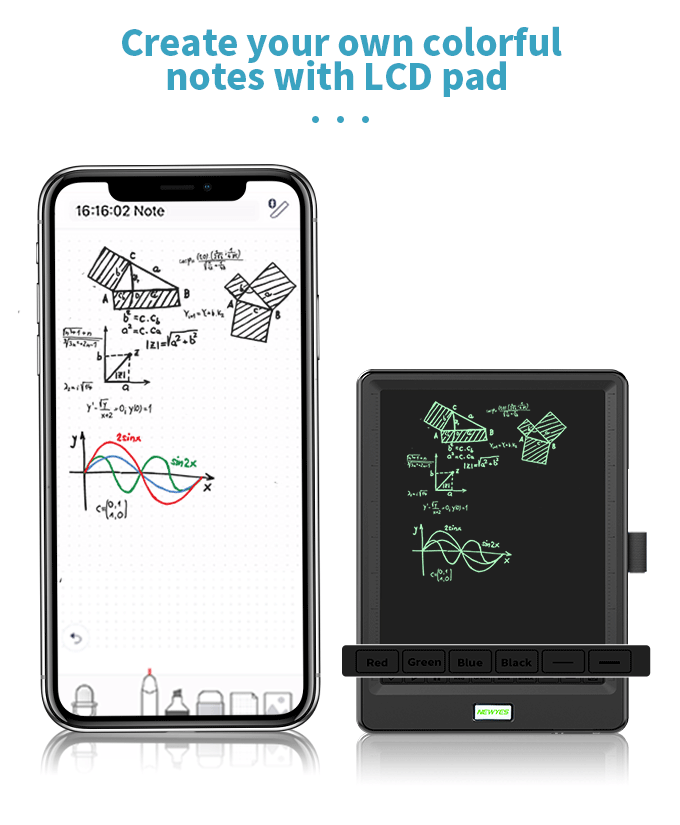 To wipe the screen, press the NEWYES logo button. But this won't erase images on the app, you need to save/delete these in the app before pressing the wipe button on the tablet.
The LCD tablet has CR2032 button cell battery that'll last 100,000 applications. Plus, they're cheap to replace anyway and are easily available.
Microphone.
Yep, there's more to the NEWYES SyncPen 2nd Generation. There's also a voice recording facility. This enables you to record your sweet vocals and use the pen like a Dictaphone. Your recordings are available within the app for you to listen back at a later stage. This microphone does not allow you to record vocal and translate that into the onto the app, that'll be crazy if that did happen.
Maybe a 3rd Generation pen could have this feature by using the same technology from Alexa, Google Assistant or Siri voice recognition and integrate it somehow into the app.
Other Features.
One thing I've failed to mention in much detail is the handwriting recognition search feature. This is a special feature that NEWYES have implement. Basically, you're able to find any piece if your written work by searching for a word. Go to the app and select the option the magnifying glass icon on the top bar and perform a search in the text bar. You'll need to make sure your writing is clear to maximise this feature, but it does work. This feature also recognises 66 different languages, mathematical equations, and scientific formulas.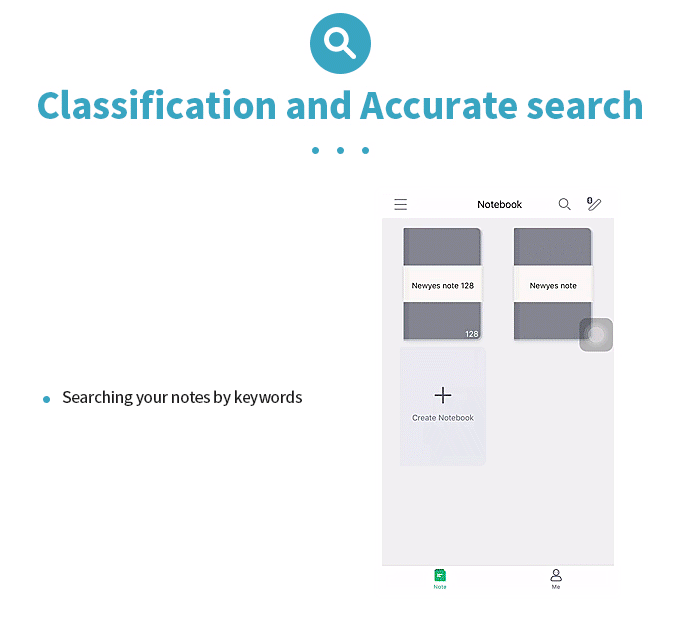 Another cool feature (Yes there's more) is the scan option. Select this option in the left-hand side menu. The app will ask for your permission to access your mobile phone camera, give it permission and you'll be able to scan text and images and upload them directly onto the app.
Oh, and one thing, the pen remembers the difference between the notebook and tablet, so you'll be able to continue with each option separately and it'll automatically pick up from where you left off. So, you can use the book for writing, switch the tip and start sketching on the tablet, change the tip to the ink again and continue to write in the book. When you check the app both pieces are uploaded separately. You're also able to back through previously pages and edit it on the page and it'll magically appear in the app, the pen remembers each page as some sort of wizard.
There's probably more…
Technical Specifications.
Brand: NEWYES
Model: SyncPen 2nd Generation
Manufacturer Code: P1s
Manufacturer Reference: N/A
EAN: N/A
ASIN: N/A
Connection: Bluetooth V4.2
Pressure Level: 1024
RAM: 32MB
Battery Type: 3.7V 260mAh Li-Polymer
Charge Voltage: DC5.0V 500mA
Charge Time: 1.5 Hour
Use Time: 8 Hours
Supporting Systems: Android 5.0 or above, iOS 9.0 or above.
Compliance: CE, FCC,
Conclusion.
Wow, the NEWYES SyncPen 2nd Generation is fricking awesome! I'm very lucky to be able to review this product for NEWYES. Honestly, it's great and very difficult to find fault with anything. It's also worth noting that I have the very early release and things can change and improve in the time of my published review to the live product. I'm sure the user guide will be updated in due course.
I'm in complete amazement watching my writing come to life on the app, it's like watching a live magic show. There're so many features with this pen that it's hard to write about them all. I'm sure I've probably missed some features as there's so much to offer. I do hope NEWYES get the level of backing that they're anticipating getting as this is a fantastic project and excellent piece of technology.
It's no surprise to you that I love this pen and wholeheartedly recommend you back it today. See the Kickstarter campaign here.
For a limited time only NEWYES will supply early backers a free gift if they sign up to back this Kickstarter campaign, the Google Form to register your interest can be found here. The first 200 backers can get this SyncPen for $89.00 instead of the usual expected retail price of $180.00.
Product sample provided by NEWYES in exchange for a detailed, unbiased review.
---
Thank you for taking the time to read my post. If you'd like to add a comment or thought on this post, please use the section below. I can also be contacted via the online contact form. Please subscribe for the latest reviews, news, and discounts. Please follow My Helpful Hints on Twitter, Instagram & Facebook too!
NEWYES SyncPen 2nd Generation