For today's review I'll be trying out the Momoho Mini Bluetooth Speaker. This miniature speaker has the cute factor, a rechargeable battery, remote control shutter and more.
The design I chose is the White Tiger version, Momoho have other options including; Bunnies and Pigs, and available in both Pink and White of each.
This speaker is small, and I've a pre-conceived idea that the sound will be terrible, but the Momoho speaker will win points for being cute.
But, what does it sound like? How easy is it to set up? Time to fully test this speaker!
Packaging and Contents.
The Momoho Mini Bluetooth Speaker comes packaged in a clear plastic box, the box features product specifications on an inner cardboard sleeve. The box measures 9.5cm x 6.5cm x 5.0cm and weighs 55G.
Upon opening the box you'll find the following; 1x Speaker, 1x Micro USB Cable, 1x Strap, 1x Chinese/English User Guide.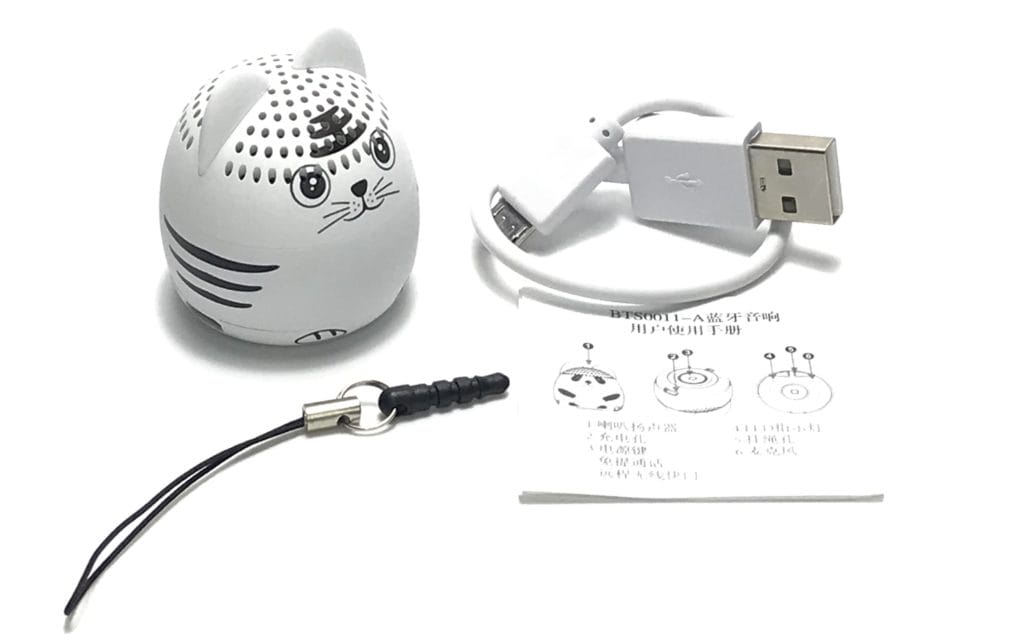 Momoho Mini Bluetooth Speaker.
The Momoho Mini Bluetooth Speaker that I have is White in colour and is supposed to a Tiger, it measures 4.0cm x 3.0cm and weighs a mere 20G.
On the underside of the speaker you'll see a user control button, this button controls the power on/off, remote shutter, and answer/end phone calls.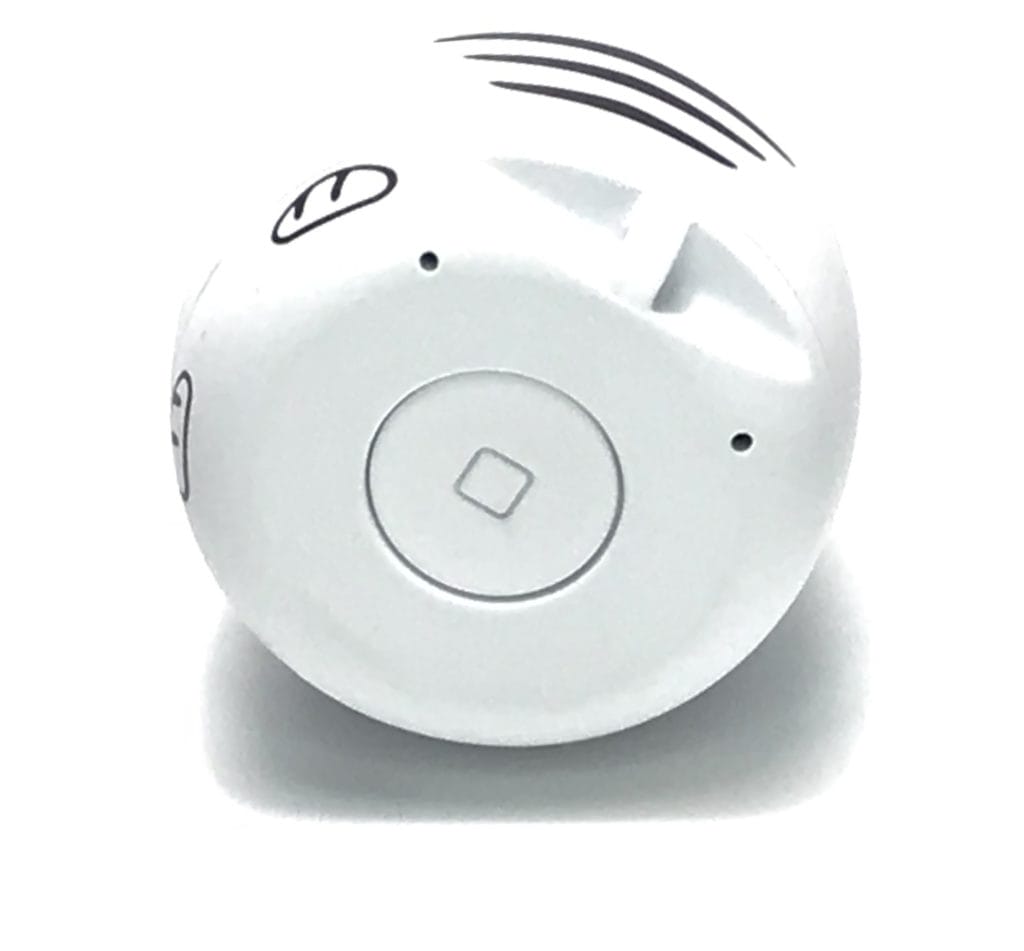 Charging and Setting Up.
Charging happens via the Micro USB cable, you can use the one supplied by Momoho, but it's quite short, measuring only 17.0cm in length. You can use any universal Micro USB cable, and need to use a USB powered AC power adaptor with a voltage of 5V DC.
To charge you'll need to insert the Micro USB end into speaker port, as shown below.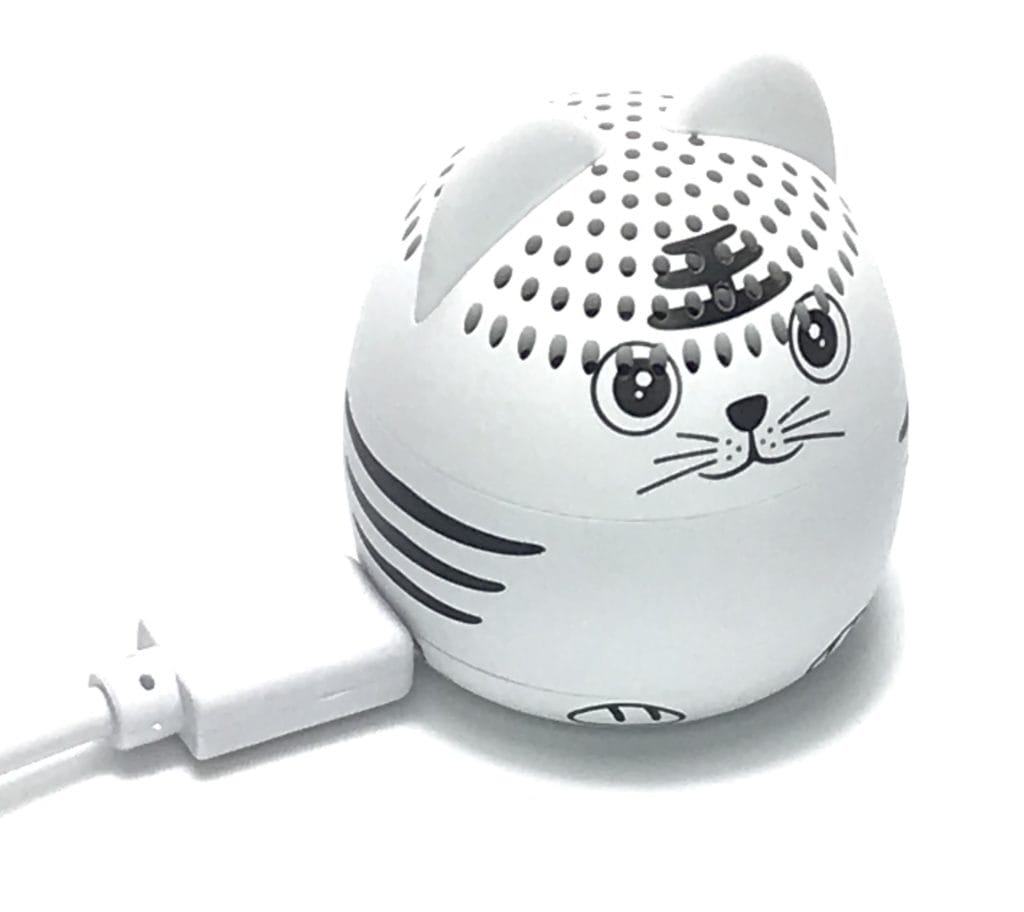 The total charging time is around 30 minutes which will give a playtime of around 1-2 hours on a single full charge.
Once charged you'll need to pair this speaker to your device using the Bluetooth connection. To do this firstly you'll need o power on the speaker by pressing and holding the control button on the bottom. You'll hear a Chinese vocal telling you that you've just turned on your speaker. Now pop over on your device and perform a Bluetooth search for 'BTS0011' and connect. Another Chinese vocal tone will confirm a successful pairing.
That's it! I also noted that you're able to both charge and use the speaker at the same time, which is great for continuous use.
Controls.
The Momoho Mini Bluetooth Speaker features just the one control button. You're able to perform the following using this button:
Power On/Off: Press and hold for around 3 seconds to do both options.
Remote Shutter: Will take a remote camera shot using your phones camera. You need to open the camera and pressing the button will take a photo. This feature works but I'm not sure how many people would use such a feature?
Answer/End a Call: Yes, the Momoho speaker features a built-in microphone to answer phone calls. Pressing the button will answer/end a call.
You're not able to pause/play your music library or adjust volume levels using the speaker. Not having the option to pause/play is a big let-down. I know I'd rather be able to pause/play a music track than use the remote shutter feature.
Sound Quality.
So, what does this tiny speaker sound like? As mentioned at the beginning of my review I had an idea about sound quality before using the speaker. And my pre-conceived conclusion was inaccurate, surprisingly the sound is quite good. Obviously not Bose quality, but certainly a real surprise. On the lowest sound level on my iPhone 7 the speaker output sound is clear and not distorted. In fact, the sound stays clear and free from distortion until you increase the volume towards 3/4 of full volume. The sound is loud too, there aren't any bass tones or anything like that, so you'll not be able to organise any summer raves using the Momoho speaker.
The advertised range of the Bluetooth speaker is 9M, I tested this range and recorded a signal drop at around ≥ 15M. So, it's better than advertised. I also couldn't block the signal using clasped hands or placing the speaker inside a metal container. So, the Bluetooth signal and quality are excellent.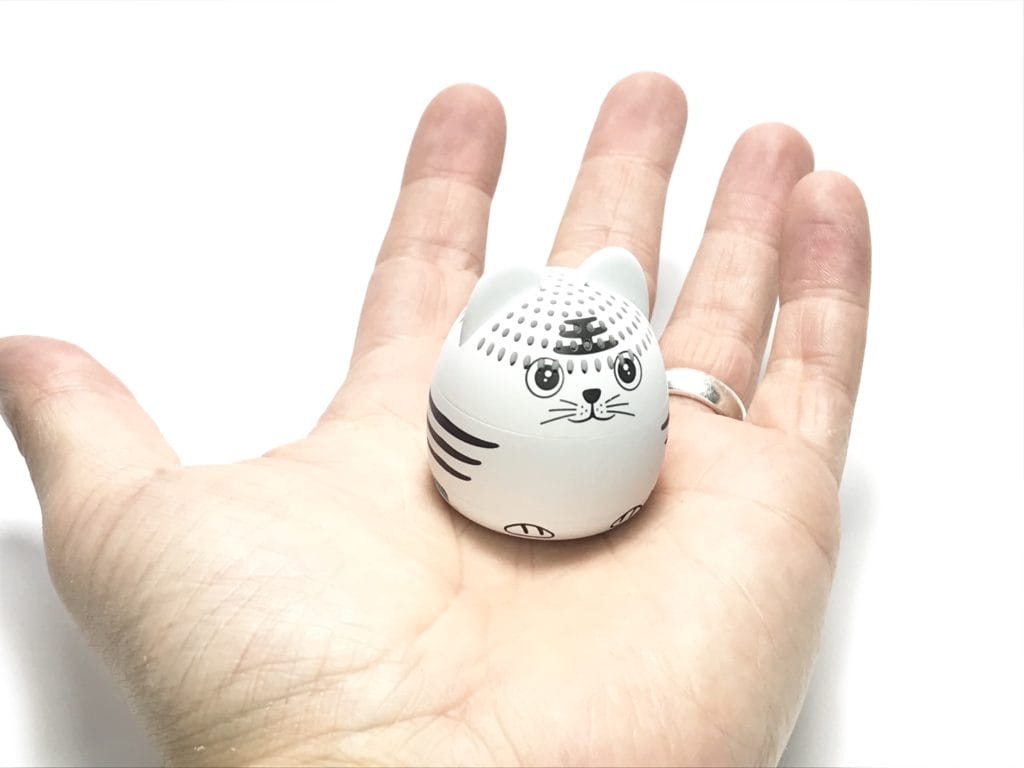 The call answering feature is quite poor though. You're able to talk into the speaker and the call recipient can hear you clearly, but you're not able to hear them back. So, a two-way conversation is out of the question.
Maybe, it's the perfect speaker for dealing with scammers trying to convert your energy supplier, you'll be able to tell them to piss off and not be able to hear their response.
Technical Specifications.
Brand: Momoho
Model: Mini Bluetooth Speaker
Manufacturer Code: BTS0011A
EAN: N/A
ASIN: B07JYQDXNN
Bluetooth Version: V4.2
Bluetooth Distance: 9M
Power Rating: 1W
Frequency: 150Hz-16KHz
THD: <1%
Sound Level: ≥90dB
Speaker Details: 4Ω 30mm Diameter
Battery: 3.7V/140mAh
Charge Time: 30 Minutes
Play Time: 1-2 Hours
Microphone: Yes
Compliance: CE, FCC, RoHS
Conclusion.
I quite like the Momoho Mini Bluetooth Speaker. It's very small in size but performs well for its small size. It's certainly very cute looking and has the charm that a younger person would love. There're a few improvements that do need to be addressed. Firstly, you need to be able to pause/play a track, it's a basic requirement to any Bluetooth speaker. Secondly a battery remaining indicator on your device would be great as you don't know the remaining life of the battery. Thirdly, the call answering feature is very poor and needs s re-think if Momoho wish to advertise this feature.
Other than a few moans, this speaker is very good, it'll make a great gift for child.
If you want the Momoho Mini Bluetooth Speaker for yourself, it's available for purchase only on Amazon. The RRP for this product is £12.99.
Product sample provided by Momoho in exchange for a detailed, unbiased review.
---
Thank you for taking the time to read my post. If you'd like to add a comment or thought on this post, please use the section below. I can also be contacted via the online contact form. Please subscribe for the latest reviews, news, and discounts. Please follow My Helpful Hints on Twitter, Instagram & Facebook too!
Momoho Mini Bluetooth Speaker