The M.Way Digital Voice Recorder is a small and compact rechargeable Dictaphone that comes with 8GB of internal memory which will record 72 hours of recording time.
You can also use this digital recorder as an MP3 Player, Alarm and even a USB Flash Drive.
A clear LCD screen, tactile user control buttons, and a compact design are some of the great features to this recorder.
But is this recorder any good? What about sound quality? Time to test it out!
Packaging.
The M.Way Digital Voice Recorder comes packaged in a Black cardboard sleeved box.  The box measures 12.0cm x 6.0cm x 3.5cm and weighs 135G.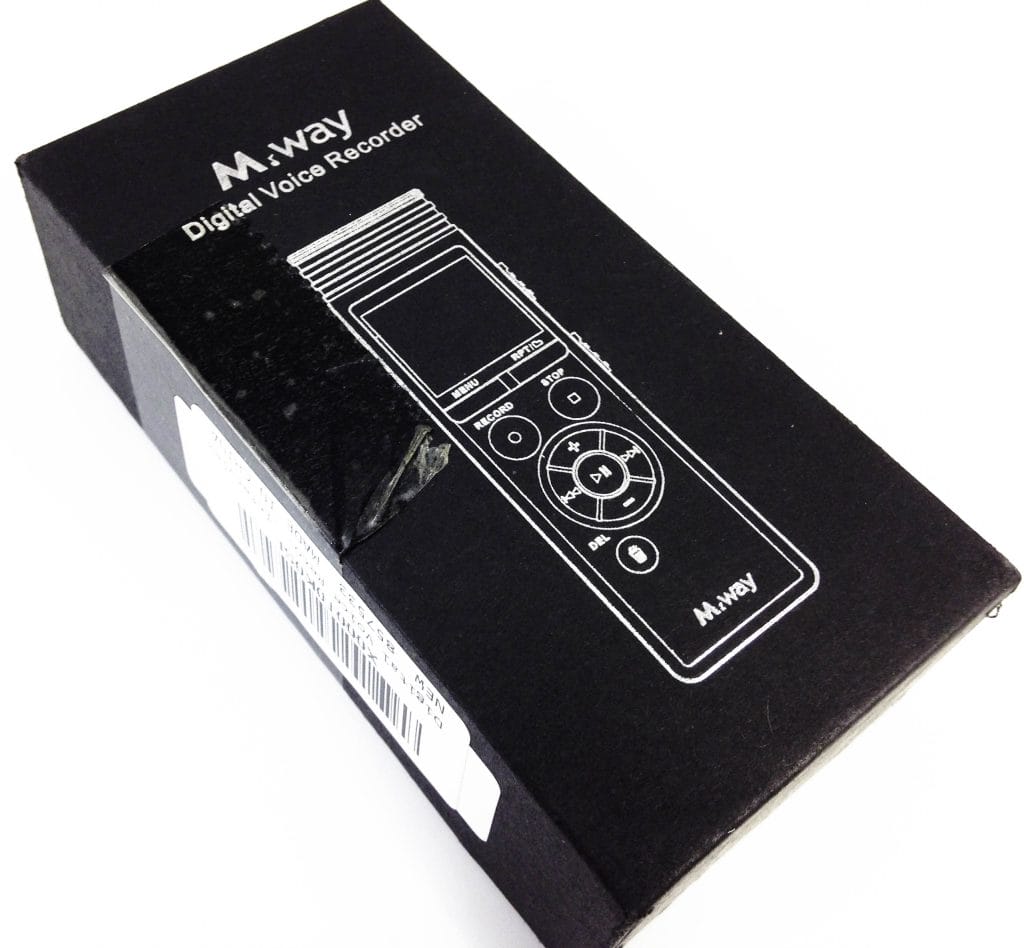 Contents.
Upon opening the M.Way Digital Voice Recorder box you'll find the following items. 1x Voice Recorder, 1x Micro USB Cable, 1x Multi-Lingual User Guide.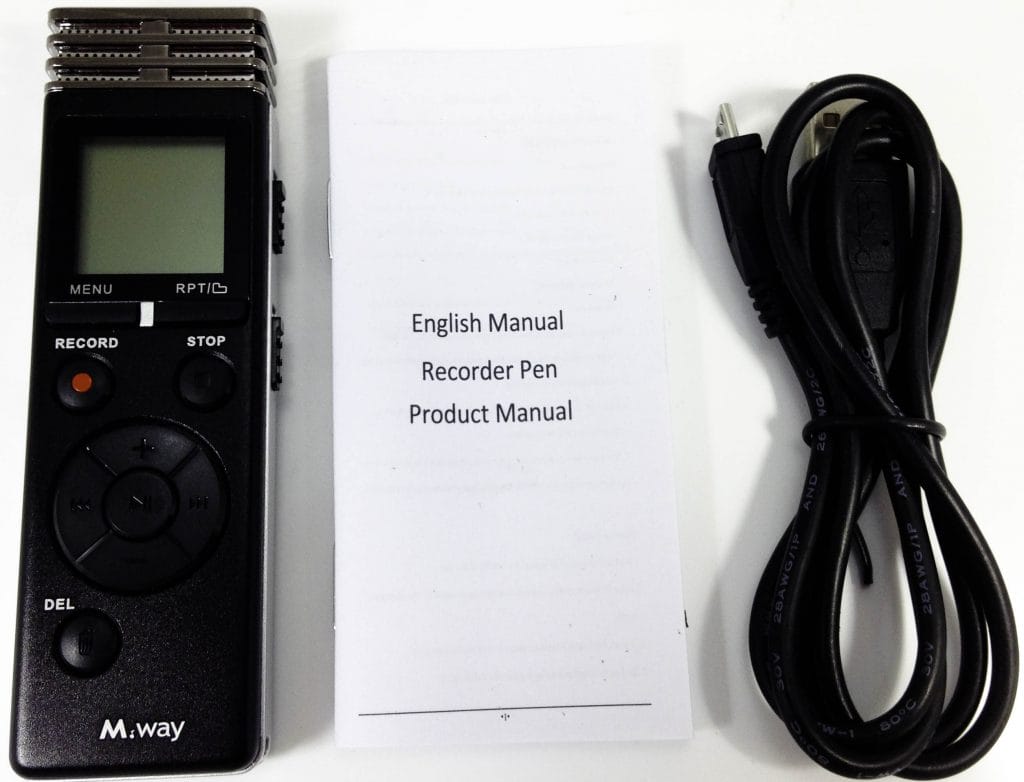 M.Way Digital Voice Recorder.
The M.Way Digital Voice Recorder is Black in colour with a Grey colour on the sides and Chrome on top.  This recorder measures 10.4cm x 3.0cm x 1.4cm and weighs 50G.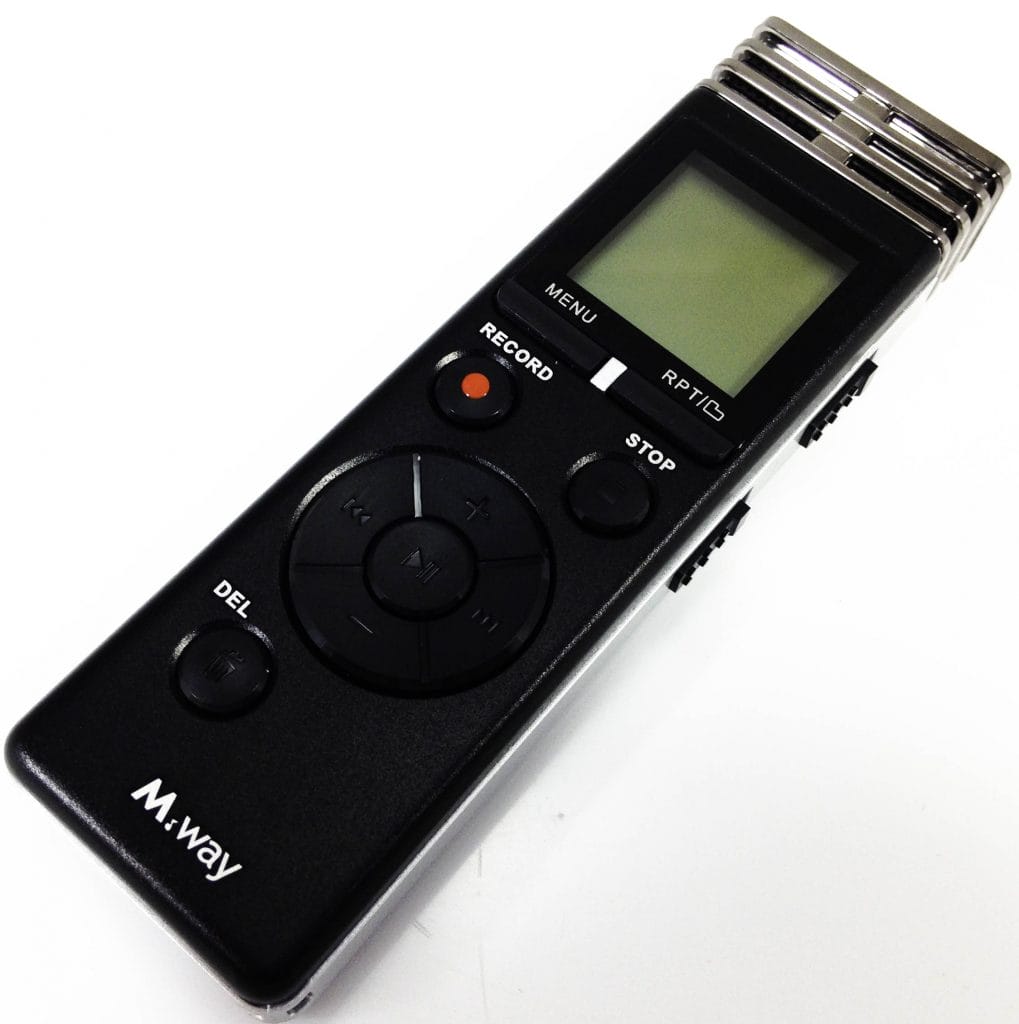 On one side there're two ports, one is a standard 3.5mm headphone jack, the other is also a 3.5mm input port for an additional external microphone.  On the other side there're two slide switches, one is the main power on/off switch, and the other is a lock switch.  The reverse is the audio output speaker is located.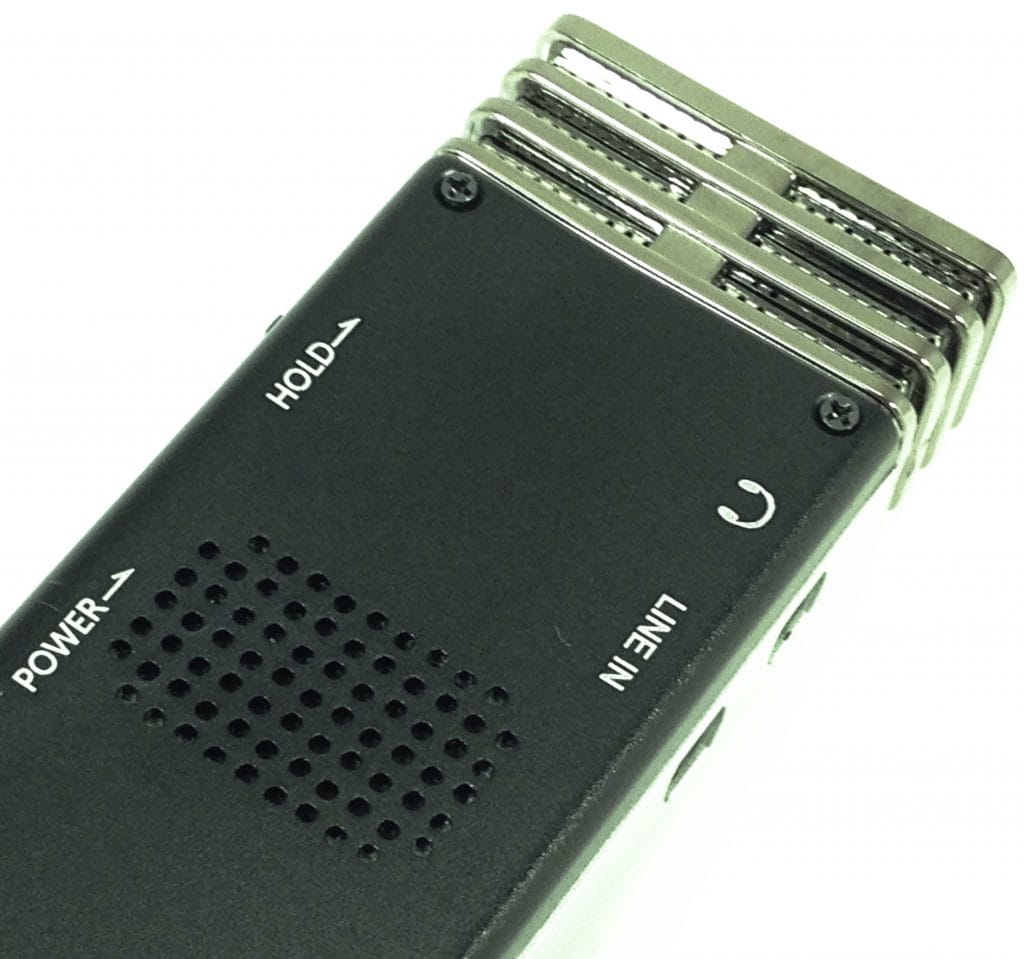 The front area has a LCD screen (Which has a screen size of 2.0cm x 2.0cm), and user control buttons.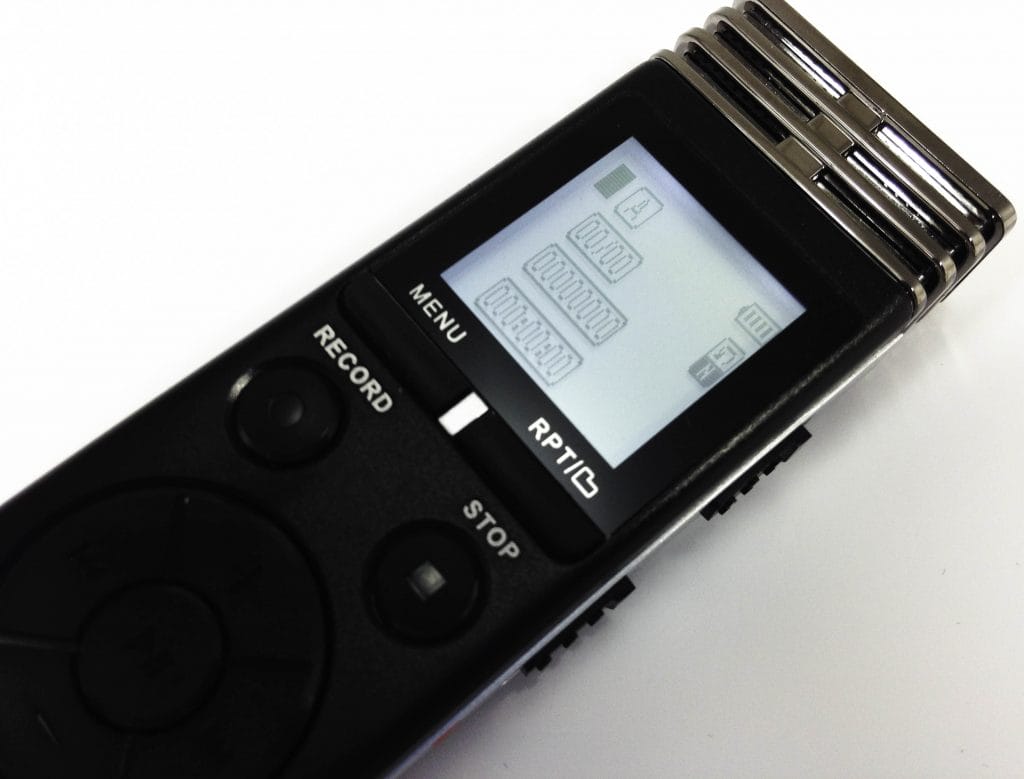 On the top chromed area is where the in-built microphone area is installed.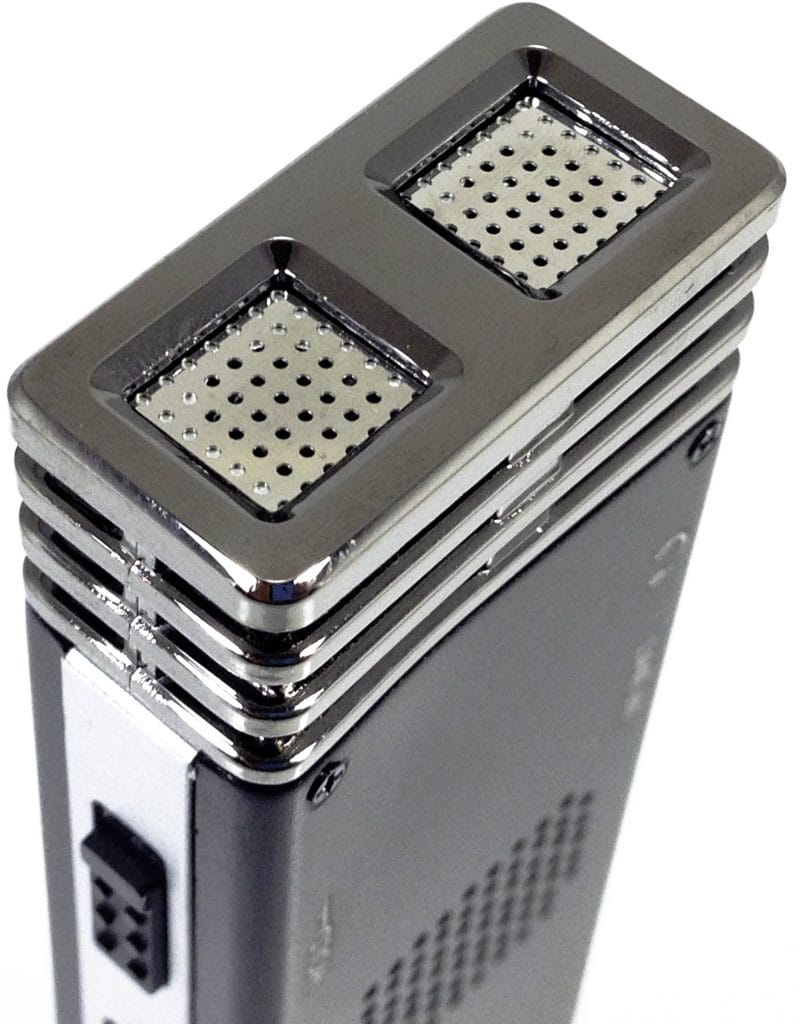 Using the Recorder.
You'll need to give the recorder a charge prior to using it.  The supplied Micro USB cable has a length of 80.0cm and will require a 5V DC electrical input, you can use many items including a laptop, powerbank, and any other AC power adapters.
The Micro USB cable also doubles up as a data transfer cable to allow you to download any recordable content directly onto your computer/laptop.  Files are saved as WAV Files and most standard programmes can play this type of audio file.
To start using slide the power switch upward, the LCD screen will light up.  To record press the record button, press the button again to pause a recording, or press the stop button to stop recording and save the audio file.
You're able to playback any captured audio using the M.Way Digital Voice Recorder directly.  On the main menu, press the play button.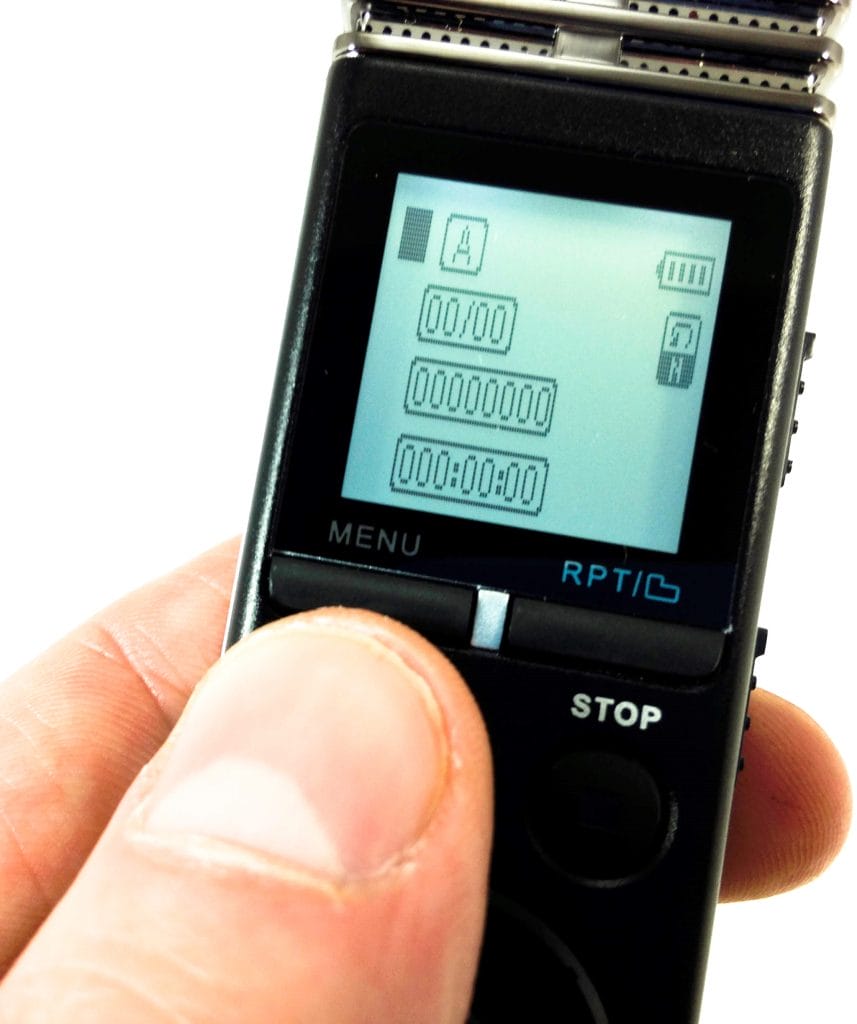 To delete a file or to delete all files press the menu button, then scroll down to either delete file or delete all, press the centre play button to enter a file and use either the right/left buttons to change the text from 'No' to 'Yes' and confirm by pressing the centre play button.
The recorded audio is OK, the microphone picks up audio from across a fair-sized room, but the playback is very tinny and has interference noises in the background.  But, you can still make out conversations.  It's a bit like taking a phone call outside on a windy day, you're just about able to make out a conversation.
Other Features.
The M.Way Digital Voice Recorder has a feature that will allow you to listen to FM radio.  Press and hold the button next to the menu button and the recorder will search for any FM radio stations.  I can't get a FM radio signal in my area, so I can't comment further on this feature.
You're also able to directly download from a laptop/pc MP3 files onto the recorder and play them on the recorder itself.  To play MP3 files you'll need to press the FM radio button and from there you're able to play audio files.
The sound though is dreadful and tinny.  I wouldn't use it as an MP3 player, it's unbelievably terrible.
Another point to make is the horribly small and confusing text that's included in the manual.  Even for people with perfect eyesight you'll need a magnifying glass to see the text, and for people with poor eyesight, there's no chance!  The font size must be the smallest allowable text size from Microsoft!
And besides, even if you could see the text, you'll still struggle to understand what M.Way are going on about, the sentences are confusing, poorly written and an obvious and lazy Google Translate to all languages without any helpful input to the reader.
Technical Specifications.
Brand: M.Way
Model: Digital Voice Recorder
Model Code: PO84BUK304
EAN: N/A
ASIN: B0798MMGTM
Storage: 8GB Internal Memory
Battery: In-built 3.7V/600mAh Lithium Battery
Recording Storage: 72 Hours (When set at

32kpbs

)
Microphone: 6022 Condenser Microphone
Microphone Sensitivity: -42dB
Play SNR: ≥80dB
Recording Format: WAV
Recording Sampling Rate: 48Khz/16bit
File System: FAT32
Connection Method: Micro USB
Transmission Interface: mini5PIN USB2.0
System Support: Windows 10/8/7/VISTA/XP
Compliance: CE, FCC
Conclusion.
The M.Way Digital Voice Recorder is a very basic product.  The recording is OK, but not the greatest.  Also, the built-in audio speaker is terrible.  I'm not very impressed with the user guide either, the text is too small and over-complicates matters with poorly written instructions.
But, if you're after a cheap recording device that can last upto 72 hours then the M.Way is perfect, the battery life is fantastic and being rechargeable is a big plus point.
If you want the M.Way Digital Voice Recorder for yourself, it's available for purchase only on Amazon. The RRP for this product is £25.99.
Product sample provided by M.Way in exchange for a detailed, unbiased review.
---
Thank you for taking the time to read my post. If you'd like to add a comment or thought on this post, please use the section below. I can also be contacted via the online contact form. Please subscribe for the latest reviews, news, and discounts. Please follow My Helpful Hints on Twitter, Instagram & Facebook too!
M.Way Digital Voice Recorder