The Letscom ID130HR Fitness Tracker accurately records all-day activities like steps, distance, calories burned, and active minutes.
The fitness tracker has 14 different exercise modes (Set up from the app) to help you better understand every piece of activity data; tap the tracker to monitor a variety of exercises and read exercise data reports in the app; the fitness tracker has GPS inbuilt, so it can show you stats like your running pace, distance and record a map of your workout route.
The Letscom ID130HR has auto heart rate and sleep monitoring which tracks real-time heart rate automatically & continuously and automatically tracks your sleep duration & consistency with comprehensive analysis of sleep quality data.
You can see calls and SMS/email messages directly on the OLED screen.
The Letscom ID130HR has an in-built USB plug which makes it easy to charge with no charging cable or dock needed and a single charge can give you up to 7 days of working time.
The Letscom ID130HR comes with a sedentary alert which can be set up and will remind you to keep moving and keep fit.
Another feature of the Letscom ID130HR is the ability to shoot photographs, simply touch the tracker and take photographs straight to your device and is compatible with all iOS and Android Smartphones.
You can also easily set up alarms to remind you about import diary dates throughout your day.
Packaging.
The Letscom ID130HR comes neatly packaged in a small White box with graphics on the front, product capability snippets on the sides and manufacturer and QR codes on the back.
The box measures 14.0cm x 8.5cm x 3.0cm.  The box weighs 75g.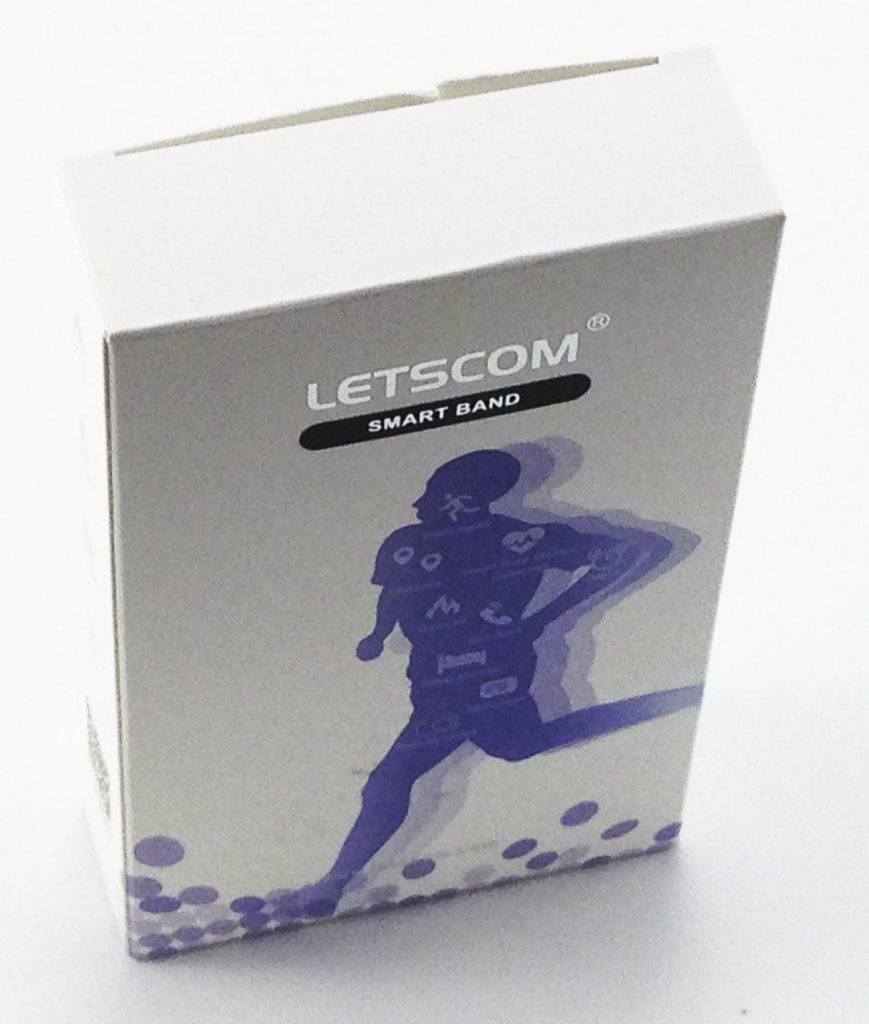 Contents.
When you open your Letscom ID130HR box you will find: 1x Letscom Fitness Tracker, 1x Letscom Contact Card and 1x User Manual with good clear written English instructions.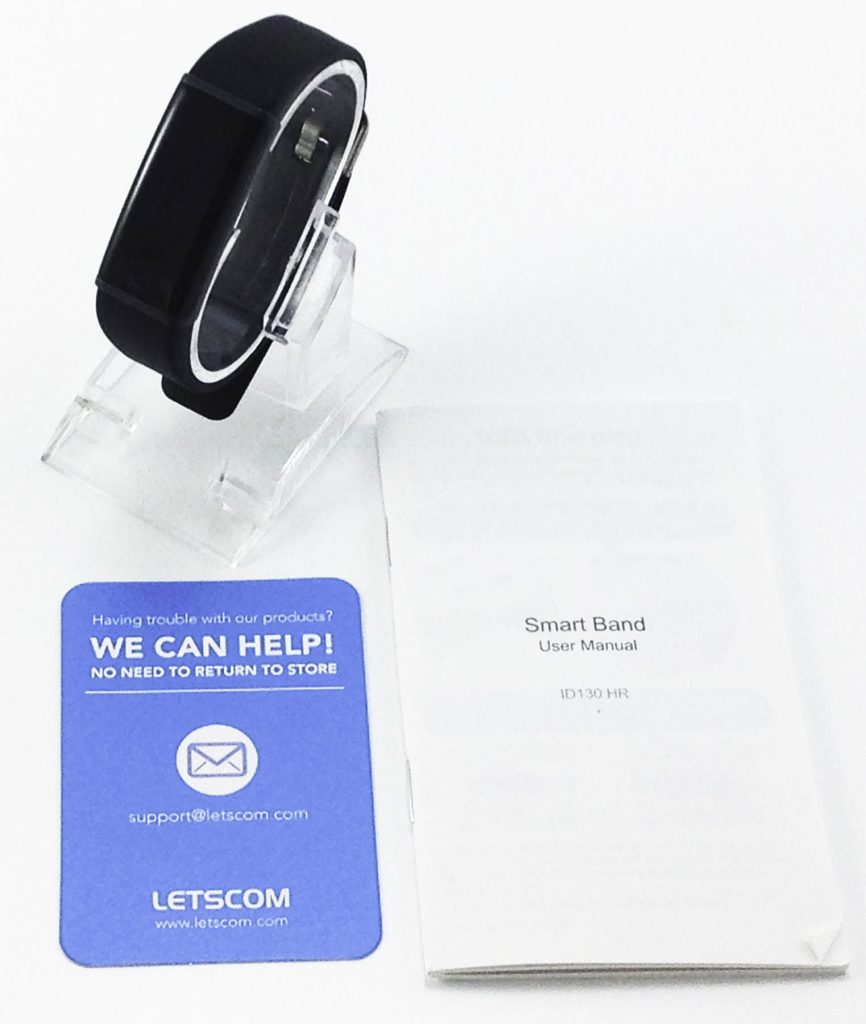 Letscom ID130HR Fitness Tracker.
The Letscom ID130HR has an adjustable watch strap and can be used from 16cm to a 25cm sized wrist.  The fitness tracker weighs 22g.
You also get an OLED screen size of 4.0cm x 2.0cm.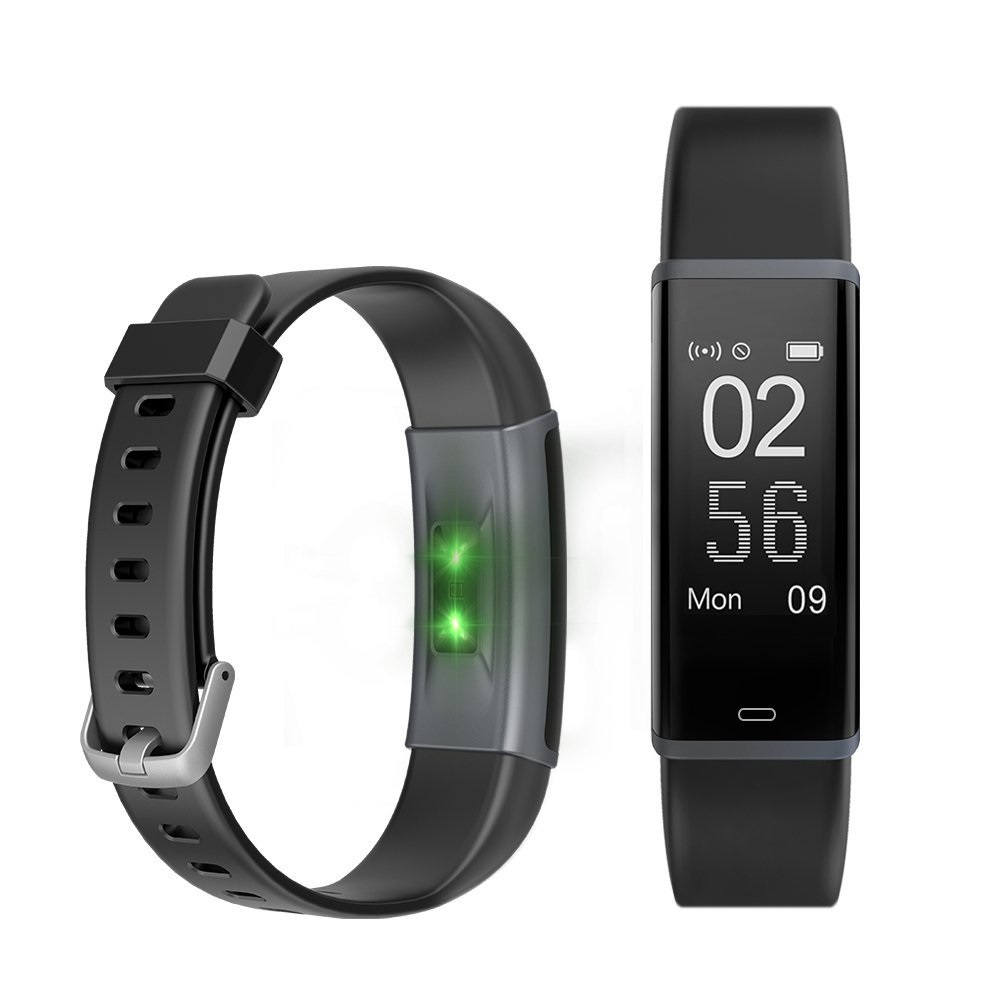 Before you start using the Letscom ID130HR Fitness Tracker you will need to charge your device for 10 minutes.  To do this pull apart the watch strap from the middle section, the USB is under the touch key button.
You need to ensure that you insert the USB part of the fitness tracker correctly into a USB charger, if done correctly your fitness tracker will momentarily vibrate to alert you it's charging along with a red light.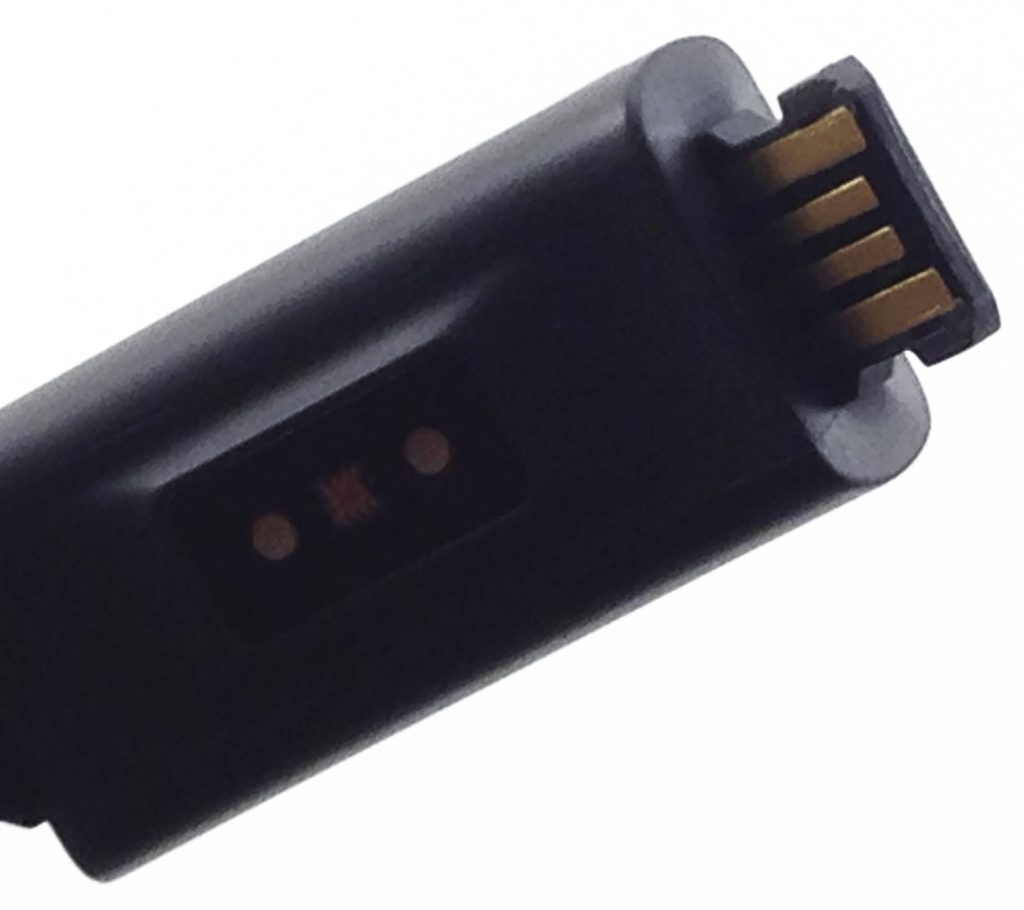 In the meantime, whilst your tracker is on charge you can start to download the "VeryFitPro" app from the App Store for iOS devices, or Google Play for Android devices.
Requirements.
The Letscom ID130HR has some system requirements of iOS 7.1 and above or Android 4.4 and above.
After 10 minutes you can remove the fitness tracker from the charger.
You will need to ensure you have enabled Bluetooth devices on your smartphone, this will be under your settings section and look for Bluetooth and ensure that it has been enabled.
Search for "ID130HR" and pair the fitness tracker to your device.
Next open the app on your phone and set up an account, you can input details without creating an account, but if you later set up an account it wipes the previous inputted data.  So best to create an account to start off with.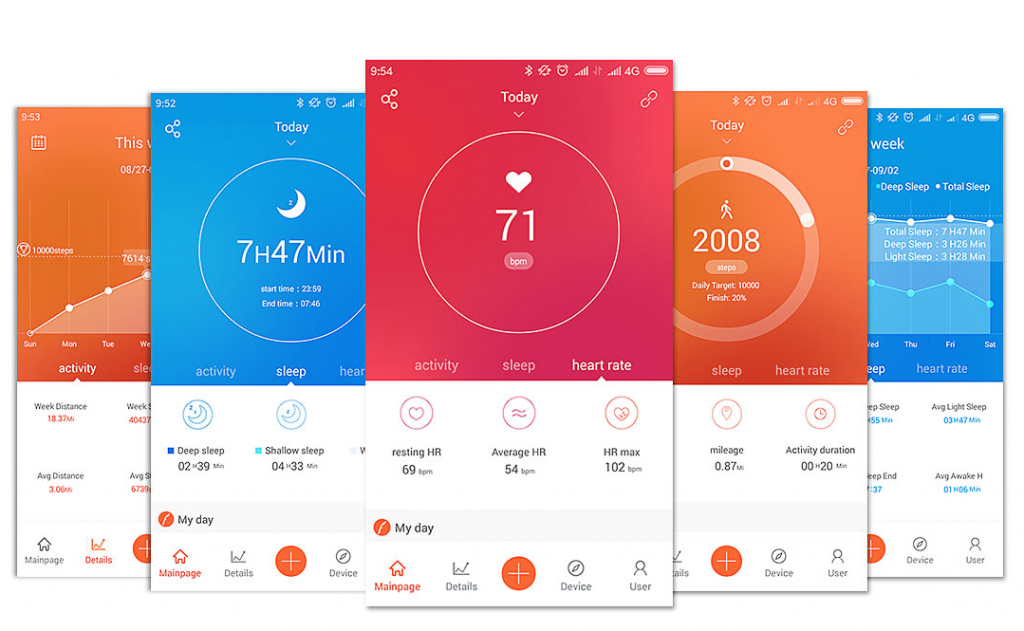 Everything is controlled from the app, you can customise the screen to 4 different looking modes, see data graphs and control user settings.
To scroll through the different options on the tracker press the touch key button on the front near to the bottom.  You can scroll through Step Mode, Heart Rate, Alarm, Walk, Run, Bike.  To go into further menu's press and hold on each of the main menu's.
Letscom ID130HR Menu Options.
Step Mode – This mode will accurately record your daily activities like steps, distance, calories burned and active minutes.
Heart Rate Mode – This mode will automatically record your heart in beats per minute.
Alarm Mode – This mode can be set up in the app, once set up you can turn it on/off using the fitness tracker.
Walk Mode – Taking a walk? press this mode for 2 seconds to start recording your walking.
Run Mode – The same as walk mode, but for the runners.
Bike Mode – Press this for 2 seconds prior to cycling to accurately record and monitor your activity progress.
Using the Tracker.
You can set up the Letscom ID130HR tracker to show your incoming calls, SMS, email, or App alerts.  I'm using an iPhone and I can receive notifications for calls and SMS only.  I can receive some email alerts but only if I have the email sender added to my VIP list, it doesn't work for all other email contacts.  I also couldn't get it to work for other notifications like Facebook.  You can't answer calls or reply to messages using this fitness tracker.
Another cool feature of the Letscom ID130HR is the ability to take photographs using the app.  Simply open the Very Fit Pro App and go to the camera menu.  You can now snap photographs using your fitness tracker.
I found upon opening the Very Fit Pro app needed to be synchronised to collect the data from the fitness tracker by holding whilst scrolling down and releasing.
The Letscom ID130HR automatically lights up the screen when you turn your wrist towards you and shows you the time and your daily step count.
Technical Specifications.
Brand: Letscom
Model: Fitness Tracker
Model Code: ID30HR
EAN: N/A
Connection Type: Bluetooth 4.0
Operating Distance: 10M
Battery Type: 65mAh

Lithium Ion

Working Voltage: 3.7V
Charge Time: 1-2 Hours
Usage Time: 7 Days
CPU: Nordic nRF52832-QFAA
Sensor: KIONIX KX022-1020
HR Sensor: Silicon labs Si1142
Waterproof Rating: IP67
Compliance: CE, RoHS, FCC
Conclusion.
The Letscom ID130HR is a budget fitness tracker, which works quite well.  It can easily compete with larger more expensive brands and both the tracker and the app work well.  I have been wearing my Letscom ID130HR for over 8 days and still have 30% battery left, so it can last longer than the advertised 7 days.  If you want a basic and easy to use fitness tracker then the Letscom ID130HR is for you.  The heart rate on the tracker can be a little off sometimes and show a higher than normal count, but if you open the app you will see a more accurate recording.
More colours are available, you can choose Black, Blue, Green, Grey, Purple or Red.
If you want the Letscom ID130HR for yourself it is available only on 
Amazon and comes with a full 12 Month Warranty.  The RRP for this tracker is £39.99.
Product sample provided by Letscom in exchange for a detailed, unbiased review.
---
Thank you for taking the time to read my post. If you'd like to add a comment or thought on this post, please use the section below. I can also be contacted via the online contact form. Please subscribe for the latest reviews, news, and discounts.