Another day, and another pair of earphones being reviewed. This time it's these Lenovo HE05 Neckband Earphones. Lenovo is a well-known international brand that produces a range of technology items, and well-known for laptops and computer related paraphernalia. So, can they produce decent audio equipment?
The Lenovo HE05 Neckband Earphones feature a Bluetooth V5.0 chipset, CVC 6.0 Broadband Noise Reduction (BNR), a IPX6 waterproof design and 6+ hour audio playtime.
A magnetic clip design of each earphone ensures you can keep them neat around your neck, the band is flexible too, and can even wrap around your wrist, if that's your thing!
So, are these any good? Time to test them out!
Packaging and Contents.
The Lenovo HE05 Neckband Earphones come packaged in a white box, which features product images and specifications. The box measures 18.5cm x 10.0cm x 2.5cm and weighs 65G.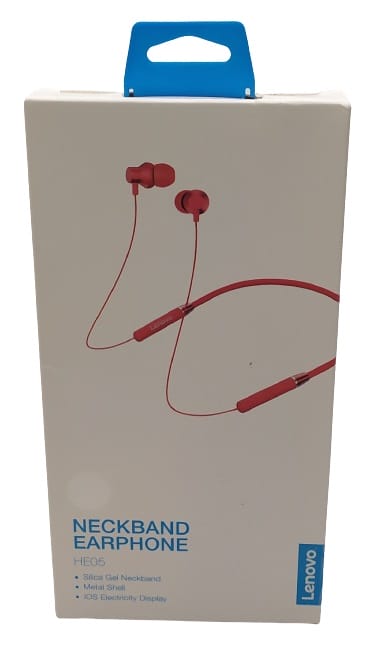 Inside the box you'll find the following: 1x Earphones, 2x Additional Silicone Ear Tips, 1x Micro USB Cable, 1x Multi-Lingual User Guide.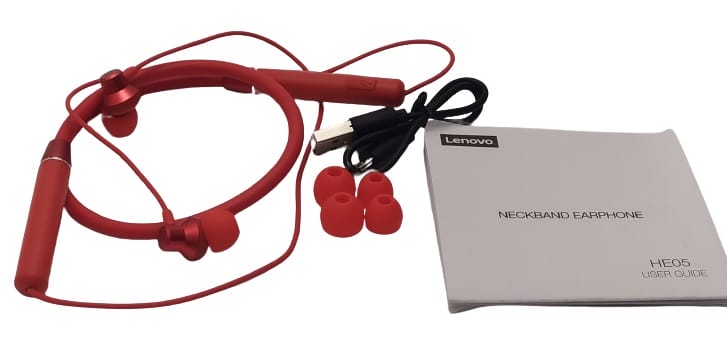 Lenovo HE05 Neckband Earphones.
The Lenovo HE05 Neckband Earphones measure (from ear tip, across the band, and to the other ear tip) 90.0cm and weigh 40G. You get a colour choice of red, black, and white. Each ear bud has an 115° angle, this is to ensure no slippage whist wearing and moving about.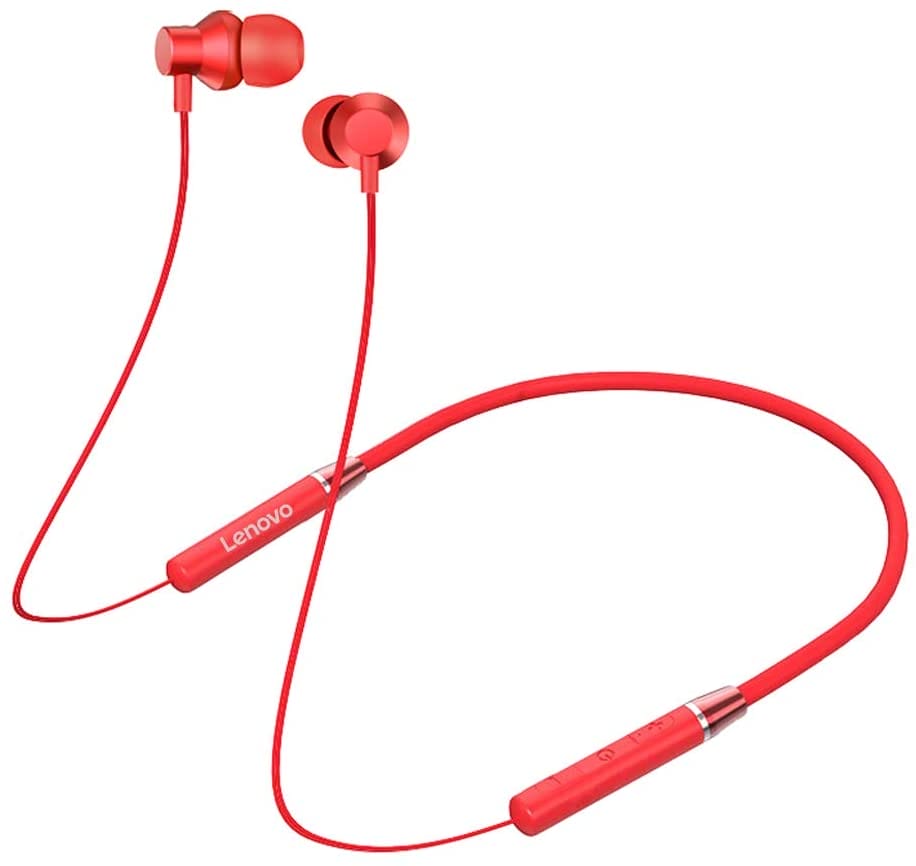 Charging and Pairing.
On the left-hand side you'll see an in-line control area, on the side you'll see a Micro USB charging port. You can use the supplied Micro USB/USB A charging cable, which measures 25.0cm, although any suitable cable would be OK, especially a longer cable. You then supply a 5V DC power source and charging takes around 8 hours; despite Lenovo advertising this takes an hour. You'll see a red charging light to indicate a charging cycle, this will turn extinguish upon a full charging cycle.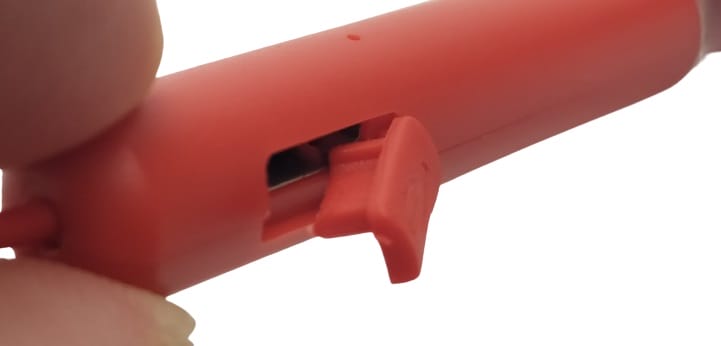 Pairing is simple, after you've struggled to power on the HE05 earphones, which is a complete pain as you straddle across more than the multi-function button as they're built too close together. If you manage to power them on, you'll need to pair them, perform a Bluetooth search on your device for 'lenovo', once paired you're all set.
You get around 8 hours of audio use each charging cycle. You don't get any battery life icon on an Android device, but you can go to the Bluetooth menu on your device to see the battery remaining level.
User Control.
You get an inline user-control area on the left-hand side of the band. The middle button is a power/multi-function button. You can control the following:
Short Press (-) button: Decreases volume.
Long Press (-) button: Previous song.
Short Press (+) button: Increase volume.
Long Press (+) button: Skip track.
Short Press (MFB) button: Pause/Play a track/Answer/end a phone call.
Long Press (MFB) button: Power on/off.

But, this is where the Lenovo HE05 Neckband Earphones fail almost immediately. The user control is terrible, literally the worst I've ever had the displeasure in using. Firstly, you get an audio confirmation on powering on, but nothing when you power off, and that is if you can get the bloody things to turn on in the first place.
The buttons have no tactile touch, they're wobbly, you can pause, but resuming audio with the short press of the MFB button happens about once in about ten attempts.
You can't control anything without having to look at the band, which involves remove them and glancing, so basically, it's pointless. You're better using your device to control things.
Fitment.
The Lenovo HE05 Neckband Earphones fit snuggly (if not a little to snug) around your neck and once in place don't slip out of position. The ear buds are designed in such a way that they fit into your inner ear canals without protruding outside of your outer area, a nice and flush design. After several hours of use, over a few days I can confirm that they're highly comfortable, no issue with comfort at all.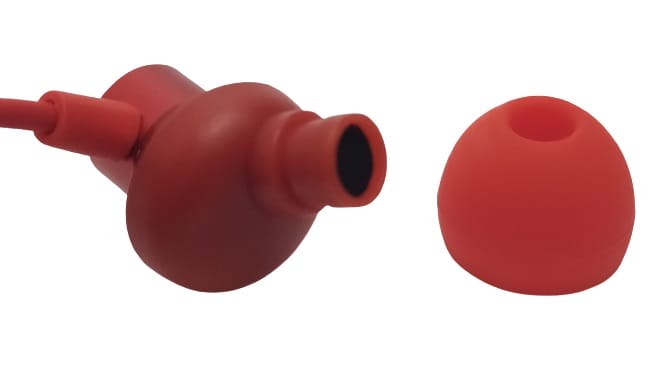 Ear tip changing is a simple pop off and pop on type of jobby. Nothing too complicated.
Sound Quality.
The Lenovo HE05 Neckband Earphones sound cheap, cheap, and cheap. Vocals are muffled, bass tones are half-present, and they sound like a pound shop pair of earphones.
Distortion occurs around 50% volume and the advertised 10M Bluetooth signal is false. Signal is strong for a good 5M, then it starts to cut out, also there's a notable lip sync lag with video viewing. There's no way these feature a V5.0 Bluetooth chipset, more like a V4.2 chipset. You sit on a throne of lies Lenovo.
The Lenovo HE05 Neckband Earphones feature a built-in microphone too, this enables you to answer phone calls, but it's total crap, it's a good job I don't speak much on the phone!
Lenovo even have the cheek to advertise CVC 6.0 Broadband Noise Reduction technology and I'm calling bullshit on that immediately.
Technical Specifications.
Brand: Lenovo
Model: HE05 Neckband Earphones
Manufacturer Code: HE05
Manufacturer Reference: N/A
EAN: 6970648211622
ASIN: B0811LV3GQ
Bluetooth: V5.0
Battery Capacity: 105mAh
Play Time: 6+ hours
Standby Time: 120 hours
Sensitivity: 96dB ± 3dB (IEC711 at 1kHz)
Frequency Response: 20-20K Hz
Distance: 10M
Compliance: CE, FCC, RoHS
Conclusion.
The Lenovo HE05 Neckband Earphones have left me speechless, and not in a good way. They're dreadful, inaccessible, sound crud, but they're comfortable. Little things, I guess.
I was hoping so much from this well-known household brand, but I was disappointed. The Lenovo HE05 Neckband Earphones are up there with the worst earphones I've reviewed, certainly top 5 in the hall of shame.
If you'd like to purchase this item, please check out the purchasing options below. The RRP for this product is £15.99.
Product sample provided by Lenovo in exchange for a detailed, unbiased review.
---
Thank you for taking the time to read my post. If you'd like to add a comment or thought on this post, please use the comments section below. I can also be contacted via the online contact form. Keep up to date with the latest news on social media.
Lenovo HE05 Neckband Earphones